POV Holder:
Jeremy
Next POV
July 13th
POV Used
?
POV Ceremony
?
HOH Winner:
Aaryn
Next HOH:
MVP:
Elissa
Original Nominations:
Elissa, Helen and Jeremy (MVP)
Current Nominations:
?
Last Evicted Houseguest
David
Have Nots
Helen, Elissa, Candice, and Andy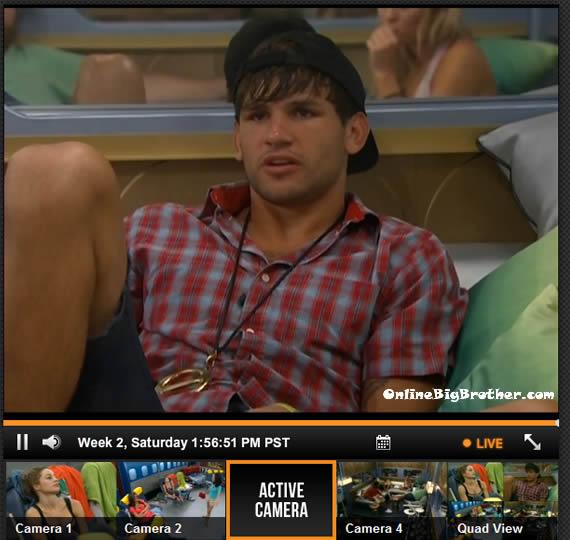 1:50pm Lounge Spencer, Jer, Howard and Aaryn
Spencer mentions how horrible Elissa did in the POV competition.
Jeremy says that Helen had a really good strategy about knotting up the rope, "I was like shit that's smart.. But I didn't noticed until I was finished.." Jeremy thinks that Helen knotting the rope must have took too much time but it was still a good idea.
Spencer: "That C****'s gotta go this week"
J: "Yes she does and if she doesn't I'm coming after them like a vendetta"
Spencer tells them the next HOH will probably be A or B or Majority.
Jeremy really wants Elissa gone this week and he's going after whoever doesn't vote her out. "I'm sick of the negative vibe she's putting out"
Howard: 'I just hate the fakeness.. it's all fake"
Jer: "Ya.. I didn't like the personal attacks against my mom"
Spencer: "She thinks she's better than us because her husband has all that money. she asks like she's slumming it here." Spencer brings up comments that Elissa makes about having to eat all the processed foods in the house.
Aaryn brings up that Elissa wanted to be in an alliance with her day one and now they are enemies.
Howard: "I think she got intimidated because she wasn't the prettiest woman in the house"
They all agree..
Spencer: "Dude she's far from it"
(2:01:47) Jeremy: "I would fu** a bag before I f-***d her "
Spencer: "Andy "
Jeremy: "No"
2:05pm Lounge The Moving COmpany minus McCrae
Nick tells them that wearing that head band was "Clultch" if he didn't have it on sweat would be "All up in his grill"
Nick says he has a crazy story to tell them about what Elissa told him. It's going to blow their mind.
Spencer: "Elissa's gotta go"
Jeremy: "Bro she's gotta go"
Nick: "Oh trust me bro.. you have no idea.. we're good don't worry"
Jeremy saying he got buzzed last night and it's given him wine farts.
Spencer tells Jeremy to not drink the alcohol next time, "Give it to the ladies so they get f*** up and show some T!tties"
McCrae and Spencer
Did she know about the MVP
McCrae: "Ya.. f***k I don't want her to talk.. cause she's going to say something that gets us in shot"
Spencer: "Dude the 7 has to be broken up somehow"
He wants Elissa out so a member of the MC can win MVP and HOH and they can have 3 people from the 7 up on the block where they will decide which one goes home.
McCrea: "MC plus Amanda"
Spencer: "YUP"
They are not worried about Candice's vote since it's not needed. Spencer says they need to break up the 7 so it regroups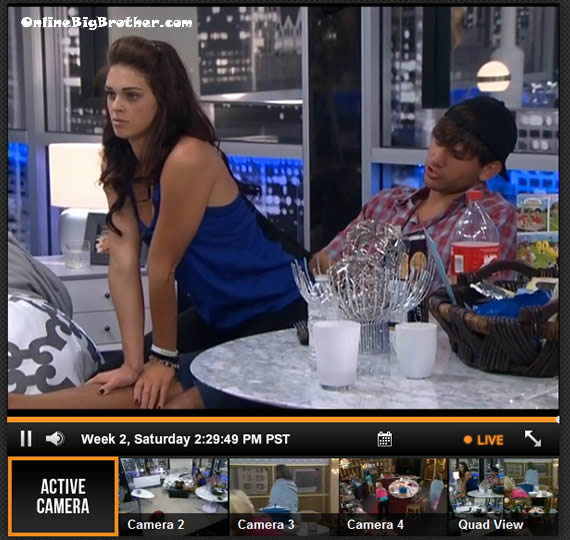 2:30pm HOH Aaryn, Kaitlin and Jeremy
Jeremy had told Amanda that he knows she wants Elissa around and if Elissa stays this week Jeremy is coming after her. Aaryn says Amanda feels safe with Elissa here because she can beat her, "Elissa is on Amanda's team.. until now"
Kaitlin is worried they don't have the votes because she's sure she's going up on the block.
Aaryn tells them to stop saying Elissa is the target because otherwise the house will keep her to keep them occupied.
Jeremy: "Triple thrusts"
Aaryn: "no its triangle of thrust "
Jeremy leaves
Kaitlin says that Nick and Elissa must have made a deal before the Power of Veto competition because he wouldn't give Kaitlin the details about it. Aaryn asks who was in the room. Kaitlin says Jessie and her. Aaryn: 'He doesn't trust Jessie"
Kaitlin says it takes all her willpower to not rip Jeremy's clothes off. Today when he was pacing around it really turned her on.
Jeremy comes back with food