POV Holder:
McCrae
Next POV
June 27
POV Used
Yes
POV Ceremony
June 29th
HOH Winner:
McRae
Next HOH:
Wed July 3rd
MVP:
Elissa
Original Nominations:
Candice, David, Jessie
Current Nominations:
Jessie, Elissa and David
Last Evicted Houseguest
?
Have Nots
Andy, Elissa, Jessie, Howard, Helen
6:44 Cam 3-4 Sleeping arrangements Nick, Jessie, Gina, Aaryn
The havenots want to sleep in regular beds tonight which is causing some drama for the haves who now have to share beds.
Aaryn: "I'm telling you this I'm not sleeping three deep in a bed.. tomorrow is HOH F*** that"
Gina: "Thats why I don't understand why we can't keep it the same for one more day"
Aaryn: 'I don't want to get into a fight with her.. I'm exhausted"
A: "Everyone is all commbya now except for me.. that whole blow up last night all that did was turn everyone on me"
Gina points out that the beds people are calling 3 person beds are only 6 inches larger than the regular doubles.
Nick offers that he'll take some pillows and go into the Have nots. the girls cannot understand why.
Nick: "It doesn't bother me"
Gina says she went to production and they told her the larger beds hold three people.
David walks in..
Gina: "If I get HOH i'm dragging his a$$ up there" (Nick)
Nick smiles everyone laughs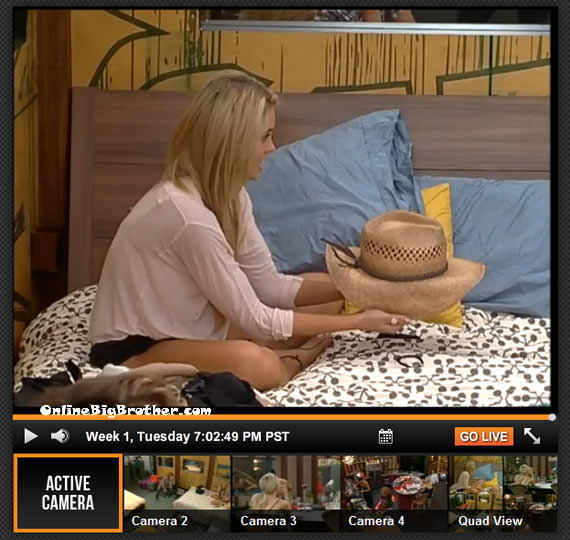 7:03pm CAm 1-2 Aaryn and Nick
Aaryn is showing them that the hat is buggered..
A: "You see the hat situation.. it was bent like this underneath and completely flat.. it just doesn't do that on it's own.. doesn't magically flatten"
A: "It pi$$ me off when it's messed up.. People are serious about the shape of their hate.. you don't f**** with someone hat.. it's their Hat"
Nick says he understands.
Aaryn says all the days negative energy is getting to her.
Nick mentions all the little comments people are making about him, "Why?"
A: "I say them because I love you"
N: 'I know.. but with other people.. Umm OK.. it's little tiny pickaxes"
They both agree that right now before HOH is not a good time to "D!ck around" with sleeping arrangements.
Nick says he's serious about sleeping in the have nots with two pillows.
A: "If one of us doesn't win tomorrow I am probably going to get BackD***d (sorry about having to censor this word :( ) "
Nick thinks the target will be either himself or Jeremy.
Aaryn points out that Jeremy has gotten very buddy buddy with "Them"
Nick asks her who Jeremy has a beef with. Aaryn says during Jeremy's blow up he had issues with Andy, Helen, Candace and Elissa. Aaryn: "now all four want to get me out and he's kisses their A$$es"
7:35 cam 3-4 HOH McCrae and Amanda
Mcc: "I'm in a good position and you are not because if they get a chance they'll take a shot at you they will"
A: "WHo.. why.."
Mcc: "The other side.. "
A: "They have been confiding in me I'm a good actress.. I think i'm a good actress.. you know"
Mcc: "they keep saying how good of a social player you are"
A: "There's just one person.. Jessie"
Mcc:"It's not just Jessie.. "
A: "If i'm a good social player I'll be tough to get out of the house"
Mcc: "then take the hosts while you can"
A: "Today was a good day but you're stressing me out"
Amanda says that she's been talking to the other side and they think that Andy, Candace, Helen are trying to recruit people.
Mcc: "Be very careful..you're playing with the other side and when this thing turns.." (He thinks they'll suspect her for voting out David tomorrow because she's been so buddy buddy with Elissa.
Mcc asks her who she would put up if she won HOH. Amanda jokes Elissa and Candace. Mcc asss if Aaryn goes up. Amanda thinks Aaryn is gunning for Elissa she doesn't think she'll put up both of them.
Helen comes up into the HOH "I think I'm going to get MVP"
7:48pm cam 1-2 the beds Aaryn, Candace, kaitlin and Jeremy (Kaitlin and Jer are cuddling)
Chatting about beds. Candace thinks they should all go back to the beds they had in the beginning. Aaryn agrees
Amanda charges in .. Candice tells her she's had it good this past week sleeping in a comfortable bed she hasn't "Had this bright light shining" in her face.
Aaryn: "And Candice I don't know if someone is trying to start sh!t by telling you about the hat"
Candice: "I don't know who told you about the hat.. and the truth of the matter is I do have a big a$$ and if I had sat on your hat it would have been ruined… In real life situation .. lets think about it I really do have a big butt and if I did sit on your hat it would have been ruined."
Aaryn says she's sorry about the whole hat thing.. Candice doesn't seem mad anymore about the hat situation but she again says her a$$ is big and would "Tarnish" Aaryn's hat.
Aaryn: "I was just mad and I'm sorry"
Candice: "Ok.. just for future reference if there was anybody that said I said something then you come to me.. 9 times out of 10 I will just tell you"
Aaryn: "people are just trying to stir sh!t up"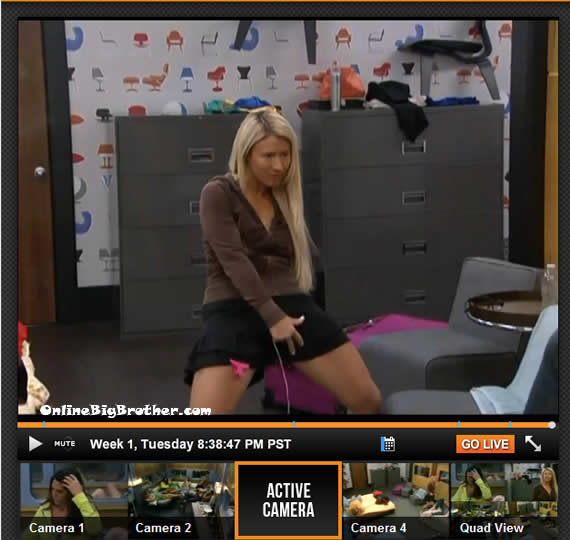 8:34pm Cam 3-4 (Bieber fever – Nick) + Spence
Chatting about a drink called x-ray
Kaitlin: 'It's a passion fruit liqueur.. it's the same thing as kinky.. "
Gina joking saying she still wants to go home.. everyone is telling her nope nope.. Aaryn: "Gina you're going to win HOH anyways"
Gina: "If you had my life back home you would want to leave to"
8:38pm Cam 3 Howards with them now
Gina says Elissa told her this the other night "Hey GinaMaria you're sitting there doing nothing go mix us some F**** alcohol.. " (The f part was probably added by gina)
Gina: "Why so I can celebrate when you f*** leave"
Aaryn: 'She said that.. wait"
Gina: "Ya.. she said you're you're sitting there doing nothing.. Hey I don't even f**** drink"
Aaryn: "Who asked you"
Gina: "elissa"
Aaryn: "I would have told her get off you a$$ and do it"
Gina: "I was like How about this.. your sister lic** my f**** a** h** and you can stay right in the f*** front so I can go back and forth" (She starts rocking back and forth.. see pic)
Everyone starts laughing
Gina: "I'll open up the f**** ch**ks and snuggle it right in there.. f*** brown noser"
Jeremy: "Ohhh" (LOL)
Gina: 'Alright lets go play checkers"
Gina slaps Howards a$s, "Can I just try and bounce a quarter off that cause I know I can"
Howard: 'You're a pitbull"
8:53pm Cam 3-4 Bathroom Elissa and Howard
Howard tells her she's good this week. She thanks him tells him he's a good man.
[polldaddy poll=7218240]