POV Holder:
McCrae
Next POV
June 27
POV Used
Yes
POV Ceremony
June 29th
HOH Winner:
McRae
Next HOH:
Wed July 3rd
MVP:
Elissa
Original Nominations:
Candice, David, Jessie
Current Nominations:
Jessie, Elissa and David
Last Evicted Houseguest
?
Have Nots
Andy, Elissa, Jessie, Howard, Helen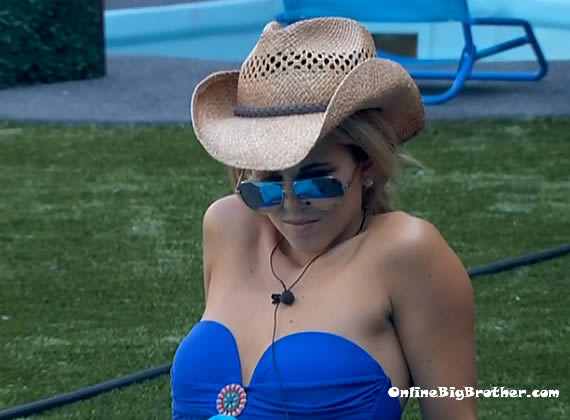 4:50pm Cam1-2 Aaryn and GIGI pool
Gigi is pissed at Jessie because she was flirting with NIck and is giving her dirty looks.
GiGi: "She's next to go in my F****ing book.. she gave me a dirty look and from where I come from b!tches don't give eyes like that"
Aaryn: "She ths type of girl that sleeps with other peoples boyfriends.. she's the type of girl my ex would have cheated on me with"
Aaryn: "We gotta get Elissa out.. if she stays it's going to get nuts.. it's going to be defcon 5"
Aaryn: " how can you hips be that small if you've had a child
Gigi: "she's a weird individual.. I wonder if she has any friends"
Gigi about Andy: "I really don't F*** trust him as far as I can toss his F*** a$$.. I may joke with him but I don't give him Sh!t "
GiGi: "he doesn't talk to me much the sh!t he says makes sense"
GiGi about Jessie "She's a sketch f***ing little midget"
Aaryn thinks GiGI is the one that will have to take out Jessie she suggests putting up Jessie and Candace.
Aaryn: "I'm probably going to get MVP at some point.. If I was America right now I would vote for me"
5:12pm Cam 1-2 Bathroom random chit chat Spencer, Andy, Jessie, Candace . Elissa comes out of the shower
5:24pm Helen and Spencer Cam 1-2 Hammock
Helen brings up David playing chess with him and doing a bit of campaigning on the side.
Spencer about David: "Bottom line is he's going home"
Spencer plans on going to David and saying that he's voting for him to stay. Spencer thinks Helen to do the same. The reason is that David will go back to his group saying that Helen and SPencer are locked votes. When he goes home on Wednesday the bieber fever will be even more confused.
Spencer: "You got to give him some time so it sink into his sun bleached brain"
Spencer says that the only reason David is talking to her is because he's on the block nothing he's saying is "Heartfelt"
Helen:L "I went to the bathroom at 5am in the morning and GIGI was eating icecream in the kitchen" They talked about the evenings events Helen says she really built up that she is not targeting Jeremy and she accepted Jeremy's apology.
Spencer: "Can you be honest.. do you and Candace have something going one?"
Helen: "No i'm closer with you.. I want to go with you, Howie, McCrae, Andy and Judd"
Spencer: "I'm not 100% with Amanda.. I think sooner or later she will pull out Judd and McCrae"
Helen: "We gotta keep McCrea"
Spencer: 'To be honest she's a real turn off to me with all her gutter talk" (Amanda)
Helen is pumped about their final 5 (Andy, McCrae, Howie, Andy, spencer, Helen)
Spencer: "This group that we have is so big it's going to fracture.. I don't want us to"
Spencer starts to play down Jeremy as a target, "At some point he may be more help to us than we realize now.. he's got heart"
Helen brings how in her conversation with Jeremy she used his mom "as a weapon" She was able to get closer to him.
Helen: "Last night we were verbally abused.. he was one step away from hitting one of us" (Thats a massive exaggeration)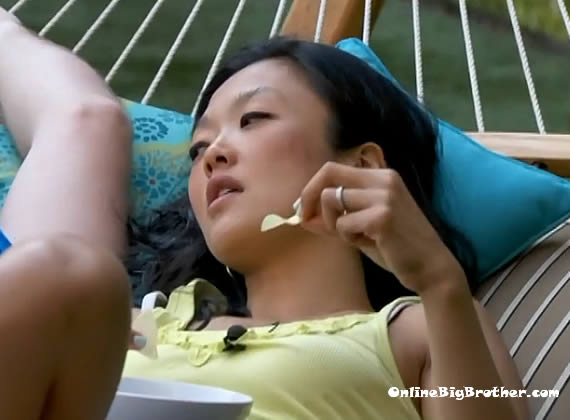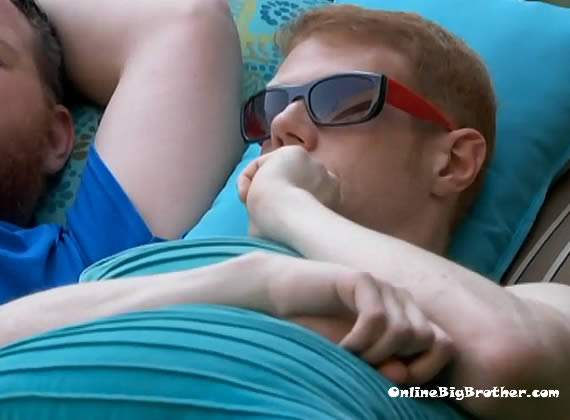 Andy joins them says he talked to Nick. Nick told him that he felt all alone.
Helen leaves
Spencer is worried about Helen talking to him and using her hands to count votes in front of everyone. He thinks its a sure fire way to tell everyone what they are talking about. Spencer mentions that Jeremy is best to keep right now, "Take out his alliances".
Spencer and Andy agree that Amanda should go soon. Spencer believes that Jeremy could be used to take her out.. "All his bravado and b*llsh!t can be used to our advantage"
Spencer: "Listen this dude she'll cut our heads off in 2 seconds"
Spencer points out that everyone is complaining about the other showmances but never a thing is said about Amanda and McCrae. he believes that Amanda is closer to Jessie and Aaryn than the group.
Spencer: "nobody denies that Amanda is shady or has the potential to be shady"
Andy: "She's the only person I'm worried about in the group"
Spencer: "The group is stronger without her"
Amanda: "Will try to get McCare, Judd and Elissa and maybe Howard.. she'll use Eliss's MVP"
Andy says they need to get the Nicks and GiGi's out sooner then worry about Amanda.
Spencer: "Gigi is sketchy.. we know what we're doing to Aaryn"
Spencer thinks that GIGI is the type of player that might win HOH and put one of them up, "I would rather have someone like Jeremy around that won't put us up cause he wants to get these B1tches out"
Spencer: "I like Helen she's a super brilliant person and I like her to a fault but I need to coach her how to deal with these people.. I don't think she's as savvy as I wish she was"
Andy: "you and I are her best assets in the game"
5:57pm Cam 3-4 Backyard Howard, MC, Jessie and Candace
Howard talks about his ex-fiancee and how after they broke up. After that we went back to "lady with three kids"
Candace asks if the premarriage counselling helped.
Howard: "Yes it doesn't help you get married it helps you see everything inside and out and see if you want to get married"
Howard: "I was ready.. she had things to get over.. things from childhood"
At one point Howard and his girlfriend decided that they didn't want to get married. They have grown alot since then. Howard adds that we went to his pastor and told him he's ready for a girlfriend and his pastor kept asking him "Are you ready to get married.. because that is the final goal"
Howard adds that they really wanted to get married but she wasn't able to allow herself to be loved, "She was never loved before" all his affection didn't seem real to her.
Howard brings up the time they took him away for big brother. His dog is usually really cool and chill but when they came the dog was going crazy. Howard says he didn't even know I was picked just got a phone call one day and everything went very quick.
6:16pm Bible study with Howard and Jessie Going over verses..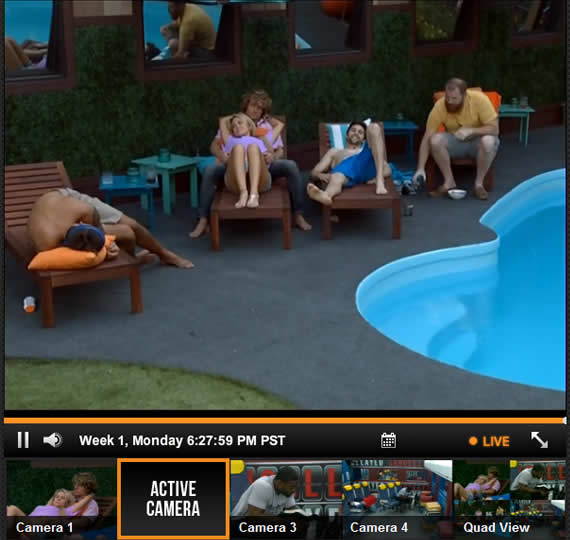 Pool side.
Nick telling them that erlier today Jeremy was saying he wanted to spray the lwn down with water to cool it down and Judd said "Don't water it I done't want to have to cut it"
They all laugh.
Aaryn: "once 1/2 theses people are gone I'll start making some southern meals for you.. right now there is too many people.. and I'm a Mexican cook from hell.. From where i'm from when someone says your a Mexican cook from hell it means you are THAT GOOD"
Aaryn has a new nickname for Elissa "Fembot"
Jessie is on the hammock.
Spencer: "Is she sucking her thumb"
Nick: "that isn't really happening"
Aaryn: "she's missing home FO SHOW.. I feel her pain"
Nick: "Oh she is.. oh well"
Jessie joins them site right beside Nick and lights a cigarette. David, Nick and Jeremy leave for various reasons.. Nick is the last to leave.
Jessie has a problem with him leaving.. she's 1/2 joking/flirting about it.
Jessie: 'Why does he leave every time I come up to him.. that's weird"
Aaryn: "Ya that is"
jessie: "I feel like he will put me on the block.. he's weird.. he likes you (To Judd)"
Judd: 'No.. "
Aaryn: "he doesn't really talk to me .. I don't know"
[polldaddy poll=7218240]