POV Holder:
McCrae
Next POV
June 27
POV Used
Yes
POV Ceremony
June 29th
HOH Winner:
McRae
Next HOH:
Wed July 3rd
MVP:
Elissa
Original Nominations:
Candice, David, Jessie
Current Nominations:
Jessie, Elissa and David
Last Evicted Houseguest
?
Have Nots
Andy, Elissa, Jessie, Howard, Helen
6:45pm Cam 3-4 HOH Spencer, Amanda and McCrea
They are talking about comics. McCrae has a first generation Samsung galaxy tab that he uses to read comics. He would rather have the physical copy but he lives far away from a comic shop
Spencer: "I live close to this place called the bat cave.. theres also a coffee shop" (LOL every comic shop is called the bat cave)
McCrae says he's pretty drained from last night he glad things have chilled out.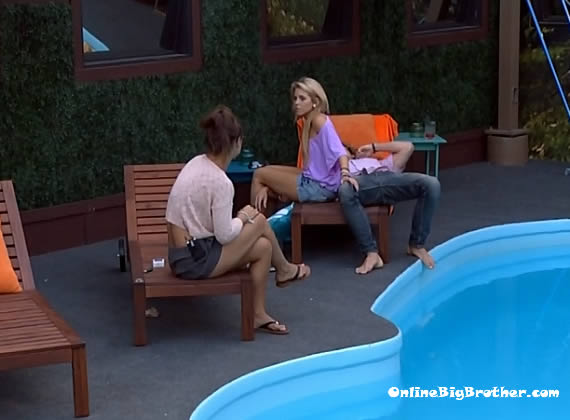 7:05pm backyard Cam 1-2 Aaryn and David
Aaryn saying that the house wants her gone before Aaryn because they think if they can get rid of her David will be easier to manipulate.
Jessie joins them asks about the Big Brother fans.
Aaryn says she heard there is 9 million fans, "every time you sit like this (Legs open a bit) they take 5 million screenshots.. everytime you look like sh1t they are going to take like 5 million screenshots"
Jessie: "So they are not nice fans"
Aaryn: "No.. I'm sure most of them are nice but some of them are super sketchy there is b*** pictures of every girl"
Jessie :"have you ever had a n1p slip"
Aaryn: "Ya the other day"
7:20pm HOH Amanda, McCrae, Judd, Spencer, Howard
Briefly chatting about GIGI's breakdown about clothes.
Spencer: "My very first impression of her was she was the type of person with high highs and low lows.. this might be a low and it'll take her a copule days to bounce back."
Amanda starts impersonating and making fun of GIGI. Amanda thinks GIGI is the type of person that needs attention and when she's not getting it she'll make a show.
Spencer: "I hope she screams so loud she has a aneurisme and falls dead"
McCrae: "No no we don't want that"
Jeremy joins them
Spencer: "Sometimes the first poop of the day is the best part of the day"
Jeremy have you ever had a poop so big that it stretch you little b** h**e"
Spencer: "sometimes it looks like someone tried to flush a cat.. sometimes I need to use a coat hanger to break it up in the bowl so it doesn't plug"
Jeremy: "Ohh sh!t man thats never happened"
Howard: "You ever have diarrhea and it's diarrhea the water"
Everyone laughs..
Jeremy says his longest P** was a "banana foot"
("Poo" talk seems to be the one topic that really engages these guys.. lol)
Amanda leaves..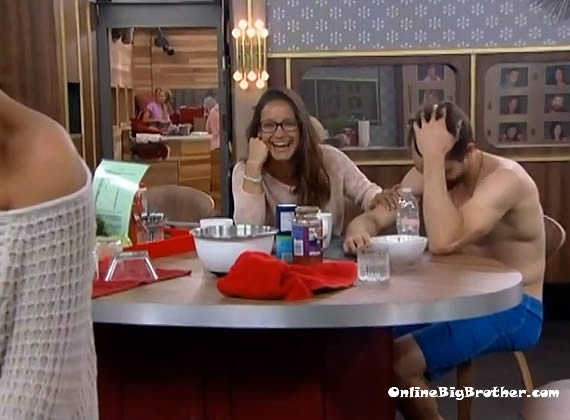 7:34pm Kitchen table Nick and Danielle opps I mean Jessie
Jessie: "Why do you hate me"
Nick: "I don't"
Jessie: "Why are you so adverse to me"
Nick: 'I'm not":
Jessie: "You do this to everybody"
Nick: "No"
Jessie: "Just to me.. why"
N: 'I'm being sarcastic.. it's in your head.. it is. "
J: "everytime I get within 10 feet you leave.. and I want to talk to you.. I miss you we use to sleep in the same bed.. I'm having withdrawls"
Nick: "Thats cool"
Jessie leaves 'Alright you're free"
N: "Thank you"
Amanda joins them in the kitchen: "I just shoved my Br***ts in Andy's face.. I just made Andy motorb*** me and he didn't like it "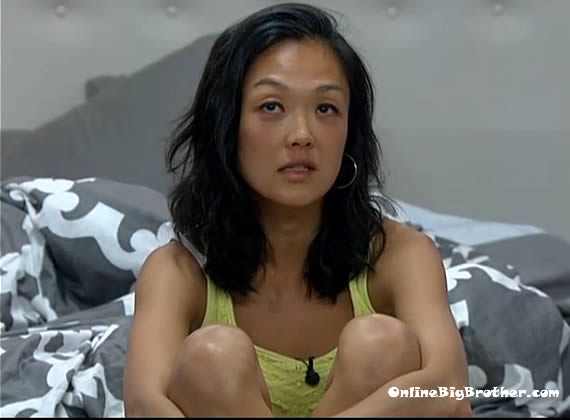 7:54pm HOH Helen, Howard, Andy and Spencer talking about how Gigi is probably upset because she's now realizing that she picked the wrong team to be on. Spencer drops hints that they're final 5 is solid but they need to worry about McCare and Amanda. Helen agrees, she feel confident that McCare is still loyal but they do need to worry about Amanda.
Spencer: "McCare has a lot of whispers in his ear.."
Helen: "I think it's partly HOH it'll be a big tell after Wednesday how he acts"
Spencer: It's going to be a big shocker for him cause he spent his entire time in this room"
Andy: "I feel so confident in this 4 to stick together"
Spencer and Howard leave .
Andy and Helen start talking game. Andy wants Nick out right away he doesn't trust him. Helen says she's already started getting closer to Jeremy she thinks Andy should to. Andy is going to continue to play "Floater Andy"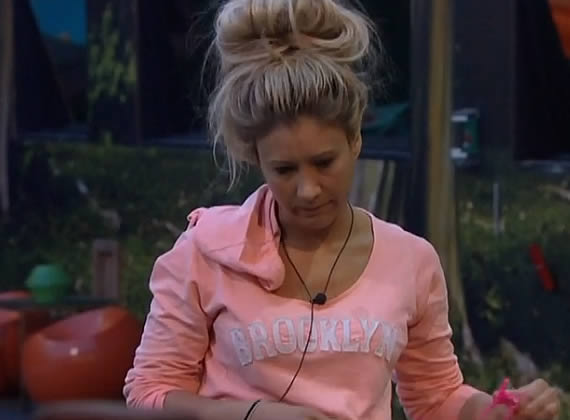 Big Brother Live Feeds
HUGE improvement over last year
8:05pm Cam 3-4 Hammock Nick and Andy
Andy and Nick agreeing that the best thing to do for them is to lay low..
GIGI comes by.. "I'm going to quit"
GIGI I'm probably going to wait to Wednesday but I'm bouncing "
Andy: "WHAT!"
The only reason why GIGI is staying until wednesday is she doesn't want Elissa to stay and screw up everyones game.
GIGI: "Serious bro I need to go i'm done.. "
Andy: "Should I leave and let you guys talk"
GIGI: "No it's OK he's nobody to me"
Andy: 'I really don't want you to go home"
GIGI: "My nails are a disaster.. I feel like a dirtbag.. oh my god I feel like sh!t"
Andy: "have you talked to anybody else like this"
GIGI: "No"
GIGI top Nick: "What's up man you gave me the stank eye stop it"
Nick: "What happened today"
GIGI: 'I want my clothes.. everyone is shady as f*** this isn't the surroundings i'm use to.. I can't do this for 3 months"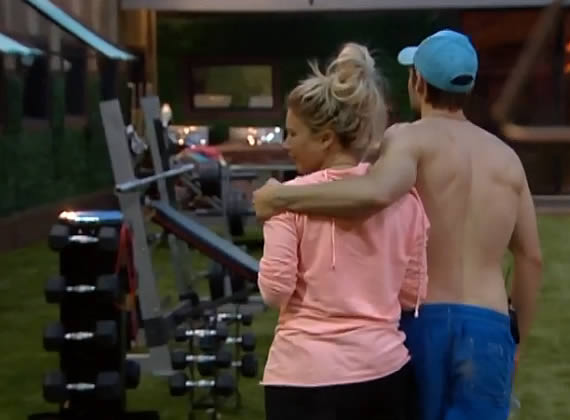 Nick gets up puts his arm around her and comforts her.. they go into the house to talk to in private.
on the way into the house all you can hear is gigi repeating "i want to go home I want to go home"
Nick: "What is up what happened.. what changed from yesterday to today"
GIGI: "I want to go home"
Nick: "We're in the best spot GIGI"
GIGI: 'I want to go home and be with people that like me"
Nick: 'People like you"
GIGI goes on and on about how she's feeling bad about herself.
Nick: "I like you you are a cool chick to hang out with.. all those things that they take away that's not you"
Nick pleads with her not to go.. he explains about Jessie and how she was following him around. GIGI is cooling down sounds like she still wants to stay (LOL she's jealous of Jessie)
We now find out that GIGI is starting her period and it's making her feel disgusting.. she starts to explain that the past 4 years her period has changed causing her to me emotional, "It's a change I guess because i'm over 30" GIGI says her hair clip looks like a vagi***a they both laugh ..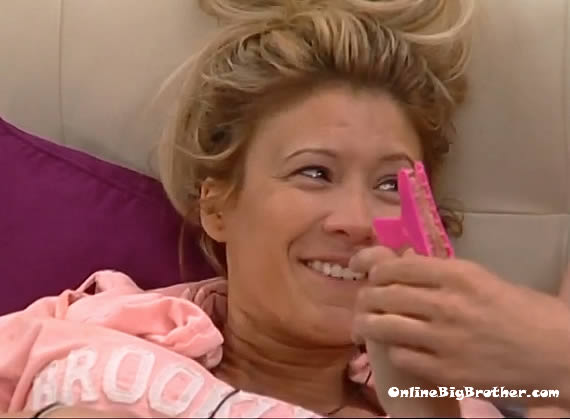 GIGI starts talking about her past relationships etc etc.. she says that her and Nick live really close to each other in New York and Jessie lives far away from Nick. She says she feels lonely.
GIGI: "can I ask you a questions"
Nick: "Ya"
Feeds cut..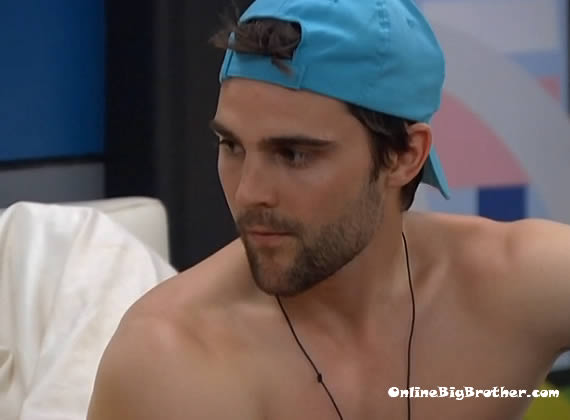 [polldaddy poll=7218240]