POV Holder:
Jeremy
Next POV
July 13th
POV Used
YES
POV Ceremony
July 8
HOH Winner:
Aaryn
Next HOH:
MVP:
Elissa
Original Nominations:
Elissa, Helen and Jeremy (MVP nom)
Current Nominations:
Elissa, Helen and Nick (MVP nom)
Last Evicted Houseguest
David
Have Nots
Helen, Elissa, Candice, and Andy
12:57pm Storage room Andy and Spencer
Andy: "I feel like people are expressing concerns about Amanda.. she is 100% onboard he's talked to McCrea and Amanda separately and they are 100% onboard"
Andy: "We have the vast majority even if two rats jump ship we are still good"
Spencer asks about Jessie
Andy says he's certain they have Jessie Judd, Helen and himself have all worked on her and they have her
12:59AM Spencer and Helen Storage room
Spencer wants to know who was throwing his name under the bus.
Helen says she will tell him after the vote, "I want you to know I am looking out for you"
Spencer: "I know that"
Helen: 'Otherwise I wouldn't tell you this.. it's amazing"
Spencer: "OK.. Absolutely"
Helen: 'Please trust me"
Spencer: "Helen.. I do"
Helen: "good OK"
1:06pm Have nots Andy and Jessie
Andy: "Just really quickly Spencer and Howard cannot be trusted "
Andy: 'If Spencer and Howard flip we still have the votes.. Do not listen to anybody right before the vote .. DON'T LISTEN"
Jessie: "We will f**** garutenee us Jury"
Andy says Howard may influence Candace so he wants to make sure Jessie is solid
Andy: 'We have the MVP and we have the numbers we will evict whoever we want each week.. " they giggle.
Andy: 'Amanda, McCrea, Judd and Helen are rock solid"
Andy: 'This is a game changing move.. I don't trust Nick as far as i can throw him"
Jessie agrees.. They are both very excited about their super alliance. They start studying the conveyor belt items for the comp later today
1:13pm Helen and Jessie
Helen saying that Spencer is freaking out he was playing both sides and now she's caught him, "F**** him"
Jessie is worried she'll be looked as a flip flopper. Helen tells her not to worry because now she's flipped to their side and has seen the light.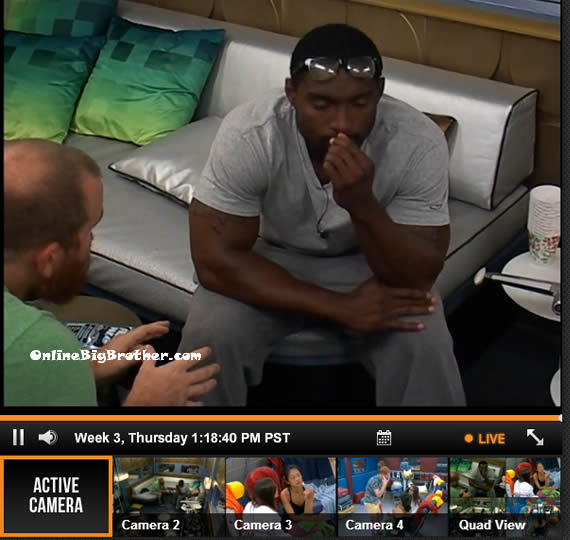 1:16pm Spencer and Howard
Spencer says he's loyal to Moving Company but is more loyal to Howard at some point they have to cut Jeremy loose he's too big of a target to protect . Spencer: "If we jump ship.. but you and me stick together I think it'll be better long term for our game, Nick's a good guy but right now we do have the numbers to get out any person"
Spencer: "Who do you trust more Helen or Jeremy"
Howard doesn't answer.
Spencer: "I trust Andy, I trust Judd, I trust Helen we can trust Candace.. we keep Elissa we control the MVP.. I don't know if the thought has crossed your mind about flipping"
Spencer thinks he can heal the wounds with Helen and they can work with Elissa, Andy, Judd, McCrae, Helen etc etc to get out Jeremy and his 3 girls (Aaryn, Gina and Kaitlin)
Spencer: "This game means to much to me dude"
Spencer says they stick with the other side they can get everyone one of Jeremy's side out until Jury, "Thats 13000 dollars dude.. I'm Moving company till the end but Jeremy put us in a bad spot.. You me and Mccrae can stay loyal to each other"
Spencer says that McCCrae is tighter to Amanda than he is to Moving Company.
(LOL holy crap Moving company is cracking.. )
Nick comes in says he's put all his trust in Spencer and Howard 100% all his faith is in the moving company.
Nick thinks that the vote will be 7 to evict Elissa. Spencer says to target Judd and Andy for votes.
Nick leaves. Howard says he's thought about leaving the the Moving Company but he's not sure He likes the idea of people with a group from the start.
Spencer thinks that this is their best bet.
Spencer thinks him and Spencer will look pretty if they go to Amanda and MCrae and tell them they will vote out Nick.
Spencer: "Are you 50 percent down"
Howard: "I'm 50/50"
Howard: "I'm with you dude..I just don't know"
Spencer: 'this is our smartest move to get to Jury"
Spencer is convinced that this is the best thing. Howard isn't sure doesn't sound like he wants to flip.
Spencer: 'Voting Elissa out seems very illogical for my game"
Howard: "talk to Amanda"
Judd joins them asks them what's up
Spencer: "Right now Nick is going"
Judd: 'Right now"
Spencer backtracks says they all plan to vote Nick out to keep the MVP under their control
Judd says he feels bad because he straight up lied to Nick..
Howard: "That's the game"
Judd leaves..
Spencer: "I'm not pussing out of the group this is about our game.. I don't think this is a bad move for us"
Spencer: 'If we prove our loyalty today we're getting to Jury"
(We'll moving company was fun for the first couple weeks.. ** RIP **)
You can re-watch ever second on the feeds using their flashback feature.. It's super easy to use click this link for a free trial —> Subscribe to the Big Brother Live Feeds
The CBS feeds are a HUGE improvement over the super pass feeds and they are 30% cheaper with no subscription to cancel. You pay a flat fee for the season.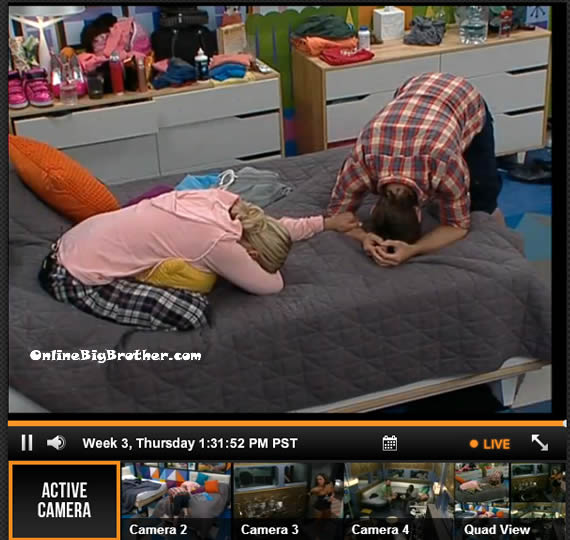 🙁