POV Holder:
Jeremy
Next POV
July 13th
POV Used
YES
POV Ceremony
July 8
HOH Winner:
Aaryn
Next HOH:
MVP:
Elissa
Original Nominations:
Elissa, Helen and Jeremy (MVP nom)
Current Nominations:
Elissa, Helen and Nick (MVP nom)
Last Evicted Houseguest
David
Have Nots
Helen, Elissa, Candice, and Andy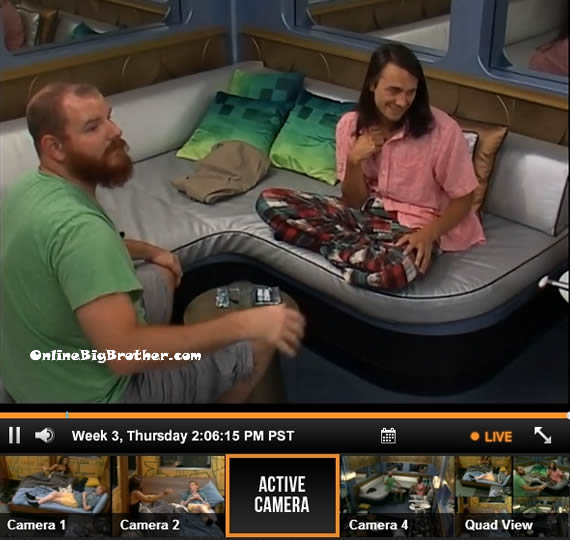 2:05pm Cockpit McCrae and Spencer
Spencer brings up the possibility of them dumping the Moving Company. Spencer says if they control the MVP it doesn't matter who wins the HOH "Aaryn can go, Jeremy can go, KAitlin can go"
Spencer wants the vote to be unified so that everybody votes out Nick. This way they can rebuild trust with Amanda and Helen. (his trust)
McCrae says he was going to vote to Keep Nick no matter what and if the house flips his vote will be singled out. McCrae feels like he's going to lose trust from Aaryn's side now.
Spencer: "Is it time to cut them (Aaryn's side) loose be like we got the MVP you can't get rid of her we won't allow that and we make it to the jury. "
Spencer: "Or do we Maintain an alliance I would love to maintain however…. but "
Amanda walks in and start complaining that they are talking without her. She says she's getting worried. They ask for one minute alone.
Spencer says that Howard and him are down to get Nick out. Spencer: "This thing will dissolve it's better now than when i'm on the block or you are"
Spencer says next week aaryn will go maybe Jeremy.. there will be nothing left of that side. Even if they don't win HOH they are still safe with this plan they control the MVP.
Spencer: "I trust Andy, Judd and Helen more than I trust Jeremy"
McCrae seems on-board with getting rid of Nick but does appear to be a bit suspicious because his trust goes down in the house.
Jeremy comes in.. "Holy sh!t man you look like Detroit rock city"
Jeremy says Elissa doesn't deserve to be here. Spencer says he totally agrees. They start going over the airport conveyor belt stats
You can re-watch ever second on the feeds using their flashback feature.. It's super easy to use click this link for a free trial —> Subscribe to the Big Brother Live Feeds
The CBS feeds are a HUGE improvement over the super pass feeds and they are 30% cheaper with no subscription to cancel. You pay a flat fee for the season.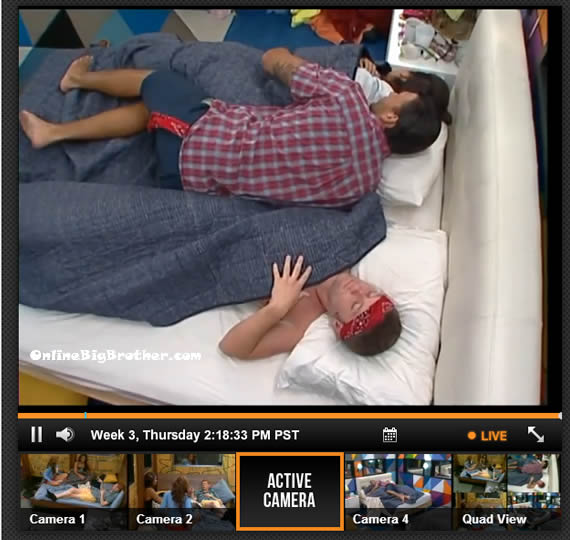 Jeremy pi$$ing people off for votes.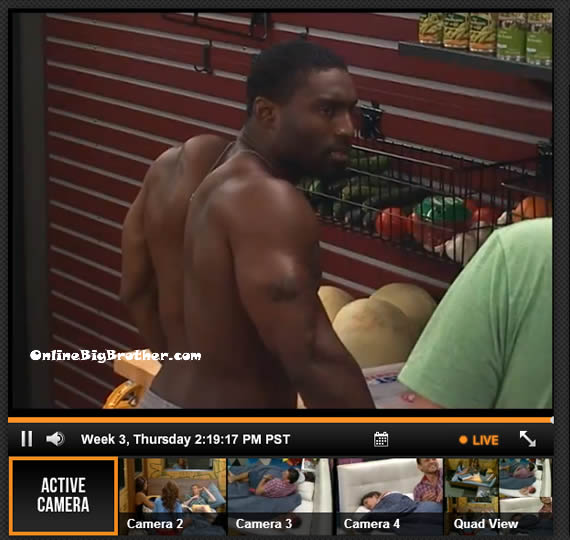 2:19pm Storage room Howard and Spencer
Howard saying their trading trust of one group for trust of another. Spencer points out that the other side has more numbers and MVP they have to jump onboard now.
Howard asks him if McCrae is cool with the new plan to evict Nick. Spencer says yes but he's afraid he's going to get thrown under the bus becuyase he's gotten close to the other side. Spencer says they need to pull McCrae in and talk to him then Amanda.
Spencer: "You down"
Howard: "Ya man"
2:28pm Cockpit McCrae and Spencer
McCrae wondering if there is a way they can give one vote to Evict Elissa so that they keep some trust from the other side.
Spencer: "This is the move I want to make without any lies"
McCrae points out his not a very good liar
Spencer doesn't like the idea of losing trust with Jeremy but they both know players like that do not last in the game and if they do they deserve to win.
Spencer asks him if he wants to move forward with the Area51'ers or Moving company.
McCrae is worried that he's being set up by the moving company. Spencer swears that this is the best plan for them as a group. They are all voting NIck out that is what they want to do so they keep the MVP, "I don't want you run to Jeremy because I know you have something going with him"
McCrae says he won't points out that Amanda is working the entire house trying to get the votes to keep Elissa.
McCrae says Spencer and Howard are toxic to his side until their vote comes out against Nick.
McCrae says he down for the plan Nick is going to be voted out.
McCrae is going to go talk to Amanda.
2:33pm Bedroom Amanda and McCrae
McCrae says more votes are following in line to evict Nick.
Aaryn comes up to them starts talking about the sketchy people in the house says she's knows the votes are locked and after tonight they will find out who they can trust. (LOL poor aaryn can't really trust anyone but maybe Gina) Aaryn tells them that Jeremy has everything memorized from last night if they need any clarification they should study with him in the cockpit.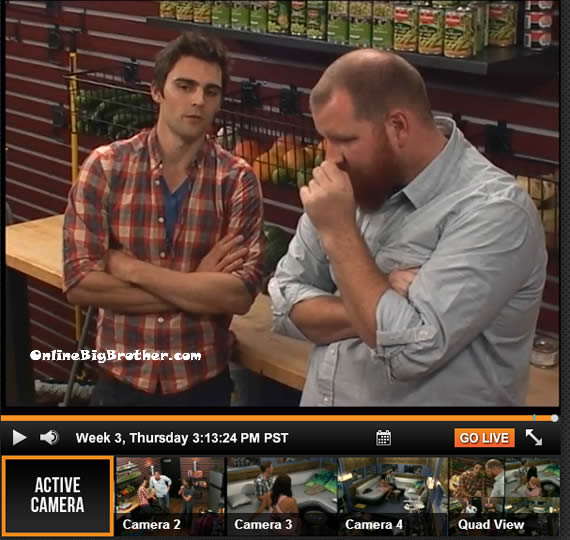 3:15pm Storage Room
McCrae asks him how many votes he has.
Nick: "MC plus Gina, Kaitlin.. it'll be tight"
McCrae: "yeah.. dude they are not going to see it coming"
Nick: "Where is Amanda's head now"
McCrae: 'She's rallying the other side"
Spencer comes in.
Nick is asking if Judd and Andy are going to go with Elisa. Spencer says yes.
Nick: "So the vote is six five"
Spencer: "that is not a very good margin"
Nick: "no"
Spence: "not good at all… it is what it is.. gets the job done.. "
(Crazy awkward moment Nick is now certain he's going home)
THe former MC disband..
Elissa comes in with just Nick in the room"you worried "
Nick: "no"
Elissa: "why "
Nick: "because I believe in the good lord our saviour"
Nick leaves
4:30pm Feeds on fish
4:31pm living room Feeds come back everyone nervous and studying the conveyor belt items.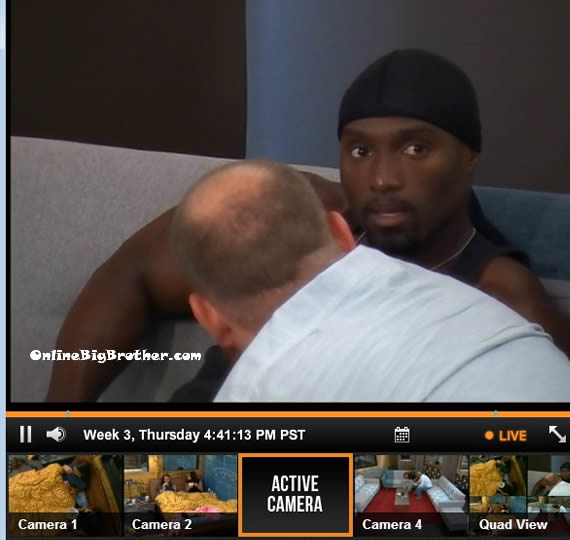 4:41pm Living room and storage room Howard and Spencer
Howard is questioning about getting rid of Nick.
Spencer feels that since he's already talked to McCrae it's probably best to stick with their plan to vote out Nick. Spencer says if they Stick with MC they have Howard, Spencer, Kaitin and Gina, "I don't think we can count McCrea any more.. "
Spencer says with them controlling the MVP they can take out some of Jeremy's numbers which will weaken him and he'll be forced to come back to them he'll have no other choice.
Spencer is excited because he's in an alliance of 9 People says they are good for the short term. Tells Howard to go talk to McCrae to clear things up. Spencer says the vote has to be 8 to 3 (To evict Nick) and McCrae wants it to be 7-4
(McCrae still wants to vote out Elissa by doing this he A) is good with Jeremy and B) will tell everyone that Howard or Spencer flipped the vote making them look bad with Helen's group)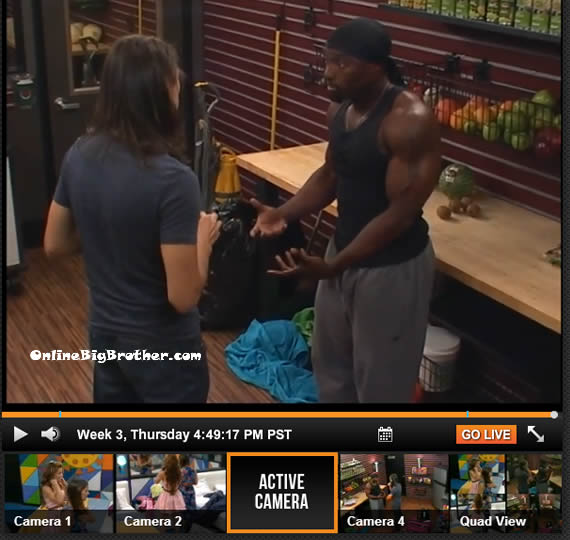 4:50pm Storage room McCrae and Howard
Howard: "Look dude… my word to you as a man no one is throwing you under the bus.. Me and Spencer are a bit in no mans land and whatever he's telling Jeremy goes back to the other side" Howard points out that it's serious stuff.
Howard: "I'm still loyal to MC.. no matter what we are doing right now" Howard wants them to make the vote 8-3 not 7-4 this way Jeremy has to figure out if he doesn't join them he's done for.
McCrea tells him they have to be very careful right now because the other side is going to be gunning for Howard and Spencer big time. Howard says Jeremy is tighter with "Those three girls" than he is with the MC .
4:53pm McCrea tells Amanda that Howard was telling him he's 100% behind them. They both agree if HOH Howard is not safe. McCrea mentions that the entire house is Sketch out by Howard.
Amanda says she only trusts Andy, Judd and McCrae.
(looks like SPencer and Howard are going to be in a sticky spot after the votes go down)