POV Holder:
Next POV:
()
POV Used
POV Ceremony
()
HOH Winner:
SHANE
Next HOH:
Aug 2nd
Original Nominations:
Current Nominations:
Have Nots /Slop
Coach Competition Winner
Next Coaches Competition
July 27 (Friday)
Last Evicted Houseguest
JOJO
10:52pm Cam 3-4 HOH Shane and Britney Watch with FlashBack FREE TRIAL!
Shane comments on the look on Janelle's face like she has no clue what to do, "Wil is going up I know that much". Britney wants him to keep it on the Downlow with the other players until after the coaches challenge.
Danielle joins them says that everyone is acting strange with her and looking at her funny.
Britney explains that Danielle is VERY important this week she is the swing vote. Shane chimes in that Dan's and Britney's teams have to join up they have no other choice. Britney points out to Danielle that this week Janelle was super nice to her and included her in everything because Janelle knew of your importance this coming week. Danielle thought it was a bit strange at how the girls were talking to her out of the blue.
Danielle says that JOJO is a cruel bitch she was saying Danielle fat with disgusting legs. Britney is shocked.. she never heard JOJO says that. Shane never heard it either. Britney calls it a disgusting thing to say.
Britney explains to the that the only way they can guarantee to have the vote go the way they want is to put up one player from each side. Danielle agrees says it's the only option for them.
Britney points out that wil's attitude is really bad she mentions how when his team is winning he's a smiles and laughter but the second his team is down he puts his grumpy face and moops around the house.
Britney tells Danielle they are serious about working with her they want her to be included in everything. Danielle appears pretty happy from this she wants to make a deal that is longer than 1 week, it's time to think long term.. Britney wants to pull Dan into their talk they need his mind on this.
Britney explains to Danielle how important she is to them they a) need her as a swing vote and b) need her to be their ears downstairs. Britney: "EVERYONE will want to be your friend this week and you'll get tons of information"
Danielle just doesn't want to be manipulated by them. Both Britney and Shane take offense to that they explain they are for real about this deal with Danielle.
Shane likes Joe thinks they should team up with him. Britney shakes her head (So do I) she says JOE is HORRIBLE he tells Janelle everything he's playing each side of the house. Shane didn't know that he always thought Joe was straight with them.
Dan come in
Britney says Danielle is 100% safe this week and they are planning on putting up one from each team and having Danielle as a swing vote.
Dan proposes that Shane and Danielle need to have a secret alliance if they are seen as together they will both be put up on the block.
Dan asks them how are they going to blast through the 2 beast alliances. Even with 1 player down this week it's 5 competing in the next HOH Vs 1
Britney: "Who do we trust more out of the 2 devils downstairs"
Britney starts to explain janelle and why she thinks Boogie's team is much more trustworthy than Janelle's.. She talks about week one when Willie had the power and the second her team lost the power (once Shane didn't use the POV) they were downstairs making deals with Boogie.
Britney: "I'm sorry sometimes in this game you have to feel the burn"
Dan proposes they put up 2 from one team this way they don't piss 3 players off. Britney disagrees if they do that they do not control who goes home. Dan understands.
Britney: "We're trying to fight with so few numbers"
Dan thinks they should mend fences with Wil because Shane can steamroll Wil in physical competitions but Frank might be trouble.
Dan: "This is a big Ass decision"
Britney: "we need to win the coaches competition..Janelle told me you threw it last week"
Dan gets pissed (he really does) he says there is no way he threw that competition he has horrible balance. Danielle mentions that Janelle told her that to.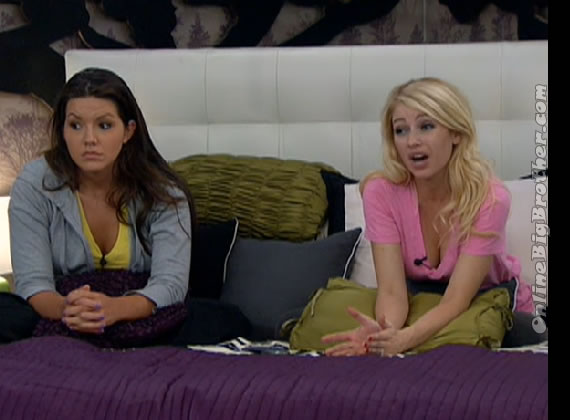 Britney is going to tell Boogie the truth they need to be able to control the votes this week and they have to put up one of his people. Britney: "OMG it's so weird that i'm giving Dan all my secrets" Dan: "We're in the outs.. I have no vested interest in telling anyone outside this room what we're talking about.. it'll hurt Danielle"
Dan says that they're up against 5 people in next week's HOH, they need to get the votes to last in the longer term, "We're due for an endurance challenge next week"
Dan: "I would put a thousand dollars on Shane winning a competition over Wil" (dan wants them to try and deal with Wil and get Frank taken out)
Dan brings up again about Janelle saying He threw a Coaches competitions he is very annoyed. Britney says that Janelle and Boogie are working together and they have deals with their top players to go to the end. Wil janelle's number 1 Frank is boogies number 1. Shane chimes in Jenn and Joe are expendable.
Dan tells them they need to work on the players that are expandable and pull them in. Britney thinks that will be very hard to convince the other players they are at the bottom of their 6 person alliance.
Talks moves to the awesome performance in the HOH competitions by Danielle and Shane.
Dan tells Shane the Crowds were cheering when Shane scored the 20..
Dan warns them about making any deals with Ian britney agrees and adds Ashley as someone they cannot deal with.
Dan asks Danielle what she thinks they should do.
Danielle suggests they nominate one from each team and get them fighting each other (Biam i went from talking smack about Danielle to like her in 1 hours of feeds)
Everyone agrees it's best to cause chaos in the other 2 groups and try to peel a player off Boogie or Janelle.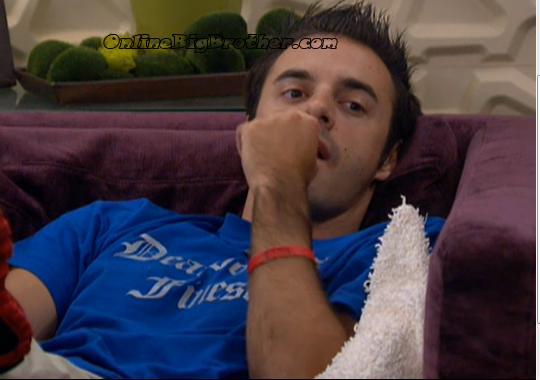 Britney says there is a value at getting rid of Ian because the next HOH will be endurance.
Britney: "If you get rid of Joe he's the only person allied with Wil.. If you cut Joe out of the Joe and Wil train… Ashley breaks free" britney thinks they might be able to trust Ashley at that point. Shane says no way she screwed them week one. Danielle totally agrees..
Shane brings up the lackluster performance of Frank in recent competitions. Dan thinks Frank wasn't trying very far, he warns them that Dan will be very strong in physical competitions.
Danielle: "janelle manipulates and Bullies Ashley.. I'm Afraid Jenn and boogie are Extremely close I've been watching them…If you tell anything to Jenn she will run downstairs and tell everyone.. I've seen it happen it before"
Dan: "You cannot make any deals with Ian.. he's a wash"
Britney: "Wil is CUTTHROAT as they come"
Shane thinks they can trust Frank with a deal, Danielle agrees.
Dan proposes they pull Boogie and Frank in and talk to them, 'It seems like they are the only ones they can deal with"
Danielle suggests they let fate handle it nominate Wil and Frank and see what happens.
Shane agrees
Danielle: "Cause chaos between the 2 teams"
the group decide the order of who has the best chance to win the game is Frank, wil ,Ian, joe. With Frank being the most trustworthy of the bunch.
Britney will put all the Janelle's players up on slop if she wins it.. and would put Frank or Jenn up if there is a fourth person. Dan thinks she should slap Ian on it and not piss Frank/Jenn off right now.
They notice Joe is coming up Dan and Danielle run into the other room. Dan hides and Danielle uses the washroom. joe comes up start shooting straight. Britney leaves followed by Danielle. Joe and Shane have a short conversation.. Joe pretty much tells him to take frank out because Frank is the number one competitor. After they lave Dan sneaks out and says to the camera "they won't know what's going to hit them" (Freaking awesome let the damage begin)
Watch what happens, AS it happens: Big Brother 14 Live Feeds!
Subscribe today for your FREE 3 DAY TRIAL!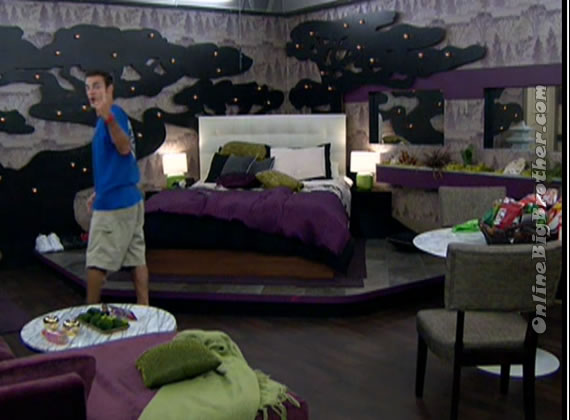 12:06 Cam 3-4 Dan: "they won't know what's going to hit them"
12:15AM Arcade room Danielle and Dan very happy at the new team they have formed.. They want to take Frank out this week they now need to convince Shane and Britney who seem to want to take out Wil.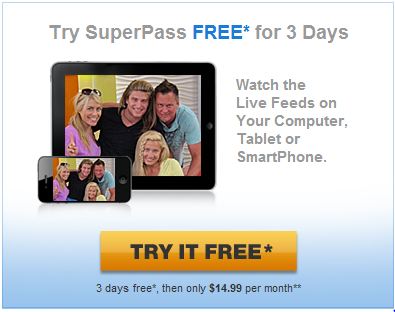 Share it YO!!
Tweet