POV Holder:
Next POV:
July 28 (Saturday)
POV Used
POV Ceremony
July 30 (Monday)
HOH Winner:
SHANE
Next HOH:
Aug 2nd
Original Nominations:
Current Nominations:
Have Nots /Slop
Coach Competition Winner
Next Coaches Competition
July 27 (Friday)
Last Evicted Houseguest
JOJO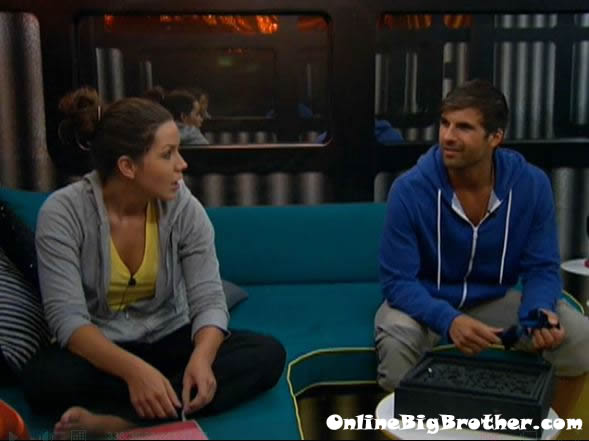 12:30am Dan and Danielle are in the arcade room. Danielle thinks that her biggest competition is Ian. Danielle tells Dan that she thinks Wil and Frank have a final 2. Dan asks Danielle who Frank would put up if Wil is gone. They could put up Shane if Shane didn't put them up. Danielle says that he would have to put up Ashley and Joe …but would he. Shane joins them. Shane says that he (Wil? or Joe?)said he should put Frank up and get him out. Obviously they don't want anyone on their team to go up. But if we tell Frank they are saying that? I don't know, but they could still be working together. I'm not going to go with it but.. Shane says that he is going to head to bed. Dan says that this week she has to get to Joe and convince him not to put you up if he gets HOH. Danielle starts talking about Britney saying that she trusts her more than Janelle and Boogie.
Re-Watch ALL THE DRAMA on FlashBack: Big Brother 14 Live Feeds – 3 Day Trial!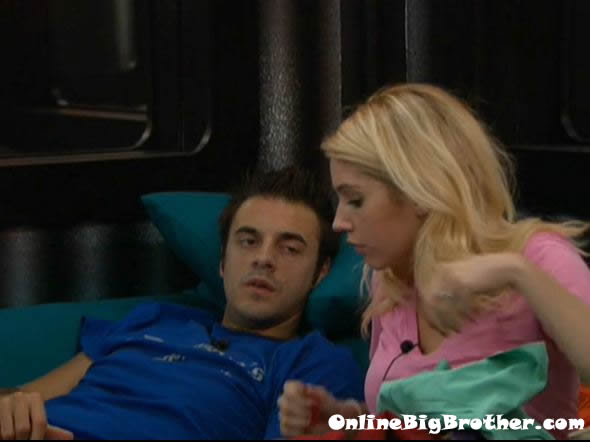 12:50am – 1:15am Danielle heads out and Britney heads into the arcade room. Dan tells her that they need to be careful this week that he won't be up there too much. Dan tells her that he bashed her to day with Frank. He says that Frank asked him if he thought it was Britney's fault that Willie went home. Dan says that he told him yes. Britney says awe thanks. Dan says that he just wanted her to know and says that he doesn't know if he was trying to bait him or what. Britney says that she thinks Frank makes up A LOT of stuff and runs around telling people. Britney is worried that Frank and Janelle are close. Britney says that she does not trust Janelle's people but at the same time she doesn't want to keep Frank. Britney says that Frank is going to come up and talk …and I know he is going to say sh*t about Danielle and you. Dan says that is why I wanted to tell you what I said. She says that it's expected that Shane will put up Frank. Dan wonders if she can make a deal with Janelle to keep Danielle safe. Britney says that it pisses her off that Janelle's team floats to the power and never has to feel the heat. Britney says that if she was ever going to trade any players Ian would be at the top. Dan says that Joe will self-destruct. They talk about Ashley wanting to switch sides but she's scared they will be mean to her. Britney says that Janelle hugged her tonight. Britney says where the hell was this last week? Dan says that he thinks both him and Britney are down to their best chances of winning. Dan says that he heard that Janelle asked Kara who she would put up after the whole Willie blow up and that she apparently told Janelle that she would put up Joe. Dan and Britney laugh at how stupid that would be to say to Janelle. Dan says I can't help you get out of that?! Britney says we need to put our money on one team and attack the other, it all comes down to who we think will win an endurance competition. Britney says that either her or Dan need to win the coaches competition tomorrow. They discuss who to put as have-nots if they win the coaches competition. They say that Jenn, Frank, Joe and Wil haven't been on it yet.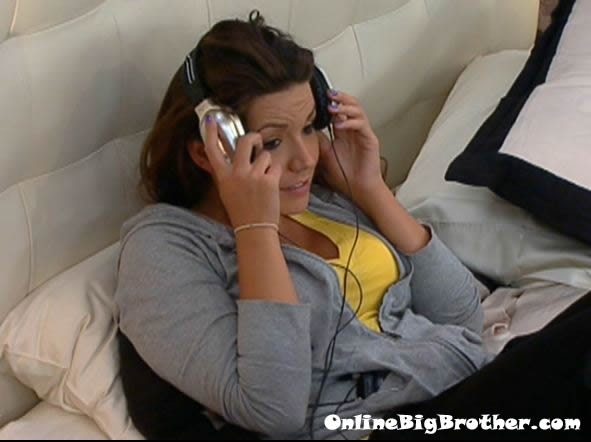 1:35am – 2:10am Shane, Britney and Danielle are up in the HOH room talking strategy for the week. Britney tells Shane that Frank put him up last week so it's only right that he should put Frank up this week, she says its such an easy tit for tat. Britney says that Janelle hugged her tonight and it kind of hurt! Shane asks because of her boobies. Britney says that she can't believe she got hugged, I feel so duped. Danielle says that if Frank goes there is no way we can't beat any of them but if he stays he is going win. Britney calls Frank a beast. Shane asks them if they think Frank is more of a beast than he is? Britney asks did you not see Frank's push ups the other day? Britney is super impressed with Frank's push ups. Shane agrees Frank is a beast. Britney tells Shane he nominated you, you nominate him, duh!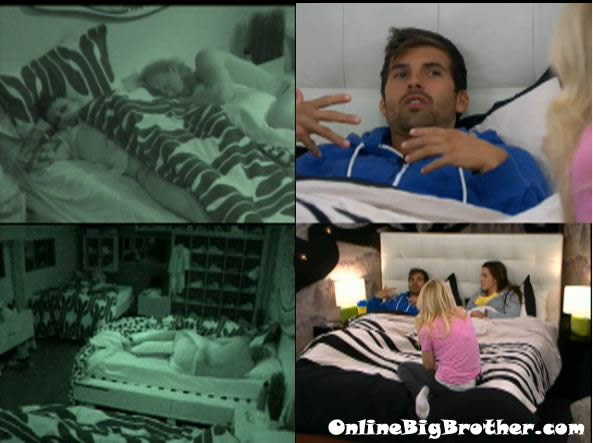 Britney says that she is mad that Janelle's team never feels the heat, it's so fricking annoying! Janelle's team knows no pain! Shane says that they have to strike when the iron is hot. Britney tells Shane not to tell Frank before the nominations that he is going up. Shane says that he isn't going to say anything. He says that Frank won't know until he doesn't pull a key out! Shane says that Boogie is going to be so pissed if Frank goes home. Britney says that she doesn't think Frank will ever go after Janelle's team because he likes her so much. Shane wonders if Frank has a final 4 deal with Janelle's team. Danielle heads to bed. Shane told Danielle that he would have offered her to stay, but that he wanted a good night's sleep. Britney tells Shane that Danielle would be the perfect person to take to final 2 because he would kill her if it were the 2 of them up there. She says that he has played a great game, won competitions. Shane agrees and says he would be happy to get Danielle the $50,000. Britney says that is all she'll win if she is up against you. Britney tells Shane he has a great shot at winning this game, they just need to assure his safety next week. Britney and Shane go to bed. Britney reads her letter and then goes to sleep.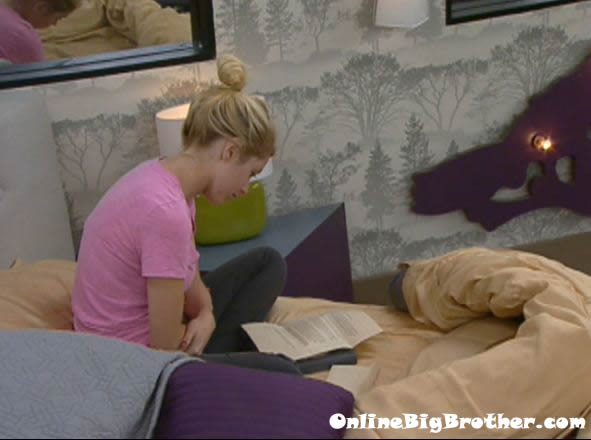 Share it YO!
Tweet