POV Holder:
Kenny
Next POV
?
POV Used
?
POV Ceremony
April 7
HOH Winner:
Heather
Next HOH:
Apr 10
Original Nominations:
Kenny & Allison
Current Nominations:
Sarah & Allison
Have Nots
Sarah, Kenny, Rachelle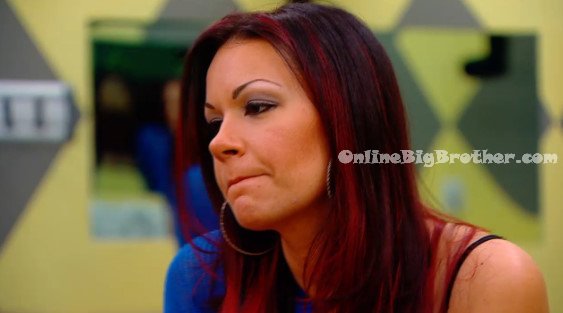 10am – 12:30pm Big Brother blocks the live feeds for the Power of Veto ceremony to take place. When the live feeds return – we learn that as the power of veto holder Kenny used it to remove himself from the block. Heather then nominated Sarah as the replacement nominee.
At this point Allison did NOT use her Secret VETO that she found yesterday after following the clues and opening the war room secret door. LOOKS like Big Brother is getting Allison to use her secret veto right before the votes for added drama and to pull in more viewers for the Thursday live eviction.
In the storage room – Sarah, Rachelle, Sabrina, Allison and Kenny talk about how crazy this game is. They talk about how they didn't even think that Paul could win an HOH but he did. Everyone leaves the storage room but Allison and Kenny. Allison tells Kenny that she would never expect Kenny to vote out Sarah over her. Kenny says that he's been hearing whispers about a flip he says he can't stand being in the house with these people. Meanwhile in the main bed room. Arlie tells Adel and Jon that he is coming out in the next couple days. Arlie says that he had a conversation with Kenny and was fishing to see if he could squeeze another week out of it to get more information from them but that Kenny implied that he knew he was flipping. In the storage room Arlie tells Heather that after his conversation with Kenny he is going to expose himself. Arlie says I know I am going to be a big target but f**k it. Arlie says Kenny basically said that he knows if anyone flips he knows it was me so…

12:45pm Up in the HOH room – Neda and Jon are talking. Jon asks Neda if she thinks Arlie is playing us. Neda says that she thinks Arlie is. Jon asks if I was up on the block against Arlie would I stay over him? Neda says she isn't sure he would and thinks it would be close. Jon comments on how me and you are the power couple now. Neda says that she wants Allison gone before Sabrina. Neda and Jon talk about how smart and strategic Arlie is playing. Jon talks about how it was his idea for Arlie to play both sides. Jon comments on how people think I'm a big dummy. Jon and Neda start wrestling on the bed.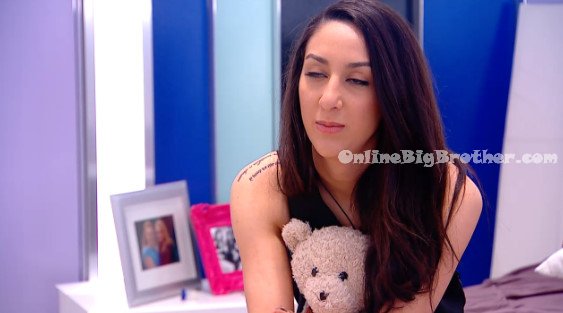 12:50pm – 1pm Out in the hot tub room – Sarah is talking to herself. She says okay how am I going to put a plan together to approach Arlie. She says this is so much easier sitting on my couch at home. Sarah says I'll just be a total b***h to the other house guests. Kenny and I will just be the number 1 targets for the house guests. Sarah says by putting me on the block shows that your side doesn't care about you.. The fact that they put me on the block means I could have outed you (Arlie).
1pm – 1:20pm UP in the HOH room – Adel, Neda, Heather and Jon talk about relationships.

1:25pm Out in the hot tub room – Rachelle talks to Sabrina about how right before the ceremony Kenny told her that he had the bad feeling Arlie was going to flip. Sabrina says he better f**king not! I will rip him a new a$$hole during the live eviction. Rachelle says if he does flip .. then its just me, you and Kenny. We're going to go up. Sabrina says not if we win HOH. Rachelle says yeah right .. we are a pretty strong trio. Rachelle says that's a complete lie that he just found out about it this morning. He found out last night when they were talking. Sabrina asks who do we put up if we win HOH. Adel and Jon? Rachelle says if Arlie flips .. we put up Jon and Arlie.. and if one of them wins we put up Adel. Sabrina says you have balls I love it. Rachelle asks do you think he's going to flip?? Sabrina says if he does I am going to rip his pen!$ apart … you know the one he likes to show to the universe.
In the kitchen – Sarah tells Kenny at least if it happens then you guys will know who flipped. Kenny says that's a pretty sh*tty silver lining. Sarah says well you might not have known otherwise. Allison joins them. Allison heads into the storage room with Heather and talk about Arlie coming out. Kenny and Sarah continue to talk. Sarah says how crazy will it be if I go out with a 2 week slop pass .. you can never feel comfortable in this game. Kenny comments how they should just break Arlie's leg. He then stops himself and says he shouldn't have said that .. you should never wish physical harm on someone.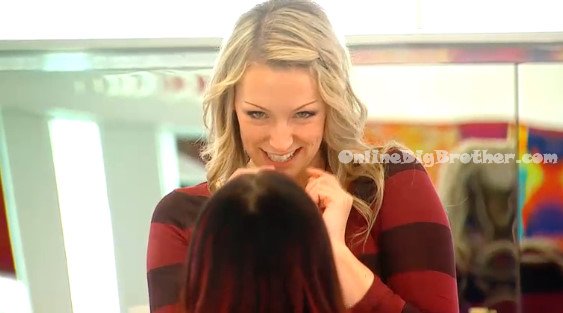 Stay connected and interact with other Big Brother Fans on our Facebook page.
And Follow: @BigBspoilers and @Dawgsbigbrother on Twitter for the most up to date spoilers.