POV Holder:
Kenny
Next POV
?
POV Used
?
POV Ceremony
April 7
HOH Winner:
Heather
Next HOH:
Apr 10
Original Nominations:
Kenny & Allison
Current Nominations:
?
Have Nots
Sarah, Kenny, Rachelle

8:15am Big Brother wakes up the house guests. Down in the kitchenKenny talks to Arlie in the kitchen. Kenny asks if he knows who might be going up? Arlie says he isn't really sure. He says that its most likely between Sarah and Sabrina. Kenny asks he talked game last night. Arlie says he makes it a rule to not talk game when drinking. Kenny says that's a good idea because every time they drink they're like "this are all my secrets".. Arlie laughs and says yeah pretty much. Kenny says he had a good chat with Allison last night just to see basically .. we still have the numbers next week no matter what. So on the off chance that something happens and she stays I had a chat with her just to make her feel good with us. Kenny says so that went well. Kenny says that Allison asks me about Sabrina. He says she was like what's your relationship with Sabrina? Kenny says she was like you're kind of in an alliance with her right and I was like yeah. Jon joins them and the conversation ends.


8:40am – 9:30am In the main bedroom – Sarah commments that if it's me – there is nothing I can do and that's that. Rachelle says yeah. In the bathroom – The girls are getting ready for the POV ceremony. Rachelle says I kind of look like Precious this morning with my makeup like this. Sarah comments that she had a dream that her husband became a crack head while she was gone. Sabrina starts doing Sarah's hair. Sabrina comments that Arlie was in the room with them all last night. Sarah says if I go home .. then you know what happened. Sabrina says I think he (Arlie) loves you .. he wouldn't do that. Sarah says yeah but so did Jon. Sarah says I know it's me going up. If it is me, it's my side that has to send me home. I will just hang out with the people I like.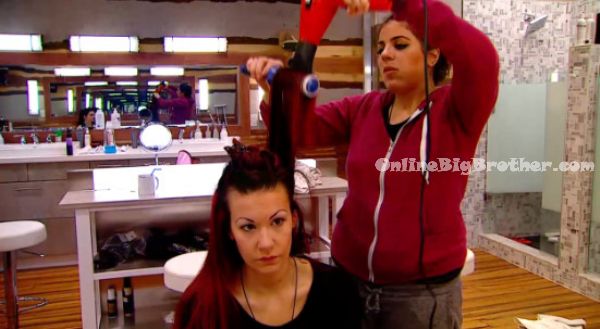 9:35am – 9:45am In the living room – Jon and Neda talk about dumping out the syrup later tonight. Jon asks if people would get mad about wasting food. Neda says no. Neda heads upstairs. Adel joins Jon on the couch. Jon tells Adel that yesterday Neda dumped out all the sugar. (They're dumping out the sugar and syrup so that the havenots (Kenny, Rachelle & Sarah) won't have it to mix with their slop. Up in the HOH room – Heather talks to Jon about how she asked Sarah if she could talk to her. Heather says that Sarah said no that's okay I know what's going on. Meanwhile in the bathroom – Sarah comments to Arlie that at least I am going home before jury. Sarah heads into the bedroom and tells Kenny that she knows she is going up. Sarah says it just doesn't make sense why piss off someone unless you know you have the numbers. Arlie, Sabrina and Rachelle join them. Kenny says we all just need to stick together. Sabrina says that she is voting to keep Sarah a million kajillion percent. Sarah says I want to f**king just punch her in the face! Kenny says if something happens then we know someone flipped. Sarah tells Sabrina and Rachelle that we just can't act suspicious because if we do the he (Arlie) will really flip to the other side.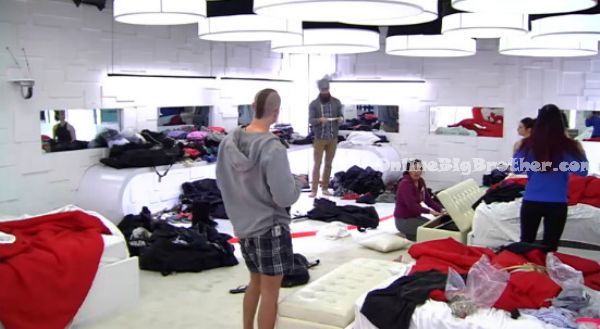 9:50am – 10am Out in the backyard –
Arlie and Kenny are having a conversation. Kenny says I 100% don't think it would be Sabby if something happens and Sarah goes home. If someone flips I don't think it would be her. I think she will go after us eventually but not now. This wouldn't be her week to do something like that. Kenny says I just know that if Sarah goes home I am going to loose my sh*t. I am going to go crazy! It will be no holds barred! Arlie is trying to convince Kenny that it would be Sabrina that flips. Kenny isn't buying it and doesn't think it would be her. (Kenny knows if Sarah gets voted out it would be Arlie) They end their conversation. Kenny heads out to the hot tub room and tells Rachelle, Sabrina and Sarah that he thinks Arlie has flipped. I just have a feeling that he has already flipped. Arlie joins them. The talk about if JOn made it to the end with Heather or Neda.. he would win. Kenny says I would vote for him to win, its about game play. Arlie says it is about game play. Kenny says if I was in an alliance with him since day 1 ..and he betrayed me then I would be really bitter.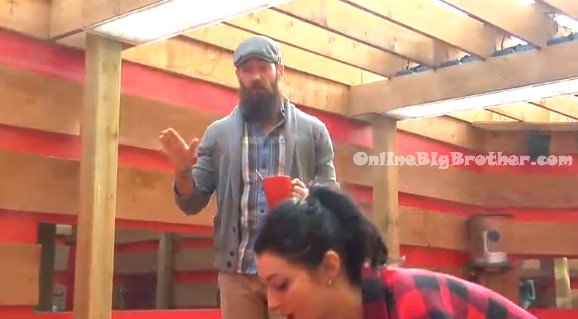 10am Big Brother blocks the live feeds for the Power of Veto Ceremony..
11:15am The live feeds are still blocked..
Stay connected and interact with other Big Brother Fans on our Facebook page.
And Follow: @BigBspoilers and @Dawgsbigbrother on Twitter for the most up to date spoilers.