POV Holder:
Kenny
Next POV
?
POV Used
?
POV Ceremony
April 7
HOH Winner:
Heather
Next HOH:
Apr 10
Original Nominations:
Kenny & Allison
Current Nominations:
Sarah & Allison
Have Nots
Sarah, Kenny, Rachelle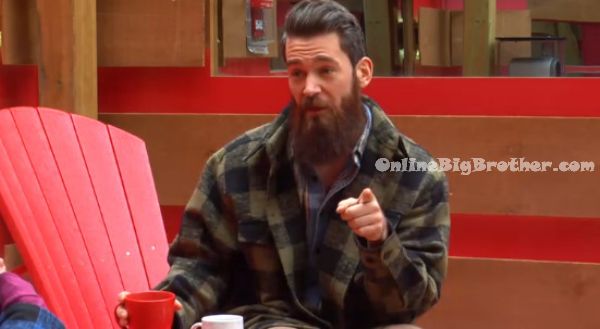 1:40pm – 2:10pm Sabrina and Kenny talk about how they know Arlie is flipping. Sabrina says that she told Arlie the 5 of them are in a perfect position. Sabrina says that Arlie wouldn't even look her in the eye. They both talk about how conflicted Arlie is with the decision to flip. Rachelle joins them. Kenny talks about Arlie was planting seeds to blame Sabrina when he flips. Racehelle says that she is going to cut Arlie's d**k off if he flips. Kenny says WHOA!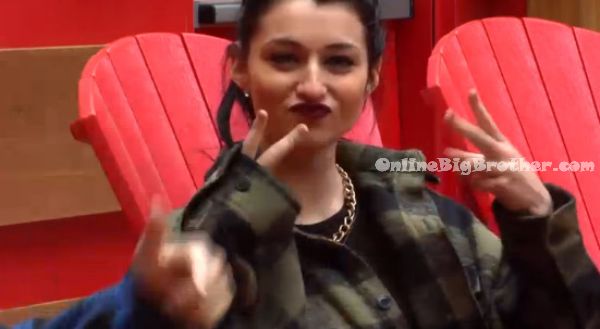 In the bathroom – Arlie talks to Sarah about how hard this decision is for him and tells her that he loves her dearly. Sarah goes into the bathroom stall and starts to cry. Arlie heads into the bedroom with Jon and tells him that he just told Sarah that he's going with the other side 100%. Arlie says that he feels bad but that he begged Sarah not to go with Kenny so I don't feel that bad about it. Arlie says its out .. and now Kenny will come after me .. but that's fine. Allison and Adel join them and he tells them about how he's told Sarah he's flipped. Arlie says we'll have to have a talk with Kenny .. but I don't give a f**k about Kenny. Allison asks if they can keep it a secret that Allison is with them for now until she has time to think about. Arlie says yeah we can go talk about it. Arlie says I am going to make it seem like I just flipped .. and not that hes been f**king with him the last 3 weeks. Heather and Neda join them. Arlie tells them all that he's been in an alliance with Sarah and that she knows we formed this.. She chose to stick with that side. Arlie says I am in a really sh*tty position .. we just need to turn off our emotions and ride hard.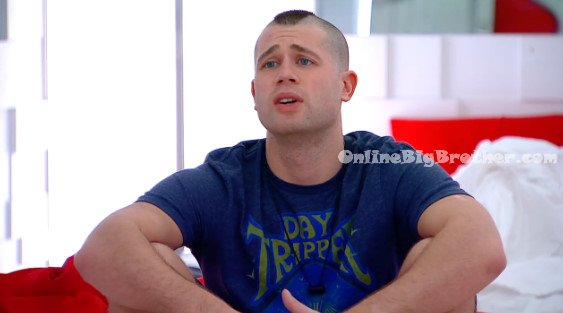 Sarah tells Kenny, Sabrina and Rachelle to not let Arlie know that they know he has flipped..

2:10pm – 2:55pm In the main bedroom – Arlie talks to Allison about what to say to Kenny when he questions her about flipping. After they talk about what she should say Arlie reveals to them all about the First Five alliance. Heather says that she knew it! Arlie tells them everything about the first five alliance and the moves they made. Adel comes up and tells them that Kenny and them are talking about how Jon cheated on slop when Andrew was here and drank a protein shake when he wasn't allowed to. Adel says they're going to try and get you in trouble just so you know so you don't blow up. Jon comments on how he was working out with Kenny and Andrew and they poured him a protein shake .. he says I just slammed it without even thinking. Arlie then continues his story time about how and why things played out the way they did. Neda and Heather both ask Arlie if they can be around when Arlie tells Rachelle that Sabrina has been f**king her. Heather says we need a name.

2:55pm – 3:05pm Allison says that she almost wishes that the other side would just blow up on her so that it will make it easier. Neda starts telling Allison how Sabrina came out and told them all that she (Allison) had a boyfriend at home and how you were cheating on him with Andrew. Rachelle joins them and lays down. She asks you don't mind if I sit here do you? Neda says no it's fine. Heather is talking about Ika. Soon after Neda, Heather and Allison head downstairs to eat. Rachelle sits in silence for a bit and then says "F**king Heather! F**king little B***H!"

3:25pm Rachelle heads out to the hot tub and tells Sabrina about how she walked into the room where Neda, Heather and Allison were talking. Rachelle says that she asked Neda if she was okay and she responded no. Rachelle and Sabrina wonder why Neda is mad at them. She won't even look at us. Sabrina says I don't care about them. Rachelle says if I don't win this thing I am going to hate myself. Sabrina says I just want to make it to jury.. one more week and I'll be fine. Rachelle says imagine if we all get picked off and then there is just one of us with them.. if it was me I would self-evict. Rachelle says she (Allison) is with them you know.. she's always with them. F**king little b***h! They head inside. They stop in the kitchen and Neda talks about eating two chicken pieces. Rachelle and Sabrina head up to the bathroom. They tell them about how Neda is acting. Sarah comments on how she is already on slop and should eat something to punish the whole house. Sabrina eggs her to do it.
SABRINA says JANELLE your boyfriend JON got a YEAST INFECTION from Neda's dirty ass vagina! @bigbspoilers #BBCAN2 pic.twitter.com/MOxNCaC4Mp

— Dawg (@DawgsBigBrother) April 7, 2014
3:55pm Allison says in the kitchen I am just afraid about them touching my sh*t. Jon says if they did I would talk a sh*t on their sh*t. Meanwhile up in the main bathroom – Sarah hugs Kenny and says that she would take a bullet for him and they know that .. that's why they're taking me out. Kenny says honestly everyone is going to see how ridiculously stupid they are being. If I go out I want to go out clean. I want us to go out on the high road. Kenny says if there's a double eviction we should take out Jon. Sarah asks you would take out JOn over Arlie. Kenny says yeah technically we should take out Arlie over Jon. Kenny says we should put up Neda & Jon. If Jon comes off we put up Arlie so that Jon has to choose between them. Sarah says they're coming after duo's ..f**k them!
Stay connected and interact with other Big Brother Fans on our Facebook page.
And Follow: @BigBspoilers and @Dawgsbigbrother on Twitter for the most up to date spoilers.