POV Holder:
Kenny
Next POV
?
POV Used
?
POV Ceremony
April 7
HOH Winner:
Heather
Next HOH:
Apr 10
Original Nominations:
Kenny & Allison
Current Nominations:
?
Have Nots
Sarah (didn't use slop pass), Kenny, Rachelle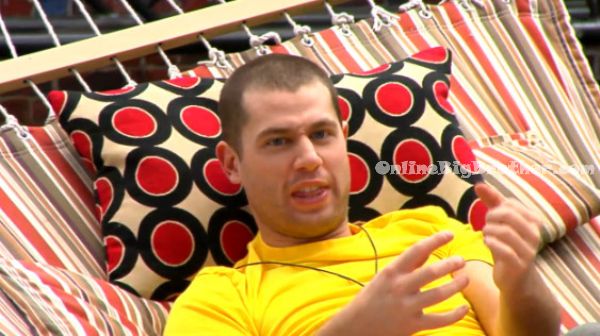 2pm – 2:30pm Big Brother has the house guests on a backyard lock down after their cleaning task. They speculate that they'll be taken off their slop punishment and be given food as a reward. Neda says imagine if McDonald's was in there. Arlie says I would f**k that food and eat it! Meanwhile out in the hot tub room – Sabrina and Rachelle talk about Adel's veto power. Sabrina is worried he will use it. Rachelle says there is no way he still has it! It's done! Rachelle says maybe with the 6 million votes Canada will save someone… maybe they'll keep you? Sabrina says no, they voted Allison into the house, they'll save her. Rachelle says that Allison hasn't done anything! Meanwhile in the backyard – Arlie, Jon, Neda and Adel talk about how Rachelle is Sabrina's puppet. They talk about how Rachelle will literally wait outside the diary room when Sabrina goes in there. All of the house guests are laying around waiting for the backyard door to open. Arlie starts counting down from 10 – 1 as Adel motions for the back door to open. Adel yells open sesame!! After they reach number one Adel says aww.. I knew I was't Aladdin!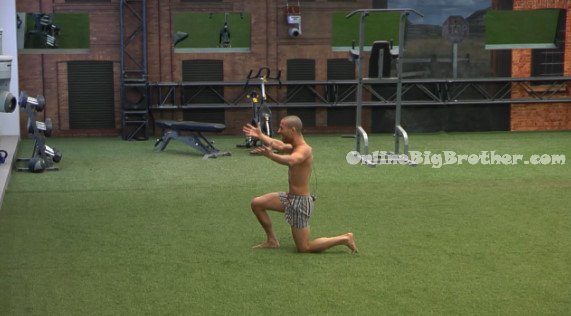 Adel opens up the dryer and finds keys. He says hey Kenny are these your keys from home or something? Kenny walks over grabs the keys and throws them up on the dryer. Sarah says what if those are secret keys Kenny. (What are these keys for? AND why would Kenny just toss them aside??? Or were they not even keys and it was just Adel messing with Kenny and that's why Kenny tossed them aside. BB wouldn't have let someone bring in their keys into the house, so what was this all about?) *** The keys are most likely the storage room cupboard keys that Kenny found weeks ago ***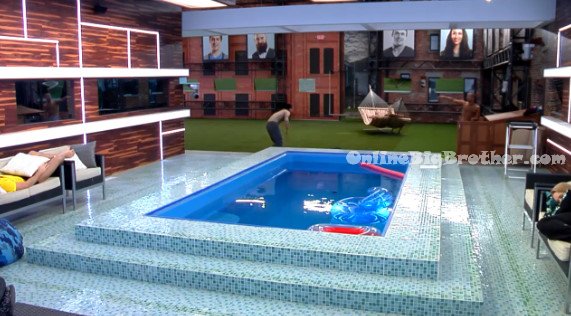 2:40pm – 4pm Big Brother blocks the live feeds… when the live feeds return the house guests are back inside the house. Sabrina says I want to see what's behind the doors. Rachelle goes into the HOH room and yells out I am not going to eat anything. She covers up her mouth. Rachelle commments on how annoying Adel is being. Kenny agrees. Adel comes in and grabs some candy. Rachelle says she isn't eating anything. Adel says its over (the 48 hour punishment) boo boo, don't worry about it. Kenny and Rachelle talk about his Adel's power and believe its over now. Kenny talks about Adel praying. Out side the HOH room.. Big Brother keeps zooming in on the flowers on the tables and when Neda walks by she keeps looking at them and picking them up. She heads into the HOH room and comments on how they are already dying. She says one of them is real.

When the backyard opens up the backyard the house guest run out side to see if anything is different. Big Brother zooms in on the puck at the bottom of the pool…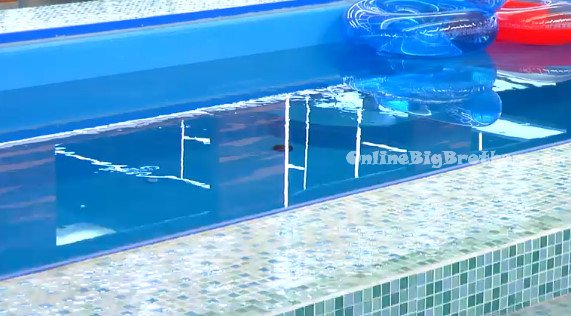 4:20pm – 4:30pm In the storage room – Sabrina talks to Heather about who will be going up on the block as the replacement. Heather says its between two people but doesn't want to say. Sabrina says that she needs to know because it takes over my soul. Sabrina says that Heather telling her .. she could prove that she can be trusted that she won't tell any one. Heather then tells Sabrina that she can't tell anyone but that its between her and Sarah but that she could still change her mind.
4:40pm 4:50pm
ALLISON just looked in the plant and pulled something out of it!! She shoved it in her pants and went into the bathroom to look at it in the stall. She then headed out in to the backyard to the hot tub. Allison talks with Sabrina and Rachelle for a minute and then heads back inside. She then headed over to the pool and picked up the pool floaties.. Allison talks about the clue in the bedroom. She says make a splash .. how will everyone not know I am there? (The other clue is at the bottom of the pool)
5pm Allison heads to the pool and puts her legs in .. She talks to herself .. how can I do this without putting my bathing suit on. She says I fell in?!? She goes in and grabs the puck of the bottom of the pool and rips the clue off the bottom of it. She reads the clue and gets out of the pool. She then heads back up to the bedroom and reads the clue again. She then changes out of her wet clothes..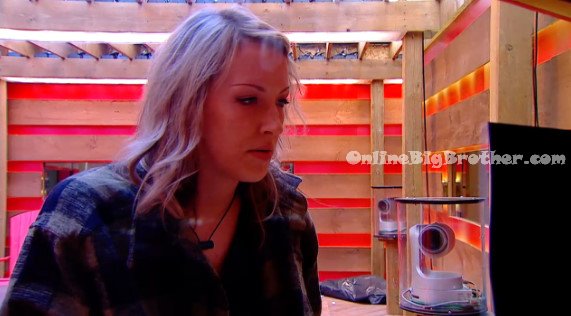 5:10pm – 5:25pm Allsion comments that she is going to go check to see if its light out. In the mirror she finds a clue. She reads it. Read it like a book from left to right .. look for 1 and 3 turn them left and right or the door wont open a crack. Once its open you'll be out of sight. Allison wonders if its the secret room. Allison heads inside and runs into Sarah and talks about her being on slop. Allison heads over to the sit in the chairs under the stairs and looks around at the wall where the others believed there was a secret door. Arlie joins her and she stops looking.. She asks him how long he thinks she can still ride the middle. Arlie says not too long. Allison says so after Thursday I need to pick a side. Arlie says he is going to take a lot of heat .. we will need to pick a side and take a stand.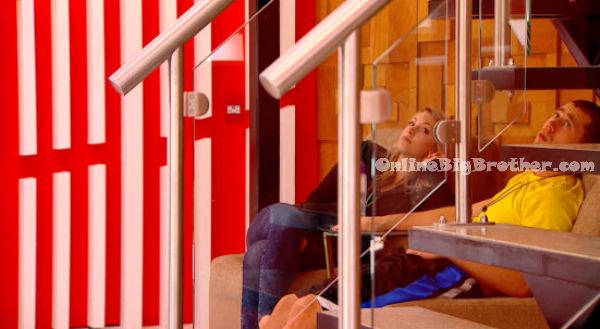 5:35pm – 5:55pm Arlie finally leaves Allison alone by the door. She sits there looking around to figure out exactly what parts she needs to move to open the secret door. She then heads back to the kitchen to eat dinner. (Allison is waiting till no one else is around to try and open the secret door.) The house guests talk about their first time having s*x.

Meanwhile – Sarah, Kenny, Rachelle and Sabrina game talk:

6pm In the kitchen Allison picks Neda up..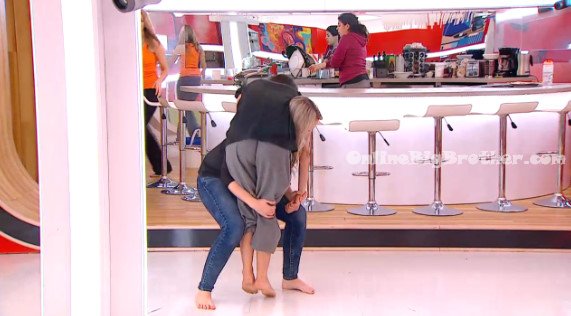 Out in the hot tub room – Kenny talks to Sabrina and Rachelle about how nice the others are being.. He says and just watch next week they are going to be the same smug vicious a$$holes again. Sabrina says that she was going crazy yesterday and says that she even had to see the psychologist because she was ready to self-evict herself..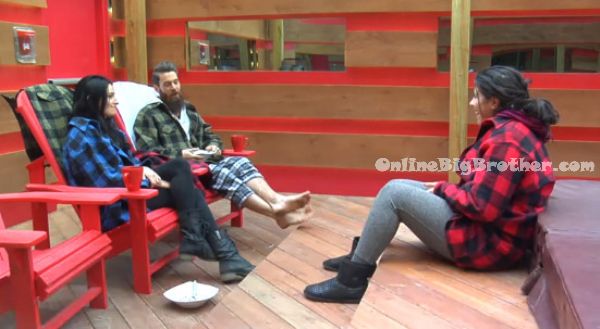 Stay connected and interact with other Big Brother Fans on our Facebook page.
And Follow: @BigBspoilers and @Dawgsbigbrother on Twitter for the most up to date spoilers.
If you're enjoying the live feed updates this season, please consider donating. Simon and I work 24/7 all season long to keep you updated on everything that happens inside the BBCAN house. Any amount is greatly appreciated! Your donations go directly to paying the server and bandwidth fees required to run this site.
Share it YO!!
Tweet