POV Holder:
Kenny
Next POV
?
POV Used
?
POV Ceremony
April 7
HOH Winner:
Heather
Next HOH:
Apr 10
Original Nominations:
Kenny & Allison
Current Nominations:
?
Have Nots
Sarah (didn't use slop pass), Kenny, Rachelle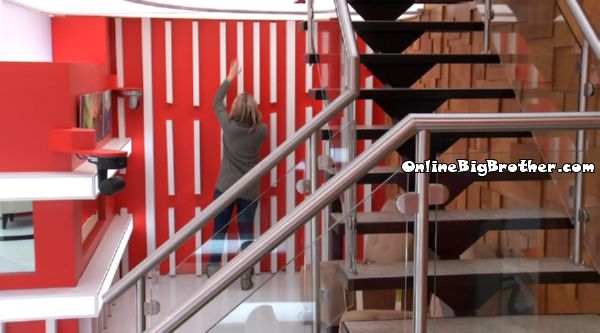 7:00pm Allison searching for the secret door talking to herself.
Allison – "Has to be a secret room.. has to be has to be "
Allison – "One and three.. is it the first block or is it three.. I need to get to that wall when they sleep"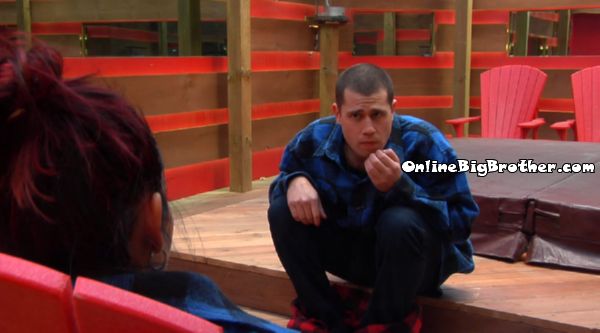 7:30pm Hot tub Arlie and Sarah
Sarah says Allison si saying to people that she is not the lowest on the totem pole.
Arlie told her that on the hammock
Sarah thinks it's odd that ALlison would say that to the people that would be the lowest if Allison wasn't
Arlie doesn't think there's anything to it.
Sarah "the way it came across well you know kinda… anyways I'm so over those two"
Arlie says the other side is not giving him anything. She wants to know what are his thoughts.
Arlie – It's not looking amazing..
Sarah says Heather told her yesterday it was 90% sabrina and she told her today nothing changed.
Arlie – My guts not feeling good.. because they would have no reason to not tell me if it was Sabrina.
Sarah apologizes that she might have f*** him over with the other side. Arlie doesn't think so.
Sarah says she has kept every single thing Arlie told her a secret she wanted it to be them .. "It's a game and I promise you if you decide it best to let me g.. o I will not out you .. Just tell me and I swear I'll keep my word.. I would rather go this week then next week because I get to go home and see my kids"
Sarah just wants to know if she' going this week to help her with her anxiety. Arlie says he does not want to vote her out he really doesn't.
Arlie – "I'll be straight up with you I will.."
Arlie can sense it 1 million percent that Sarah is going up otherwise the other side would tell him.
Sarah says this is all her fault she was the person that wanted to persuade the other side to not Backdoor Kenny. Arlie doesn't think any of this is Sarah's fault he thinks they are in just ash1tty position, He does regret pushing to prevent Kenny from getting backdoored.
Sarah starts to cry and says it sucks that she might be going out this way.
Arlie says he's very confident Sabrina has been talking behind their backs to the other side because the other side can see the cracks.
Sarah starts to cry and say she wanted to be in this game for Arlie. They hug. Sarah wonders if they can find a way. Arlie isn't sure he says everytime he suggests a different course the other side shoots him down.
Sarah – "Oh well I got too comfortable and I started worrying about someone else and not myself"
Sarah hopes that other side doesn't screw over Arlie she will be pissed. Arlie – "It takes a lot to win this game.. A LOT"
Sarah tells Arlie it makes more sense for Jon and Neda to take Heather and Adel all the way. Arlie – Yes.. I have to assume they will be chipped away"
Sarah points out that Jon still does not trust her, "I tried hard.. I snuggled him as much as i could let him dry hump me all over the place.. let him fake kiss me.. it was f*** for nothing"..
Rachelle joins them.. Says as long as Allison stays on the block they will be fine.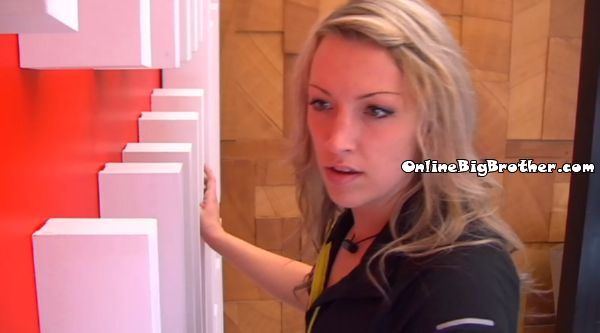 7:50pm Allison finds out one of the slats moves on the wall.
Allison recites her clue
"Look for one and three.. to be out of sight.. Turn right and then turn back or else it won't open a crack"
Allison – "F*** I wish I could read that again"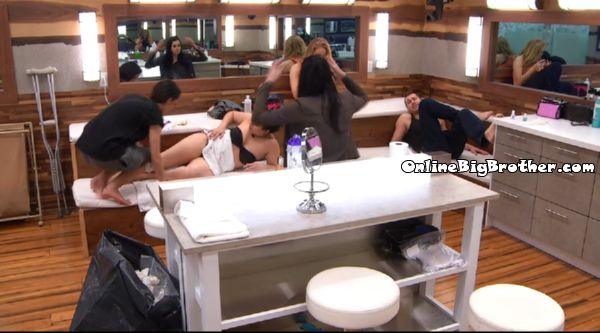 8:30pm Sabrian still getting waxed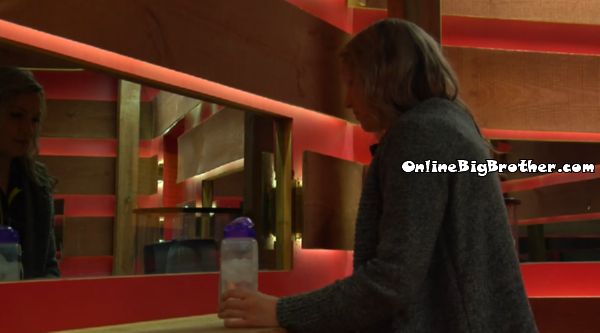 8:38pm Allison asks for clarification about the third clue.
She doesn't know if it says turn THEM or turn IT. She thinks it might be the picture or the slat.
Allison – "Can I see the clue jsut one more time please.."
Allison – "Big Brother can I please see the last clue.. I know I'm annoying
'Read it like a book from left to right .. Find one and three and you'll be out of site Turn THEM right then turn THEM back or else the door won't open a crack"
Allison – "So turn them right"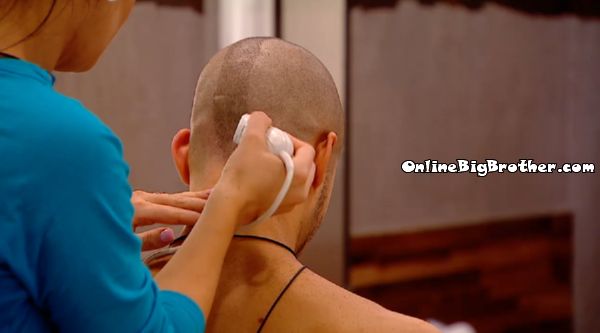 8:48pm Adel gets his mohawk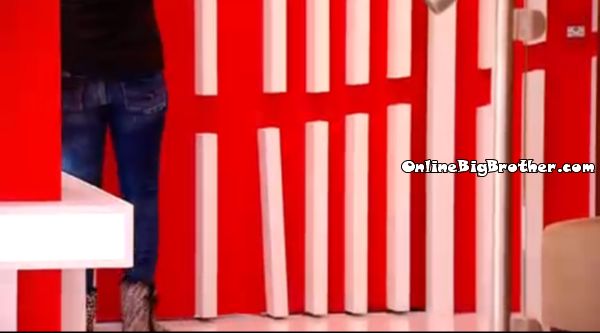 8:51pm ALlison opens the door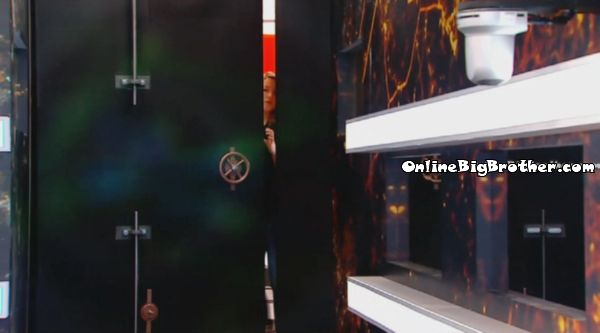 Allison enters the war room
[polldaddy poll=7935497]
Share it YO!!
Tweet