POV Holder:
Next POV:
July 28 (Saturday)
POV Used
POV Ceremony
July 30 (Monday)
HOH Winner:
SHANE
Next HOH:
Aug 2nd
Original Nominations:
Ashley and Joe
Current Nominations:
Have Nots (Cereal & Salmon)
Joe, Ian ???
Coach Competition Winner
Janelle (Wil SAfE)
Next Coaches Competition
August 3(Friday)
Last Evicted Houseguest
JOJO
10:48pm Cam 3-4 Danielle and Shane Watch with FlashBack FREE TRIAL!

Snuggling? is this Showmance starting?
11:06pm Cam 1-2 Boogie, Dan, Frank
Frank says he found out that Janelle was the one that wanted him up last week. Boogie Brings up that Janelle is spreading mad shit about them, "She's doing a good job she knows what she's doing" Boogie asks dan if Danielle will put up 2 of Janelle's players? Dan isn't sure he doesn't think she'll have a problem. He points out that everyone in the house is trying to spook her right now. Boogie asks if she will respond to a group meeting. Dan says yes.
11:16pm Cam 1-2 Joe in the HOH pleading for his life and freaking out
He's in complete shock that he was nominated his heart started racing and he felt ill. He wants Shane to know he understands the nominations they were a smart thing to do. Joe splashes a crap load of praise at Shane commenting on how he's the strongest competitor in the house. Joe admits that his side did screw Shane's team over and so Did Willie.
Joe doesn't want Janelle and the other players to sugar coat how he's feeling right now,He's mad as hell.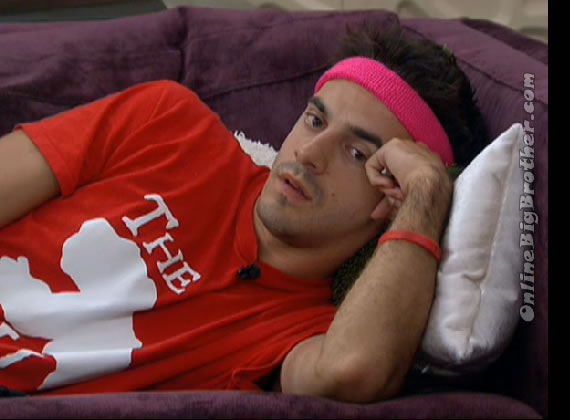 11:18pm Cam 3-4 HOH Dan, Danielle, Britney, SHane
Shane mentions to Dan that Frank was telling him he wants to bring Danielle in because she's strong competitor. Dan isn't too excited about it he thinks Frank will give Jenn and Ian priority. Shane agrees. Dan asks him what's up with Joe is he pissed? Shane says Joe is freaking out he told them that his blood pressure was skyrocketing and he had to go into his room to calm down. While he was in his room he was doing some thinking and he thinks Shane needs to join up with Wil, Joe and Ashley.
Dan says it will suck if Shane gets houseguest choice for the Power of Veto. Shane thinks he'll pick Danielle because then they keep all the options open. Dan adds that regardless of who he picks it'll look bad to someone, "Ian and Danielle would be the best choices" Britney agrees thinks that picking Danielle is the better choice.
Dan and Britney agree that getting rid of Ashley this week is a complete waste especially when they are down numbers. dan says they have to not only take out a player they have to take out the strongest player they can they are at such a disadvantage right now. Brintey points out how much control Janelle has over her team. She explains how Janelle got all her players to go up to HOH and tell them how happy they are and how they can all be trusted.
Britney mentions to Dan about Joe's deal with them, She can't believe Janelle is offering them 4 person deal. Shane and Britney call Joe a lying Shit and don't believe a word he says.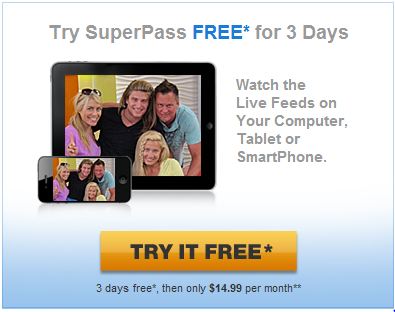 11:31pm Cam 1-2 Arcade Room
Joe wigging out "I'm 99% sure Shane is allied with Frank" Joe is taking being on the block hard. he tells Wil that Shane isn't going to take any deals. The only way he can survive this week is if they win POV.
11:32 cam 1-2 Ian and Ashley (This conversation is really strange)
Ian tells her if she get Players Choice when they are picking POV players tomorrow she should pick Frank. Ashley: "Why?" Ian: "Becuase he's strong and he won't use it" Ashley: "What" Ian: 'If Frank uses it I'll Get Backdoored" Ian wonders if Wil get the POV and uses who they would put up.. He's sketching out over the possibility it might be him. Ian tells her if the nominations stay the same she is in the clear, she's good.
11:41pm Arcade Room Cam 1-2 Joe and Janelle
Janelle asks him what his conversation with shane was all about. Joe goes into detail about it brings up he told them Janelle was going to sugarcoat it but he's pissed. Janelle is starting to get mad that he said she was sugarcoating it. Joe explains about the deal he offered Shane for the 4 of them to work together. Joe didn't really get a good feeling that Shane was into the idea. joe mentions that Shane told him all Janelle does is try and align with the HOh of the week. This rubs Janelle the wrong way she snaps, "Yup that all I do Run up to the HOH every week.. It's worked for my team.. 3 weeks and never on the block"
Joe thinks that Britney bought it all but shane didn't
Janelle says that Britney really wants to work with them (Is Janelle that delusional)
12:10am Britney talking about family, family and child birth. Somewhere in the conversation Britney talks about birthing. Shane: "that's like a 10lb dumbbell coming out of your ***"
12:20am Arcade Room Ashley, Janelle and Joe Janelle has been quizzing her pupils for the last 30 minutes. Ashley thinks Ian tried to trick her today and it sucks. She tells them about how Ian was trying to convince her to pick Frank for the POV so that the nomination's stay the same. Janelle and AShley laugh" (Looks like the showmance is over between Ian and Ashley) Ashley gets up to go to bed and Joe points out that Ian was creeping around the door listening to the, talk. Ashley is getting really pissed with Ian. Janelle calls him a weirdo.
Watch what happens, AS it happens: Big Brother 14 Live Feeds!
Subscribe today for your FREE 3 DAY TRIAL!


Share it YO!
Tweet