POV Holder:
Next POV:
July 28 (Saturday)
POV Used
POV Ceremony
July 30 (Monday)
HOH Winner:
SHANE
Next HOH:
Aug 2nd
Original Nominations:
Ashley and Joe
Current Nominations:
Have Nots (Cereal & Salmon)
Joe, Ian
Coach Competition Winner
Janelle (Wil SAfE)
Next Coaches Competition
August 3(Friday)
Last Evicted Houseguest
JOJO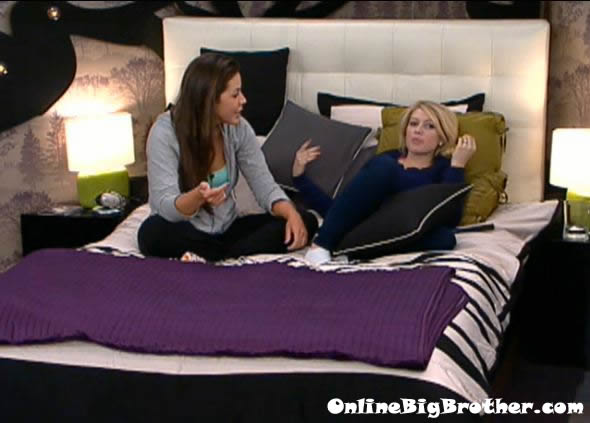 1am Danielle is up in the HOH room with Shane. He gets called to the diary room. Danielle and Britney then talk about the flirting that Shane and Danielle have been doing. Britney asks if Shane has made any moves on her. Danielle says that he has just been massaging her lower back. Britney asks if his finger has been in her butt crack. Danielle says no. Britney asks not even a pinky?  Danielle says no, that he must be scared to do anything. Britney thinks he will soon. Daniele tells Britney about her coaching relationship with Dan, and how he tried to put a scare into her. They go back to talking about Shane. Britney jokes they're dating and then says that they are kind of engaged in Big Brother terms with a final 2 deal. They talk about Britney's season and who has had sex. They talk about Rachel and Brendon having sex in the house. Danielle wonders if Britney has had sex in the house. Britney tells her no, I'm a lady. Danielle says that she has a strong urge to see the size of Shane's penis. Britney tells her not to touch his penis. Shane comes back from the diary room. Danielle asks Britney what her bra size is. Britney says 34 double D's. Shane whistles.
FREE Big Brother 14 Live Feeds: 3 Day Trial!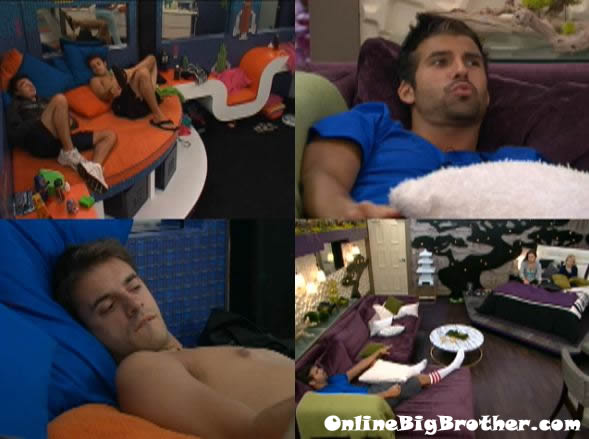 Britney, Shane and Danielle talk about possibly back dooring Frank. They talk about how getting rid of Ashley would be such a waste. They say that this could be a good opportunity. Britney says that they should calm down until after Power of Veto is played. They start talking about how some people in the house have hemorrhoids. Britney says that she will die if she gets it. Danielle tells then details between external and internal hemorrhoids. Britney says that she would hate to have hemorrhoids. She says that if she can't let her husband freely see my butthole every day, she has no reason to live. Shane says that he wonders if they should break their alliance with Frank so early. Danielle says that she thinks Frank and Wil have a final 2 deal. She says that she saw them winking at each other tonight. Shane says that he isn't so sure about that. Britney tells them to hold that thought and they can pick it up tomorrow.
Re-Watch ALL THE DRAMA on FlashBack: Big Brother 14 Live Feeds – 3 Day Trial!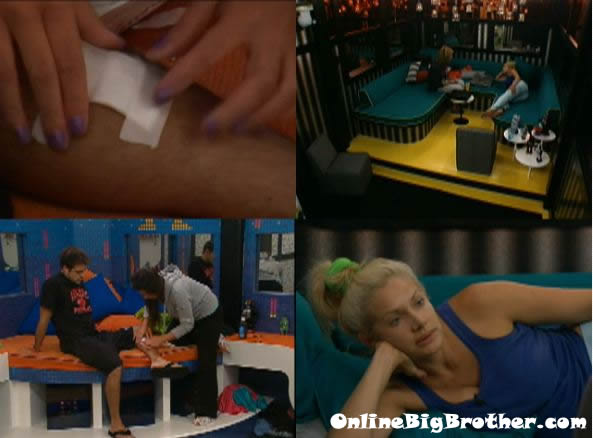 1:50am Dan and Ian are in the bathroom talking. Ian tells them that he thinks he should go to bed in case he needs to participate tomorrow. He says only 2 people won't be playing in tomorrow's power of veto competition. Shane says goodnight. Ian says to Dan good day over all. Meanwhile in the arcade room Janelle and Wil are talking. Janelle says that they need to win the power of veto tomorrow. They talk about how they need to get Shane to put up Frank as the replacement. Janelle says that she thinks if they were to save Joe the house wouldn't vote out Ashley, so whoever is put up against her would go. They talk about the upcoming HOH. Janelle says that she wonders if it will be a Q&A competition. Wil says that he wonders if they will introduce a twist this week and that maybe it will be an endurance competition. Janelle says that they have got to win if it's endurance. Wil tells Janelle that he will try to act close to Frank so that Shane won't trust Frank and will want to put Frank up as a replacement. Wil and Janelle start trash talking Britney about how they think she is a snake and how she doesn't clean. Janelle and Wil then start studying. Wil brings up how the show is going to end three weeks early if someone doesn't come back. Janelle says that she thinks the coaches are coming back. Wil says it wouldn't be a bad thing if that happened. Janelle asks don't you think it's going to be bad getting Boogie out of this house? It's going to be fu*king hard! She adds that Dan isn't a danger right now. Janelle says there is a twist coming this Thursday. Janelle says that she think three coaches will go in and then they would have a double eviction. She says that it will be America's choice who comes in. She says that her and Dan are fan favourites and that Boogie is hated. They talk about how important it is to have Joe stay this week. Janelle says that if Frank won HOH next week she thinks he would put Shane up because that is his biggest competition. She says that Boogie will stab you in the back and that's the way he'll coach Frank to play.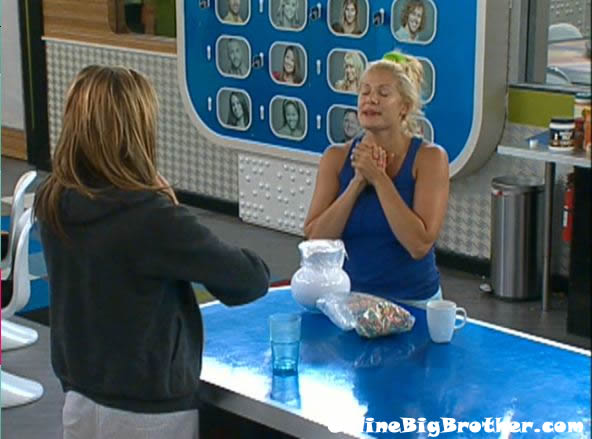 2:30am – 3:30am
Janelle tells Wil that she hates Frank and that she hates having to kiss his a$$. Wil says that we will have the last laugh. Wil says watch Jenn win HOH. Janelle says that she is becoming more and more aware of the type of person Frank really is and she doesn't like it. Janelle says that she think Frank is a douchebag, he seems super douchey. Janelle says that she can't stand that he is always shouting. They say that Frank has become the new JoJo. They start talking about Boogie. Wil says that he was kind of shocked Boogie took the $6,000 in the competition. Janelle says that Boogie is a multimillionaire he doesn't need that money. Janelle calls him a greedy little bit*h. The conversation turns to talking about what the power of veto competition might be like. Wil hopes that it isn't tailor made for Shane to win again. Wil says that he plans on following Frank around the house tomorrow to give Shane the impression that he and Frank are working together to make him paranoid. Wil says that Shane isn't very bright so it just might work. Joe joins them. Wil says that he was so mad sitting at the table, and that he was about to explode out of his skin during the nominations. Joe says that they totally dicked me! Joe says are you going to kiss me too because you certainly fu*ked me! Janelle tells them that they can turn it all around. Joe says that he thinks he will win the power of veto and that their team will win HOH next week. Joe says that tomorrow is our day! Janelle tells Joe to trip Shane. Joe asks if there has ever been an endurance power of veto? Janelle says that last season Rachel had to hang on the body bag and won the competition that kept her and Jordan safe. Janelle says that was the first time Big Brother had an endurance Power of veto. Janelle comments on how all the girls this season are pu$$ies and wonders why there aren't any strong girls. Wil says because you are coming into the game. They start bashing Britney again. They all head to bed. As they walk by the memory wall Joe fingers Shane's memory wall photo. Janelle and Wil freak out and tell him that Shane could be watching on the spy screen. Joe says that the spy screen isn't working.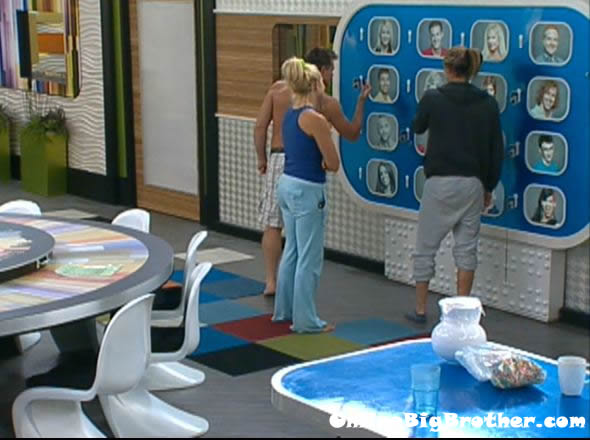 6:45am All the house guests are still sleeping..
Share it YO!
Tweet