POV Holder:
Next POV:
July 28 (Saturday)
POV Used
POV Ceremony
July 30 (Monday)
HOH Winner:
SHANE
Next HOH:
Aug 2nd
Original Nominations:
Ashley and Joe
Current Nominations:
Have Nots (Cereal & Salmon)
Joe, Ian ???
Coach Competition Winner
Janelle (Wil SAfE)
Next Coaches Competition
August 3(Friday)
Last Evicted Houseguest
JOJO
8:40pm Cam 3-4 HOH Britney and Janelle Watch with FlashBack FREE TRIAL!
Janelle asks her why did Shane nominate 2 of her players. Britney explains that week one Janelle and her team burnt them bad and Boogie's team never has.
Janelle is warning her that Frank is very dangerous
Britney asks her if she was going around trying to get people to hate JOJO to make sure she gets evicted . Janelle says she wasn't
janelle: "I don't want to have JOJO leave.. my team voted for her"
Britney points out that she htought Fireworks was going to come out of joe's butt when Frank won HOH last week. Brintet reminds her that all her team was her friend
Janelle: "I want you to get Shane on board to trusting me… Hmmmm… we need to get these players out of the house" Janelle uses the angle that Frank is the strongest player in the game and her group is the weakest.
Janelle starts talking trash about Frank and how he's going to stream roll the house. Britney explains that the things haven't went well for Shane in this game. His team was cut down early, everyone was gunning for him and right now he's looking for security
Janelle brings up that she's certain the coaches are coming into the game and when they do Frank is gunning for them. Janelle: 'He's a natural leader he'll rally all the newbies to come after us"
8:59pm Shane and Britney
Britney points out that Danielle is upset right now because she's not going to be the swing vote and won't have the ability to make a deal with one of the other side for her safety. Shane says they need to explain everything to Danielle so it doesn't fester.
They start talking about if the POV is played they can always backdoor Frank.
Britney: "You can backdoor anybody"
Britney: 'We need to get Danielle and Dan up here.. I'm worried"
8:46pm Cam 1-2 Dan and Danielle
They are pissed that Shane put up Joe and Ashley.. Dan isn't happy thinks Shane has really set them back because now Janelle's team wants blood. Dan tells her she needs to hide her emotion "Hide that Sink Face"
Dan says they could of been in a great situation now they are in the middle.
Danielle asks if Frank wins HOH next week, who is going up. Dan thinks it will be Wil and Ashley and if POV is used it will be Shane.
Dan: "We're not in that bad of a position.."
Dan tells her she needs to talk to Shane and find out if their deal is still good and if boogie knows about them.
Dan stresses that she needs to act happy or at the very least neutral at the nominations.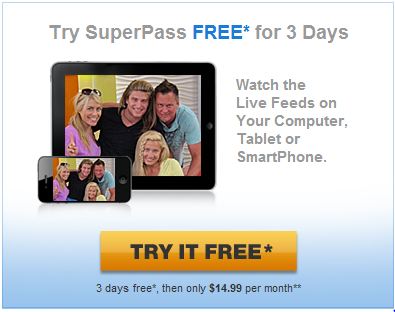 9:10pm Cam 3-4 HOH Danielle, Shane and Brintey
Shane knows that she is pissed put he's telling her she's safe this week and next. Shane: "If you get put up I'll win POV and take you down"
Shane explains to her why they did what they did. Danielle understands, she's not mad she's just terrified that next week she goes up. Danielle tells them that right now Boogie and Janelle are downstairs laughing, they have no reason to be against each other. Britney and Shane both tell her Frank hates Janelle's players. Britney: "Janelle is actively campaigning against Frank"
Danielle asks her if Shane has a final 2 with Frank. Shane says he swears to god he doesn't have a final 2 deal with anyone.
9:25 Dan joins them
Britney: "you got evil eye joe down looking like he's going to punch someone".. "you got wil sauteing a chicken when it's still alive"
Shane tells them Danielle is safe this week and Frank said she is safe next week. "We can always backdoor Frank.. we have options"
Dan asks if Boogie and Frank knows about Danielle and Shane's deal. Shane and Britney tell them no way they never told a thing.
Shane says he feels bad that he told them one thing and ended up doing another thing.
9:20pm Cam 1-2 Arcade room Janelle and Wil
Janelle is full on wanting to take out Frank this week tells Wil he needs to win POV. Wil: "OH COURSE.. it's one thing to F**K with me but to f**K with joe and Ashley.. I know if you hadn't won the coaches competition I would be going up". Janelle tells him he needs to lie threw his teeth do whatever it takes to keep Joe in the game.
9:38pm Cam 3-4 HOH Dan, Danielle, Ashley, Shane and Britney Ashley is whimpering that she feels all alone.. She's not mad at them. Shane explains to her she's not the target this week and if Janelle hadn't saved Wil it would be Wil and Joe up on the block not Ashley and Joe.. (Ohh shit grenade) Ashley understands. They talk about how awkward it is downstairs with Joe and wil. Ashley points out that Joe won't even look at her.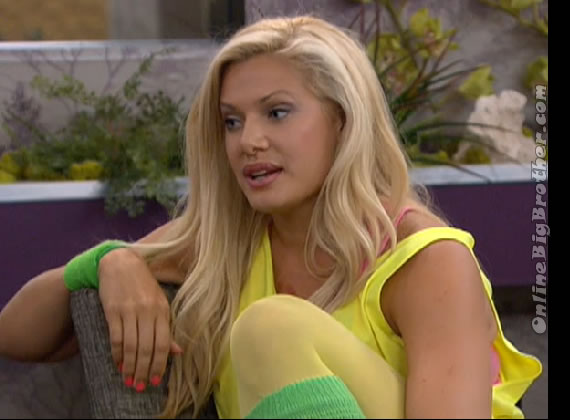 9:46pm Janelle joins them Says she's excited about Shane's speech it's got her thinking (The speech slammed Janelle's team calling them out for turning on Shane). Janelle still wants to work with Shane and his side (LOL what side shane's the last one) Shane calls her out on trying to be friends again. he says they were friends week one and once something bad happened (Willie) she jumped ship and her team didn't take any of the repercussions and his team got ground into dust. Everyone leaves Shane and Janelle to talk. Janelle pisses on Boogie's team saying they are untrustworthy. Starts saying Boogie is laughing downstairs at Shane and Boogie is the strongest Coach in the game. She goes on and on about all the slimy things Boogie did season 7… use your Flashback if you like to see Wil, Joe and Janelle squirm.
10:10pm Cam 1-2 Arcade Room Danielle, Ashley and Joe Joe understands why he's been nominated it was Shane's smartest move. Joe wants to talk to Shane about backdooring Frank. He asks Danielle if she was picked for POV would she try to win it and would she use it. Danielle doesn't want to go against the head of household so he needs to talk to Shane first.
Joe shoots straight says that he only wants good people to win the prize, Joe: "thats all I care about.. to get good people down there" Joe is going to wait first to calm down before he talks to Shane. Danielle really playing it up, saying she feel close to Ashley and Joe more than most other people in the house. Joe tosses out the idea of them getting Frank BD this week and taking Jenn on their side. Wil claims that Kara went home because of Britney's players.
10:26pm Cam 1-2 Wil and Ashley Wil is pissed at Britney calls her fake. He says it's obvious that Frank and Shane are working together because Frank put Shane up last week and now. Joe and Janelle join them. Joe is excited says that they have Danielle on their side she said she's 99% going to help them win the POV and she'll use it. They are start planning out what they are going to say to Shane. Janelle tells them to lie lie lie say whatever it takes to get him to save Joe this week. (Ashley is right there by the way LOL OMG) Janelle explains that they need to offer Shane not a 1 week deal but 2 or 3 week deal. She wants Wil to really stroke Shane's ego say things like "Ohh you are such a strong competitor it would a honor to side with you"


10:33pm Cam 3-4 Danielle and Dan Dan sayign the best thing to happen is if Ashley wins the POV and Dan puts up Frank. Danielle and dan both want to take Frank out this week. Danielle is saying that Janelle's team cornered her in the arcade room and ask her if she'll use the POV. They claimed that Shane told Janelle that he wants to Backdoor Frank. Danielle can cut a deal with Ashley if she wins POV she'll take her down and Shane can put up Frank.
Watch what happens, AS it happens: Big Brother 14 Live Feeds!
Subscribe today for your FREE 3 DAY TRIAL!


Share it YO!
Tweet