POV Holder:
Kaitlin
Next POV
July 20th
POV Used
YES
POV Ceremony
July 22
HOH Winner:
Helen
Next HOH:
July 18
MVP:
Elissa
Original Nominations:
Kaitlin, Aaryn, Spencer (MVP)
Current Nominations:
Jeremy, Aaryn, Spencer (MVP)
Last Evicted Houseguest
David, Nick
Have Nots
Judd, Jessie, McCrea, Amanda
8:00pm Backyard couch JUDD and Jessie (JEJU)
JUDD asking her how her hand has been
Jessie: 'Tender.. Tender MEAT"
She asks him how many cartons of cigarettes he has.
JUDD says he has 18 packs left.
8:08pm NAIL PARTY HOH
Candace and Jessie are teh first to arrive.
Helen is pissed because Gina is making food for Jeremy she'll be 15 minutes late. Helen: 'WHY WHY does she do that" Jessie: 'Stupid.. so Stupid"
Aaryn and KAitlin comes up Helen starts showing them all the crackers and cheese she's set up. Kaitlin asks if Amanda is joining them. Helen says she on slop and isn't taking it well.
Elissa has joined them.. they all start chatting about vegas, boys, nails etc etc…
8:44pm Andy has joined them. Helen starts playing a game "What was your first job.. First is Elissa" Feeds cut *** when they come back Kaitlin is telling us about her first job.
You can re-watch ever second on the feeds using their flashback feature.. It's super easy to use click this link for a free trial —> Subscribe to the Big Brother Live Feeds
The CBS feeds are a HUGE improvement over the super pass feeds and they are 30% cheaper with no subscription to cancel.

8:28pm The guys are in the backyard talking about candy. JUDD likes Swedish fish "there good for you high in protein low in sugar"
Amanda joins the guys in the backyard asks them what they are talking about.
Jeremy: "Candy"
Amanda: "Shouldn't you guys be talking about pu$$y"
Amanda says she's craving salty food and she doesn't want to F**** do her nails. She's in a horrible mood because of the slop. Spencer saying Hey McCrea you can give her something salty.
They go back to talking about Candy.
8:45pm Backyard Spencer and JUDD
JUDD saying someone wrote triangle of thrust in the bathroom
Spencer: "What's that"
JUDD explains that Whenever Jeremy, Aaryn nd KAitlin slept together Jeremy would call it the triangle of thrust.
Judd: "A girl needs to go next week"
Spencer says it should be Aaryn, Kaitlin and Gina
Spencer and Judd agree that Kaitlin is a powerhouse in the competitions.
JUDD: 'I think KAitlin is way more dangerous than Aaryn"
Spencer says when it will get crazy is when Gina, Kaitlin and Aaryn are gone and they have to turn on each other.
Judd agrees.
JUDD brings up that Gina solely blames him for sending Nick home.
Spencer: "F*** it"
JUDD thinks Gina just doesn't understand the game he tried to explain it but nothing sinks in.
Spencer brings up sending some girls home these next couple weeks. Spencer thinks saving gina for the last is the best bet.
JUDD: "Gina and Kaitlin will be the most bitter jury members, Especially Gina because she blames us guys for Nick"
Spencer: "I want to make it to Jury so damn bad"
Amanda comes back starts screaming at the camera tells Big Brother you put me on slop and didn't give me any slop to eat and no protein.
Specner leaves Jeremy joins them.
Jermey to JUDD "if I could give away my pass I would give it to you bro" Feeds cut
9:00pm Spencer and Howard playing Pool
Spencer about McCrea "That homeboy over there I don't think he won MVP" Spencer thinks McCrea volunteered to take some of the heat off Elissa. Howard agrees say both him and Candace think it was Elissa.
Spencer: 'I already told H that they're both safe from both of us next week regardless of what happens." (Helen). Spencer isn't sure they can trust Helen and Elissa but if they are not in power it doesn't matter. Spencer biring sup the scary weeks are coming. He thinks the order should be Aaryn, Kaitlin and then Gina.
9:11pm Hammock mad Jessie, McCrea and Amanda
Jessie going off about Jeremey crashing the girls nail party.
Jessie: "I was like can just have 5 minutes without you in my airspace that would be so lovely"
J: "Andy cracked a joke and KAitlin laughed so hard.. B!TCH"
Amanda: 'What he say.. obviously he was joking"
J: "We were talking about first kisses and mine was in a boys bathroom.. and he was like HOE and she just started laughing hysterically"
J: "Makes my temper rise"
A: "I would have said.. it's not that funny Kaitlin and walked out"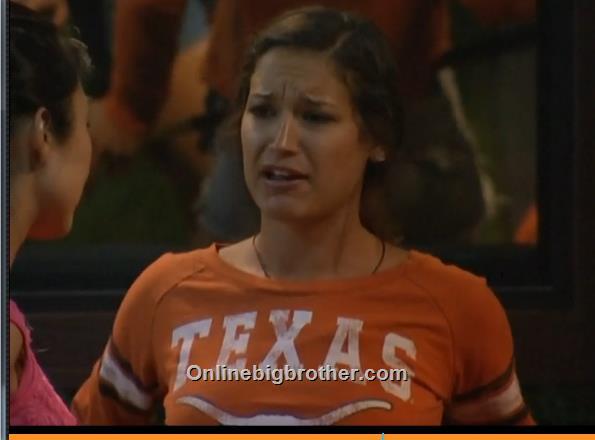 9:21 cam 3-4 mad Jessie and Helen
Helen says she missed it wants to know if someone at the nail party said something rude to her. Jessie explains the joke and how Kaitlin laughed SO HARD.
Jessie isn't going to sit there and be in the position where there is negativity and people cut her down.
Jessie: "all I thought is you're such a b!tch you're such a B!tch"
Helen is sad that she left but doesn't want Jessie to be there if she's not feeling safe.
Jessie says she doesn't deserves being treated like that all she has done has been polite to KAitlin.
Jessie: 'I have to bite my tongue when they are rude, mean and malicious toward me"
Helen: "He's going home"
Jessie: "She's not"
Helen: 'She will go out soon"

[polldaddy poll=7248812]