POV Holder:
Kaitlin
Next POV
July 20th
POV Used
YES
POV Ceremony
July 22
HOH Winner:
Helen
Next HOH:
July 18
MVP:
Elissa
Original Nominations:
Kaitlin, Aaryn, Spencer (MVP)
Current Nominations:
Jeremy, Aaryn, Spencer (MVP)
Last Evicted Houseguest
David, Nick
Have Nots
Judd, Jessie, McCrea, Amanda
6:03pm Bedroom Spencer and Howard
Spencer saying that he's almost out of deodorant he's asked for more seems like they are taking their time getting it for him. Howard offers his, Spencer: "I got sensitive Pits need special deodorants"
6:13pm Backyard Amanda, McCrea and Elissa
Elissa saying she's a very shy person so it takes her time to get comfortable with people. She's developing relationships but it takes time. McCrea says he's the same way.
They ask Elissa about her husband's background. She says he's canadian. Amanda wants to know where his ancestors came from. Elissa doesn't know thinks it might be dutch.
Elissa says that Brendon and Rachel are doing great Brendon is working on his PhD all he does is study trying to cure cancer. She calls them two little nerds.
Elissa: "My husband doesn't have a ounce of nerdiness in him.. he's a guy's guy's" She mentions how they really like watching nascar. Before she got married she use to hang out with a lot of nascar drivers.
6:17pm Howard training Aaryn
Howard: "Good good good good.. cmon cmon cmon good good.. bring it back .. thats 5 .. bring it back… you got 5 more .. don't think about it.. good cmon cmon.. two more cmon cmon .. you're good good good .. yes yes yes cmon Aaryn.. one more bring it back.. one more 4 minutes out"
6:31:00 Howard whispers in his mic "I'm sorry god ????? Praying First" About 5 minutes ago Andy was asking Candace where Howard was and she said he was praying.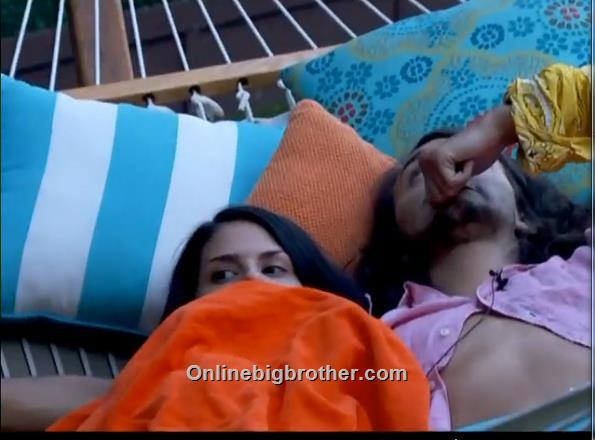 6:34pm cam 1-2 Amanda and McCrea
Amanda saying that Howard training Aaryn is his way of gaining trust right now.
Amanda: 'Watch as the tiger lures his prey and then he attacks"
Amanda points out that Candace isn't around she's sleeping they have a method to this. (Amanda is thinking Spencer is trying to pull Aaryn into his group)
6:36pm HOH Cam 3-4 Andy and Helen
Andy telling her how he's playing spencer to think that him and JUDD are not really close to Helen's and her superfriends. Andy brings up that he told Spencer he had no idea who the MVP is. Spencer thought it was odd that the group is so tight yet they don't know the MVP. Andy thinks that saying that McCrea got the MVP is smart thing to do. (Amanda told Aaryn that it was Elissa that got it)
Helen: 'I think that will be a good play for Elissa anyways.. at least for the next 2 or three weeks…. If MVP goes to her again .. She can take it or she can give it to someone to make it look better.. so we can always use that card" Andy: 'As long as she doesn't go rogue like last time" Helen: "No no.. I want her to use it strategically I will keep reminding her you know giving it to McCrea this week was a great way to not get your hands dirty with Spencer" Elissa joins them and they start talking about how the next two days are going to be easy and really the next should be easy as well.
They remind Elissa how close last week was. Helen: 'I just want to have fun.. I want to invite all the girls up here .. um anyone is welcome but I think the girls are more up to it than the guys" Andy: "The nail party.. I'll come"
Elissa mentions that Jeremy is already planning his return to the game, "So I think he's cool with it" Helen: 'He is so conceited to think he's that good to return.. I would rather see Dave come back"
Elissa leaves.. Helen thinks that Kaitlin and Aaryn trust her. She wants them to be super nice to the girls because they never know what can happen, Kaitlin Gina and Aaryn can win HOH three weeks in a row it's possible. Andy decides he's going to get close to Jeremy because he knows it will go back to Kaitlin he needs to build up the trust.
Helen brings up how strong Amanda is. Andy wonders what HOH will be this week. Helen thinks it's endurance, something that will benefit small girls. Andy isn't sure because they've had two endurance competitions already. (I think It's going to be crapshoot)
7:15pm Helen and Spencer are sweeping the kitchen floor (It's kinda slow on the feeds no real game talk.. nail party tonight that should be good might give the guys/girls a chance to scheme)
7:45pm kitchen 5 of the girls + Andy all cams on the house guests in the kitchen .. Amanda is making pancakes and it's not working out for her. Helen mentions the Nail party invites all the girls. Andy says he's coming Amanda says no you're not.
FYI Jessie is up she says she had a dream it was "Hunger Games Big Brother"
[polldaddy poll=7248812]