POV Holder:
?
Next POV
July 6th
POV Used
?
POV Ceremony
?
HOH Winner:
Aaryn
Next HOH:
MVP:
Elissa
Original Nominations:
Elissa, Helen and Jeremy (MVP)
Current Nominations:
?
Last Evicted Houseguest
David
Have Nots
Helen, Elissa, Candice, and Andy
9:00am cam 3-4 Amanda and Elissa
Amanda says that it's really weird that Spencer was telling them to put up Gina. She thinks that Jeremy and Spencer have some sort of deal. Elissa says that putting up Gina is a waste of a power.
Elissa: 'It's not any fun to play with Jeremy because he's so tall and aggressive"
Elissa adds that putting up Jeremy is the best thing to do
Amanda: "He's expecting to go up.. he's scared sh!tless he's trying to bully people"
Amanda says she trust ELissa, MCrae, Andy and Helen are the only people she trusts in the house.
Amanda: "Spencer is wishy washy.. He threw me under the bus told Kaitlin she had devised this whole plan" (The plan to take out David)
Amanda tells Elissa to win the veto so that "She" goes up and Jeremy can go home.
Elissa calls Aaryn "a mean stupid girl" can't believe she acts so stupid on Big Brother. Amanda says that don't tell McCrae that she has the MVP she'll tell him.
(Hmm missed when Elissa told Amanda)
9:33pm FISH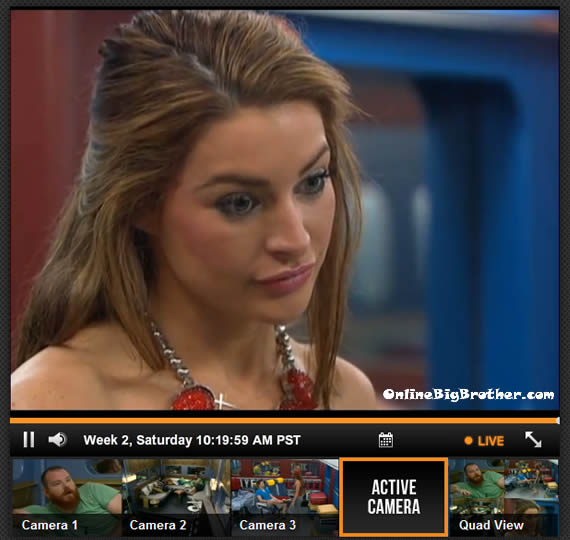 10:22pm CAm 3-4 Elissa and NIck
Elissa wants Nick to just be a nice guy and do the right thing which is join up with her. She says Nick has lied to her twice and she is taking the risk trusting him again. Elissa offering Nick a deal to work with her if he keeps her in the house. "OUt of good faith you should make a deal with me"
Elissa explains that she has the votes to stay and nothing is going to change that. Elissa: 'You are screwed either way so you should just make a deal with me" (LOL priceless)
Nick: "If I'm screwed either way I should just keep the course than.. right"
Elissa: "No you need to build trust with me.. then you are not screwed.. you are not going up"
Elissa tells him to throw the Veto comp, "Why don't you make a two week deal" .
Elissa: "Do you condone men bullying woman"
Nick: "No"
Elissa: "Then lest get him out of the house"
Elissa says that JEremy is a bully and is going to waste the 500K dollars. Nick asks her for 30 minutes so he can think about her offer.
Amanda and NIck are the veto players picked Gina is the HOST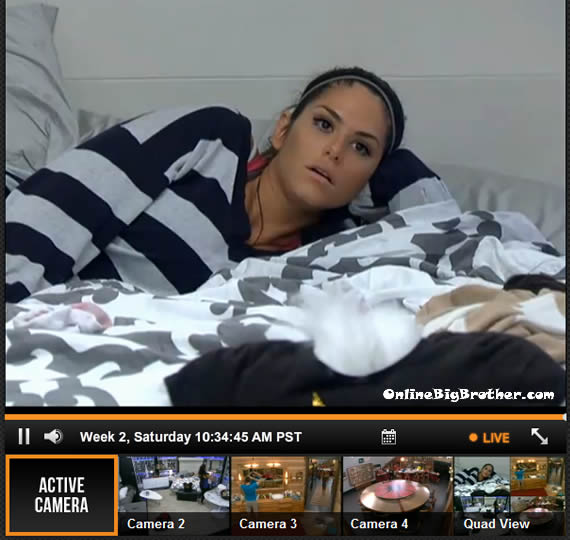 10:35pm Cam 1-2 HOH Amanda, Kaitlin and Aaryn
Amanda is wondering what Elissa was talking to Nick about. Kaitlin says it doesn't matter because if NIck wins the POV and takes Jeremy off Nick can't go up. (Kaitlin would go up)
Kaitlin: "She was sacred shitless up there. " (Elissa)
Amanda: "I don't think she's very smart.. I don't think she's as smart as we all thought"
Amanda is worried if Elissa wins the Veto who is going up. kaitlin : "Elissa is not wining the veto and neither is HElen they've been on slop for 2 weeks"
Amanda thinks it's going to be a crapshoot comp.
Gina comes up Amanda immediately asks her what Elissa was saying to Nick.
Aaryn asks Amanda if she is going to save Elissa if she wins the Veto Amanda say no of course not.
Nick getting ready to win the POV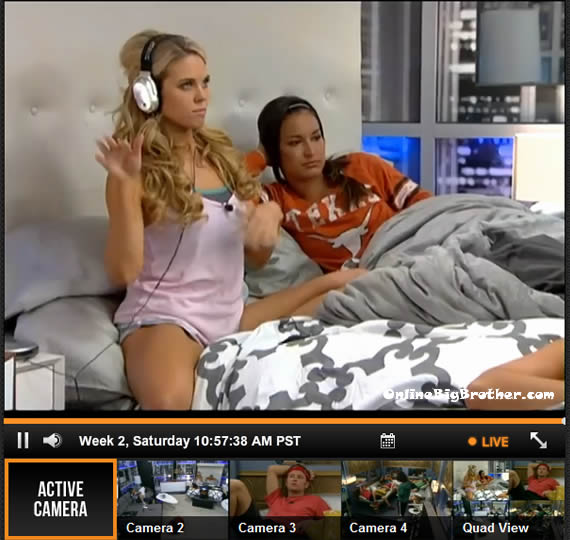 10:58pm Cam 1-2 HOh Jessie, KAitlin, Aaryn and Jessie
Amanda brings up that last night Elissa was saying it's not fair that Aaryn takes Adderall. Amanda: "I told her right to her face I take adderall"
Aaryn leaves..
They start talking about how sketchy Spencer is getting..
11:00am Bathroom Aaryn calls Elissa out for telling everyone aaryn won the HOH because she takes adderall.
Aaryn to Elissa: 'I would appreciate it if you would stop talking about my medical condition… about me taking Adderall for my ADHD. "
Aaryn says Elissa walks around saying how mature she is but she's really just a child.
(We only got was audio and the empty kitchen)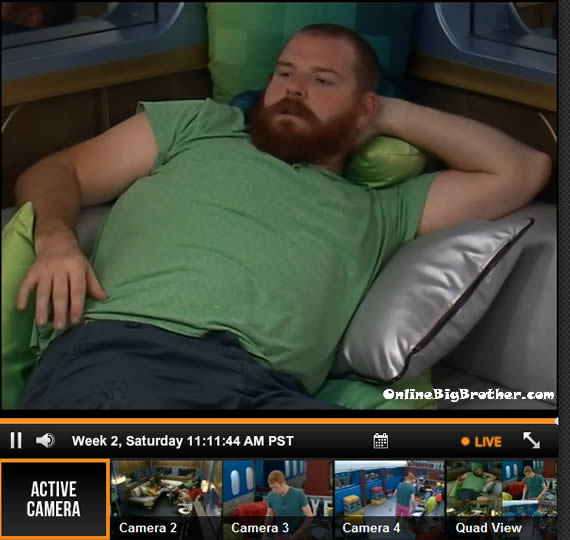 11:12am Cam 1-2 Lounge McCrae, Spencer and Howard
McCrae saying if Noms stay the same Jeremy is still going to be safe. Spencer adds that no matter what Helen is not going to be OK with it so they will have to deal with that.,
They are running through scenarios of what to do if Jeremey or Nick do not win veto. They want to vote out Elissa but do it in a way that doesn't expose the MC. Spencer is going to work on Andy. McCrae is going to get Amanda onboard. Spencer mentions that once Amanda is part of the plan she will start imposing that onto other people in the house. (Just like last week.. lol )
Spencer: "Cause if she starts talking everyone else will be like well maybe this is a good idea" (Amanda starts talking)
MCrae: 'get her to spread the idea"
Spencer and Howard agree.
Spencer is certain if Jeremy wins Elissa will put up KAitlin.
Candace and Judd walk in.
(Looks like the MC is solid.. )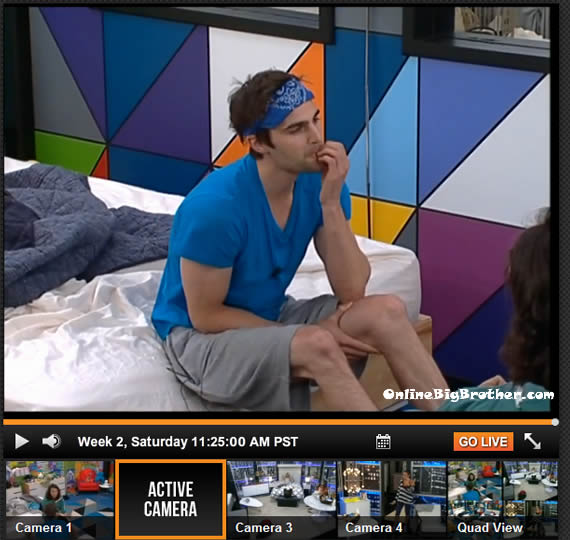 11:24pm Nick and McCrae
McCrae telling him that he's going to get Amanda to start spreading the plan to get Elissa out.
Nick has gone over the votes and the MC will be safe this week. McCrae just doesn't want to have AManda get F****ed over by the vote, "I don't want her to end up on the wrong side of the house"
McCrae: "I want to keep her around to at least jury.. cause if I go to Jury house I want to Bang her"
McCrae says that Amanda will never win HOH because they game they are playing will F*** them if they do because it will show their hands. (I guess Nick is privy to the MC and Amanda playing both side.. MC is more solid than I thought damn this is a good season)
nick says he's extremely confident that the MC will make it to jury.
11:36am Fish on the feeds.. they usually show trivia when it's a comp so i'm not sure what is going on..
11:51am feeds on trivia POV is going down The next post will have the POV winner..
12:46pm Feeds on trivia
Tonight is going to be pretty crazy on the feeds.. There's a free trial and a perfect time to give it a try. Every time a person buys the feeds by clicking on the links @ OBB we get a small cut which helps keep this site running.
Big Brother Live Feeds