POV Holder:
Jeremy
Next POV
July 13th
POV Used
?
POV Ceremony
?
HOH Winner:
Aaryn
Next HOH:
MVP:
Elissa
Original Nominations:
Elissa, Helen and Jeremy (MVP)
Current Nominations:
?
Last Evicted Houseguest
David
Have Nots
Helen, Elissa, Candice, and Andy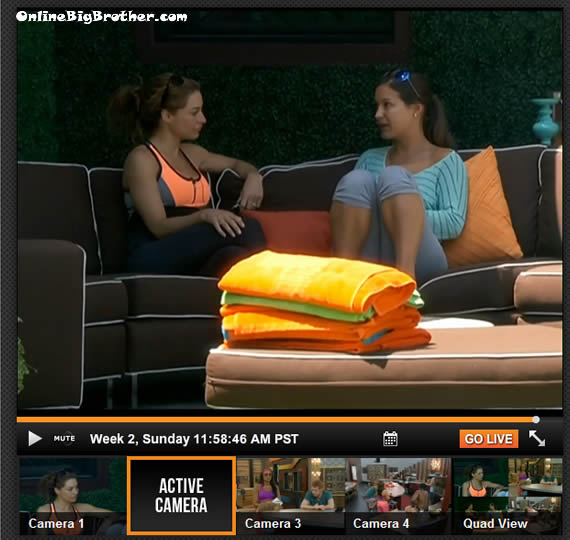 11:58am Backyard Elissa and Jessie
Elissa saying that the guys are probably working together so they need to get a strong guy out.
Elissa: 'Nick is playing both sides.. Like every side.. "
Elissa: "I have no allies in this house I want to see who is willing to make a deal with me"
Jessie: "I can tell you there are much bigger targets in the house than me.. If I won HOH i wouldn't put you up"
Elissa: 'I swear last night someone was pressing me to put you up"
Candace joins them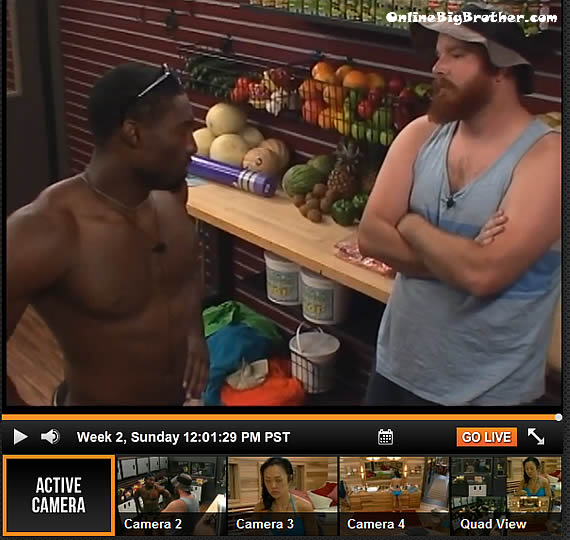 12:01pm Spencer and Howard Storage room
Spencer is saying they need to talk it out .. because they got a small situation brewing and they need to make the right decision.
Spencer: "Obviously we need to vote out Elissa this week to free up that MVP"
Howard agrees
S: "Amanda is going to flip and we can't tell people that because it's insider information"
Spencer adds that "Andy and them" are "Dead set" in keeping Elissa in the house.
S: "Helen thinks that Nick and Jeremy have a final 2"
Spencer says that Amanda and McCrea are going to flip sides and pull
Elissa over with them. "I think that is Amanda's Scheme"
Howard: "At the end of the end I believe she is going home.. "
Spencer: 'Ya i'm going to vote her off"
Spencer says that Jeremy is worried if he had stayed on the block they would have voted him out. Plus he thinks that Nick has some side scheme going with Elissa.
Spencer: "Nick's side scheme with Elissa coupled with Amanda and McCrea flipping will be enough to scare our side into voting her out this week and freeing MVP up"
Spencer: "I just want Amanda out that is a priority .. Elissa she here it impress her sister not to be friends with Helen"
They decide to talk later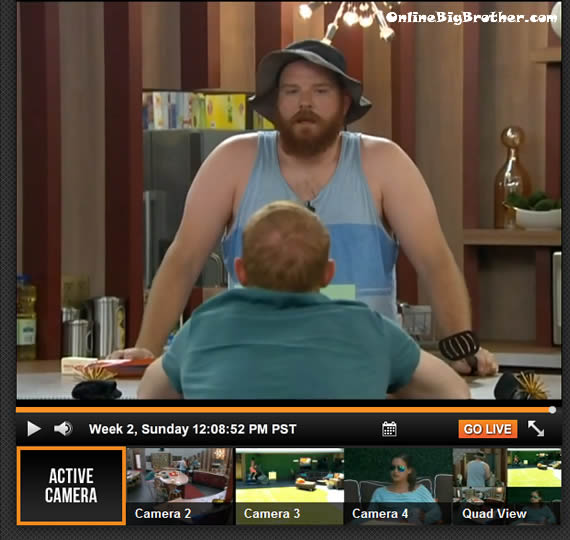 12:09pm kitchen Andy and Spencer
Spencer: "Don't f*** rat on me or say anything to her just watch Amanda and McCrae"
Spencer saying that Nick made a deal with Elissa about the MVP he wouldn't go up for two weeks, "Plus god knows whatever else deal they have made"
Spencer: "Amanda and Elissa are CLOSE Amanda is trying to flip the 7 and take Elissa with them.. if we lose the weapon we are trying to use we'll be shooting ourselves in the foot"
Elissa will not flip on Helen i'm positive .. I'm telling you you're being paranoid
Spencer: "It's too early to worry about final 2 deals and all that shit.. the way things shift and change in the game .."
12:23pm Helen and Andy
They are saying if Elissa goes Nick will get MVP every week because they believe Nick is one of Dan's (BB14, BB10) relatives. Helen says that Elissa is putting Nick up for sure.
12:25pm Cam 1-2 Cockpit Howard and Spencer
Spencer: 'Hey Amanda has got to go.. McCrea has got to pull his d*** out and start swinging" Spencer says it's the only weak part of their alliance.
Howard says he's hit McCrea with some personal stuff, "I know he's not really being real with her.. she knows you're weak.. She's not going to put her personal relationship in jeoprady.." (I think these are things he said to MCCrea.. hard to understand Howard when he whispers)
Spencer: "He's not use to attention from women so he's a bit brain F***ed
They discuss the Eliisa vote some more. Spencer points out that their side will keep putting up Nick, Jeremy, Aaryn and Kaitlin if Elissa goes home. Howard says if Elissa doesn't leave "World War 3" is going to break out. They both agree that is not good for the MC as it increases the risk of exposure.
Howard: "Man Jessie fine.. "
Spencer: "She fine as hell
Spencer: "I hate to say this on the internets.. but her and maryland have the same body.. that booty shaking.. it scrambles my brains when those cheeks starts bouncing "
Howard is laughing.. Agrees.. says that is bible time with him helps him stay grounded.
Here's a recent picture of Jessie's "Cheeks"
1:00pm everyone is lounging around
(Elissa and Helen are fighting hard to keep Elissa in the house. looks like Nick will be the person going up to replace Jeremy. If the vote was cast today Elissa would go home but it's a close one)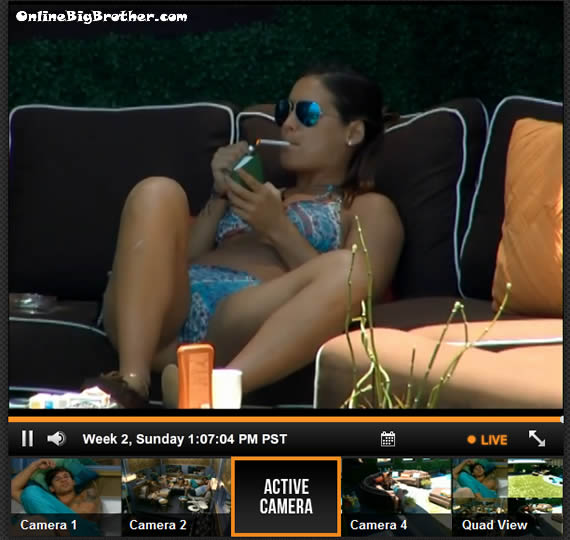 Scrambling brains one giggle at a time
You can re-watch ever second on the feeds using their flashback feature.. It's super easy to use click this link for a free trial —> Big Brother Live Feeds
The CBS feeds are a HUGE improvement over the super pass feeds and they are 30% cheaper with no subscription to cancel. You pay a flat fee for the season.