POV Holder:
Danielle
Next POV:
Aug 11 (Saturday)
POV Used
YES
POV Ceremony
Aug 13 (Monday)
HOH Winner:
Danielle
Next HOH:
Aug 9 (Thursday)
Original Nominations:
Wil and Frank
Current Nominations:
Janelle AND Frank
Have Nots
No Have-Nots for the Week
Last Evicted Houseguest
1:05pm Janelle and Ashley are in the downstairs bathroom. Janelle is asking her if Wil has said anything to her about not voting for her. Ashley says no. Janelle says okay because he would be a real di*k if he didn't vote for me. Janelle tells Ashley that they have to make it to the end together. Meanwhile Danielle is packing up her things in the HOH room to move downstairs. Britney and Shane are up there helping her.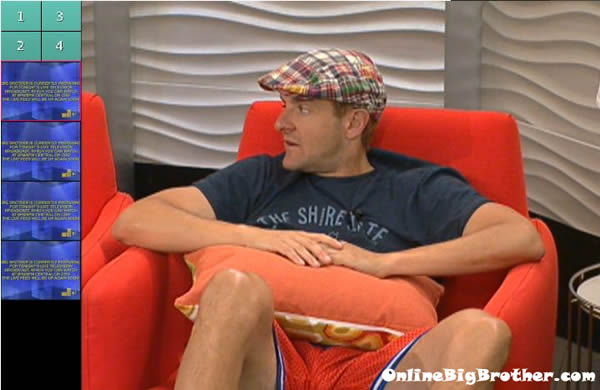 1:10pm – 1:30pm
Mike and Frank are in the living room talking. Mike says moving out of the big house, that's a terrible walk on Thursday. Mike tells Frank to put just an empty suit case in the storage room with just a pair of shoes. Frank says na. Mike says I will get you your stuff. Frank says yeah, show up to the Geisha house wearing the leotard. They both laugh. Dan and Shane join them on the couches. Frank asks you really think I should pack nothing? Mike says yeah, I would put a little weight in there though… don't worry I will get you your stuff if something crazy happens. Frank says maybe after whoever wins HOH we should hold a house meeting. Frank says that Dan needs to go up, we should scum bag him. Frank says that he will never forget how Dan was up there telling him me that I was golden when I was packing my things last week. Mike says you know who I want to go home this week if we win, Britney. Frank asks really you think she is a threat? She's not that dangerous. Mike says yeah, less of a threat though, but her social game is strong. Frank says that Ashley and Jenn told him that they want Wil out but that there are some threats they want out before him. Mike says that he like that they are starting to think that. Mike says that he likes Dan but that he is just too good socially. Mike gets called to the diary room.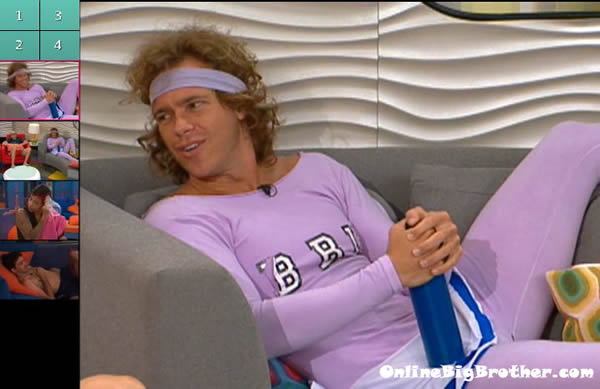 1:35pm – 1:40pm
All the house guests are getting ready for the live show tonight, they are putting on make-up, eating, and cleaning up the house.
1:40pm – 1:45pm Joe, Janelle and Shane are in the storage room. Joe is mad because he went up to Danielle and asked her if she is okay. He says that she yelled at him and said no it is not, go away get away from me. Janelle says she is probably just cranky. Shane tells Joe that she is just stressed she didn't mean anything by it, just let me talk to her. Joe says if someone said something about me that I said I am going to be pissed off. Joe is getting mad. Joe says that he wants to call a house meeting. Janelle tells Joe not to call a house meeting. Shane and Janelle tell him to calm down and just leave it be. Janelle and Shane leave the storage room. Danielle comes into the storage room and tells Joe that she was mad because she heard someone else telling lies but that it had nothing to do with him. Joe says okay because I can't take people telling lies. If there is anything I can do for you just let me know. Danielle says thank you and leaves the room.
Watch it ALL on FlashBack: Big Brother 14 Live Feeds – FREE 3 Day Trial!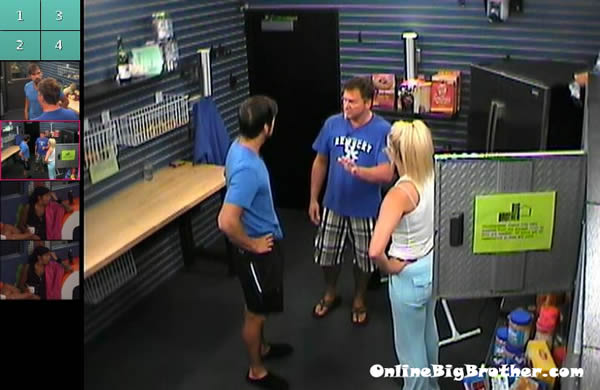 2:15pm Frank, Ashley, Britney, Mike, Dan and Danielle are in the living room talking about random things. Jenn is giving Joe a hair cut in the bathroom. After she finishes she starts giving Shane a trim and then tells him to send Dan in for his trim.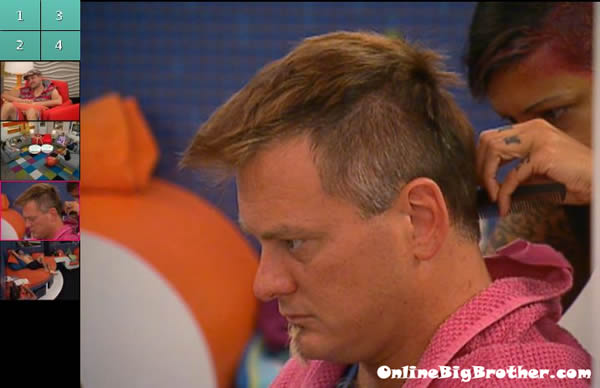 2:35pm – 2:40pm Danielle, Britney, Frank, and Ashley talk in the living room about movies, their weight & height and Miss America. They all stand up and look at themselves in the mirror to see how tall they are compared to each other. Danielle says it looks like we're in a family portrait.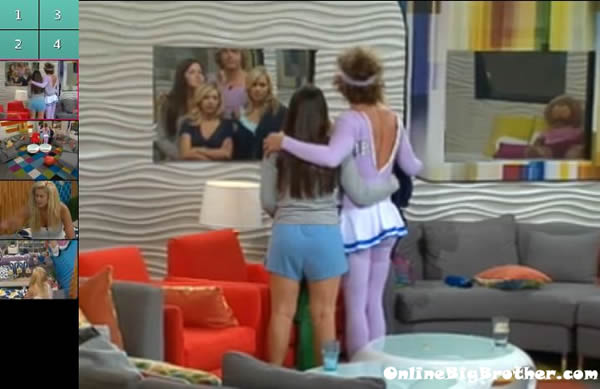 2:45pm – 3pm In the kicks room Janelle tells Joe that if she leaves she will be happy and sad. She says that she will be happy she will get to see her husband and daughter. Janelle asks if he thinks she is leaving. Joe says if you are we are for sure being lied too. Janelle says I think Britney and Ashley are voting for me for sure. Joe says so you have me, Brit, Ashley and you need Dan or Wil. Janelle says yeah of Jenn. Joe says yeah. Janelle says that it doesn't even really matter she just wants it over with …to either go to the hotel room and see her daughter or to the HOH room if she wins. Janelle tells Joe to remember all the comps because its going to be a knock out competition. Joe and Janelle lay down to take a nap. They continue to talk about random stuff. Frank, Wil and Ian are getting ready for the live show.
3:12 Trivia..
Share it YO!!
Tweet