POV Holder:
Kaitlin
Next POV
July 13th
POV Used
?
POV Ceremony
July 15
HOH Winner:
Helen
Next HOH:
July 18
MVP:
Elissa
Original Nominations:
Kaitlin, Aaryn, Spencer (MVP)
Current Nominations:
Last Evicted Houseguest
David, Nick
Have Nots
Judd, Jessie, McCrea, Amanda
4:51pm Kitchen Kaitlin, Elissa, Spencer, Amanda
They are talking about Kaitlin using the photo booth time with JEremy. Amanda says she understands and didn't mind.
Kaitlin brings up Jessie making a rude comment about it.
Kaitlin: "It's my last week "
Elissa: "What!"
Kaitlin: "It's my last week with him"
Elissa: "Ohh yeah cause you're' taking yourself off the block "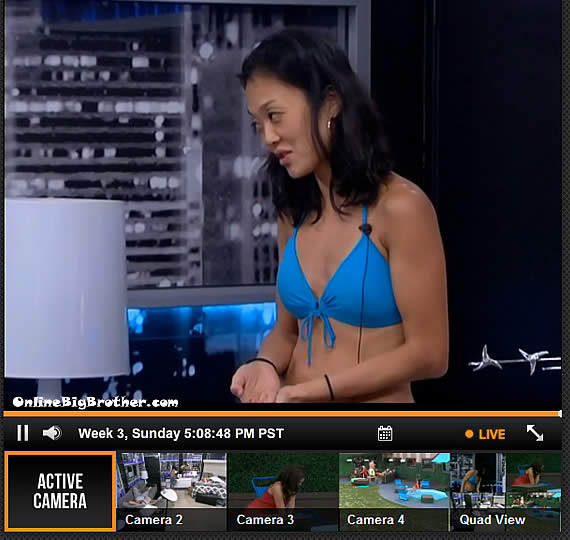 5:03pm HOH Andy and Spencer
Spencer saying how solid of a guy Howard is. Spencer: "I want you to know that other than the moving company I never lied to you… You've been really good about this so for that I thank you"
Helen joins them .
Andy says that Jeremy made another Race comment. "There was a fly crawling on him and he said I'm African i'm used to it"
Helen is shocked that Jeremy is still like that when he only has 100 days left in the house. She starts pointing out that JEremy thinks he's such a competition beast but in reality he's only won 1.5 competitions because the HOH was won with Aaryn.
Andy: "McCrea has won more"
Helen doesn't know what is wrong with Jeremy
She thinks Jeremy was physically abused as a child.
Andy thinks that Jeremy is good looking strong guy things were always easy for him. He didn't need to grow up.
Spencer: "He's the same height and weight as George Washington"
Helen starts talking about how Elissa is a strong women.
Helen: "Elissa has four kids.. She has one of her own and 3 step kids"
Feeds cut
Spencer is talking about love.. and his fluttering heart. Spencer says his girlfriend right now is logical love the type of love where you are with a great person and you can see yourself growing old with them. He says this is different than Lustful love the type of love that keeps you up at night and your flutters. Spencer asks Helen if she feels the way with her husband logical love or lustful love. Helen starts talking about love, unconditional love.. Helen thinks people who marry have logical love.. etc etc etc (Friendship)
Andy: "Jeremy and KAitlin want to use my bed and I don't want them" He adds that his bed is really quiet.
Helen: "Tell them she's the POV she picks"
Andy : "I think i'm going to say however goes to bed first gets it"
Spencer: 'They go to bed at 11 then they lay there smooching around 3"
Helen: 'Who is your best friend in the world" (Superfriends)
Andy says he has multiple best super friends.. he goes on to explain about them..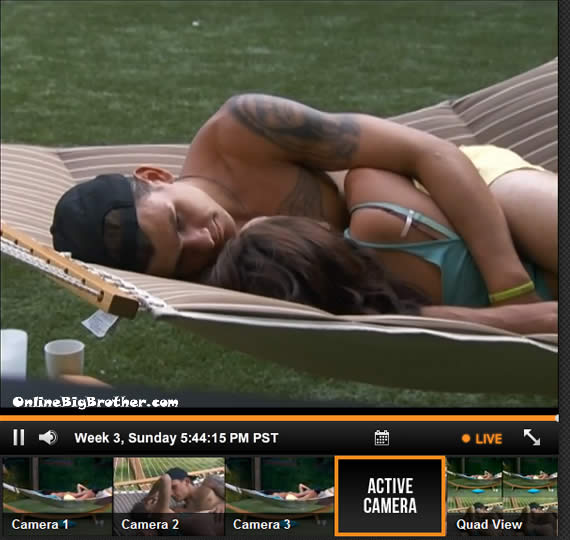 5:39pm Hammock Kaitlin and Jeremey
Kaitlin thinks it's hilarious that Jessie is in a showmance with Judd
Jeremy calls it a hoemance
Kaitlin comments on how that was the only guy that would take Jessie in the house.
You can re-watch ever second on the feeds using their flashback feature.. It's super easy to use click this link for a free trial —> Subscribe to the Big Brother Live Feeds
The CBS feeds are a HUGE improvement over the super pass feeds and they are 30% cheaper with no subscription to cancel.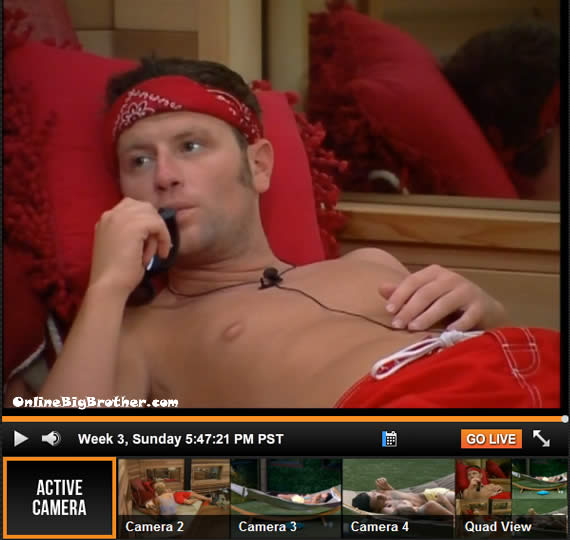 5:43pm Bathroom Judd and Aaryn
Aaryn saying that Kaitlin is going to use the POV for sure. Aaryn is worried that she's on the block.
Aaryn asks him if Jessie or anybody talks sh!t about her. Judd says no, "You really haven't ruffled any feathers in days.. Actually people have talked good about you"
Judd saying that Helen really wants Jeremy gone "You are going to be the zero vote this week"
Aaryn: "I think i'm going to have to ki$$ a lot of a$$"
Judd: "maybe not"
Aaryn: "I don't mind it… it's gonna to suck but has to be done"
Judd: "I don't like having to do that"
(You can hear Gina talking in the kitchen)
Aaryn: 'Gina is driving me crazy"
Judd: "I feel bad for her.. remember natalie from season 9" Judd says that natalie liked another player Matt and he didn't like her so he just strung her along. Judd: "They hooked up a bit.. It wasn't as extreme as this.. I just hope NIck didn't walk dh!t about her in the DR"
Aaryn: 'Probably did"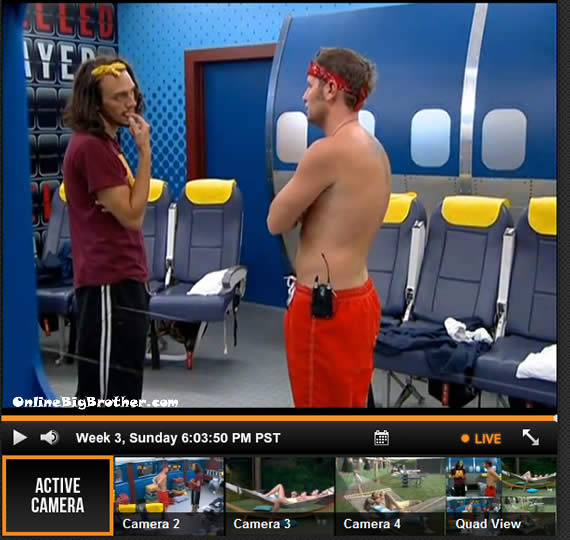 5:57pm Have nots McCrea and Judd
Feeds flip into this conversation
Judd: 'We do need a few girls out"
McCrea: 'I know"
McCrea: "It'll just be Me, you, Andy Spencer"
Judd: "It's OK Howard goes"
McCrea: "yup"
Judd: "I think if you got HOH put Howard and Candace up and a replacement nom would be Aaryn "
Judd: "that's risky"
McCrea: "I like the BackD**r"
Judd: "how about Arayn and Candace up BD Howard"
Judd says if they get MVP they can put a random girl up.
McCrea says they need to get MVP because he doesn't think Elissa will put up Howard.
Judd: "I need to start talking to Elissa and start planting seed how untrustworthy Howard is"
MCrea thinks Elissa is in an alliance with Howard, Helen and Candace. Judd thinks Andy is with them, "he's all over the place "
McCrea is confident Andy is on their side "I trust him"
Judd counts Howards, Andy, Spencer, Helen, Candace and Elissa.. thats 5.
Judd: "We'll need Aaryn then"
McCrae positively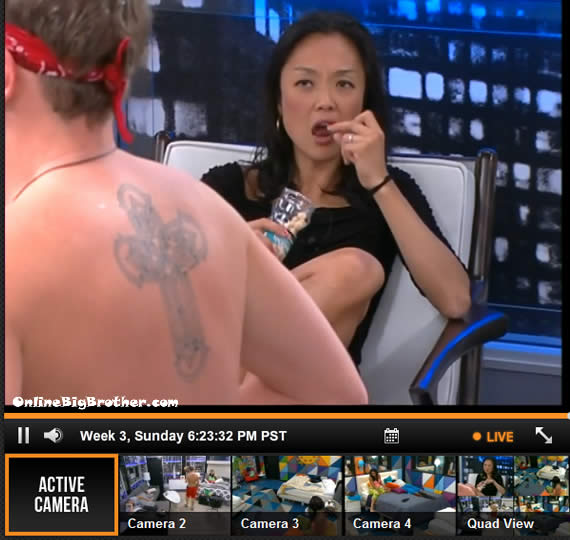 6:10pm Helen, Spencer, Andy and Judd
Spencer is back talking boot lists with Helen and Andy he wants gone "Kaitlin, Arayn and Gina"
Judd: "Then what"
Andy says don't say that he's getting an anxiety attack
Helen tells them that one thing that happens in the house that you don't see as a viewer is "you you become friends with everybody "
Helen: 'The house is happy.. people are more comfortable.. they are not as afraid"
Judd points out that Gina and Elissa are talking.
Helen: 'I think she realizes that Jeremy is going and she's got to play the game"
Helen mentions how pissed off Aaryn must be that during her HOH she got one of her Allies out. Spencer says he talked to her about that but Aaryn saying "going into that's not fair territory" so he left.
Helen says how can that not be fair it's the house that voted and they voted out Nick.
Candace and Elissa come in and they tell them about Jeremy fly comment..
Helen is telling them as long as they voted out Nick they are allowed up in the HOH to eat the "Peoples food" (See iamge above)
[polldaddy poll=7248812]