POV Holder:
Kaitlin
Next POV
July 20th
POV Used
?
POV Ceremony
July 15
HOH Winner:
Helen
Next HOH:
July 18
MVP:
Elissa
Original Nominations:
Kaitlin, Aaryn, Spencer (MVP)
Current Nominations:
Last Evicted Houseguest
David, Nick
Have Nots
Judd, Jessie, McCrea, Amanda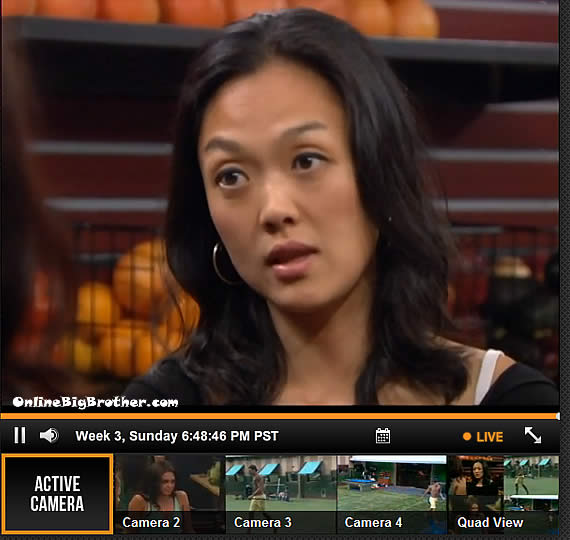 6:45pm Storage room Helen, Elissa and Kaitlin Cam 1-2
Helen is inviting Kaitlin into the superfriends friendship circle saying if Kaitlin does use the POV they will protect her.
Helen: "We are going to protect you and help you get further in this game we promise you that"
Elissa: 'You have to use it.. you're playing big brother.. "
Helen says they want to be friends with her, be a shoulder to cry on .. Bake cookies have fun"
Helen: "Invite us to hang out on the hammock"
Helen: 'The house is really looking forward to getting to know you.. come have fun with us"
Helen says that America is going to love her for using the POV and joining with Helen and Elissa. Elisa: "You are going to have fun"
Helen: "This is a huge moment in the game.. this is the defining moment"
Kaitlin: "I just don't want to vote him out.. "
Helen: "Thats ok.. vote to evict Spencer.. "
Helen offers to go tell Spencer and be cool with it she doesn't think anyone will have a problem with it.
Kaitlin: "It doesn't mean anything he's still going home"
Elissa: "You should vote to evict Aaryn.. please.. that would be fun"
Helen: "The game restarts for you .. Andy, Elissa and I have your back"
Helen says if she doesn't use the POV the house will be so mad at her she would go home and the following week Jeremy would.
Andy joins them
Helen: "if your name comes up i'm going to sugest someone else.. Elissa and I cannot tell you how much
Elissa asks her to not put them up if she wins HOH. Kaitlin says of course not. "Spencer and Howard they were rats to both you and us they are going up"
Elissa and Helen leave.. Kaitlin cries and Andy gives her a hug..
Andy: "It has to be done for you to get far in this game"
6:59pm feeds are on and off fish at 6:59pm Kaitlin says this "Helen .. what the hell were you using Production as your strategy for" Feeds cut
You can re-watch ever second on the feeds using their flashback feature.. It's super easy to use click this link for a free trial —> Subscribe to the Big Brother Live Feeds
The CBS feeds are a HUGE improvement over the super pass feeds and they are 30% cheaper with no subscription to cancel.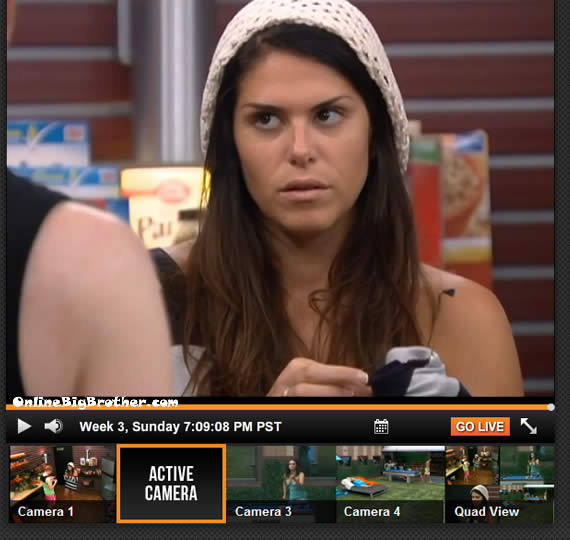 7:00pm Storage room Andy and Amanda
Andy is complaining about Helen says right in front of Spencer she said that Kaitlin was targeting Howard, "Kaitlin hates Howard".
Andy adds that he gave Helen a look like shut up.. Helen backtracked and said "Ohh Kaitlin hates a lot of people she hates Jessie and Candace"
Amanda: "the two of them together is like having to watch a toddler learning to walk.. You want to keep them away from all the sharp edges because they are just going to hurt themselves and people around them.. it's like bringing a bull into the china shop"
Andy laughs.. wants to know if he should tell Spencer about the MVP. Amanda says keep playing dumb. Amanda thinks that was a stupid move for McCrea to say he has MVP.
They start talking about Howard and Spencer and how hilarious it is that they think they are part of 'Area 51" again, "F*** that there is no Area 51". Both agree that Howard is much more dangerous than Spencer. Andy adds that's Spencer and Howard came back only because McCrea flipped and they got Jessie. Andy: "They didn't have a change of heart they got terrified because there alliance was crumbling.. F**** you"
Amanda: 'You just gotta remember it's me, you, Helen, Judd and McCrea"
Andy says he's loyal to Helen 100% but if she starts messing up his game he'll cut her loose.
Amanda: "She needs to stop talking.. she talks way too much and if she keeps doing sh!t that is f**** annoying she'll f/*** up your game"
Amanda: 'the thing about Elissa is none of us can put her up because if I put her up she'll put up McCrea. she's a loose cannon"
Andy agrees.. "Without a doubt"
Amanda: "And she's scary"
Andy: "I agree"
Amanda says for next week they are all safe the targets are Spencer/Howard
Anady: 'Aaryn.. Aryn"
Amanda: Aayrn or kaitlin"
Andy says he will not push for KAitlin to be put up because he's built too much trust with her.
Andy says the best case is KAitlin wins HOH and put ups howard and spencer. Amanda if she put up Howard and Candace Elissa would put up Spencer.. Amanda corrects herself says Elissa will put up Aaryn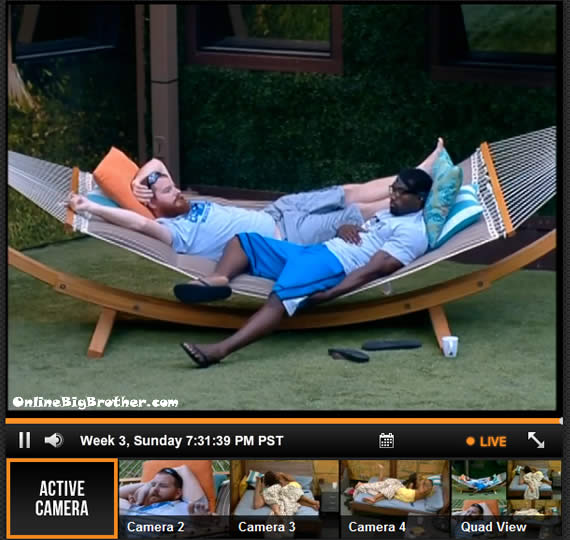 7:30pm Spencer and Howard
Spencer: "you and Candace getting close?"
Howard: "I wouldn't .. um she's cool getting to know.. I think we got close because of all the stuff that happened.. I don't see myself dating her.. I don't like the pageant girly girls I like to sweat and play.. you know roll around in the grass get dirty.. not saying I want some butch"
Spencer: "Just don't McCrea me"
They agree Candace has been a real champion for their cause. Howard calls Candace "Good Wifey material" says she needs a little work but she'll make a good wife.
Howard says he wants to get into Acting. . he thought that coming on the show was going to help him get his foot in the door. He's glad he met someone like spencer in the house. Spencer is to he's glad there is one person in the house that he trusts 100%.
Howard: 'I love the show Big Brother.. I really do but I haven't seen it in a awhile.. I needed someone to help me on a mental standpoint.. very strategic .. another grown man in the house"
Spencer says they compliment each other nicely Howard is physically strong and and mentally sharp. Spencer says there is going to be a time when they are in a strong alliance an alliance so strong that they won't have to talk to people outside of it.
Howard talking about the comment that Jeremy made.. Howard says it was best for him to keep his mouth shut because he's got to remember why he's here in the first place. Howard adds that he thinks of Jeremy as a kid just running his mouth.
Spencer: "A lot of time your hands follow your mouth"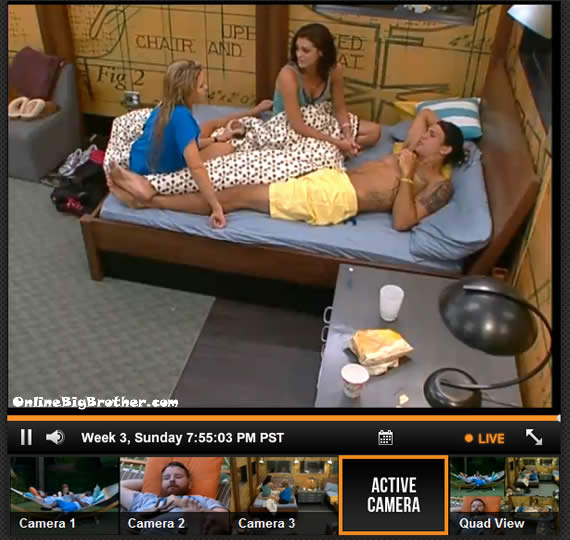 7:36pm bedroom Kaitlin, Jeremy and Aaryn
Aaryn says she heard half the conversation Kaitlin had in the storage room. Kaitlin says they confirmed Jeremy is going home. Aaryn: "I thought you and Elissa were not cool"
Kaitlin: 'She basically pulled me in told me she would protect me.. Elissa"
Aaryn: "Did she say anything about me.. you're going to have to"
Kaitlin: "I told you I would.. I promise"
Kaitlin give her the rundown of the conversation. Aaryn says that Helen pretty much said the same thing to her without Elissa, "The difference is Elissa is on your side and not mine"
Kaitlin: "Everytime Helen talks to me she cries"
7:55:00 Cam 3
Aaryn: "Why did they say she was using production"
Kaitlin: 'I don't know… When I came out I was like Helen what were you doing.. Candace said something you said I don't know what it was,, had something to do with Howard.. If I win HOH i'm putting Howard and Candace up.. "
KAitlin: "By the way Helen told me Elissa had MVP this week not McCrea"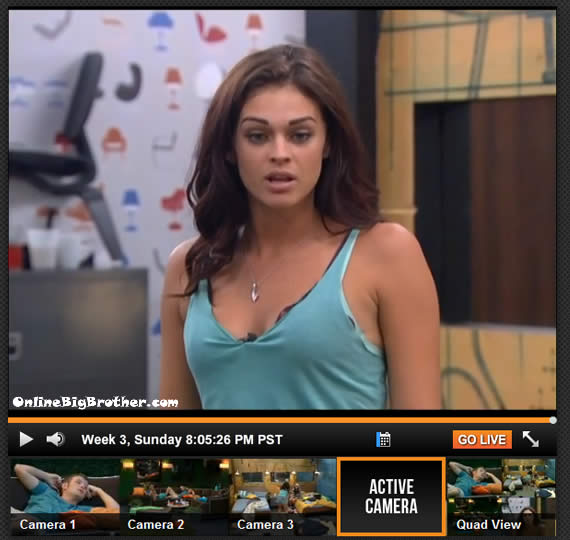 7:49pm Bedroom Amanda and Kaitlin
Amanda wants to know who she would put up if she won HOH she suggests it be Howard and Candace. That way Elissa will put up Spencer with MVP.
Kaitlin: "I have a feeling that the minute Jeremy leaves I'm going to win HOH.. that would suck though.. I would be all lonely in the HOH alone"
Amanda: "Don't worry if you are HOH people are going to ki$$ your butthole.. not my style"
Kaitlin says there is no way a man who played football for all those years and has all that muscle be that uncoordinated in competitions. Kaitlin says that Howard is going to start trying in Competitions and be worth 3 people.
Amanda: 'He has control over Candace" Kaitlin points out that it's only been these last few days the first 3 weeks he talked mad sh!t about her"
Amanda: 'He still does"
KAitlin says Candace and Howard are making out and Candace is really close to Elissa.
Amanda: "Something is going on"
Kaitlin: 'he's using religion on Elissa"
Amanda: "And race on Helen and Candace"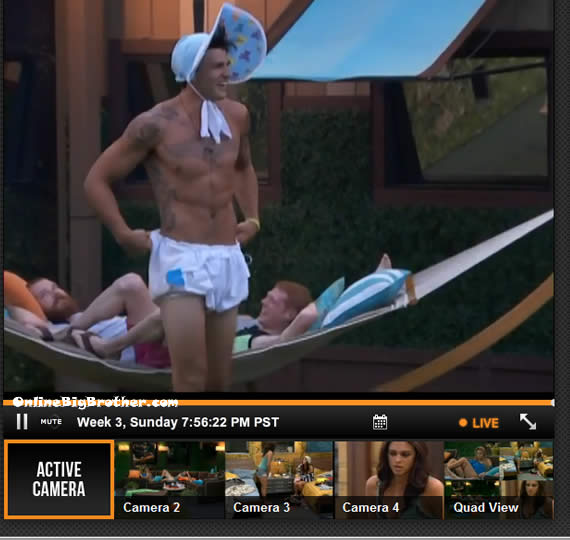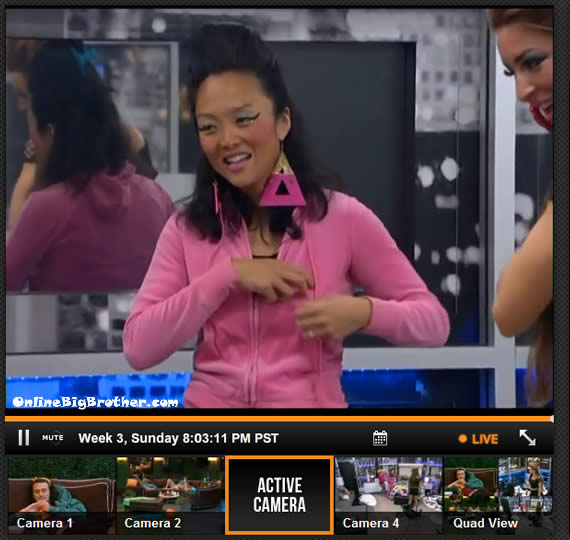 8:16pm The Superfriends put on some of Gina's clothes and are pretending they are guidos. gina says these are the clothes she wears to the clubs.. Gina helps get their makeup done they also work on a dance routine.
3:35pm HOH Superfriends waiting for the other houseguests so they can put on a show. Helen: "You know what is funny is those earnings Candace actually wears those.. " Feeds cut
Gina is having a great time helping Helen and Elissa with their Guido impersonations. They do the accents and everything..
8:49pm Jeremy and Amanda get in front of everyone tell them they are brother and sister and would have got 25 thousands if they made it to the end. McCrea: 'BullSh!t" (Everyone else laughing)
Even Jessie does a Guido impersonation… Hers might be the best.
You can re-watch ever second on the feeds using their flashback feature.. It's super easy to use click this link for a free trial —> Subscribe to the Big Brother Live Feeds
The CBS feeds are a HUGE improvement over the super pass feeds and they are 30% cheaper with no subscription to cancel.
[polldaddy poll=7248812]