POV Holder:
?
Next POV
July 20th
POV Used
?
POV Ceremony
July 22
HOH Winner:
JUDD
Next HOH:
July 25
MVP:
?
Original Nominations:
Current Nominations:
Last Evicted Houseguest
David, Nick, Jeremy
Have Nots
12:45am In the lounge – Candice, Elissa, Amanda, Aaryn and McCrae are talking. They're talk about tanning. Everyone leaves but Amanda and Elissa who talk about relationships. Elissa says that it is so exciting for Amanda and McCrae to be able to start something new. Amanda says from someone who has dated people with money and without money it is so much easier to date someone with money. Amanda says that my ex .. or my boyfriend makes good money so its definitely been easier to be able to do whatever you want and go on vacation whenever/wherever. Elissa says but isn't it so much better to be able to build that with someone you love. Amanda says that McCrae makes in two weeks what I make in half a day. Elissa says that she thinks McCrae is smart, he is an undercover genius. Amanda says that it will be interesting to see what life is like outside the house, he is talking about moving to Florida with me. I am a leap of faith type of person, if I feel something I do it. Elissa says if you are starting to think there are more cons than pros maybe you should cut it off. Amanda says that she isn't even concerned about that. Amanda says that she is just worried about having to deal with her ex and his family. Elissa says that everyone will love McCrae and if your ex isn't a part of your life it is a non-issue. You have to do what is best for you.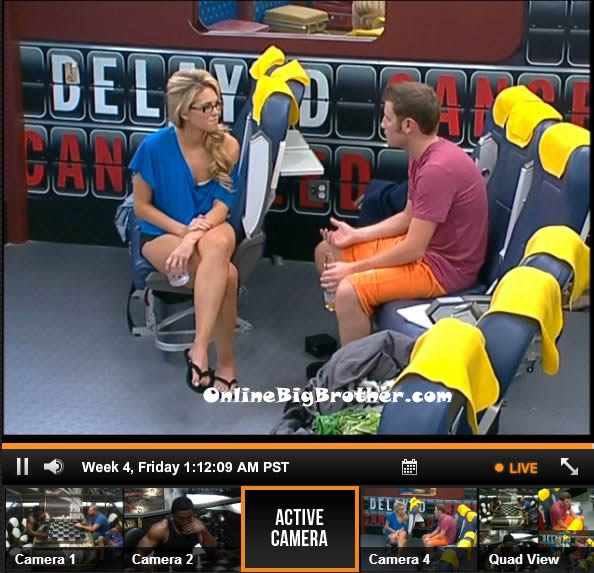 1am In the havenot room Judd is talking to Aaryn. Judd says if Elissa and I put you up I am afraid of Elissa getting a special power. Judd says that he is thinking about back dooring Howard. Aaryn says that she is afraid to go up. Judd says the MVP might put her up. Aaryn asks Judd to keep Elissa from being put up as MVP. Judd says that he doesn't get why no one wants Ginamarie gone. Judd says that he is probably going to put her up. Judd says that if they can't backdoor someone, Gina can go home. Aaryn asks why not put up Candice and Howard up? Judd says because Howard will win veto. Aaryn says that she doesn't want to go up at all. Aayrn says that she thinks Kaitlin made final four deals with everyone. Judd says even if I don't put you up, I think you would be put up as MVP. Aaryn says if you can try and make it so I am not put up from the MVP I would appreciate it. Aaryn says if I am put up and it's against someone who isn't a big target then I would go home. Aaryn says no matter what if I stay I will never go after you. Judd says yeah and that is what I tell people that you don't have anyone. Judd says if I think people are acting shaddy I might need to shake things up and back door someone. Aaryn says if I am up there as the final 3 noms I will go home. Kaitlin won't go home because people have made deals with everyone. Judd says that he will see if Elissa will work with him and if she won't as MVP then I have no need to keep her here. Aaryn tells Judd if she is on the block and Judd wins veto, he has to take her off or she will go home. Judd tells Aaryn that Elissa wants to put her up but he will steer her away from that, and if Elissa puts up Aaryn, he'll veto her off. Judd and Aayrn leave the havenot room.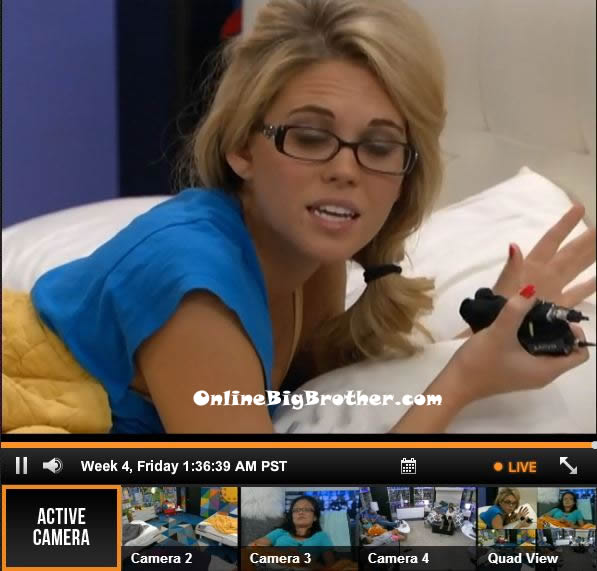 1:30am – 1:45am Up in the HOH room – Howard, Spencer, Elissa, Andy, Helen, Jessie, Candice, Judd, Amanda and McCrae are talking about random things. Meanwhile in the downstairs bed room – Aaryn, Kaitlin and Gina are talking about being on the block. Aaryn says that she is pretty sure she is going up. Gina says everyone has to go up some time. Aaryn says that its just so hard to go up two weeks in a row. Kaitlin and Gina talk about how good of a liar Judd is. Gina says I don't believe a word he says. Kaitlin says he is a really good liar. Aaryn says that there is a good chance all three of us are going up. Gina and Kaitlin don't think that will happen. Gina and Aaryn start getting into it. Gina says just slow your roll Aaryn! Think positively. Gina says you say things about Nick and I don't like it. Aaryn says I haven't said anything about Nick in two days. Gina says just think positively that's all I am asking. Aaryn says that he was just trying to talk to her as a friend. Aaryn says honestly I did not think I was the target until 5 minutes ago. Judd is not going to put up Candice and Howard. I am going to be put up against people who aren't as big of targets as I am which means I am going home. So if I want to freak out then I can freak out. Kaitlin tells Aaryn that she already told her that she heard Aaryn was going home in the next 3 weeks, if I hear anything different I will let you know. Kaitlin says that Judd wants to back door Howard to not give him a chance to win veto. Aaryn says then who else would go up? Kaitlin says I don't know I think Jessie might have a big influence on Judd. Aaryn says she does. Kaitlin asks do you want me to talk to him. Aaryn says no. I don't want you to tell him what I just told you. Gina says what makes you think I tell anyone what we talk about, I don't do that. Aaryn says I am just telling you what I am feeling. Aaryn says that circle of trust – I don't think McCrae got MVP. Kaitlin says I don't understand why he would pull Jeremy aside to tell him that. Aaryn says deals. Kaitlin says that doesn't make sense. Aaryn says to take the heat off of Elissa and in return for safety. Kaitlin says that doesn't make sense. Elissa has more power over people if she is MVP so it doesn't make sense for her to tell people she doesn't have it. Kaitlin says that it's crazy that Jeremy will be able to go home and know what's actually going on. It's even more crazy to think that he can watch me sleep. Kaitlin starts to realize how it would make sense for Elissa to not what the MVP heat on her because everyone was talking about how she would just get it every week so people wanted her out. Aaryn says that there are people that trust me so this doesn't leave this room. Aaryn says this game is about lying and the people who are really good at it go far. Kaitlin says that Judd
Big Brother 15 Live Feeds: FREE 2 DAY TRIAL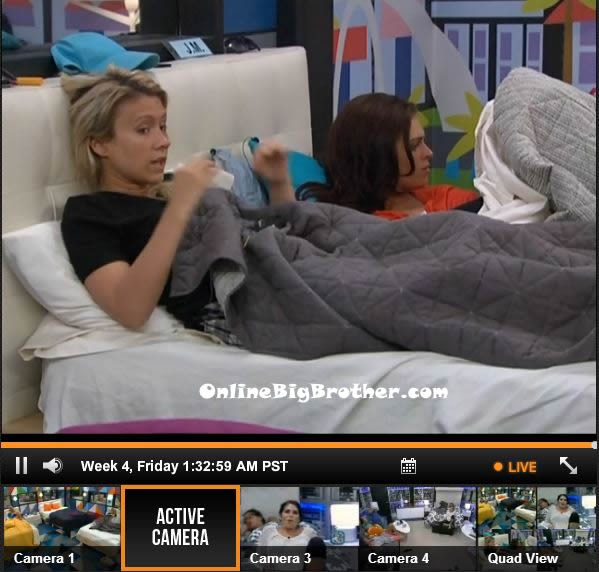 Aaryn says that Judd told her that he would like to get Howard out but that he would also like to get a girl out. She says that he is thinking about putting up Elissa to get her out because of the MVP thing. Gina and Kaitlin both don't believe it and say that wont happen. Gina says they tried that two weeks in a row to get her out and it didn't work. Kaitlin says if he wanted that he would have voted her out back than and he didn't. Aaryn says there could be a twist like she (Julie Chen) said expect the unexpected, even if it is the three of us that go up.. Maybe America will take one of us down.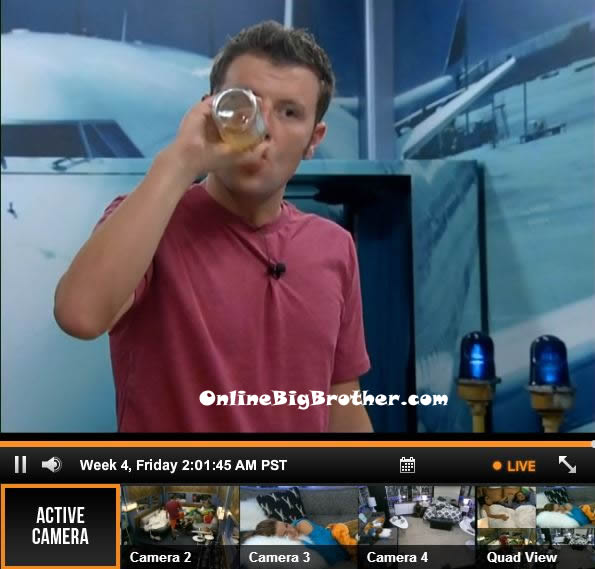 UP in the HOH room – They are talking about Gina and Nick. Meanwhile in the lounge – McCrae and Amanda are talking and making out. McCrae says that Howard has some kind of plan that he's going tell McCrae in a couple days. McCrae says he thinks it may be some kind of test. McCrae asks what the fu*k could he have planned?" McCrae comment that he isn't that worried about it. The start making out. Andy and Judd joins then. He tells them that Elissa is gunning for Aaryn to be put up and to go home. Judd says it would be safest to put up KAITLIN and GINAMARIE. I want to get rid of that bit*h so bad, I can't stand it! Amanda says she is just one person though. Judd says that he is suspicious of Elissa. What if she is the whole big twist. Amanda says she already was the twist. Amanda says Howard has to go! Actually I don't care, do what you want to do. Judd says he will tell Kaitlin she's the pawn. Judd heads upstairs. Andy tells McCrae and Amanda that Elissa is freaking him out too. I am starting to see the Rachel in her. She wants Aaryn gone for personal reasons.

Kaitlin joins them. She asks Amanda how she is doing. Amanda says like balls, nice warm balls. Kaitlin asks do you like them cupped or licked. Amanda says both. Kaitlin tells them that she's heard she is going up. They asks her where she's heard that. Kaitlin says she's heard it from Helen and Aaryn. Kaitlin says that Aaryn said that Judd doesn't even want to do what the house wants. Amanda says what the fu*k does Aaryn know anyways. Kaitlin says I am going to be a little pissed off if I go up on the block again. Andy says that he will talk to Judd. Amanda says just because he is HOH and she is sucking on his balls doesn't mean anything. Kaitlin says it depends on how good she is sucking on them. Amanda says touché. Kaitlin tells McCrae that Aaryn told her that he didn't really get MVP and only said it to take the heat off of Elissa. Amanda says she is full of sh*t. Kaitlin says I am just saying what she told me. Aaryn joins them. Kaitlin says McCrae you never answer my question. McCrae asks what? Kaitlin asks do you like your balls fondled or licked. McCrae says fondled. They start talking about Gina and she enters. Kaitlin says speak of the devil. They tell Gina that the Nick memorial is tomorrow. They tease Gina about needing to let Nick go. Amanda tells Gina that she has to give up the Nick things, we are going to put that stuff in the storage room for production to keep. Gina doesn't want to do that. Amanda asks when you kill someone so you keep that body, no! Amanda says this is like hoarders big brother edition. You either keep it burry it.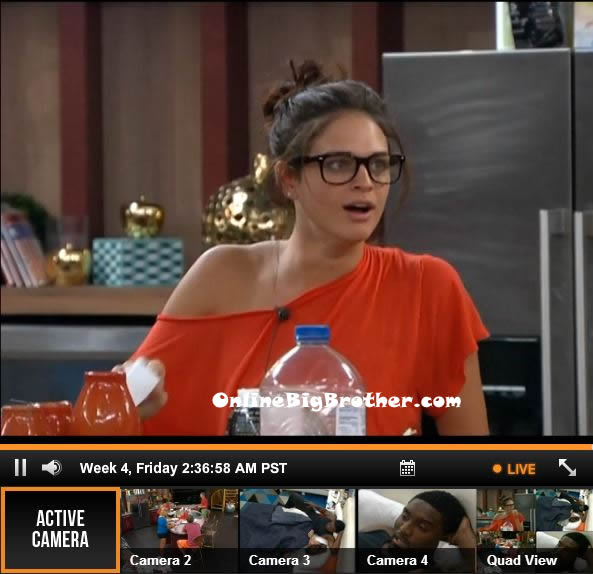 2:20am In the kitchen – Aaryn talks to Judd about putting up Gina and getting her out. She doesn't even care to be here, she is more concerned about Nick. Judd says well maybe I will tell her to choose the game or Nick. You have an opportunity play in the veto. Aaryn says I will be so pissed if I go home and Gina stays here. Judd tells Aaryn that he won't put her up. Aaryn says but Elissa will put me up. Judd thinks Elissa might put up Howard. Judd says I will do whatever it takes to keep you here. Aaryn says whatever this veto is and if Elissa puts me up – I just hope it is something I can win. McCrae joins them. Aaryn says she just can't listen to the Nick stuff anymore. Aaryn tells Judd how to use his HOH to gain safety for next week. Aaryn says if I go up and I win veto, another strong guy is going to go up on the block. Aaryn says I don't know why Elissa want's me up – I told her that I am not going after her.


2:25am – 2:40am Howard and Candice are talking in the bedroom. Howard says that Spencer told him Elissa doesn't like him (Howard). Candice tells him that Elissa does like him, but not Spencer. Howard tells Candice that she needs her to trust him. Howard tells Candice that he wants her to help keep him by getting on Elissa's good side. He says because Elissa has the MVP power. Candice tells Howard that the MVP won't last much longer. Candice says she can't protect both him and Spencer. Candice says that she thinks Howard's downfall will be Spencer. Howard says that if I go on the block, I have something up my sleeve. Candice tells him that right now he is good. She tells him to chill out. Howard tells Candice he's happy she's here. Candice says she is happy he is here.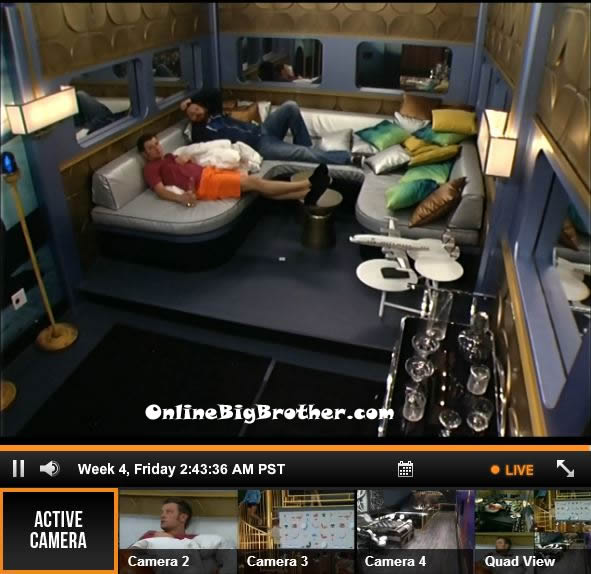 2:40am In the lounge room – Judd talks to Spencer. Judd says that he thinks Gina is his best bet. Spencer asks who do you want to leave the house. Her? Judd nods. Spencer says that Elissa wants Aaryn out. Spencer says Ginamarie can get a first class ticket back to Staten Island, she is a fu*king nut case! Judd calls Andy in when he walks by. Judd asks if you could put someone up, who would you put up with Ginamarie. Andy says Kaitlin. Amanda joins them and Andy leaves. Judd goes to tell Andy if you want to use my room just turn the light on. Andy comments that Jessie is sleeping up there. Judd says well maybe I will just have to tell her to not sleep up there. Judd, Spencer Candice, Kaitlin and Gina all head up to the HOH room. On the way up Judd says it's party time! Jessie is trying to sleep in the HOH room. They all pile in and start talking about random things. Elissa heads down stairs.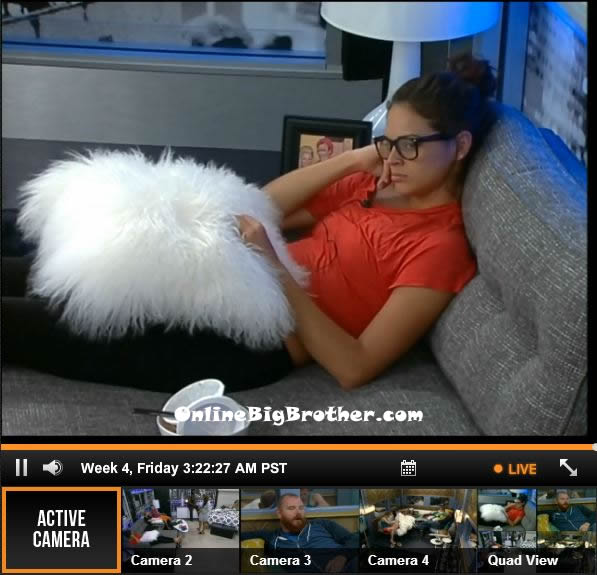 2:55am – 3:20am Andy talks to Amanda and McCrae in the lounge room. Andy says that he didn't like how people are forcing an agenda on Judd. Amanda says we just need Elissa to put up Spencer. If Judd doesn't put up Aaryn, then Elissa will. Amanda says why put up Gina, that is the stupidest thing. We can get her out any time. Amanda says that Aaryn is not as dangerous as Howard. Amanda bring up how Judd wanted to bring Jessie into the alliance. Amanda says and what the hell is Helen talking to Kaitlin about her going up on the block. Andy says we need to talk to Helen and tell her she can't be miss truthful. Amanda asks what's the order of our targets: Howard and Spencer. Andy says Aaryn is also dangerous and needs to go. Spencer joins them. They talk about the possibility of a girls alliance. Amanda says I am not stupid enough to align myself with these bit*hes! McCrae comments on how the plan is to get rid of Gina when there are two dangerous girls (Kaitlin and Aary) that need to go. McCrae wants Aaryn gone so bad, she is a compulsive liar. Amanda asks who is Judd close to. Spencer says Jessie, he has a vagin@ bond with her. I really do hope he fu*ks her. Judd joins them. They laugh and joke around about messing with Gina about Nick. Spencer says that he told Gina that the heart want's what the heart wants. Judd says he told her that some people just don't understand true love. Judd heads back up stairs. McCrae says getting Gina out such a waste.
FREE LIVE FEED Trial: Subscribe Today!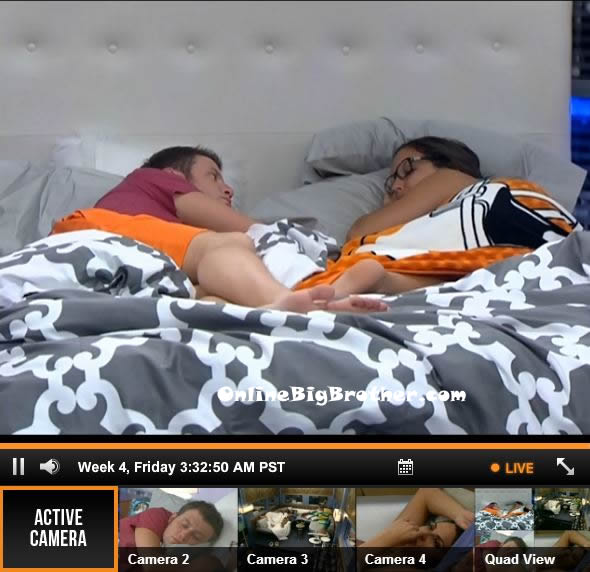 3:25am Everyone heads down from the HOH room. Andy joins them. Judd asks Andy who should I put up? Andy laughs that Judd can just tell whoever he nominates that Andy told him to put them up. Andy says Jessie and Aaryn. Let the best bit*h win. Jessie says oh my god Andy stop. Andy says I nominate Nick's hat and Amanda. Andy leaves to go to bed. Jessie tells Judd that she appreciate him sharing her HOH with her. Judd says that he is happy she is up here. Judd asks Jessie who she should put up. Jessie says that she think they want him to back door Howard so that they don't need to do it. Jessie and Judd agree that McCrae played his HOH way too safe. Judd tells Jessie that he tried to throw the HOH. He says that he knew the right answer was around 900 and answered 650 thinking it was way too low. He says then I won it and I was like fu*k, fu*k, fu*k! Jessie says at least you get this room. Judd says that he is thinking of putting up Kaitlin as the pawn against Ginamarie. He says that Gina doesn't deserve to make it to jury. Jessie thinks that Kaitlin still in the game, she is going to come after me. Jessie comments that with Jeremy gone Kaitlin didn't skip a beat. She is going to make it to the end. Judd says that he told Aaryn that he isn't putting up her no matter what, she has no one. Jessie says I would be so happy if Kaitlin went home this week. I feel like if Aaryn stayed she could work with us. Jessie says that Kaitlin is the younger funnier me. There can be only one hot brunette in the house and that's me. Judd says I noticed you from the beginning. Judd says that he is starting to not trust Amanda and McCrae. Jessie says they are playing both sides. Jessie says Amanda is running the house. Judd agrees but says it's too dangerous to go after her. Jessie asks who do you trust after me. Judd says McCrae but not Amanda. Jessie asks who after that. Judd says Helen and Elissa .. maybe Spencer.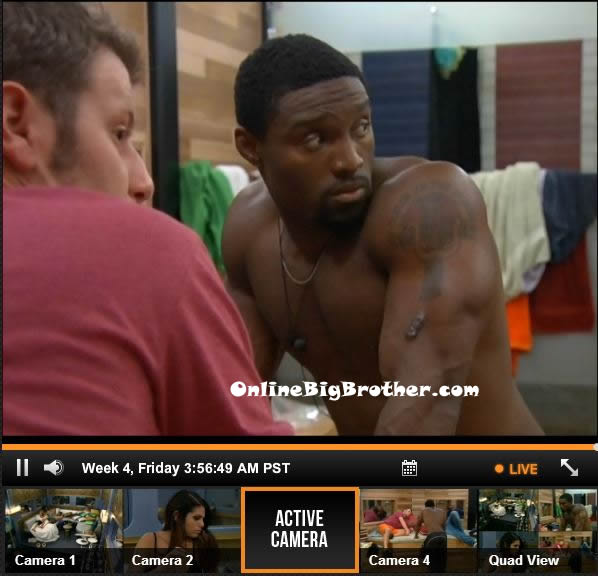 3:50am Judd heads down to the bathroom and talks to Spencer. Spencer tells Judd can talk with things over with him whenever he wants. Spencer warns Judd about talking to Elissa too much. Spencer says that Elissa doesn't like me. Judd agrees and says that Elissa acted strange around him. Judd says I didn't want to get HOH until MVP was over. I am fu*king pissed. Judd says it would be stupid to get rid of Gina right now. Spencer says you can get rid of her any time. Howard joins them. Judd asks should I put up Gina and Kaitlin and they we get rid of Kaitlin. Spencer says keeping Gina will be good because she will piss off the other girls in the house. That way when you step down from the HOH other sh*t will be brewing. Judd says I could put up Gina and tell her that Amanda would be made if I didn't put her up. Judd says if Elissa doesn't work with me then we can back door her. Judd says that if you don't do exactly what Amanda wants she starts flipping out. Judd says that no on would suspect us working together. (Judd, Jessie, Spencer, Aaryn, Howard and Candice.) Judd says we would have the numbers. Spencer talks about how there is some shaddy business going on with McCrae/Amanada and Elissa. Spencer points out how McCrae said he had MVP one time and then another time said he didn't have it. They talk about how all Amanda and McCrae do is sleep.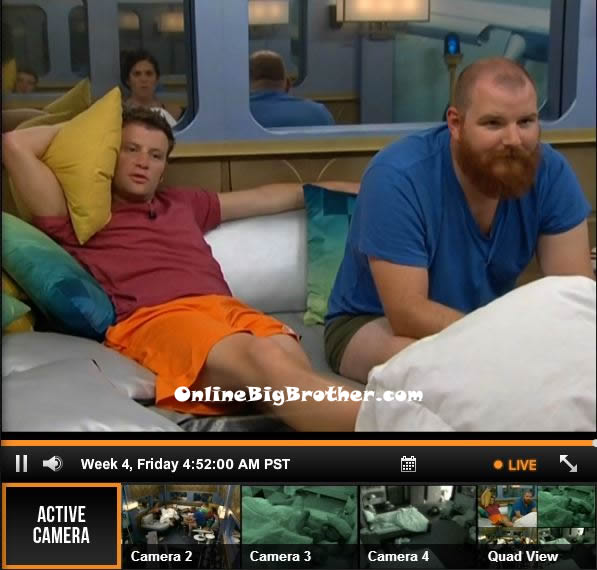 4am – 5am Judd heads into the lounge room to talk to McCrae. Judd says if Elissa doesn't put up Candice I will back door the bit*h, I dunno is that crazy? Should I do that? Amanda says I am telling you she won't put up Candice. She want's Aaryn gone. Judd says he thinks Aaryn will stay. Amanda says she doesn't give a sh*t if Aaryn stays or goes, I want Howard gone. If you do not put up Aaryn – then 100% Elissa will put her up. Judd says that he is going to put up Gina and say that he was approached by 4 or 5 girls that if I didn't put you up they were coming after me. Amanda says no then she will be after me. Tell her that Aaryn told you that. Amanda says just tell her Nick told you to put her up. Judd laughs and says I had a vision from Nick last night and he needs you back in Staten Island. I'm sorry you have to go up. Judd laughs and says I'll do it, I'll do it! Judd says he'll put up Kaitlin and Gina and tell Kaitlin before hand that she is going up. Spencer joins them. They continue to talk and joke around about random things. Amanda says that Ginamarie was legit upset about not being included in showmance talk show. Spencer heads to bed. Judd says fu*k what a horrible HOH to win.. Judd heads up to the HOH to sleep.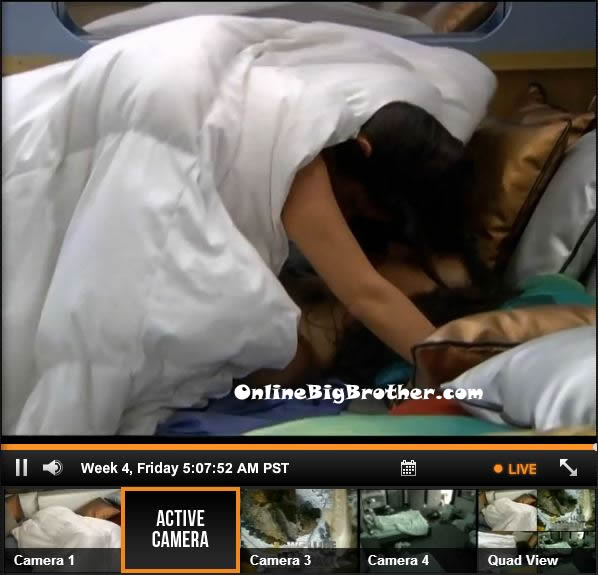 5am – 5:15amAll the house guests are in bed except for Amanada and McCrae who are making out in the lounge room.. The camera zooms in on the blanket moving showing her giving him a hand job. Amanda then climbs on top of McCrae. Amanda says my little delivery boy, I ordered an extra large tonight.. with extra toppings. McCrae and Amanda head to the bathroom to get ready for bed..
5:20am All the house guests are now in bed sleeping..
8:50am Big Brother wakes up the house guests. Everyone but Judd goes back to sleep..
[polldaddy poll=7260936]