POV Holder:
?
Next POV
July 20th
POV Used
?
POV Ceremony
July 22
HOH Winner:
JUDD
Next HOH:
July 25
MVP:
?
Original Nominations:
Current Nominations:
Last Evicted Houseguest
David, Nick, Jeremy
Have Nots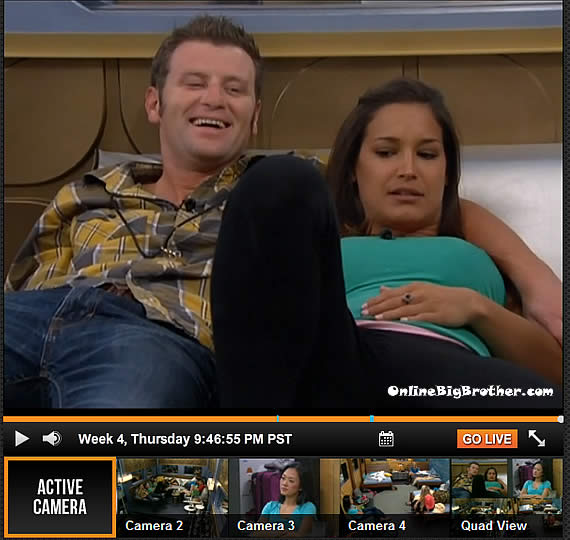 9:30pm Cockpit Amanda and McCrae
Talking about how annoying Candace is. They point out that she always wears people stuff then drops it off in random spots throughout the house.
Amanda is talking in code about what I believe is sexual acts. McCrea says that there is people on the internet that will figure out what she's saying. Amanda doesn't think they are that interesting.
JUDD and Andy join them
Amanda: "What's happening"
Judd: 'Hungry as fu*** need a cig.. I'm not worried yet"
Amanda: "Well it does come fast"
JUDD says that he was talking to Elissa and she's super worried.
Amanda: 'She's actually dumber than you give her credit.. you think she's strategizing.. you have to think very simple.. she's just worried what the twist in"
Jessie and Elissa just walk in..
JUDD says he wants to pick Andy, GM and Candace to be on his Have nots team. They all laugh because it would mean for certain Andy would be a have nots.
Talk moves to GM and her obsession with Nick. Andy: "I'm not kidding I can't take the Nick talk anymore.. it's not even funny anymore.. it grates at my soul" They point out that what Kaitlin had for Jeremy was way more serious than what GM and Nick had.
Andy says in GM's head when this show is over he's going to go on dates with her. Judd says they should put GM up. McCrae: "tell her it's because she won't stop talking about Nick"
Andy mentions how GM doesn't want to be a have nots or HOH because she doesn't want to give up the bed they shared. (There's countless examples of GM being psycho about Nick)
They all agree there will be much more food in the house now that Jeremy is gone.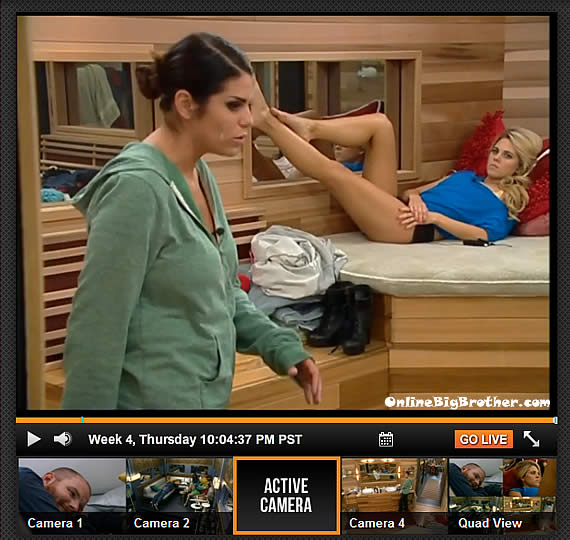 10:00pm Bathroom Amanda, GM and KAitlin
random chit chat. They mention GM and how she's still talking about Nick. They chat about kids names. Aaryn says everytime she hears the name Skylar she thinks of Breaking bad. Kaitlin: "What's that"
Amanda leaves and Jessie joins them
Jessie says she watched after dark every night she's been a big fan of the show for awhile. Jeremy told Kaitlin that he was going to watch the live feeds when he got home.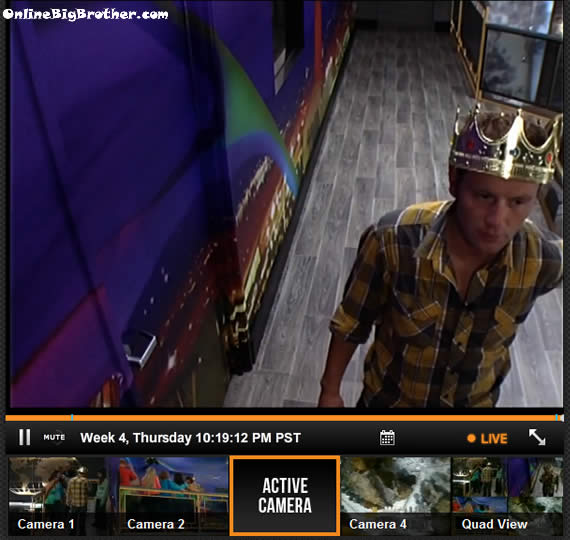 10:20pm JUDD gets his HOH room
Here's the important parts
Corona beer
Red Hot Chili Peppers CD
Misses his family
There's a picture of him dressed up as Mario
You can re-watch ever second on the feeds using their flashback feature.. It's super easy to use click this link for a free trial —> Subscribe to the Big Brother Live Feeds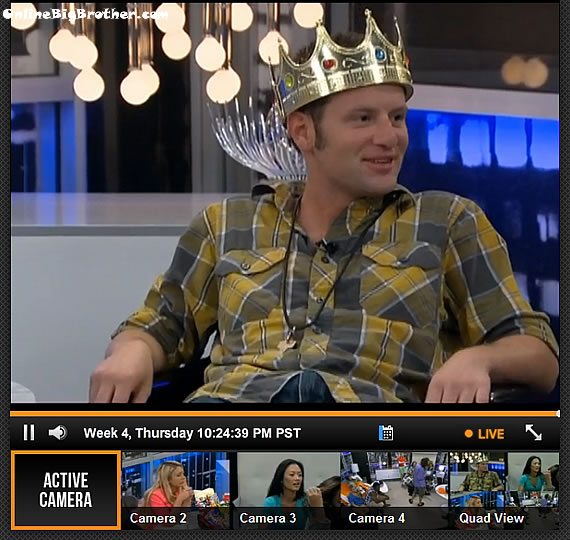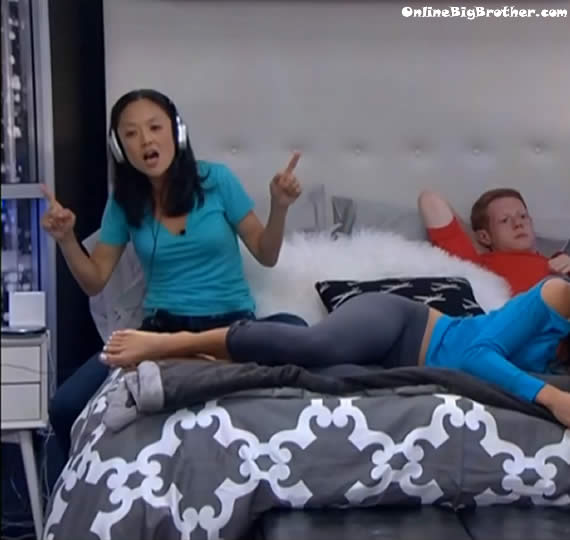 10:43pm HOH Helen, Any, Spencer, Howard, Candace, Gina
Helen's really playing up how much she likes the music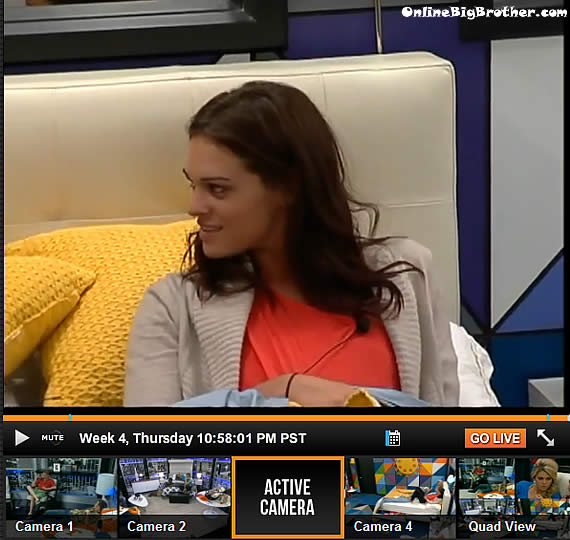 10:55pm Bedroom Aaryn and Kaitlin
Aaryn doesn't think JUDD will put her up because she never put him up week 2. Kaitlin says the plan for teh house is to Backdoor Howard.
They agree that JUDD is a lot smarter than they thought he was.
Kaitlin: "JUDD's really good at lying"
Aaryn: "Anyone who is witty with jokes is smart"
Kaitlin wants to sleep with Jeremy's pillow but she thinks it's "kinda weird"
Aaryn says she'll go get the pillow Kaitlin doesn't want her to because Jessie is sleeping on it at the moment.
Aaryn: 'Something snapped in GM she's been acting different, Bitchy"
Kaitlin says that Amanda made a comment that GM is on her radar. They start talking about Kaitlin and Jeremy signing up for the amazing race. Kaitlin thinks that they have a chance because it's a CBS show.
Kaitlin mentions how she doesn't feel as sick to her stomach now that Jeremy is gone. "it probably hasn't hit me yet"
Aaryn points out how all the showmances are getting split up. (Cams switch to McCrea talking about shooting propane tanks about 30 seconds and they switch back to the girls chatting)
Aaryn: "I know Julie said no floaters but the people that are doing well in the game are all floaters"
She tells Kaitlin that the only way they can survive is to play below the radar and float. "Don't be over nice because red flags go up so be quiet and polite"
Aaryn warns her that they are going to try and get them to turn on each other.
Kaitlin says that they are not as big of targets anymore the other players have targets to go after. Aaryn and Kaitlin compare notes about Amanda. Kaitlin says Amanda is being ridiculous in this game. They both think she tells them a lot of BS
Kaitlin says when Amanda talks she talks with such confidence. Gina marches in…
Kaitlin: 'Never in my life has a guy made me feel so tiny"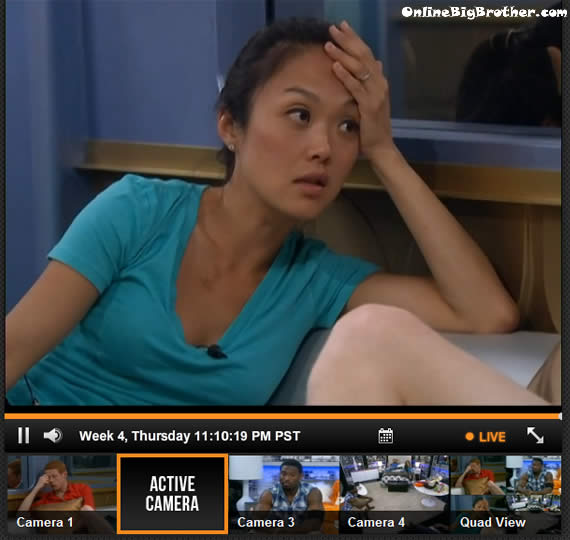 11:07pm cockpit Helen and Andy
They are reassuring each other that JUDD will put up Aaryn and either Kaitlin or GM. Andy: 'He doesn't want to get any blood on his hands'
Andy explains that JUDD is going to go to the girls and tell them they are not the targets this weeks it's Howard.
Andy says they are sitting pretty unless this twist f***s them. Helen thinks the it'll involve the MVP.
Andy says it really doesn't matter because as long as Aaryn is nominated they have the votes to stay regardless.
Helen wonders if Spencer is going to be mad by going up as the pawn for all these times
Andy doesn't know for sure .
Helen: 'I feel like I have to lay low I have a lot of blood on my hands"
Andy agrees. Helen says she's orchestrated the first three evictions. Andy says he feels so fortunate to be instrumental in those eviction and not have any blood on his hands.
Andy says GM and Kaitlin trusts them more than anybody else in the house. Andy: "You came out of that last HOH very strong you don't have many enemies" (Except for all the people watching)
Helen says she's laying low but wants Andy to not forget she's still playing the game. Andy tells her to Follow his lead "I've been laying low the entire game"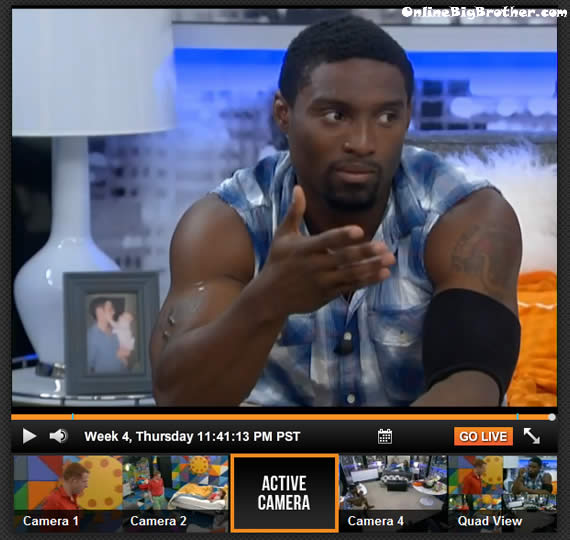 11:10HOH Howard, Spencer, Elissa and JUDD
JUDD asks Spencer who he would put up. Howard says Kaitlin because she's a competitor, she a much bigger threat than GM.
Elissa: "GM would be a waste of a HOH"
Judd says GM would never be his target she would be the pawn.
JUDD points out that Gm won't win the POV. Spencer says with the MVP they can put all three of them on the block. JUDD asks Elissa if she got MVP would she tell them. Elissa: "Ya for sure"
Elissa asks Spencer who he thinks should go up. Spencer says GM, Aaryn and Kaitlin.
Elissa asks him "WHO" would he put up. Spencer says GM and Aaryn or Kaitlin.
JUDD says he has reason to put her up because she's telling people she's the target. Elissa says that her chances of winning veto are not very high. The Pawn should be someone that can win VETO.
JUDD: "I don't want them to win the VETO"
Elissa: "Ya.. "
Spencer asks ELissa who she would put up . Elissa says she would put up Aaryn because she's trouble and when you talk to her she misconstrues your words. JUDD says from a strategic level Aaryn has no one backing her up. Judd points out that Kaitlin has one of the best hearts in the house, "She really does"
JUDD thinks Kaitlin can weasel herself into an alliance and if they leave Aaryn she's can be used as a target for them.
Spencer: "So Elissa you would put up Kaitlin and Aaryn"
Elissa: 'Ya"
Elissa goes on a mini rant about how Kaitlin doesn't Big Brother and she did not apply to be on the show she was recruited at the bar where she works.
Howard tells him they they have JUDD's back even if he wasn't HOH. JUDD is worried about the twist wishes he wasn't HOH right now because he thinks it one of his nominees could get a power. Howard doesn't think there is anything JUDD has to worry about he's HOH he can't go home. Elissa asks Howard if he wants Aaryn to be a target. Howard: "Aaryn or Kaitlin"
Howard thinks Kaitlin is a stronger player than Aaryn in competition. Elissa agrees says that Jeremy won the HOH for Aaryn.
JUDD says he's thinking about not putting Aaryn up as the first round nominee he's thinking Kaitlin is more dangerous.
11:36pm JUDD and Howard HOH
JUDD tells him 100% he's not putting Spencer up.
JUDD says that Aaryn isn't America's sweetheart she might have been the first week but not any more.
JUDD: 'She's definitely the villain of our season"
Spencer: 'I agree.. I agree"
Spencer tells him if he wants Kaitlin or GM to go home he'll have to fight Elissa because she wants Aaryn out.
Spencer: "I'll vote however you want me to"
JUDD: "GM is going to be a pawn for sure"
MC comes in.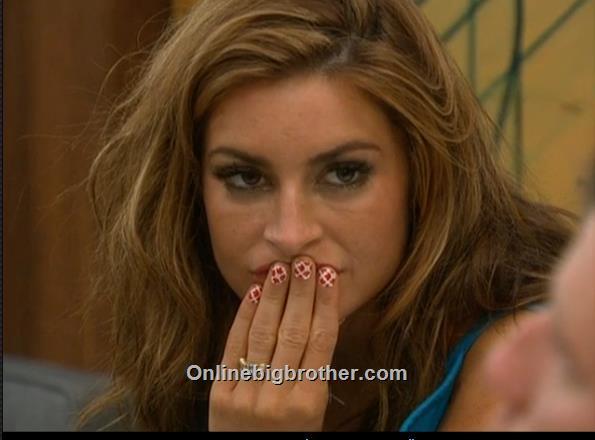 11:51pm Bedroom Elissa and JUDD
She asks him who his target is. JUDD: "Kailtin"
Elissa :"Kaitlin is you target.. REALLY?"
Elissa: "Don't you think Kaitlin would be more fun to play the game with"
JUDD: "I don't care about fun"
Elissa: "I thought you wanted Spencer or Howard"
JUDD tells her she will put up Aaryn. Judd says they are not going to have any guys left in the house it'll be all girls.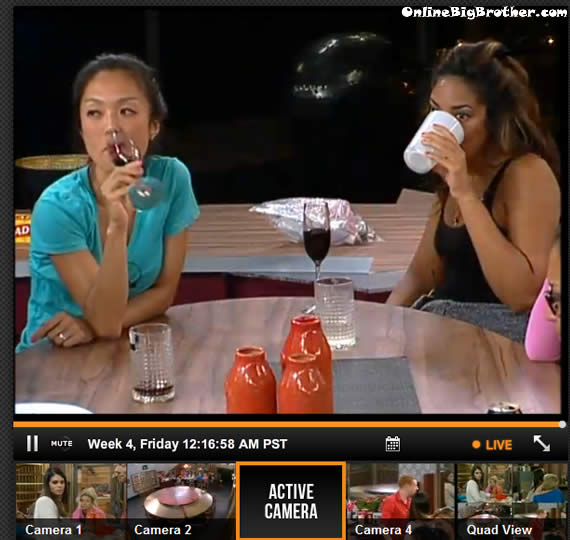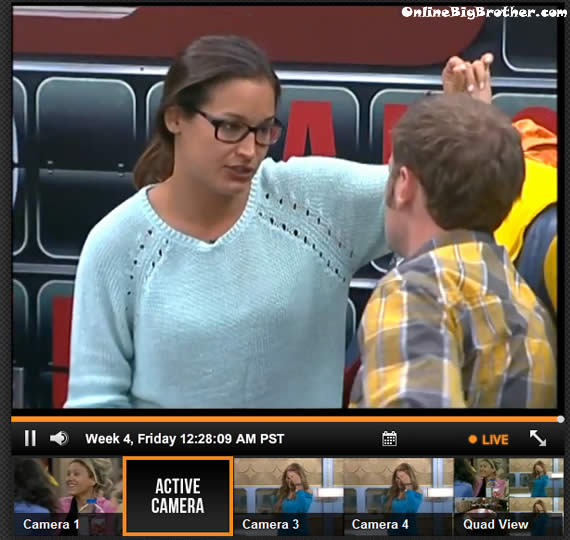 12:28AM Have Nots Kessie and JUDD
She tells him to listen to what everyone says but make his own decision. Jessie says that Howard is a big target but he's not after them. She points out if Howard leaves there will only be 3 guys left in the house.
Jesse: "Go with your gut"
JUDD: "I will"
Jessie: 'You don't want his blood on you hands"
Jessie says she's with JUDD. Jessie: "I know Elissa wants Aaryn to go.. I personally want KAitlin to go"
[polldaddy poll=7260936]