POV Holder:
?
Next POV
July 20th
POV Used
?
POV Ceremony
July 22
HOH Winner:
JUDD
Next HOH:
July 25
MVP:
?
Original Nominations:
Current Nominations:
Last Evicted Houseguest
David, Nick, Jeremy
Have Nots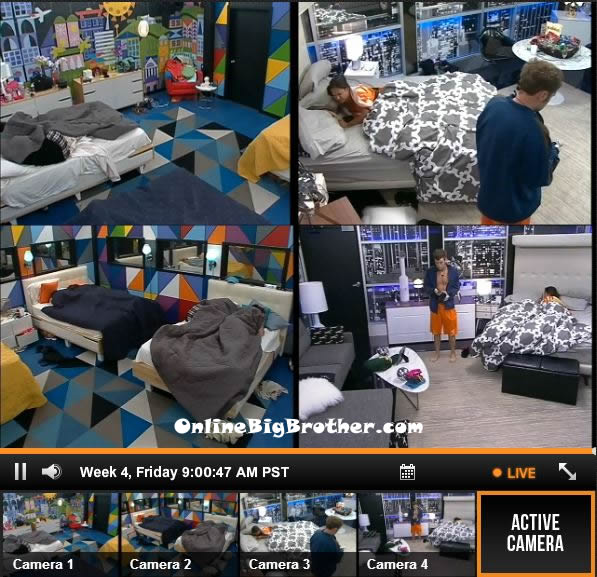 8:50am – 9:50am Big Brother switches the live feeds to the we'll be right back screen to wake up the house guests. When the feeds return, Judd and Gina are seen changing their batteries. Gina heads back to bed and Judd goes up to the HOH room to feed the fish and shower. Jessie get called to the diary room. Downstairs Elissa, Aaryn, Amanda and Helen are in the bathroom getting ready for the day. Helen start her morning run throughout the house. Spencer talks to Jessie in the kitchen about her "glorious morning". Jessie tells him about her dream where he mom told her she hadn't gotten around to watching the show yet. She says then she was called to the diary room early. Jessie says she was trying to make coffee but ended up making a mess of it and had to start over. Spencer gets called to the diary room. He tells her not to hurt herself while he is gone. Jessie heads up to the HOH room.
Big Brother 15 Live Feeds: FREE 2 DAY TRIAL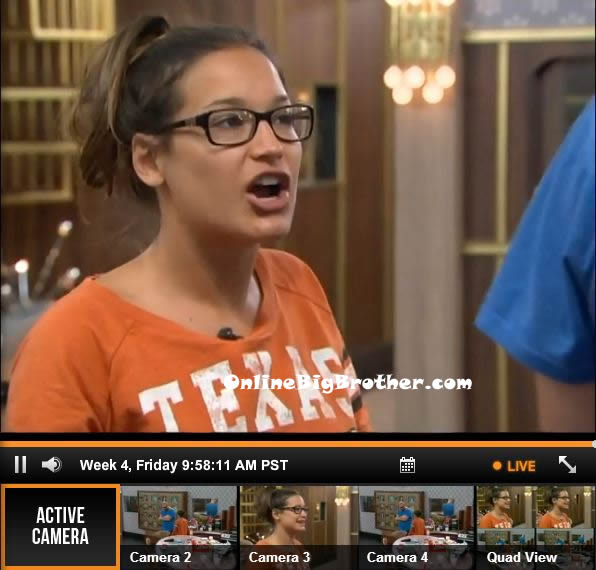 10am – 10:40am Elissa joins Jessie and Judd in the HOH room. Elissa says that she was nervous about the twist but now she isn't. I think it will be a game changer but I think it will be fun. Judd asks do you think it would be something like the people on the block get power. Elissa doesn't see that happening with 3 people on the block. Judd asks do you think Gina on the block is good. Elissa says no, not really. Judd says that Gina has vocally said she is coming after me. Elissa says everyone already decided that Spencer, Howard and Aaryn are the next to go. Elissa says she thinks Kaitlin is a far better person to go after than Ginamarie. Elissa wonders if Judd should make a deal with Gina to get safety if she doesn't go up. Judd says no, there is no deal to be made. She is the perfect pawn. Judd asks Elissa if she thinks she will get MVP? Elissa says I would never assume that. Elissa says that if Kaitlin wins veto, then Aaryn goes up and she goes home. Elissa says I feel like we need to break Spencer and Howard up because they are definitely in an alliance. Elissa asks Judd if he trusts Spencer. Judd says he hasn't given me a reason not to. Elissa says that Spencer thought of the whole moving truck. She says that he also told her not to talk to him in front of people. She says that was so mean! I wouldn't mind if Spencer went home. Judd says Spencer would be a good one to put up because he wouldn't win veto and we could take him off and back door Aaryn. Elissa says that she is definitely interested to see Kaitlin's game now that Jeremy is gone. Elissa thinks Judd should put up Spencer and Howard. Judd says if we don't get out Kaitlin she will sneak her way to the finals. Judd says that he doesn't understand how people don't see Kaitlin as a threat in competition and a strong social player. Judd says I wish Helen just wouldn't have told Kaitlin I was going to put her up because now I have to. Judd says I like Helen but she needs to keep her mouth shut. Judd says that he wants to talk to Helen and tell her I know you have good intentions but .. Judd says don't be making no deals for me. Judd asks so how do you think you would put up if you get MVP? Elissa says I don't want to put up Aaryn again if she isn't going home. Jessie says if everyone sticks to the play in the next few weeks it should be Gina, Kaitlin, Aaryn, Howard and Spencer voted out. Jessie says she would be ecstatic if Kaitlin went home because she is my biggest threat in the game. Judd says what if the house doesn't go with it because they all have 90 side deals. What am I supposed to do just do what the house wants or… Judd gets called to the diary room.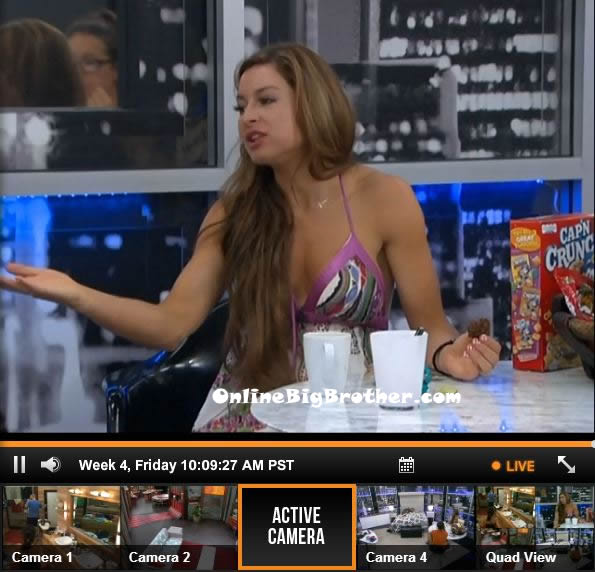 10:50pm – 11:20am Helen joins Elissa and Jessie in the HOH room. Elissa asks what do you think about putting up Kaitlin and Gina on the block. Helen says oh my god we made a deal with her. Elissa says well you can't make deals for other people. Elissa says that Kaitlin told Judd that you told her she was going up. Helen says I never told her that, Aaryn is making sh*t up! Helen says I am going to fu*king, I am going to kill her! That makes me so fu*king mad! I did not tell Kaitlin that! Judd comes up. Helen tells Judd that she did not tell Kaitlin she was going up. Judd says oh really. Helen says if anything I told her that she wasn't the target. Judd I would never! Even if she was I would never tell her that. Helen stands up and YELLS SHE IS A FU*KING LIAR!!!!! Helen throw the pillow on the floor. She says I am so mad! She's a fu*king liar! Judd tells Helen not to get upset. Don't even worry about it. Helen says Aaryn has to go she is a FU*KING BIT*H!!!!! Helen is crying. Elissa says Aaryn is messing with your game Judd. Judd says well why don't we just put all three of them up. (Kaitlin, Gina and Aaryn) Judd says then Aaryn will be the target. Helen says I want you to tell Amanda that was a fu*king lie. I don't want them to think that I am throwing you under the bus. I support you in anything you want to do. I have more loyalty to you than any of them. I am glad you came to talk to me about it first. Helen says I can't protect her (Kaitlin) if she is going to twist the truth. Aaryn is starting sh*t, she is trying to break us up. Judd says lets stop listening to Aaryn. Jessie says she is worried that people in their alliance will become a better friend / asset to you than me or Judd. Helen says I promised Kaitlin safety for a week / 2 weeks, I never promised her jury. I have promised you Jury Jessie. I am more devoted to you than I ever would be to her (Kaitlin). Judd says the only reason I am not putting her (Aaryn) is because I have lied to her so many times. Elissa says if Aaryn makes it to jury I will ask to leave the game. helen says if Aaryn makes it another week I will flip my lid. Judd laughs and asks are you going to go on another tirade like you did with Jeremy. Helen says yes, I will go on a tirade! Elissa says Aaryn and Kaitlin are trying to cause fights and twist things we say. Helen says you can not believe them Judd, they are not the ones that got you this far in this game! Judd says he doesn't believe them. Jessie says they (Aaryn & Kaitlin) had me brainwashed about you Elissa. Judd gets called to the diary room. Helen says all I wanted to do is lay low this week. I am so mad! Helen tells Jessie that Kaitlins target is Howard. Jessie say oh good. Spencer joins them.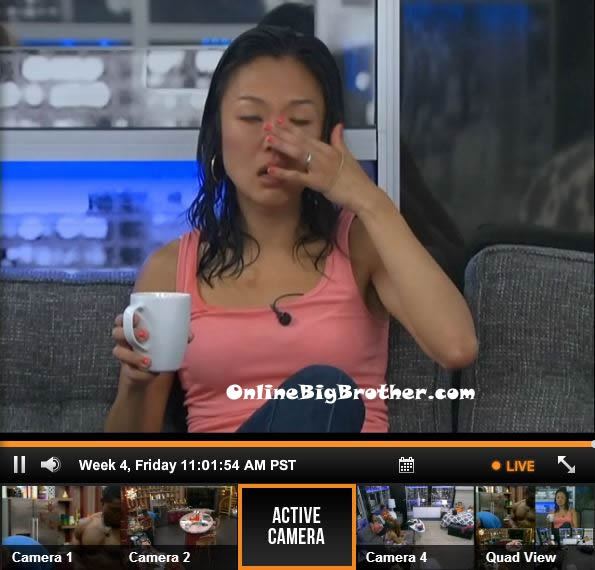 10:20am Spencer asks Helen if she is alright. Helen says Aaryn is a pathological liar, I hate her. Spencer agrees and says well no one likes her. Spencer says Aaryn doesn't have any pull with anyone. She is a sh*t starter. Helen says I am done with her, I am so over it. Spencer says no one trusts her, no one likes her. She hurt Ginamarie's feelings yesterday. That is just the way she doesn things, she goes around pissing people off. Elissa tells Helen to calm down she will go soon. Helen yells WHEN, I WANT HER GONE NOW! I fu*king hate her! I want to win HOH and back door the sh*t out of her! Don't you ever mess with me! If I win MVP, I am putting her up. Please give me MVP America! Elissa says Aaryn said she needs a muzzle.. but she needs to feel remorse for the derogatory and racist things she has said.
11:33am Judd comes out of the diary room. Judd tells everyone to come to the living room, it's time for the funkiest Have/Have Not competition of the summer. Judd whispers should I say that again. Judd then repeats the phrase again. Judd is wearing a little white hat and an apron and holding green, orange and blue bandanna. (It's another team have not competition.) The live feeds switch to TRIVIA for the Have / Havenot Competition…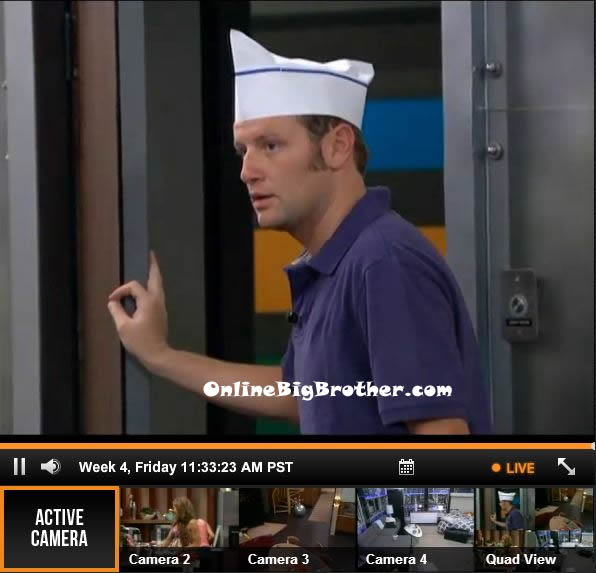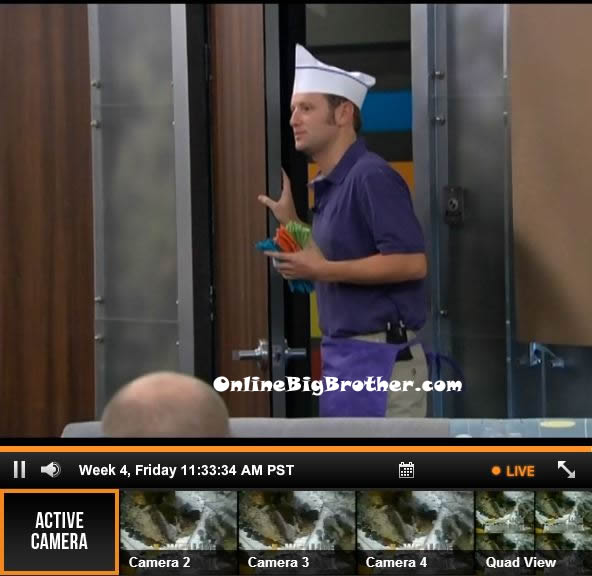 1:10pm Still TRIVIA…
[polldaddy poll=7260936]