POV Holder:
Kaitlin
Next POV
July 20th
POV Used
YES
POV Ceremony
July 22
HOH Winner:
Helen
Next HOH:
July 18
MVP:
Elissa
Original Nominations:
Kaitlin, Aaryn, Spencer (MVP)
Current Nominations:
Jeremy, Aaryn, Spencer (MVP)
Last Evicted Houseguest
David, Nick
Have Nots
Judd, Jessie, McCrea, Amanda
7:36pm Bedroom Aaryn and Howard
Aaryn mentions how KAitlin and Jeremy are campaigning against her.
Aaryn saying she feels 100% alone, "Gina is integrating into the house.. she doesn't really talk to me"
Aaryn: 'It's hard.. I feel like I had their backs.. I understand Kaitlin wants him to stay.. it really sucks"
Howard: "Look get yourself together and get ready to play HOH everything is going to change.. when the balance of power changes people will do whatever"
Howard says he feels the same way "I feel that alone to I feel that i'm umm.. just kinda out there since i've been outed and ostracized for basically playing the game "
Howard: "It won't even be the same after tomorrow" leaves tells her the power will change it's a new game don't worry about it.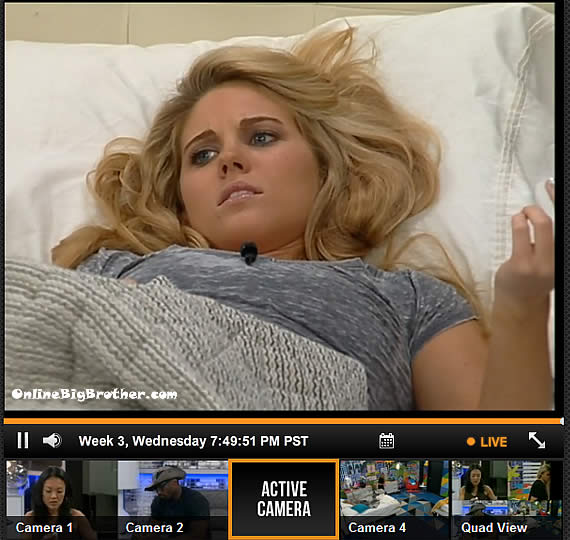 7:36pm Bedroom Aaryn and Gina
Aaryn is asking why Jeremy and Kaitlin have been throwing her under the bus. She's been loyal to the all along and would never think of doing that. She says they should be campaigning to get Spencer out because he was the one lying to them all.
Gina tells her she needs to relax and not piss anybody off. Aaryn says that Gina doesn't even hang out with her anymore. Gina disagrees says she hangs out with everybody, "I love you more than anybody in this house". Gina explains that you need to talk to everyone in the house that was what Nick told her, "you have to make your rounds with everybody so everyone likes you equally.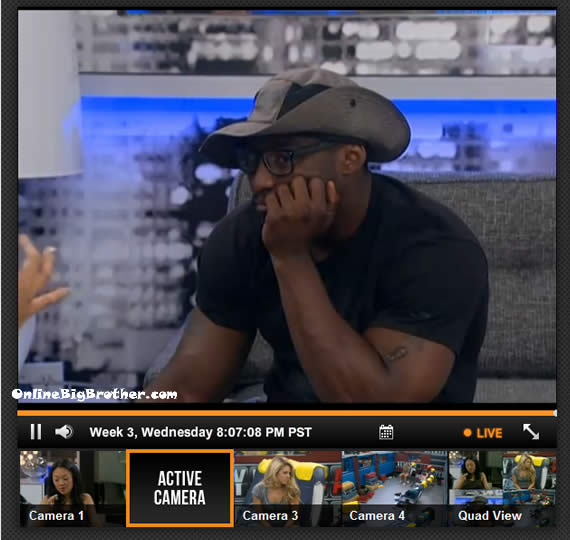 7:39pm HOH Helen and Howard
Howard is excited for tomorrow he wants to see what the competition is like, he doesn't think it's going to be exotic because they haven't started building in the backyard yet. Helen is happy she doesn't have to compete it's nice to take a break.
Howard mentions that Aaryn has been crying because she feels alone in this game he tried to tell her everything will be OK.
Helen tells him the best thing for him is to get behind Elissa because of the twist.
(This is your standard Helen HOH Conv .. flashback is your friend)
8:11pm bathroom Elissa, Candace and kaitlin
They are getting ready for talk show tonight.,
Elissa is saying she wishes Helen was HOH for a second week it would be great. Kaitlin: "Expect the unexpected"
8:15pm Helen and Aaryn
Aaryn swears that she's never said anything about putting Helen and Elissa up.
Helen: "OK thats all I want to hear from you OK.. I think you're strong and can win HOH OK.. I don't obviously want to make a mistake this week…. but if you win it I want to be happy that you won because I'm not going up and neither is Elissa.. you know what I mean"
Aaryn says why would she do that she doesn't have any numbers to get them out. Aaryn starts to whimper says that the two people she thought were her friends are telling lies about her.
Helen wants her to promise that she won't put her and Elissa up. Helen also says if she wins HOH she really should do what the house wants and make it a house HOH.
Helen says she is much closer to Gina than Kaitlin so she ask Gina if Aaryn was targeting them next week and she told her no.
Elissa walks in to use the bathroom Helen tells her that Aaryn isn't targeting them next week.
Aaryn brings up that it was Spencer that started the whole hat fight with her and Candace he was the one that told her Candace was sitting on the hat.
Aaryn asks who she would put up if she wins HOH. helen says Aaryn would need to consult the house because the house controls who goes home every week.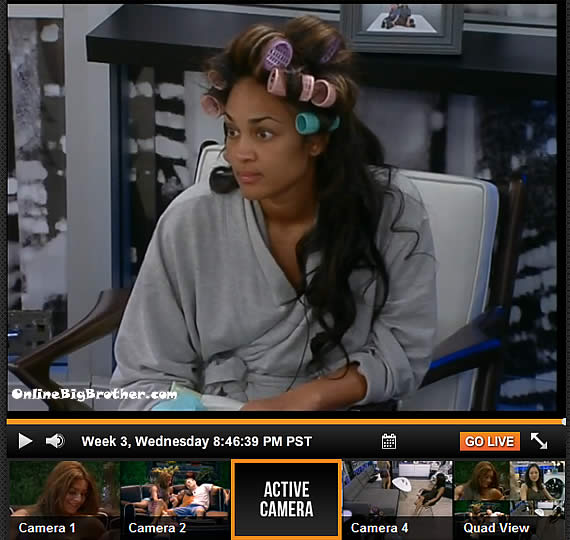 8:36pm HOH Helen and Candace
Helen says Aaryn was just promising not to put her and Elissa up next week.
Helen: "Jeremy is going home anyways I just wanted to make sure she swore up and down to me"
Helen says she really does think Aaryn wouldn't put her up"
Candace doesn't think Aaryn would come after Helen either. She's not sure who Aaryn would target though.
Aaryn asked Helen who she should put up if she wins HOH tomorrow and Helen told her "This isn't Aaryn's HOH you gotta make it the houses HOH…. and she agreed"
Helen: "I told GM the same thing if you win HOH you have to do what the house wants you to do"
Helen says that Andy has enough sway with Kaitlin to keep them safe but there is always the chance Aaryn would put her and McCrae up.
Helen says you don't want her to put up a Judd or McCrae they want her to put up a Kaitlin or Gina. Helen says that Spencer needs to leave soon. Candace says she doesn't trust Spencer and wouldn't take Spencer off the block if she won POV.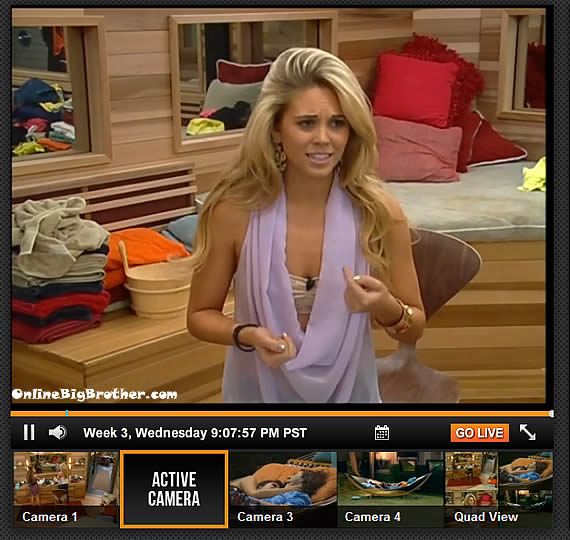 8:53pm Bathroom Aaryn and Elissa
Aaryn apologizing for the "mis understandings" and the drama between them.
Elissa feels that Aaryn has been putting words in her mouth. She was saying that Elissa talks badly about the other girls. Elissa denies doing this says to Aaryn "you're a nonexistent entity to me". Elissa is neutral toward Aaryn doesn't have any personal feelings directed to her.
Aaryn says she doesn't have any bad feelings towards Elissa. Aaryn just wants Elissa to know if Aaryn wins Head of household she won't nominate Elissa. Aaryn says she doesn't have to accept her apology she just wants Elissa to know she's not her target, "you will see from my actions"
Aaryn brings up the whorehouse comment says that it upsets her. Elissa explains that it wasn't direct towards Aaryn. Brings up that Aaryn was renting out the HOH room to couples.. Elissa does agree that she shouldn't have said that but it wasn't directed at Aaryn
Aaryn brings up when Elissa told everyone that Aaryn on the HOH because she was taking Adderall. Aaryn adds that she was happy to win HOH and they both know it wasn't because of the Adderall
Elissa: "I don't want to talk to you I feel that you and I have nothing in common and I don't think us talking to each other is smart.. it's just something I'm not comfortable with"
Aaryn :"OK thats fine"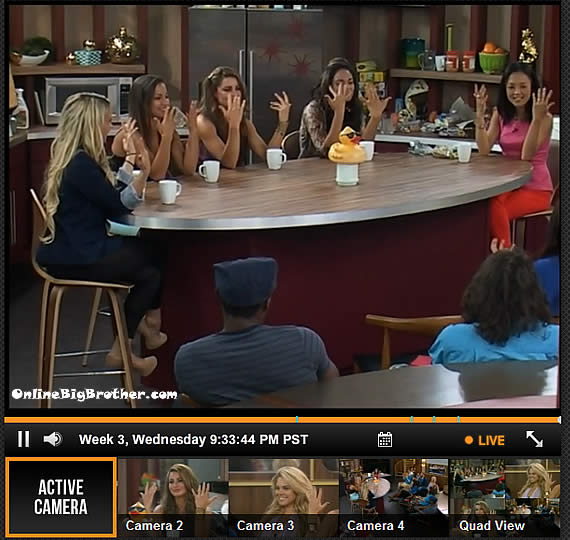 9:38pm the girls are doing "The View" or "The talk" I don't know. Great time to get the feeds.
You can re-watch ever second on the feeds using their flashback feature.. It's super easy to use click this link for a FREE TRIAL —> Subscribe to the Big Brother Live Feeds
The CBS feeds are a HUGE improvement over the super pass feeds and they are 30% cheaper with no subscription to cancel.
[polldaddy poll=7256699]