POV Holder:
Jeremy
Next POV
July 13th
POV Used
YES
POV Ceremony
July 8
HOH Winner:
Aaryn
Next HOH:
MVP:
Elissa
Original Nominations:
Elissa, Helen and Jeremy (MVP nom)
Current Nominations:
Elissa, Helen and Nick (MVP nom)
Last Evicted Houseguest
David
Have Nots
Helen, Elissa, Candice, and Andy
8:28pm Cam 3-4 backyard Amanda and Elissa
Amanda is saying Jeremy is bullying everyone in the house. Amanda knows what the numbers are she is confident Elissa is staying but people are swaying.
Elissa says Jeremy has a bromance with Jeremy and Spencer. Amanda says they are all going to be evicted fast once Jeremy loses the power
Amanda: "Spencer can't win shit and he's f*** annoying" Amanda adds that Jeremy isn't going to stick by Spencer next week, "Spencer talks sh!t with everyone" (So spencer's game is crashing into the mud)
Elissa: 'I want to try and win something before I got like something.. As long as what's her name stays away from me but I don't care honestly I don't want to be with people I have nothing in common with"
Elissa asks MCrea if he thinks Nick is staying.
McCrea: "It's the perfect opportunity to get Nick out"
Elissa asks Amanda if she is thinking about voting out Nick. Amanda says yes she wants him out.
Amanda wonders who will get MVP if she is gone. Elissa thinks it will be Andy or Helen.
Elissa: 'I didn't know I was getting it I literally didn't"
You can re-watch ever second on the feeds using their flashback feature.. It's super easy to use click this link for a free trial —> Big Brother Live Feeds
The CBS feeds are a HUGE improvement over the super pass feeds and they are 30% cheaper with no subscription to cancel. You pay a flat fee for the season.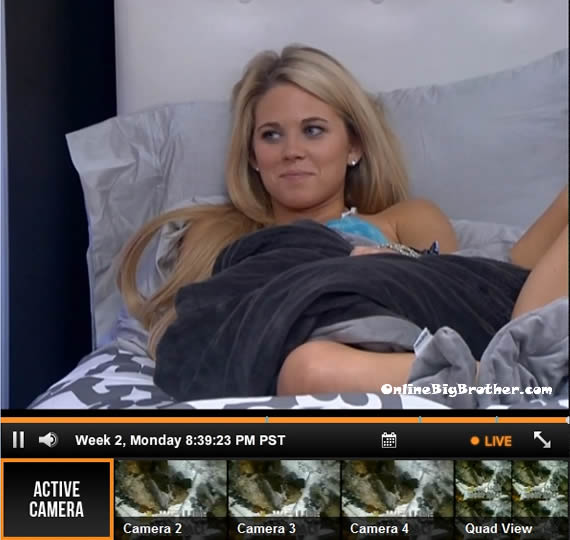 8:37pm Andy, Gina, Jeremy, Aaryn, Nick
The conversation is centered on Kaitlin.
Jeremy mentions how he's not taking things personally . Aaryn tells him they are the same person.
Jeremy: "uhh good.. we're on a team"
Jeremy tells them if Kaitlin goes on the block with one of them she is going to self destruct .
Aaryn: "But you will campaign for her.. and that's what scares me"
Jeremy: "It Depends it really does.. I might sound like an a$$hole but i'm not going to ruin my game plan for someone else. "
Aaryn: "Ya I guess"
J: "I'm here to play.. I'm not taking any of this shit personal i'm going to play as hard and as long as I can"
Jeremy tells her that all these things are out of his control all he can do is sit here and play.
Aaryn is worried if her and Kaitlin get put up on the block that he'll campaign against her.
J: "I'm not going to campaign against my own team mates.. I'll stay out of it I won't take one side"
Aaryn: "But when you developed a relationship"
Jeremy explains they have developed a game relationship and a relationship, "I'm sorry if this sounds a$$holeish but I dig the chick a lot and I definitely feel her.. but She's going to vegas after this i'm going to Texas I'm not doing the long distance relationship.. that's not my style.. I can't do that shit.. I'm not going to sit around wait for some girl while she's out in Vegas"
J: "Vegas.. VEGAS.. partying her a$$ off in the craziest clubs.. getting hit on by the richest dudes.. I'm not f***ing around .. I'm being texas on my boat.. "
Aaryn: "That entire paragraph of words you just said just makes it obvious how much you really like her"
Aaryn tells him they've only been in the house for a couple weeks what till it's like after 8 weeks and see how he feels about her.
Jeremy: "I did it before with a girl named Alex Mitchell I dated her for a year… feeds cut..
9:19pm Random chit chat in the backyard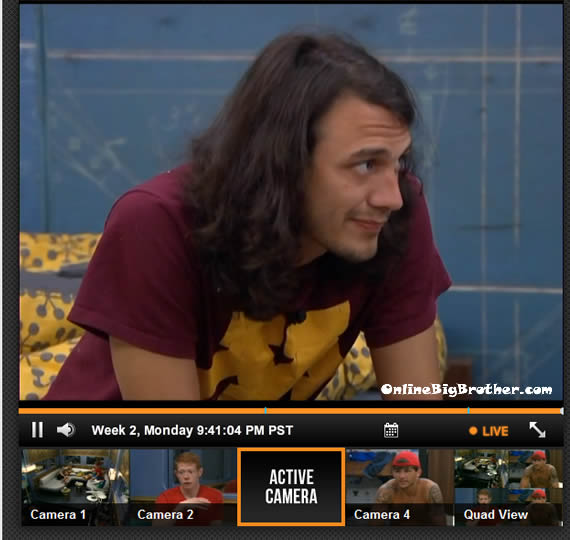 9:32pm Cam 3-4 MCrea and Jeremey
Jeremy: "I really think it's going to be exposed.. Amanda is already catching on"
McCrea:"How do you know"
Jeremy explains that he was napping in the HOH and heard the girls talking about Amanda saying there is a 4 guys alliance in the house.
McCrea: "She thinks it's you, Spencer and Nick"
J: "I hear that to "
McCrea: "She wants to work with me and do whatever I want to do"
Jer: "I think Spencer is just skeptical because he has no numbers and he wants these big number groups.. MC has to be MC under the tables."
McCrea makes sure Jeremy knows that he wants to keep Amanda around but not at teh determent of the Moving Company.
J: "She keeps throwing me under the bus that is what i've been told"
McCrea says she's voting with them 100% but she wanted to make a deal with Nick And Jeremy first. She's is worried Nick will get MVP next week
Jer says she thinks she's smarter than she is and she's going to shoot herself in the foot. He adds that Amanda keeps running around the house acting like she knows who is winning MVP when she actually has no clue.
Jer: "She keeps going up there and putting things in Aaryn's head"
McCrea: "I think she's totally wrapped up in me right now"
Jeremy tells him to chill and just wait until they find out who wins the HOH. J: "If anything happens to her you will know first.. if someone wants to BD her i'll say something because that's not MC style"
J: 'There's sh!t going around and a lot more coming.. Candace is trying to sabotage me like no other.. we gotta get Elissa out this week and then HOH is that night and MC has to win it"
McCrea: "I want to keep her around until jury house"
J: "It's possible.. she just needs to keep her mouth shut"
McCrea: "I'm always having to watch her." McCrea adds that Amanda has been much better today.
[polldaddy poll=7235287]