POV Holder:
?
Next POV
?
POV Used
?
POV Ceremony
?
HOH Winner:
Aaryn
Next HOH:
MVP:
?
Original Nominations:
?
Current Nominations:
?
Last Evicted Houseguest
David
Have Nots
Helen, Elissa, Candice, and Andy
6:06pm Cam 1-2 Helen and Aaryn
Aaryn says that the game isn't fair right now with Elissa being in the house and their being a viewers vote power.
H: "I just want you to know that i'll respect whatever you do.. "
A: "I would much rather put the people up that are lying to me and continue to lie.. only you Judd and Andy have come up to me and told me they voted out David"
Aaryn adds that people have "sworn om bibles, families, America the most precious things to them that they voted out elissa when obviously some people didn't.. those people are making it unfair to you all"
H: "I get that those people are ruining my game and Elissa's game … "
Helen says that there are people in Aaryn's inner circle that aaryn will eventually need to get rid of but can't. Just like there are people in her inner circle;e that she needs out.. Helen wants this type of arrangement with Aaryn.
Aaryn says that even though this is her HOH her and Jeremy are discussing it together because Jeremy had a big part in winning it.
Helen: "out of everyone in your group you are the most helpful for me.."
Aaryn makes it sound like there is a possibility that her, Helen and elissa can have an agreement
Aaryn says that Elissa is always giving her little gabs saying tiny comments jsut to get under her skin. Helen understands and says that she will talk to Elissa tonight. She been trying to get Elissa to calm down, "You've (Elissa) have jabbed enough in the game.. Aayrn gets is"
Helen: "If we play revenge we will kill each other..Sometime you enemy is the person that will help you out the most and if there is a opportunity there lets talk.. "
Helen adds that her and Jeremy are probably not going to be friends in the house they are just too different of people, "We can be cordial and respectful.. but I don't bond to him like I do Spencer.. but thats ok our personalities don't jive"
Helen: "If you put me up I understand I won't be revengeful but if I stay I want to still be open to talk"
Aaryn: "If she(Elissa) tells you something about me that is weird please come and ask me.. I have not lied to anyone in this house and once that thing happened to David it was hard because there is people in this house swearing on things that should not be sworn on"
FYI you can re-watch ever second on the feeds using their flashback feature.. It's super easy to use click this link for a free trial —> Big Brother Live Feeds
HUGE improvement over last year
6:13pm Nick and Jeremy Cam 3-4
j: "I don't know who is making me nervous but someone is making me nervous"
Jeremy says that everyone is talking about him being the MVP nominee and he really doesn't want to go on the block it worries him (Then he needs to stop volunteering to go up)
Nick: "do you really think Elissa is going to win it again.. I Don't"
Jeremy: "I trust you and I want to trust Spencer and I want to trust Howard.. but i've seen how they lie and they lie so F**** good"
Nick: 'Bro that's part of the game"
Jeremy says that Spencer makes him nervous earlier he brought up that if they pull his name in the POV he told Jeremy "I'll try my best but I don't know.. you gotta be cool you gotta fake an injury don't look like a threat"
J: 'Bro.. I shouldn't have to worry about being a threat if the 5 of us have each others backs bro"
N: "We do.. dude i'm telling you right now"
J:"If I go up and no other MC goes up plus the chicks we got I'm safe"
N: 'What are you worried about.. you saw the numbers it was perfect.. bro seriously chill we're good with everyone.. for this to work out all of us have to be cool all the time.. I am 100% trusting you guys"
J: "If MC really has my back I have nothing to worry about I jsut would hate to be sidewindered"
J: "I always thought I had a solid group with boats 'n' hoes but now boats 'n' hoes is breaking apart"
N: "Just give it time"
Gina and Kaitlin join them
Kaitlin ask Jeremy what he's been saying to candace because "She's running her mouth"
J: 'I said we deserved to be here more than her.. I mean we deserve to be here more that Elissa"
Jeremy explains that he meant that the house as a whole deserves to be here more than Elissa.
Gina brings up that she doesn't like Jessie because 'She's trying to go with every f***** guy in the house"
Kaitlin mentions that Jessie was sitting in the bathroom with Elissa talking, "Jessie approached her"
Nick tells them they have to play it cool from now on if they corner people and start drama they make an enemy.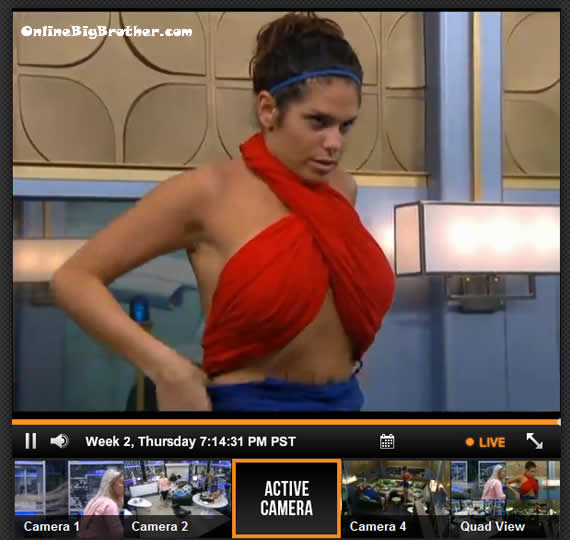 Amanda getting ready for the 4th of July Party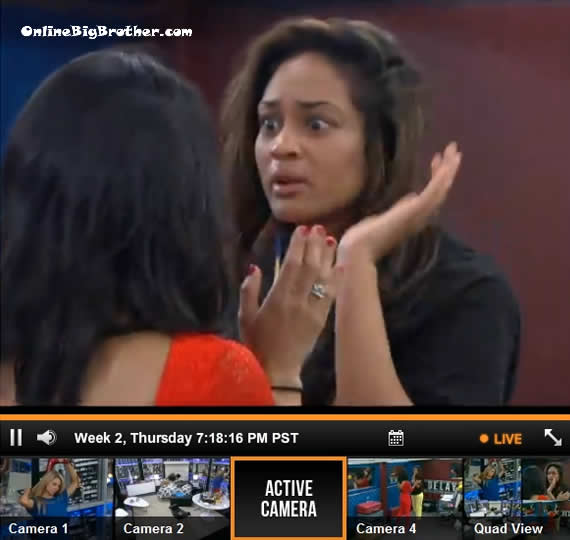 7:18pm Cam 3-4 Candice and Helen
Helen explains why Spencer did what he did: "I think he needs you I think he's masterminding something Bigger.. He'll probably use me next time.. " (LOL ya he's masterminding a Big Brother 15 win.. )
Candice: "I feel like Amanda and McCrae are acting crazy"
H: "They are you lay low.. spencer will give us direction"
H: "Yesterday was a test if I can trust him David went home and he (Spencer) said he was going to do it in a way that you can't trace the steps"
H: "WE have the numbers you lay low we will directions when we get them"
Helen: 'We can't look like friends.. we have to lay low I don't know what will happen next.." Helen thinks the nominee will be Candice and Elissa or Helen and Elissa. She's seems pretty sure that Elissa will win the MVP
Helen: "She'll (aaryn) flip out when one of her own goes home"
Candice: "What if one of them wins MVP"
Helen: 'It's not going to happen.. we have the numbers.."
Helen doesn't trust Jessie. neither does candice she brings up when Jessie said to the HOH crew "You gotta pick a side and I have"
Candice: "Jessie is so deep with Aaryn"
Candice I learnt today that Jeremy is not with anybody he's in it for himself.
Kaitlin rolls in says Candice and Jessie were in the bathroom singing shady F***
(Prior to this Aaryn was saying she doesn't trust NIck anymore. Gina and Aaryn both are not liking Jessie very much they think she's just a floater being with whereever the power is)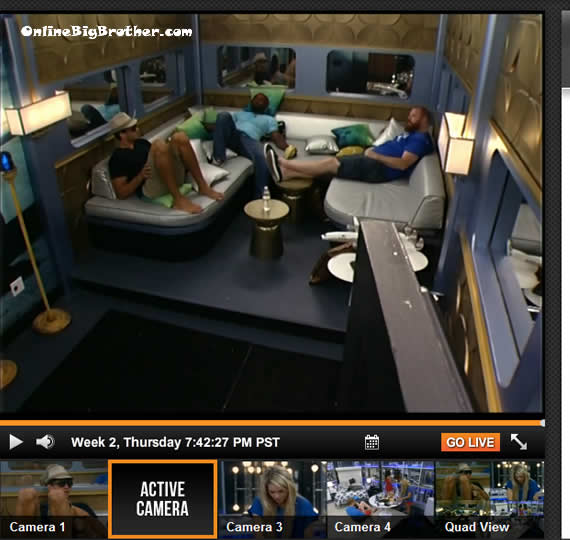 7:42pm Cam 1-2 Howard, Spencer and Jeremy . Jeremy is saying he's a bit worried about going up when Elissa wins the MVP. Jeremy and Hwoard explain to him they are pushing to have Gina put up.
Spencer: "I'll f*** everything else to keep this (MC) safe"
Judd walks in
They'll have a 4th of July party soon..
8:12pm Party underway
9pm feeds just came back on