POV Holder:
?
Next POV
?
POV Used
?
POV Ceremony
?
HOH Winner:
Aaryn
Next HOH:
MVP:
?
Original Nominations:
?
Current Nominations:
?
Last Evicted Houseguest
David
Have Nots
Helen, Elissa, Candice, and Andy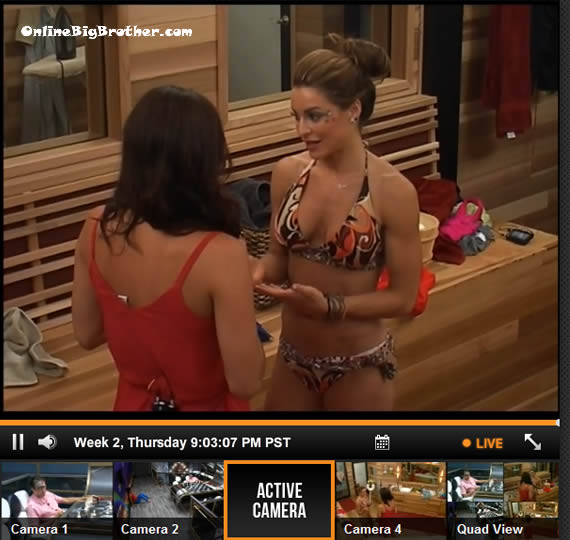 9:02pm Cam 3-4 Elissa and Kaitlin
Elissa: "I really like you and I think you are one of the nicest girls.. I hope that I never said anything that offended you"
Kaitlin: "We'll somebody told me that you called me a wh*** and it kinda made me upset but I got over it"
Elissa: "This is what aaryn said.. after the HOH competition she was smiling and smirking because she knew.. Like.. obviously that I wanted to win HOH."
Elissa: "She was like Thats OK you and Kaitlin can sleep up there.. LIke.. Like Big Brother nots running a w*** house.. LIke Where we rent out rooms to people… Like"
Elissa was worried because she knows the type of family Kaitlin has and she didn't want Kaitlins family to see her getting invites from some random guy.
Elissa: "She basically said I want to rent out my room to you.. Like … why would you say that"
Elissa: "Like that is pretty audacious for you to like say like think that Kaitlin like totally cool like.. Well obviously it's like the HOH room"
Elissa: 'Like the way she said it was like this is a wh** house"
Elissa: "We're playing Big Brother this isn't a **ore house"
Kaitlin just nods says "Yup" "100%" "Fair enough"… etc
Kaitlin: "Ok I get it thanks.. OK.."
Elissa: "Oh my god like Jessie I would not listen to anything she says"
(I filtered out a lot of likes)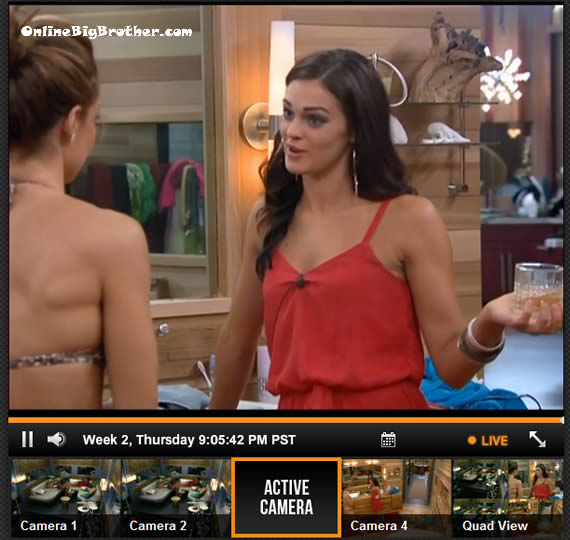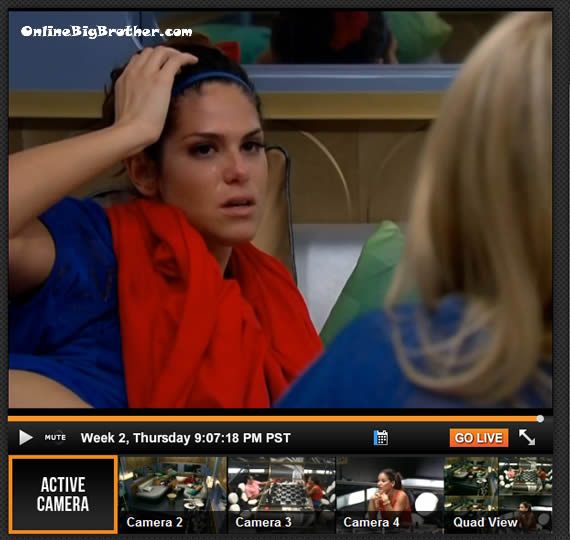 9:07pm cam 1-2 Lounge Aaryn and Amanda crying
Amanda says Jessie told McCrae that once Amanda leaves they can be aligned Jessie has McCrae's back and they can share the same bed.
Aaryn: "when did she say that"
Amanda: 'Today"
Aaryn explains that Jessie is going to all the groups in the house getting information then relaying it back.
Aaryn: "Candice has put the bug in everyones ears that you are the mastermind behind getting David out" Aaryn doesn't believe it though
Aaryn asks if Jessie has been going to her saying that Aaryn is putting her up.
Amanda: "no.. it doesn't take a scientist to know McCrae and I are together.. we got each other's back"
Aaryn says that Kaitlin is cornered in the bathroom by Elissa
Amanda: "Everything that comes out of her mouth is bullshit.. I am not with Elissa.. I AM NOT with Elisa everything I say to her is bulls!t."
They start talking about JEssie and how much they dislike her.
Amanda: "She's the loser girl in highschool that follows around the popular girls"
Amanda says that Jessie feels guilty and that is why she's surrounding herself with people of power.
Aaryn says that she is not going to be confrontational anymore or she's going home. Aaryn says that she consider McCrae, Amanda, as her inner circle.
Aaryn says that Jessie is someone they can use she's a bit of a non player.
9:34pm Cam 1-2 Lounge Kaitlin, Amanda and Aaryn
Kaitlin barges in super excited.. "Jess is going insane right now.. you all need to f**** pause for a minute and tell you what happened because you missed all of it"
Kaitlin explains Jessie flipped out she was literally "are you F*** kidding me" and shes screaming "You're spreading rumors that judd and I are in a showmance .. she was like you're a crazy b!tches.."
Elissa went to the bathroom and Kaitlin went to talk to her and what happened between her and JEssie and see if JEssie said anything about her. (The conversation higher up in this post)
Kaitlin says that in the bathroom Elissa said to her "I don't care who you girls are F***** I don't even know that girls name.. " (Too funny)
Kaitlin: "I hugged her and said everything is going to be OK .. being super fake"
Kaitlin says that this is great JEssie getting in fights with Elissa because maybe Elissa will put her up.
Amanda:"Not going to happen she said she'll put up a strong guy"
Kaitlin: "Then we need her to put up Nick"
Aaryn: "She's not going to put up someone strong if she's on the block it'll be someone weak"
9:48pm Cam 1-2 HOH Jeremy and Aaryn
Jeremy really wants Helen up
Aaryn says that Helen told her if she doesn't go up she will do whatever she can to make sure Elissa doesn't come after them with the MVP.
Aaryn: "She said that the three of us can use each other later on"
Jeremy: "Me and Helen had the same talk"
They start wondering who should go up against Elissa. Jeremy and Aaryn agree that Jessie will be a fighter in the POV.
Aaryn: Jessie is digging her own grave"
Aaryn: "Andy is sketchy but he can go a few weeks from now"
Jeremy suggests Candace. Aaryn thinks if Candace goes up candace will go home.
Aaryn says she's not making a decision unless Jeremy is 100%. Jeremy says she needs to go with her gut and do the right thing. As long as the nominees are 2 of Elissa, Candace and Jessie he's happy. Jeremy: 'We know they are working together"
A: "If I put Jessie up everyone will vote jessie out
A: "If they put Candice up everyone will vote out Candice "
They decide the only person she can put up to guarantee Elissa goes home is Helen.
J: So Helen and Candice up
A: 'That was my plan all along"
J: "and you know if Elissa wins veto we still get out a really strong player.."
9:45pm Bathroom Jessie and Judd
Jessie is crying says that the girls are probably talking sh!t about her right now, "Ohh Jessie can't handle the pressure.. let her break she can't handle it.. 500 thousand dollar.. hahahaha"
Jessie says that everyone in that alliance up in the HOH has a new issue with her and they won't bring it up to her face she has to figure it out. Every f*** damn day she has to reassure them that she's not saying or doing something they think she has done. At one point Jessie says she was wanting to quit. Judd tell her not to he needs her in the game.
10:34pm Cam 3-4 Amanda and McCrae Amanda is retelling the conversation she had with Aaryn in the Lounge.
She says that they should start doing what Jessie is doing play both sides and in the end they will make a decision of who to go with. McCrae: "we have to be super careful though"
Amanda: "just listen like Howard
McCare thinks that Howard is playing a really good game right now and they should do what he's doing laying low.
Amanda says that Jessie crossed Gina she's crossed Aaryn, "My only allegiance is to you f*** everyone else F them "
McCrae: "I don't trust aryn at all "
Amanda: "Just let her self implode they hate her" Amanda says that she has a bond with Aaryn they just have to wait and see what side can win the competitions and that's the side they will stick with.
McCrae: "We have to step so lightly"
10:50pm Bedroom Nick and Jeremy
J: "Keep it to yourself we're going to put up Helen and Elissa up"
Jeremy explains that They really want Elissa out but they also think Helen is a deadly person in the game so not matter what it's win in . They didn't want to put Candice up because they felt she would have been voted out.
Nick says the plan is perfect he's 100% on board. Jeremy says he's still nervous about Elissa using the MVP.
Nick: "I have your F**** back regardless so stop worry"
Nick: "trust me watch my actions from here till the end"
Nick also says to him something along the lines that as far as the MC is concerned Jeremy he trusts the most.
McCrae joins them
Jeremy says they need to get Elissa out she's trying to form an all girls alliance.
Jeremy also wants Helen out next week because she's so smart.
Nick: "The only thing that comes between you and your big brother game is the moving company. "
11:14pm Cam 3-4 Hammock Amanda and Aaryn.
Amanda is saying that NIck is going to win the MVP because there is something up with him. She points out that he doesn't talk Game with anyone and is in the DR 14 times a day. Aaryn mentions how Elissa is going around saying that Aaryn won HOH because she was on Adderall.
Amanda suggests that Nick and Elissa are together. Aaryn jokes that they are married. Amanda mentions how 'Strange' Elissa is brings up that she never talks about when she got married told Amanda she doesn't want to talk about it. Aaryn: 'Maybe her little boy is from another father" Feeds switch to the storage room
Amanda is trying to get Jessie put up as a pawn, "You know you can take a sh!t on Jessie face and she'll still be aligned with you"
11:18 Cam 3-4 Spencer and Jeremy
Jeremy tells him that the nominees will be Elissa and
Spencer: 'I'm MC for life.. it's so hard to control this side of this house because of Amanda"
Spencer says that Amanda is trying to get buddy buddy with Elissa..
Jeremy: 'She's a c*** she needs to go"
Spencer: "absolutely.. she's gotta go"
Spencer says they are pushing for Elissa to put up Gina if she gets MVP. He wants Jeremy to know that if he goes up he's got Moving Company backing him up.
Jeremy thinks that McCrae is good with the girls and Spencer is alright he may have to do some work.
Spencer mentions that Nick is worried that he's lost trust with his group. Nick doesn't want Spencer to look to trustworthy because it will make him look untrustworthy. Spencer wants to know from Jeremy what he should do because Jeremy is close to Aaryn. Jeremy: "Just chill"