POV Holder:
?
Next POV
?
POV Used
?
POV Ceremony
?
HOH Winner:
Aaryn
Next HOH:
MVP:
?
Original Nominations:
?
Current Nominations:
?
Last Evicted Houseguest
David
Have Nots
Helen, Elissa, Candice, and Andy
8:58pm Counting votes Candice and Helen
Candice: "aryn, Jeremy, Kailtin , me and my person.. so that is for.. I believe Nick voted Dave out.. I know Nick and Jeremy are together"
Candice is positive Kaitlin voted Elissa out because she's been so emotional since the eviction.
Helen:L "Gina was pissed when Gina walked out that door"
Candice: "I believe my person .. When I was voting for Elissa I could hear the audience saying.. BOOOOOO"
Helen: "she's a really nice girl"
Candace: 'ya but sometimes she says stuff… "
H: "You know Aaryn and Kaitlin say stuff to.. "
C: "Why would you think Spence would go different than the plan.. "
H: "I don't know i'm really surprised and we're doing their dirty work for them.. does that make sense "
Helen proposes that JEremy and Spencer are working together and are setting it up so that the house fights it out and cause paranoia.
Candice brings up that Spencer was acting very weird today. After he told her to vote out David he would follow her around and make sure she didn't talk to.
Candice: "I dunno Jeremy isn't that smart though.. but Nick is.. how does Cra Cra and Amanda fall into this picture"
C: "I know Cra cra wanted Elissa to stay and I know Amanda really didn't want Elissa to leave"
C: 'What if there is a boys super group"
H: "I'm wondering to"
C: "If that is the case the girls need to make a super group"
H: "Ya i'm thinking the same.. and they are going to use the girls to get each other out"
H: "Then why did we get Dave out.. they would have kept Dave"
C: "because it's a showmance they thought it was a threat.. maybe they wanted to keep Elissa around as the target so everyone focuses on getting her out of the house"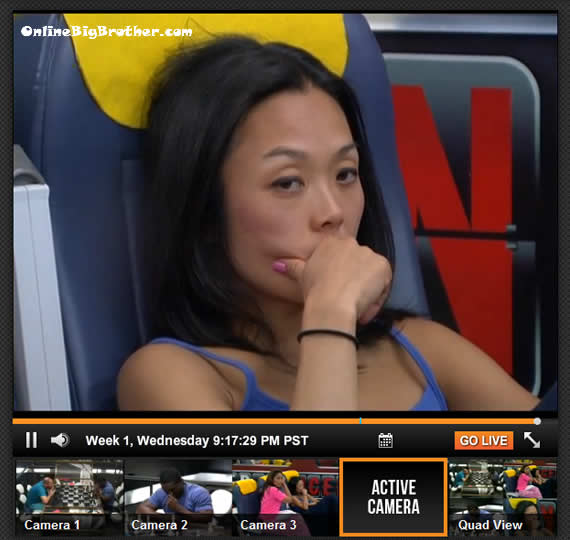 C: "I know for sure Aaryn, Me, Kaitlin, Gina and one more.. I don't know if I believe spence.. then why would he tell me that"
H: "I can't believe Nick voted Dave out.. he's so close to Gina
C: "They are not that close.. I think Nick is the one to watch"
C: "It's Jeremy, Nick and Spencer.. Howie could be in it to.. I don't want to say that about Howie"
Helen counts the votes, Howard, Amanda, Andy, Helen, Judd, "I thought it was going to be Spencer and you"
C: "I think it's Jeremy and Nick.. "
Helen: 'Sh!ts going to explode because if I get MVP i'm putting Spencer up"
C: "I know for a fact he didn't want me talking to anyone afterwords cause he was trailing me like a dog" (After he told her to vote out Elissa)
They pull out the jewelry to count the votes
9:21pm Cam 3-4
After counting out the votes they come to Spencer and Jeremy and one of those two voted for David to go. Candice thinks Spencer is running with two groups. They both agree that Nick and Spencer voted David out but they cannot understand why Spence did that.
Helen tells her about the "Big" group she is in and how the "leader" told them Dave..
10:04pm Cam 3-4 Spencer and Helen Lounge
S this is the thing and i'm not mad at you at all
S: "I told her to vote out David"
Helen: 'Then why did she even bring it up to me"
S: "She's a F****** IDIOT.. Don't talk to her.. She's a F***** weasle"
S: "We're safe I gotta feeling.. aaryn's been talking to me all nice and so"
S: "You can trust me howard and Andy were the thick four"
H: "How about McCrae"
S: "I don't know he's more with Amanda.. Candace is a F***** moron.. idiot.. she doesn't know what is going on.. she's not in the core"
H: "she's asking me why you told her to vote out Elissa"
S: "She's fishing for information.. she's outside of the group.. let her implode"
H: "Who was the 7th vote nick"
S: 'No Candace was."
Spencer explains that he told Candice to tell anyone people she was voting out Elissa but really he told her to vote out David. Spencer is sure that Amanda is going up he's also worried a bit for McCrae.
Helen says if her or Elissa win MVP they should try and get rid of Jeremy this week because next week Aaryn cannot win HOH. She thinks Jeremy will win the POV if he goes up.
S: "we'll need to talk later but you are right to get rid of Jeremy you'll need to BD him.. we have the numbers none of us have to be worried"
Spencer explains that they wanted to vote to me 7 to 5 and it was 7 to 5 he told Candice to vote out David but tell everyone Elissa.
They count votes.. Spencer says the votes for Elissa where NIck, Aaryn, Kaitlin, Gina and Jeremy.
Helen is worried about going home, Spencer tells her that there is nothing to worry about they have the votes. S: 'The swing vote is going to be Jessie or Candice"
H: "If two of us are on the block we don't have the numbers"
Spencer says the other side doesn't have the numbers they do. He warns her to stop counting on her hands in front of people because it doesn't look good.
Spencer: "If you are on the block i'm voting for you to stay no matter what.. Please don't talk to anybody but us.. do you know what i'm saying"
S: "I feel like you don't trust me"
H: "I did trust you until Candice told me what you said"
S: "I told her to lie to everyone"
Helen: "I trust you Spencer.. I only trust you, McCrae, and Andy"
(Wow if Helen really believes him spencer is good)
10:25pm Cam 3-4 Helen and Candice
Candice: "What did spencer say"
H: "He really didn't say much..I don't know if I can trust him.. I just don't know.. I don't know what he was doing"
C: "I think he was trying to split the vote so the target is on McCrae"
H: 'Think he would do that to McCrae"
Spencer comes in
11:00pm Kaitlin has a migraine..(See the picture below in the gallery)
11:03pm Cam 3-4 Aaryn gets her HOH room
The CD is spice world..