POV Holder:
?
Next POV
?
POV Used
?
POV Ceremony
HOH Winner:
Aaryn
Next HOH:
Wed July 10
MVP:
?
Original Nominations:
?
Current Nominations:
?
Last Evicted Houseguest
David
Have Nots
Helen, Elissa, Candice, and Andy
8:14pm cam 3-4 Aaryn and Candace bedroom
Candace goes over everything that happened today with the votes.
Candace says someone she knows told her to double check that Elissa was really a target because they thought it was David, "That was the plan"
Candace: "I think the 5 votes were.. Kaitlin, Gina, Spencer, Me and Jeremy"
Aaryn: 'Wait.. I voted for David.. do you think that Spencer maybe voted out David"
Candace says that she isn't going to say who told her to vote out David because she hasn't had the chance to talk to that person (Helen) yet.
C: "I believe Gina"
A: "Then Kaitlin and Jeremy are lying.. that is really hard.. it's really hard about this spencer thing"
C: "someone is lying"
A: "You and spencer have a thing"
C: "No I have no alliances"
A: "The only person I know right now that is coming after me is Elissa"
A: "Do you think it's Kaitlin and Jeremy" (That flipped the vote)
C: "I really don't think so but I can't see it being Gina either"
A: "I know.. unless she puts on a really good act"
C: "She (Gina) really doesn't like elissa"
They both agree that Nick voted to evict David..
A: I wonder if McCrae knew"
C: "I think he did because he was the HOH"
A: "People are playing a lot harder than I thought.. everything has changed now"
A: "Candace I don't want to have a beef with you"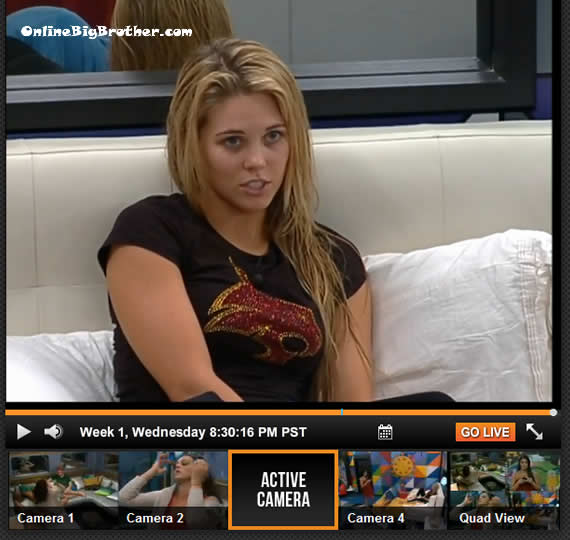 8:29pm Cam 3-4 Amanda, Jeremy, Aaryn, Nick bedroom
Amanda is worried for McCrae because he was the HOH last week. Amanda cannot stand Elissa.
Aaryn: "who she puts up will be telling of who she's close to" (assuming that Elissa wins HOH)
Jeremy: "That's if America is stupid enough to do it two weeks in a row…F*** get your sh!t together"
Aaryn says that Candace was at the hot tub and heard "Everyone" say they were going to vote out David.
Aaryn: "She say the only two people other than us three that voted for Elissa was her and Spencer" (Gina, Jeremy, Aaryn)
Amanda: 'Who does Spencer hang out the most.. Andy, Candace like does that make any sense.. she's a f**** idiot"
Aaryn: 'So you are saying that you voted Elissa out"
Amanda: "He f*** BD'd her.. why would I keep her here"
Amanda: "I know we haven't talk any game.. because I thought you guys were in an alliance.. It's really stupid to be playing so hard so early"
Amanda leaves..
Jeremy: "You gotta put up Helen and you gotta put up Elissa"
Nick: "Don't
Aryn: "if I put her up against Helen and she wins MVP she'll pick someone weak.. that she can beat"
Nick: 'we should BD Elissa.. who is Elissa close to"
A: "Helen"
Jeremy: "Put me up I'll f**** win that shit… fu** ya"
Nick: "Put Ellissa up with the most popular person in the house to ensure she goes"
A: "People told David to throw that veto and he threw it.. "
N: "Who told him to throw it"
A: 'McCrae"
Nick: "Thats weird.. whos in McCrae ears"
Gina: "Amanda"
Aaryn: "She just told me she voted Elissa out"
Gina: "She's f***** lying"
Jeremy: "This has been a hard day I say we rest and talk about it another day we'll have a whole day"
Gina: 'I SWEAR ON MY F**** LIFE I VOTED TO EVICT ELISSA"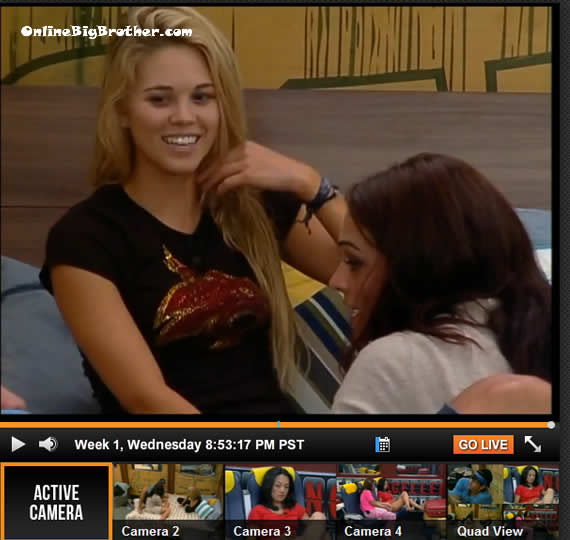 8:50pm CAM 1-2 Bedroom Aaryn and Kaitlin
Aaryn: "I don't trust Nick anymore.. and Gina is going to pull us down by trusting him"
Aaryn: "Nick is no longer to be trusts"
Kaitlin: "Gina has a loud a$$ mouth"
Aaryn: "I just think someone in our 5 is a liar and maybe two"
Kaitlin: "You think Candace is telling the truth.. cause I think she's lying she's been up F****** Elissa's a$$ for the last two days"
A: "Ya you're right"
Kaitlin says she trusts Andy he pulled her to the side and told her nobody has talked game to her.
8:50 Cam3-4 Candace and Helen
Candice is really confused because her and her "Messenger" both voted for Elissa to leave so this means that either Kaitlin, Jeremy or Gina voted out David and is lying.
Candice: 'Unless my Messenger is lying but if he was lying why did they tell me to vote out Elissa"
Howard joins them.. He tells her that there is nothing to worry about they have the numbers.
Helen: "I want to win MVP and POV and i'm will to bleed for it.. you guys would save me right.. "
Howard: "Ya that's not the issue the issue is don't lose it chill out"
Candace: 'I guess my feelings because whatever the secret plan is I wasn't part of it"
Helen: "I'm not part of the secret plan"
Candice: "You have to me because you voted him out"
H: "No… it doesn't add up if you were told to vote out Elissa.. I'm as lost as you seriously.. i was told you were going to vote out David"
C: "Andy says he was told to vote out David"
H: "There is no secret clan this clan has exploded on itself"
C: "I think she is going to put you up"
H: "Oh for sure"
Elissa joins them and says she will win MVP again so they shouldn't worry.
Helen laughs: "Elissa you are getting nominated and probably me"
8:55pm Cam 3-4 Storage room Nick and Spencer
Nick asking if Spence can make Candice look more guilty.
Nick: 'You are too good and looking truthful.. I need you to be a bit sketchy … she needs to believe that you did vote out David.. because what it will do is take some of the pressure off me.. They are not putting you up 100%"
Nick is trying to get Elissa and Amanda put up with Helen as a BD option.
Spencer says he's not going to admit to what he did because that's not good for his game long term but he will slow down with the "Carrying on".
Spencer: "push Amanda as the master mind"
Nick: "You are so in there dude.. don't worry"
Spencer says he will start planting seeds about Nick being all for voting out Elissa.
Spencer: 'We have to get Candice and Judd out as soon as possible they are bouncing around like two idiots"