POV Holder:
?
Next POV:
July 21
POV Used
?
POV Ceremony
July 23rd (Monday)
HOH Winner:
Frank
Next HOH:
July 26 (Thurs)
Original Nominations:
Current Nominations:
JOJO and Shane
Have Nots /Slop
Willie, Shane, JOJO, Ian
Coach Competition Winner
Janelle
Next Coaches Competition
July 27 (Friday)
Last Evicted Houseguest
Kara, Willie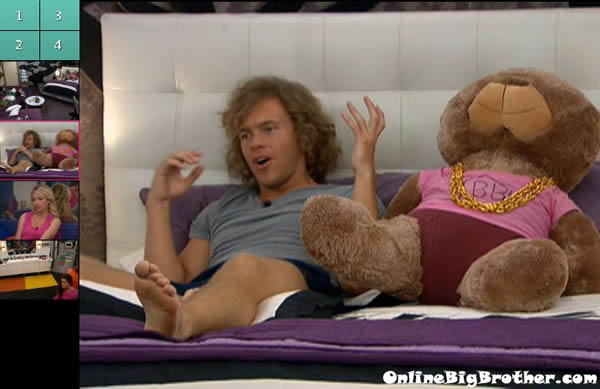 11:20am Ian heads up to the HOH room and talks to Frank. Ian thinks the power of veto competition will be the spelling competition. They also wonder if it will be a hold and fold competition. Ian says that it's not a games competition because they didn't give us tools to practice. Ian says now that he thinks about it, he really thinks it's gonna be the hold and fold competition. Ian says that game is a crap shoot. They discuss the last power of veto competition. Frank mentions that Shane punched something yesterday and that his hand is all bloody. Ian brings up how Willie went hulk on the have not door and then head butted Joe 4 times. Ian says that he would have thought Willie being 30 something would have been more mature. Frank mentions how great it is that we get to evict 2 people this week. They discuss whether or not it will be taking penalties to win, like wearing a bunny suit for a week or giving up some of the prize money. Britney joins them. Ian tells Britney that he thinks it will be hold and fold because they didn't need to pick a colour. Britney says that she thinks it will be a different competition, all of the competitions have been different so far. The conversation turns to talking about The Glass House and how bad it is. Big Brother switches the cameras to the kitchen.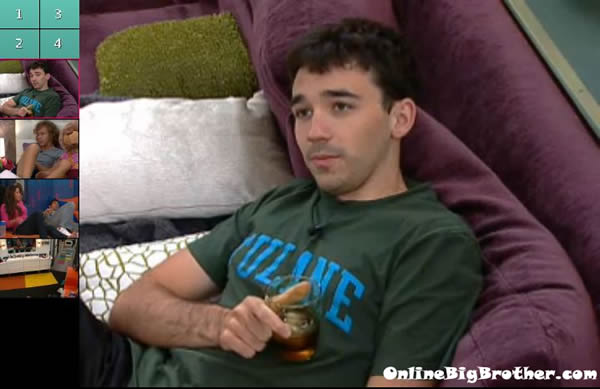 11:40am
The cameras switch back to the HOH room. Britney comments on how by the end of the game you pick the host that you think can get it done the fastest. Ian comments on how Willie couldn't even say certain things. Britney tells Frank that he did a great job. Britney gets called to the diary room. Dan joins them.
11:50am Ian wonders if in the opening sequence they will just completely omit Willie or if they will just show him walking into the diary room saying fu*k this…. Big Brother cuts the feeds. Dan says I don't want to hit you with this but if one of them wins, Danielle will go up I am guessing. Frank says probably. Dan you don't think anything crazy will happen with the votes do you? Frank says that he doesn't think so and that he really wants Shane out. Dan says that he doesn't think any of the other four would use the veto. Frank says that he doesn't think so. Frank says that he doesn't really feel bad about the nominations because they stuck with Willie even when he was doing all that stuff. He says that Shane is a nice guy and Jojo is alright… Dan gets called to the diary room.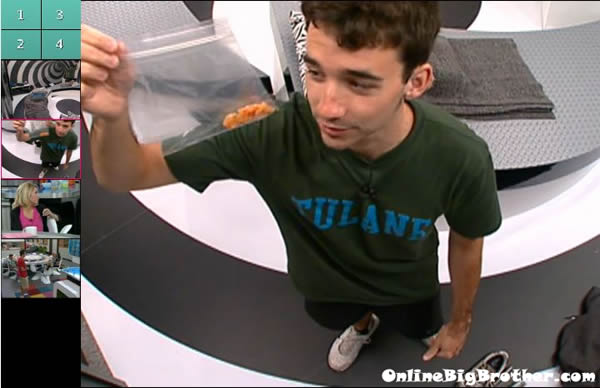 12pm – 12:20pm Ian is in the have-not room making his bed for the bear. He looks at Jojo's bed and says EWWWW… That's nasty! Ian then goes over by the door and picks up the little zip-lock bag of pork rinds, holds it up to the camera and says The pork rinds that Willie threw at Janelle …soon to be on ebay for sale! Big Brother cuts the feeds. Ian heads into the kitchen and the talk about Willie continues. Frank say that Willie will probably have to sell his cigarettes for bus money. All the house guests are waiting for the competition to start. They are sitting around eating and talking about random things.
Frank and Mike are talking in the HOH room. Mike says that Jojo is so harmless, personally I would like to get her out of here but she is harmless. Ian joins them. Mike tells Ian to lay off the romance a little bit .. play a little hard to get, don't sit next to her too much. Ian says that he has been today, maybe you've noticed. Mike say yeah… I've been asleep. Ian jokes that if he ever wins HOH they will have to get a door up here (on the mentor room) so that he can get Ashley up here.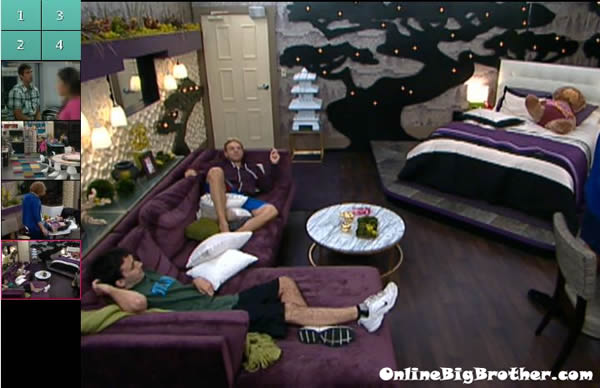 12:37pm Big Brother cuts the live feeds to the TRIVIA screen… Looks like the Power of Veto Competition is starting.
1:30pm Still TRIVIA..
2pm They're still competing ..
2:30pm More TRIVIA..
2:45pm TRIVIA..

Watch what happens, AS it happens: Big Brother 14 Live Feeds!
Subscribe today for your FREE 3 DAY TRIAL!
Share it YO!!
Tweet