POV Holder:
Kaitlin
Next POV
July 20th
POV Used
YES
POV Ceremony
July 22
HOH Winner:
Helen
Next HOH:
July 18
MVP:
Elissa
Original Nominations:
Kaitlin, Aaryn, Spencer (MVP)
Current Nominations:
Jeremy, Aaryn, Spencer (MVP)
Last Evicted Houseguest
David, Nick
Have Nots
Judd, Jessie, McCrea, Amanda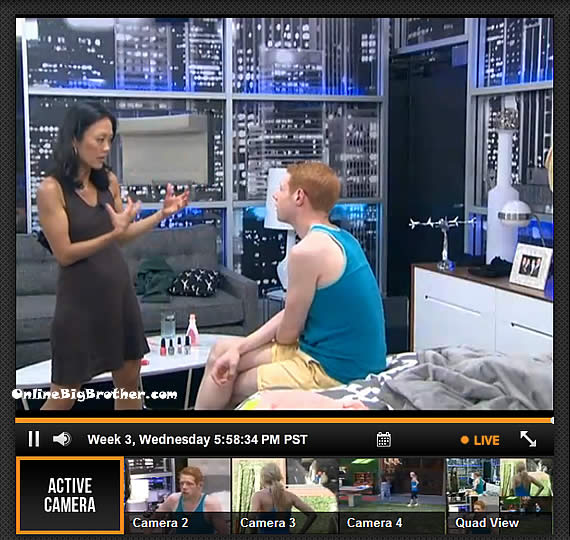 5:58pm Cam 1-2 Andy and Helen
Andy wants to know about the conversation she had with Gina. Gina was asking Helen if she should vote with the house. Helen told her it's best to vote with the house. Helen adds that Gina has realized that her game is f*** so Helen thinks they can get her on board at least for the next week.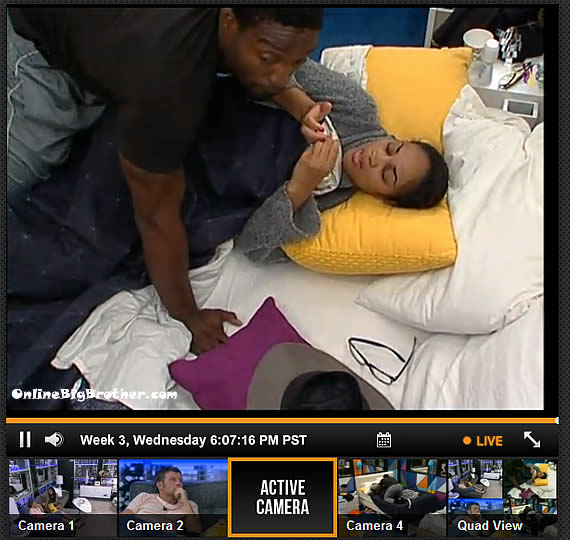 6:23pm Candace and Howard
Howard talking about his father being good with words "Can talk the stripes off a zebra"
Candice tells him about her biological father and how she was put up for adoption. Candace says that her bio father has 5 other kids.
Howard calls them bunnies. They chit chat about stuff there are some giggles (it's a mini showmance)
Howard says he needs her to do something for him tonight. "I need you to tell Elissa.. make sure she's not mad at me for working out with Aaryn".
Candace recommends Howard offers to all the girls tomorrow that he will train them.
Candace points out that she can see all the veins in his arms it's kinda sexy kinda gross.. they giggle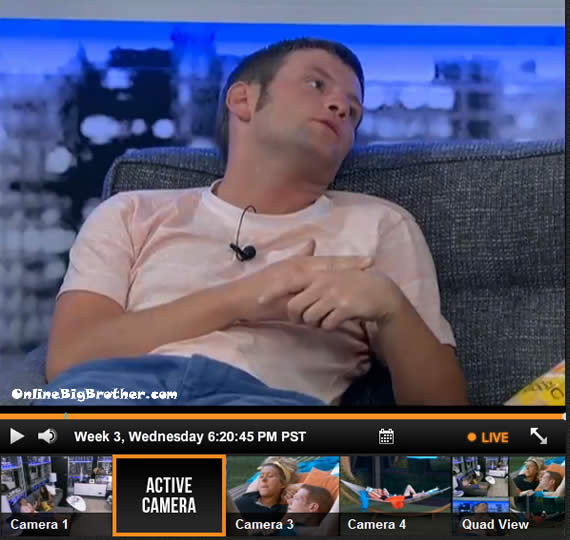 6:05pm HOH Helen and JUDD
JUDD says that he tried to talk to Gina last night and the conversation took 1 hour and a half because she kept talking about Nick. She thinks her and Nick will be spending the holidays together. Helen tells her about the conversation with Gina.
Helen thinks Jeremy will start screaming when he walks out the door if they give him a false hope.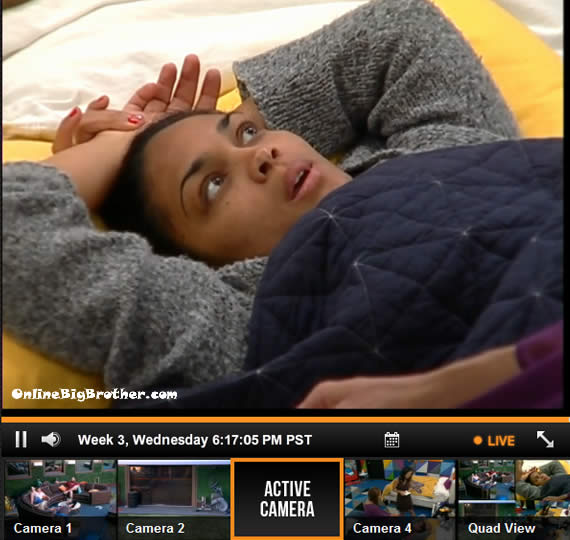 6:17pm Helen, Candace and Elissa
Helen tells her that Howard has to watch out working out with Aaryn because it's making people think they are aligned. Candace says that Aaryn and Gina asked him he's not going to be rude.
Helen brings up her conversation with Gina where she told her she has to do what the "House" wants her to do to stay in this game.
Helen thinks if Gina wins HOH they can direct ehr where they want her to go.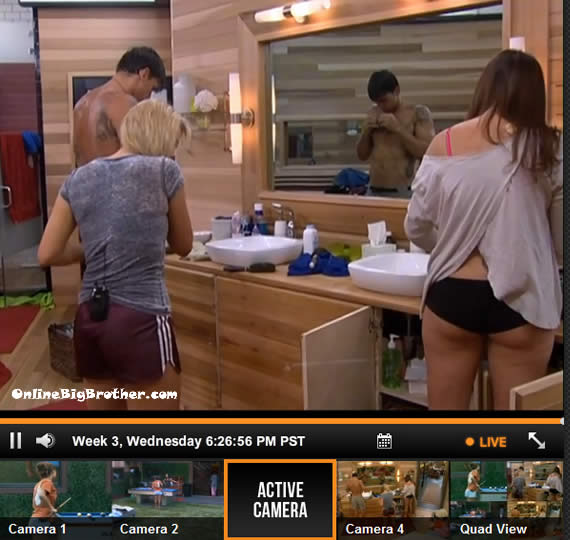 6:29pm Bathroom Aaryn and Amanda
Jeremy is there briefly. Amanda whispers to Aryan that she needs to act like there is nothing wrong. Apparently there is a rumor going around that Kaitlin told Helen and Elissa that Aaryn is targeting them. They know it's Kaitlin trying to save Jeremy. Amanda uses this to try and get Aaryn to realize that Kaitlin should be her target. Amanda makes sure Aaryn knows Jeremy and Kaitlin are throwing her name under the bus constantly.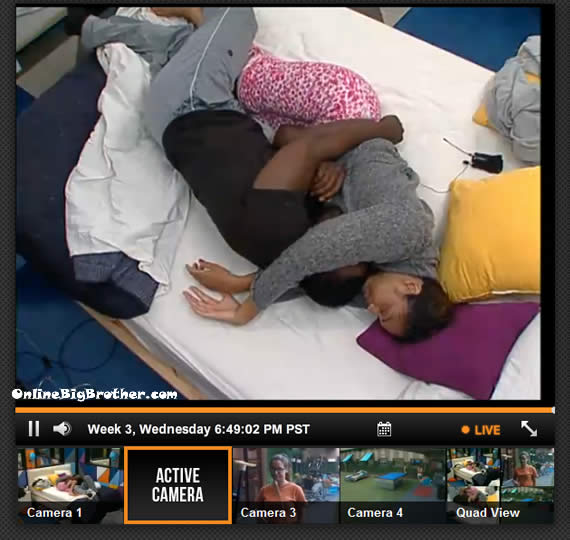 6:33pm Bedroom Candace and Howard
Candice tells him not to tell Spencer everything she tells him, "I don't trust Spencer like you do"
Howard: "OK"
She brings up that Jeremy met with her and apologized.
Howard for you
Candace: "Being a douche bag"
Candace: "The carpet matches the drapes.. umm I don't really have carpet"
Howard: "What you talking about?" they giggle
Candace: "I love penguins.. they mate for life.. the male brings the women a Pebble"
Howard: "You talking about happy feet"
Candace: "Go get me a pebble"
Howard tells her he needs to watch people tonight so he better take a nap.
Candace says nothing interesting is happening in the house right now.
Howard give her some information about what he observes.
Judd is up late at night because he's paranoid
Amanda and McCrea stay up all night and talk about people one on one.. "They talk about various variable."
Spencer stays up to get info.
Gina comes in, Howard greets her: "G-Money"
Gina points out that they haven't started building the HOH competition for tomorrow yet she wonders if it will be a athletic competition.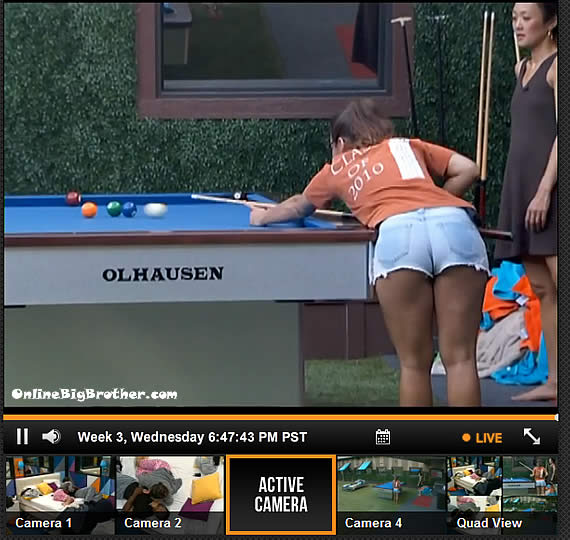 7:07pm HOH Helen and Candace
Helen says she's going to talk to pull Aaryn aside and ask her if she is going around telling people she's targeting Helen and Elissa
Candace: "Obviously she'd say no"
Helen says she'll get the truth from Aaryn or she'll tell Aaryn she's going home.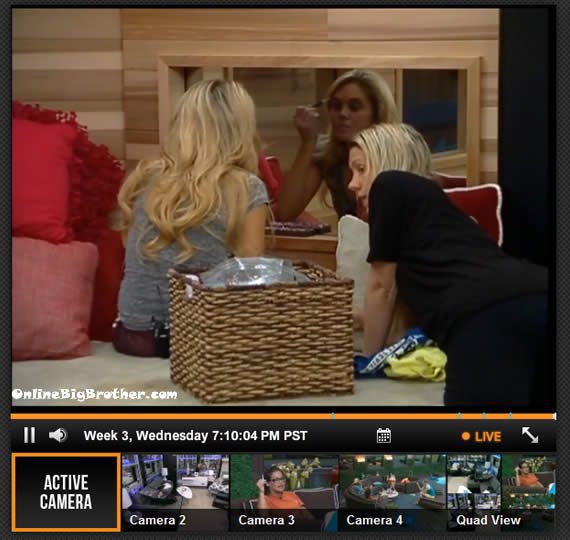 7:09pm Bathroom Aaryn and Gina
Gina tells her to play it cool Jeremy is going home tomorrow she's 90% sure. She tells Aaryn she has to be prepared to fight her a$$ off in the Head of Household competition tomorrow.
Gina: ""We're bringing it back you did it before we'll do it again.. "
Aaryn wonders why Kaitlin and Jeremy are going against her. Gina says all Aaryn can do is go up talk to Helen "put on a happy face"
Gina: "Obviously if I have to pick between Jeremy and you I would pick you.. DUH"
7:16pm Cockpit Helen, Jeremy and Elissa
One more thing Jeremy wants to say
Helen: 'You behaviour is 100 times better than it's been"
Jeremy says if they can keep him here until sequester time he will
1) guarantee to vote for one of them in final 2
2) he will throw the veto once he gets to jury
Jeremy says he 100% needs the money and all he wants to do it make it to jury.
Helen: "you are pretty much giving up the game right now"
Jeremy: "Giving up the game to make it to Jury"
Helen asks him what Aaryn said to him.
Jeremy says that Aaryn told him in the bathroom today that she's going to get the power back.
Helen: 'Even if she wins HOH she doesn't have the vote to get us out" (Thanks MVP)
Jeremey: "We should be quieter"
Helen: "I don't care.. she doesn't have the votes"
Jeremy says he really needs the money if he makes it to jury he'll throw the veto and they can vote him out.
Elissa: 'I feel like we all need the money.. whether you want it for charity purposes or for your family.. "
Jeremy says that is all he has left to offer and he leaves.
Helen: "Damn that's is a good offer.. I feel really bad for him.. I feel that he's realized it too late in the game"
Helen just doesn't want to wake up on Friday and realize they made a mistake.
Elissa: "Even if she (Aaryn) does win HOH she doesn't have the vote to get us out"
Helen asks her if Aaryn wins HOH and puts her and Elissa up on the block is Elissa willing to use her MVP and put Howard up because the house will vote out Howard. Elissa :"yes" (MVP hasn't been given out yet but Helen and Elissa assume it's Elissa's again)
Helen says Jeremy doesn't deserve to be in the house, "We are doing this for the house we can't take his deal and be selfish"
(What do you wall think of the MVP twist at this point? let us know in the comments)
[polldaddy poll=7256699]