POV Holder:
Devin
Next POV
July 12th
POV Used
YES
POV Ceremony
July 7th
HOH Winner 1:
Amber
HOH Winner 2:
Devin
Battle of the Block Winner
Hayden & Nicole
Next HOH/ Next BOB
July 10/July 11
Original Nominations:
Devin's Noms (Pow Pow & Brittany) Amber's Noms (Hayden & Nicole)
Final Nominations:
POW POW & ZACH
Have Nots
Victoria Brittany, Zach and Derrick
POV Players
Host Donny, Players Devin, Brittany, POWPOW, Derrick, Zach, Amber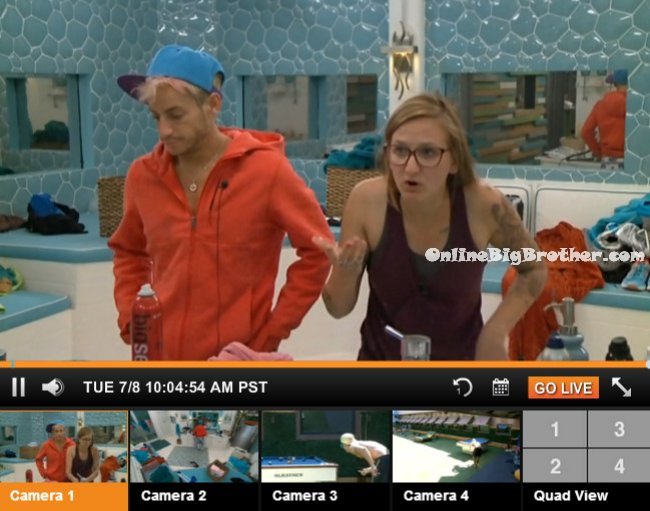 10am Frankie is talking to Christine in the bathroom about how Caleb said if another member of the squad doesn't vote with them they will cut them out like cancer. Christine says starting last night I am tired of playing Devin and Caleb's game! Frankie says yup. Christine says thats why if we can convince the rest of the house to turn on them then we will be good. Frankie says that means convincing Derrick and Hayden to vote to keep Zach. Christine says last night the both said that they would. Christine says at the worst it comes to a tie. Frankie says Im not worried about Devin and Caleb.. they're not coming after us. Christine says keeping Zach here .. Devin and Caleb will just go after him. Frankie says and Derrick and Cody. Frankie says it will take some great acting on your part. Christine says I am very good with Caleb ..its just Devin. Frankie says just say you were scared and didn't know what to do.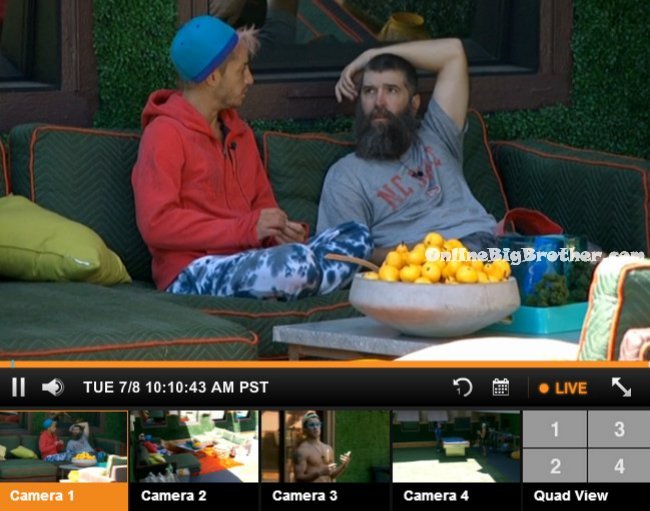 See what they can't show you on TV! -Try the Big Brother 16 live feeds for FREE!
10:10am – 10:45am Frankie talks to Donny on the backyard couch. Frankie says that he hopes he doesn't have to be a havenot. He wonders if they will make exceptions for him because he has circulator issues. Frankie says I'm just going to win HOH so I don't have to worry about it. Frankie says I honestly think that I have to vote Zach .. for my game. Donny says unless the other two vote for him. Frankie says we have to think about what they're thinking. Cody and Hayden are going to vote to evict Pow Pow. Jocasta hates man-hater Chauvinist. Donny says at first when I heard about America's thing I was scared that it would blow up our game, but then I was happy. Frankie tells Donny then end of my game is You and Derrick. Donny asks how would you get rid of the beast? Frankie says we use Hayden and Cody. Frankie says we are the swing votes. Which ever way we vote is the way the house goes. We can blame our votes on other people. Frankie says there are plenty of people in the house that can get Devin and Caleb out. It will be back dooring that will get them out. Donny wonders if they will turn on each other. Frankie says this week if Zach stays they will be out for blood and we can put it all on Cody and Hayden. Frankie says he puts his money on Caleb winning HOH. Donny says I'm not scared of Caleb and you shouldn't be either because he would never put you up. Cody comes out and the conversation ends. Christine comes over to join them as well. The conversation turns to talking about random things and playing a word memorization string game.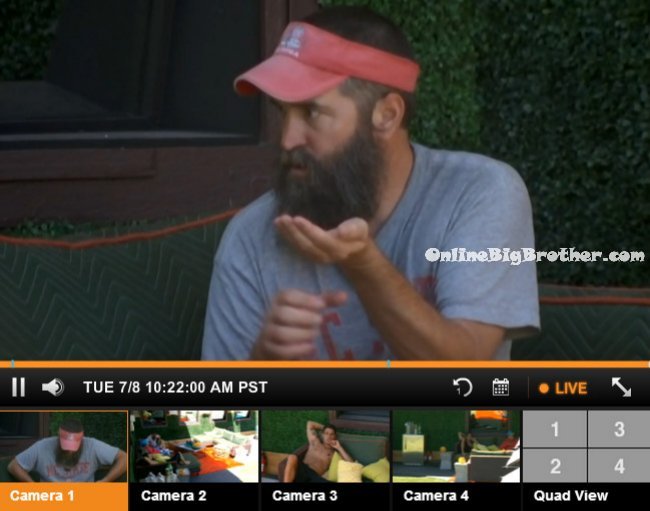 10:50am – 11:30am Frankie heads back to bed. Cody, Christine and Donny continue to talk about random things on the backyard couch. Meanwhile in the bathroom – Zach talks to Victoria about how bad it is being a havenot. Zach says he didn't sleep all night then tried to go to sleep but couldn't. He says he went back outside and had hot flashes and felt like he needed an IV. He says he felt so weak he went to the diary room and asked for a medic. Victoria tells him to make sure he drinks. Zach heads back to bed. Victoria heads out to the backyard couch where the other are talking. Victoria gets called to the diary room. Donny says that he's going to pace around.
11:40am Devin comes out of the diary room and says that he broke his HOH room key. Devin asks Brittany if she slept all right. She says she hasn't gone to sleep yet. Devin says shut up! Devin asks Victoria how she slept. She says horrible. Devin tells her that if he could turn back time he would. Devin tells Christine how he told Brittany he has a crush on her and she told him "Thank you! That's sweet!" Devin says he feels so embarrassed now. He says that Brittany was talking about her dad and said that he's bigger than me. Devin says that he feels bad that her family is going to see him nominated her and put her on slop. Christine comments that half the guys in their alliance like Brittany. Devin gets called to the dairy room. Christine says to herself that Devin is the last person she wants to be spending her morning with. She says open his door!! Devin comes back and tells her that with Donny and Jocasta they have 8 votes to evict Zach. Devin gets called to the diary room and he says "Go F**K YOURSELF!" Devin goes to the diary room. Christine calls Victoria and asks her if she is voting to keep Zach. Victoria says that she thinks its better for her game. Devin comes back and says that he broke his key off in the HOH room door because they had locked him out of it. He says he'll be doing his HOH blog soon and then get the camera. Devin tells Christine that every time he see the havenots he feels horrible. He says if theres a competition for havenots he would throw it because he said next would be him, Caleb, Frankie and Amber. Christine tell him not to.