POV Holder:
Devin
Next POV
July 12th
POV Used
YES
POV Ceremony
July 7th
HOH Winner 1:
Amber
HOH Winner 2:
Devin
Battle of the Block Winner
Hayden & Nicole
Next HOH/ Next BOB
July 10/July 11
Original Nominations:
Devin's Noms (Pow Pow & Brittany) Amber's Noms (Hayden & Nicole)
Final Nominations:
POW POW & ZACH
Have Nots
Victoria Brittany, Zach and Derrick
POV Players
Host Donny, Players Devin, Brittany, POWPOW, Derrick, Zach, Amber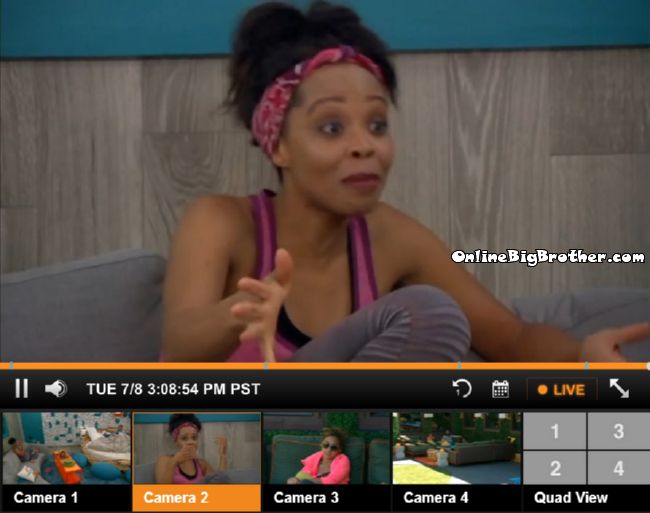 3:00pm HOH Devin and Jocasta
Devin going over her his conversation with Brittnay. She asked him why he put her on slop and how would he feel if someone put his daughter on Slop. (WOW Devin has a daughter never knew) Jocasta asks what made him want to get with Brittany just a short bit ago they were arch rivals. Devin says he usually runs away from the pretty girls, "Usually her personality doesn't match what she looks like. turns me off. I usually go after the average girl cause they are usually not full of themselves"
Devin thought Britney's personality was going to match her looks but he was wrong and after the talks with her he's really started to like her personality.
Devin brings up the talk with Brittany where she talked about the struggles of being a parent. It brought back memories of the struggles his mom went through, "It's really weird Ahh it's crazy I sit up here watching. .. I'm crushing hard literally"
Devin says he's been watching her on the HOH screen all day. He doesn't know what to do because Brittany is going through a divorce. Jocasta says she's not divorced yet she's just separated.
Devin says the father of Britney's first kid left her after the child was born. She married an older man and had two kids with him but the marriage didn't work out so now she's in a difficult place. This touched Devin in a way he wasn't expecting. Deviin adds he was engaged with his daughters mother so he understands what Brittany is going through. I judged her wrong, 'I don't see anything happening it's so fresh for her"
Jocasta says it's cool that he likes her but she always thought Devin was going to get back with "Jayden's" mommy.
You keep hearing production telling the houseguests they are not allowed to sleep outside of the bedrooms. Devin says it's Brittany that is knocked out outside because she hasn't slept yet. (Just like Dawg )
Devin warns Jocasta she really needs to win a competition or she's going to be called a floater. He really wants her to win the Head of Household this week he thinks it's going to be a contest she can win. Devin suggests on Wednesday night Jocasta come up to the HOH early and sleep to get lots of rest all the young kids are going to be running around staying up late. They will be tired and will not perform well. Hydrate stay away from caffeine and soda don't eat too much but make sure you have enough.
Devin runs through the BOB twist and explains to Jocasta how it works.. (I don't think Jocasta asked him to explains this he just started talking) They go over the Zach blow up yesterday. Jocasta says she only stuck around for a bit because she cannot handle all that cursing.
Jocasta wants to know who is calling her a floater. Devin says nobody called her a floater they are just saying "I haven't seen Jocasta's GAme " He's not going to name any names because it wasn't a negative thing He's just warning her people may start thinking it.
Devin thinks the vote is going to be 6-6 and he will vote out Zach.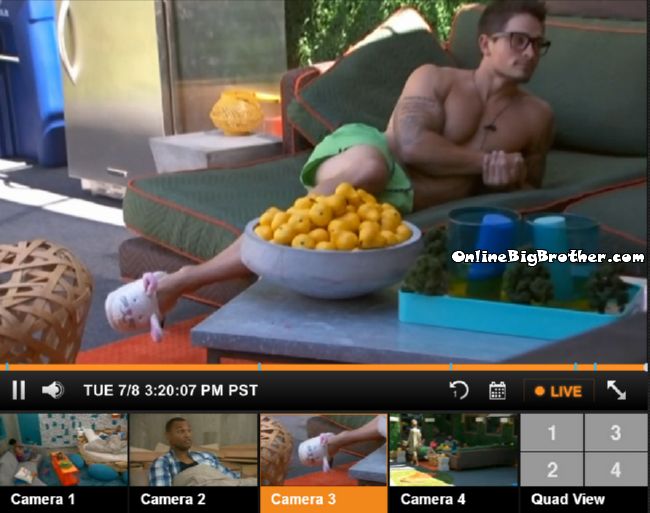 Caleb wearing Amber's slippers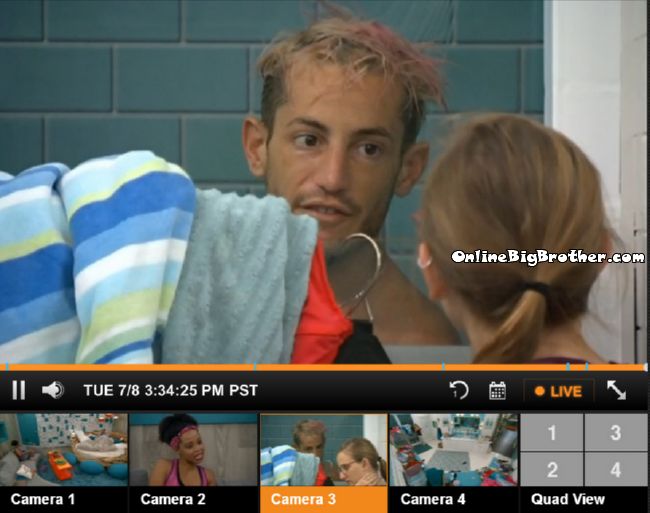 3:25pm – 3:30 Cam 3-4 Bathroom Frankie and Christine
Whispering over the shower hard to hear..
Christine tells him she's going to try and get Victoria to vote out Zach. everyone except for Caleb, Devin and Amber are going to evict POW. They don't want to come out the eviction having Caleb/Amber and Devin pissed. They want to tell Devin's group they voted out Zach and Derrick's group they voted out POW. They agree things are going to get very confusing on Thursday night. They still are not sure about Jocasta's vote.
3:53pm Christine says the house wants to break up Caleb and Amber bevier they take out Devin. They see that showmance being more dangerous. There's also the thinking that Devin will be greatly weakened when that group of three is split up. Frankie mentions he's "figured out" the mirrors and is using them to his advantage.
(There's a good chance this is a lie from Christine read here for more.)
Try the feeds for free.. help out OBB and get them using one of the links on this site. You can go back and watch everything we showed on this site. A live feed subscription comes with access to the Big Brother Archive letting you rewatch from day one. It's a pretty sweet setup!
FREE 2 Day TRIAL! watch the ENTIRE Season of Big Brother 16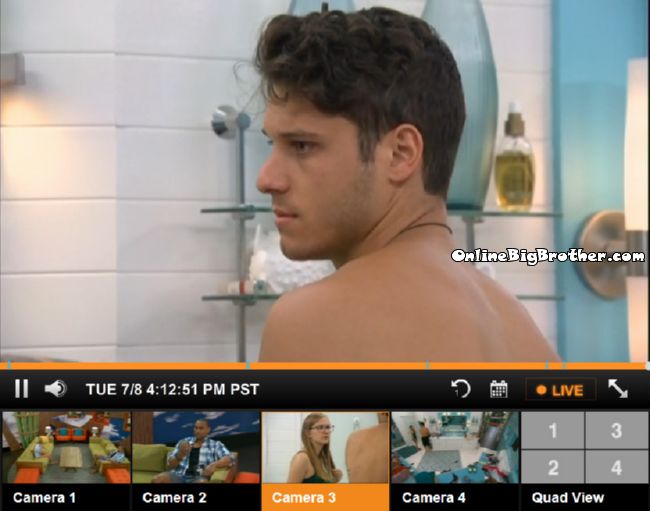 4:12pm Bathroom Cody and Christine
Cody asks if everything good they are all voting out POW. Christine says Victoria is the only one. Everyone else on their side is going to keep Zach. Christine blames Victoria's vote on "Devin's Threats" Christine isn't worried because the vote is still going to be 7-5 to evict POWPOW. Cody wonder if maybe they can get Derrick to try and get to her. Cody asks about Jocasta. Christine has no idea say she's can't get through to her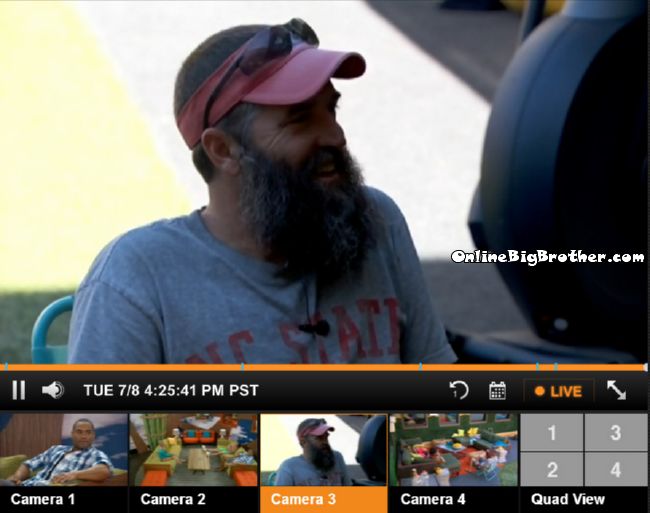 4:25pm, backyard Jocasta, POW and Donny
POWPOW is asking who has a better chance to stay her or Zach. Jocastas and Donny have no idea, "It's a toss up" Donny – 'This week it's not going to be unanimous"
POW points out that Zach is thinking he's "Winning" Jocasta mentions how people will keep him if it's better for their game. POWPOW reminds them Zach tried to destroy all their games.
POWPOW says Zach wants to leave he said all he wants to do is sleep and have other people do the work for him. POWPOW adds if Zach wins HOH they have no idea what he will do but if she wins HOH, "it will never happen.. I won't do nothing" Jocasta says she was on the couch on the side he didn't know about. (Zach called out a couch during the POV Ceremony saying he's not sure about the people on that couch. Jocasta was on the couch)
Donny says he heard Zach say something positive about Jocasta., Jocasta never heard that.
POPOW wishes she could sl@p Brittany in the face and take her tongue and twist it.
Jocasta brings up Zach calling Victoria the "B" word. Jocasta and POW don't think the women outside the house will like Zach because of what he said about Victoria. POW brings up Zach saying he's only on the show to 'S***e p*$$y" when he gets out. Jocasta – "Thats a young guys mentality"
Jocasta leaves Donny with POW.. She asks him if it will be 50/50. He says it could she wants a honest answer will Zach stay over her.
LONG pause from Donny..
POW – "Sorry is that too personal"
Donny says theres a lot of people here that will see them whispering and talking.. "I didn't even hear what you said"
POWPOW asks again.
Donny – "I don't think there is a probability it's could go either way.." He explains nobody talks to him he has no idea what is going on he's out of the loop. Donny asks her if the people that asked her to throw the competitions are honouring their side of the deal. POWPOW – "He (Devin) knows I didn't throw it that is why we got in the argument"
Wheres the vote?
Zach is going home Zach is staying (Still early and very close)

[polldaddy poll=8164185]