POV Holder:
Devin
Next POV
July 12th
POV Used
YES
POV Ceremony
July 7th
HOH Winner 1:
Amber
HOH Winner 2:
Devin
Battle of the Block Winner
Hayden & Nicole
Next HOH/ Next BOB
July 10/July 11
Original Nominations:
Devin's Noms (Pow Pow & Brittany) Amber's Noms (Hayden & Nicole)
Final Nominations:
POW POW & ZACH
Have Nots
Victoria Brittany, Zach and Derrick
POV Players
Host Donny, Players Devin, Brittany, POWPOW, Derrick, Zach, Amber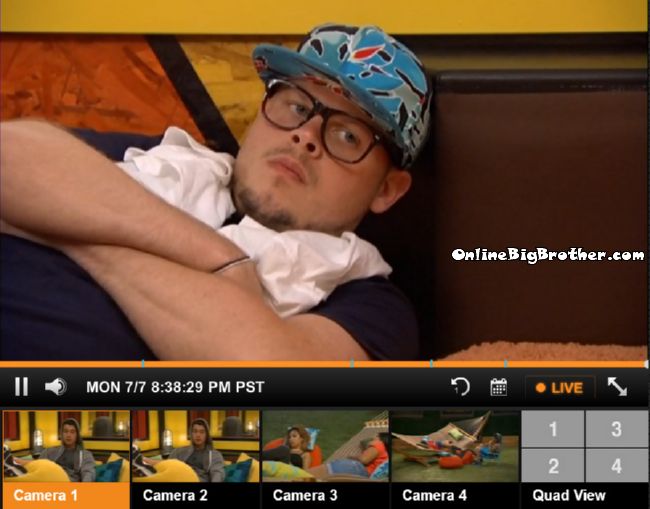 8:34pm BEEHIVE Cody and Derrick
Cody mentions telling Caleb that he's going to vote to keep Zach because Zach is his friend on a personal. Cody says after he did that Caleb ran up told Devin that and Devin pulled him into the Storage room and said Caleb is really starting to question Cody.
Cody – Just as quick as they threw Zach out I could be next.
Derrick doesn't know why Zach did the things he did
Cody – He blew us all up
Derrick – 'I think if there is a chance for him to stay I'm going to vote for him because it will benefit us"
Cody says Caleb has been a rat for the last two days and but devin has been straight up with him.
Cody thinks if Caleb gos first Devin will be lost but if Devin leave Caleb will still be dangerous. Derrick agrees says Caleb will probably get stronger with Devin gone. Cody says its obvious that Caleb is getting more and more mad at cody Because Amber is getting closer to him.
They agree Zach is an emotional kid. Derrick – 'As of this second I don't think we can keep Zach "
Cody counts the votes says they don't have the votes, Derrick -"it;s not looking good for him"
Derick suspects Zach is going to blow up everyones game on his way out because he doesn't know who voted for him.
Derrick says if they keep zach the bomb squad is done and they need to have someone in power each week or they are going up. Derrick thinks if Zach comes out and starts acting like he did the first week he'll stay. Cody thinks he's just going to lay low and get us to do the campaigning and it's not going to work. Derrick thinks Zach can even repair things with Devin.
Cody and Derrick agree Hayden trust them more than trust Devin and Caleb.
Derrick thinks they are going to portray what Zach did in not a good light. Derrick suspect Zach is really going to regret what he did. Derrick wants POWPOW gone next week if Zach goes this week.
Cody says Christine went to Nicole to try and cover her own a$$. Derrick is scared of Nicole because she's a floater. Derrick is really worried what Christine did because if she told her everything that is bad for business.
Derrick – 'The fact we're playing so early is a fatal flaw"
Cody mention they are in the middle
Derrick points out right now they're getting pulled into the forefront because of their bombsquad sh1t. Derrick warns this is why the players that hang in the back make it to the end like Jocasta, Nicole, Donny and Hayden.
Derrick really hopes Zach comes out swinging but he doubts it'll happen.
"In the end in a perfect world they need the Nicole, Haydens and Christine's to still be with them in the end"
they agree they have to keep Nicole and Hayden as long as they can. Derrick knows if Nicole or HAyden win HOH they will not put up Devin and Caleb they are too scared they will put up one of them and backdoor Devin/Caleb.
Derrick – 'If Zach goes home who do we we have that you can completely trust .. Zach has a big mouth but I trust him. we have christine but she plays both side of the house she's always talking to someone"
Derrick explains his plan is to put up Jocasta and Victoria if Zach leaves PWOPOW and Jocasta.
Derrick – "Who knows maybe we'll get lucky and POWPO will step on her own d!ck"
Derrick mentions how bad of a day it was, All deven had to do was leave the nominations the same, "I've been wanting to crawl under the wood all day"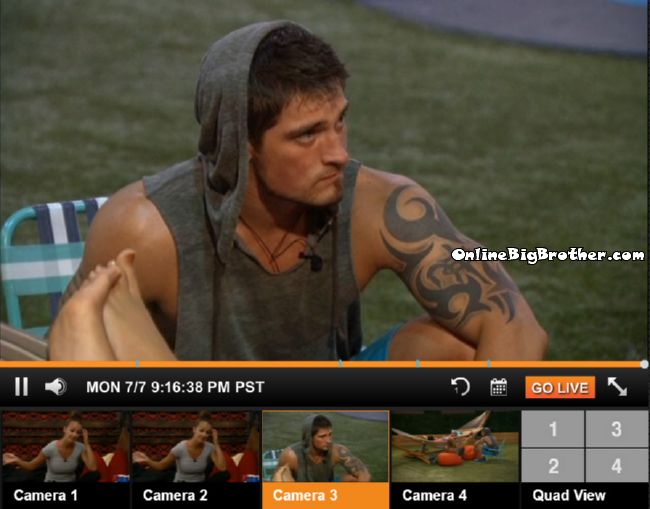 9:15pm Hammock Caleb, Jocasta, POWPOW and Frankie
Caleb says Zach called Victoria the B word and said he wanted to smack her Zach told Devin to put him up his time in this game is over. "He was being an obnoxious punk"
Frankie calls Zach a misogynist man.
Frankie says Zach was saying mean stuff at the pool "It was hate speech" Frankie says it was Cody, Brittany and Zach talking about Devin "it was hateful"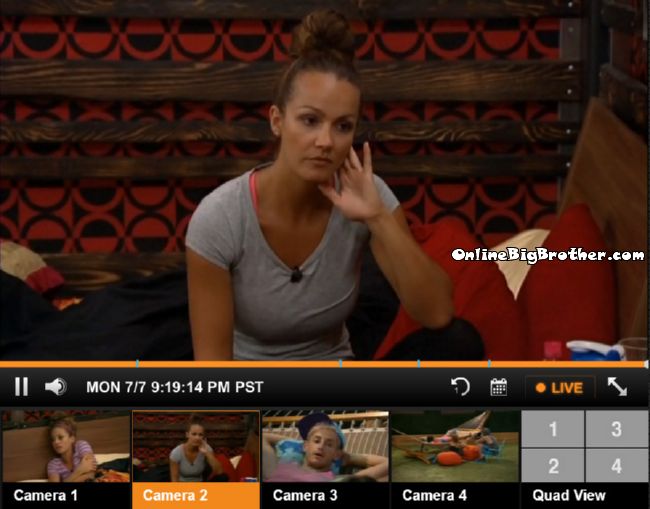 9:19pm FIREROOM Brittany and Amber
Brittany says she doesn't trust Devin but he did save her with the POV and she feels they share a common thing both being parent. (Devin is a father only cow dropping bombs tonight) Brittany doesn't know if she would but think she'll vote with the house the early. Amber says she's glad Brittany is in the house for another week.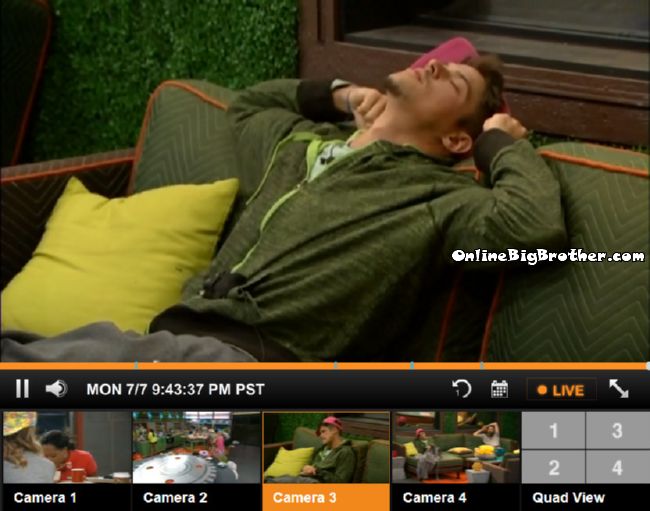 9:34pm Backyard Zach, Derrick, Hayden and Cody
Zach asking them about the HOH thinks it might be endurance where they are hanging. A bunch of them playing corn hole. Donny wonders if maybe the competitions will be them throwing something in a hole. Zach never thought of that but thinks it a real possibility. Donny asks about the have nots bed. Zach says he's sore from it. Zach says he's really hoping that the eviction doesn't go with a tie breaker
Zach counts his votes says he has Derick , Cody , Nicole , Christine, Donny , Brittany, and Hayden
Zach – "Jocasta said she's voting for me and so did Frankie.. I think I got it but we'll see"
Zach asks if he should campaign hard. Donny says he never campaign when he was nominated.
Zach says today was wild. Donny thinks Zach made history.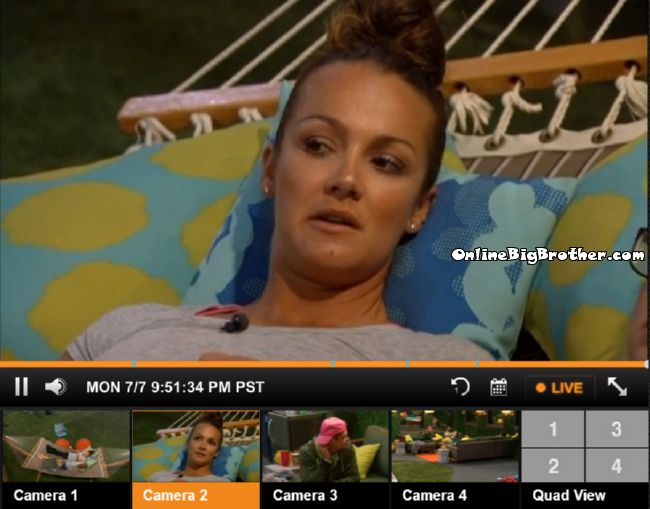 9:53pm Hammock Brittany and Nicole
Brittany is hoping anyone but Devin, Frankie, Caleb and Amber win the HOH she thinks of jocasta, Nicole, hayden, her, Cody or Derrick win the hOH they can turn this game around.
Nicole says Amber and Caleb have a final 2 deal. Nicole says it's so obvious that Caleb, Devin and Frankie are running the house it's because everyone is too scared. Nicole warns her there is more going on in the house then why know about. Nicole warns not to trust Amber because today she caught her lying through her teeth. Brittany says she tells Amber little stupid things, "I don't think Amber is a bad person she doesn't have a mind of her own she doesn't know the game and they know they can manipulate her "
Brittany says Devin is nothing without Caleb but not the other way around.
Brittany is certain Devin and Caleb will take Amber far but they will stab her in the back.
Brittany – "I don't trust Frankie anymore"
Nicole – "Ya"
Brittany says she still doesn't trust POW she feels that Zach is being put up as bait.
Nicole asks her who she's voting for.
Brittany thinks she's voting POW out but it's still early. Nicole wonder if production thought Devin was going to be a bully when he came in here because at first Nicole thought he was a big teddy bear.
Brittany talks about Devin going around telling all the guys that he likes her. Brittany says she's on to Devin there no way that he wanted to kill her earlier and now he's flirting with her, he's got a plan. "He's trying to flirt with me, bringing me pickles because he can't bring me flowers.. it''s the craziest shit I have ever seen in my life.. he's inviting me to his room so he can get to know me better"
Brittany knows Devin has a strategy about this- I'm two steps ahead of you dumba$$"
Brittany says when devin gave her the pickles she told him she's not going to eat those he probably poisoned them or stuck them up his a$$.
Brittnay – He thinks he's winning me hell no you're not.. I don't trust him at all the more people that makes deals with him the more power he's going to have"
Try the feeds for free.. help out OBB and get them using one of the links on this site. You can go back and watch everything we showed on this site. A live feed subscription comes with access to the Big Brother Archive letting you rewatch from day one. It's a pretty sweet setup!
FREE 2 Day TRIAL! watch the ENTIRE Season of Big Brother 16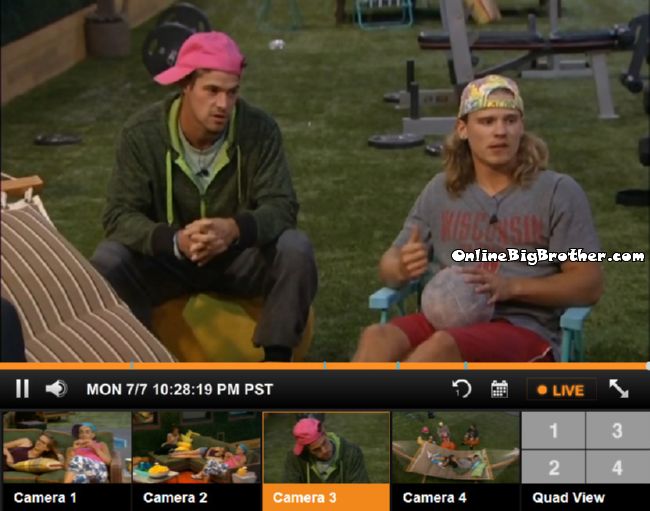 10:18pm Hayden and Caleb
Hayden says Devin forced him into the bombsquad. Cody mentions it was the same thing as him.
Hayden – "He literally said now that Zach is out I'm on" Cody says the deal was they never put up a member of the bombsquad and Devin turned on him. Hayden doesn't trust Devin 1 bit and the fact he tries to strong arm everything the house does makes him more steamed.
Hayden – 'Dude we need to keep Zach but it's going to cause so much Drama"
Cody agrees..
Derrick and Zach roll in.
They intrust Zach to go around say you lost control and that is why you brought up the stuff about Devin's pills/Daughter. They also think sZach needs to push that Devin is strong arming everyone because people are talking about it.
Cody suggests Zach go up to Devin and Apologize for the personal statements.
Derrick suggests Zach smooth things
They start talking about Devin strong arming everyone in the house. Hayden tells him Nicole and Christine will not go against the house he needs to get the house and he'll get their votes.
Frankie joins and wraps his arm around Zach.
Zach points out Devin put up POWPOW so she would lose the competition then he makes a deal with her to throw it and then he wins the POV and takes Brittnay off. Frankie – "He has no game play"
Cody points out that Caleb and Devin don't' want Zach in the jury because that is a vote for them and not a vote for Devin/caleb. Frankie leaves.
They start talking about Frankie Cody calls him a Chameleon and a master of the social aspect.
Zach says the only people he knows for sure that's voting him out is Amber and Caleb.
HAyden and Cody tell him that's pretty much who it is.
Donny tell Zach he has his vote. Cody, Derrick and hayden all agree they will be voting to keep Zach. (+Nicole and +Brittany +Christine that makes 7)
Zach tells them if they keep him safe he'll be moving the target off all them onto him. If Caleb, Devin or Amber win HOH they will come after Zach, "This is the week we flip the script"
Share it YO!
Tweet