POV Holder:
Devin
Next POV
July 12th
POV Used
?
POV Ceremony
?
HOH Winner 1:
Amber
HOH Winner 2:
Devin
Battle of the Block Winner
Hayden & Nicole
Next HOH/ Next BOB
July 10/July 11
Original Nominations:
Devin's Noms (Pow Pow & Brittany) Amber's Noms (Hayden & Nicole)
Final Nominations:
?
Have Nots
Victoria Brittany, Zach and Derrick
POV Players
Host Donny, Players Devin, Brittany, POWPOW, Derrick, Zach, Amber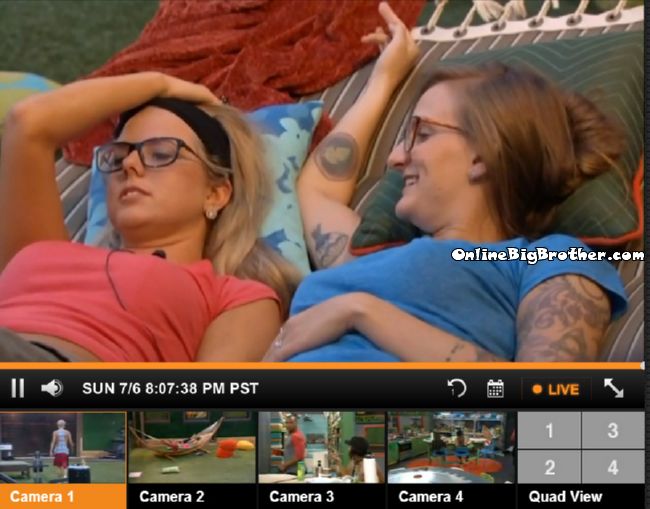 8:08pm Hammock Christine and Nicole
Nicole and Christine agree Hayden is very smart and is capable. Nicole says Caleb is always telling people what he can do but Hayden never does. He's humble. Nicole would never date Caleb, "He's too good for every single person except Ambe.. she's a lot like that to"
Christine points out that after Caleb and Amber had that Fight Amber is all over Cody.
Nicole says Cody was rubbing Amber's foot and Caleb was just staring at it. Christine say Amber rubbed Cody's butt with her nail.
Nicole says the people that drive them nuts drives Hayden nuts.
Christine "Ohh that makes me happy because I never talk to him lately"
Try the feeds for free.. help out OBB and get them using one of the links on this site. You can go back and watch everything we showed on this site. A live feed subscription comes with access to the Big Brother Archive letting you rewatch from day one. It's a pretty sweet setup!
FREE 2 Day TRIAL! watch the ENTIRE Season of Big Brother 16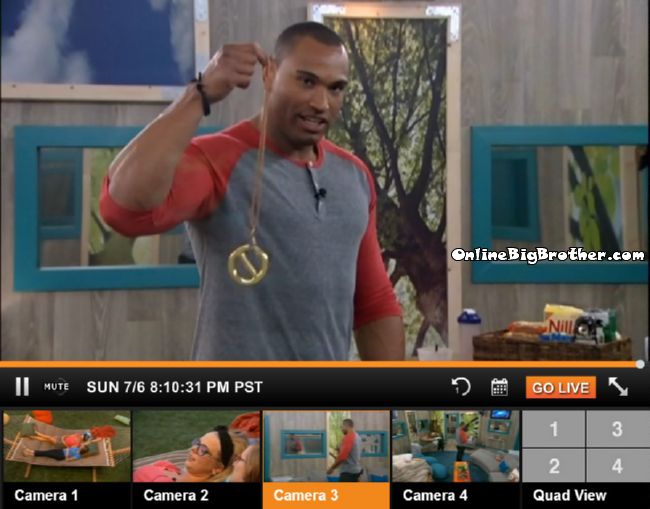 8:12pm HOH Frankie and Devin
Frankie – "I feel like Zack wants to go home did you speak to him"
Devin says he talked to him say Zach breaking breaking down he can't handle the game. Devin claims he still hasn't decided what he's going to do. Frankie doesn't know what his week is going to be like if Zach is nominated. Devin thought Zach was mentally stronger than this. Frankie agrees it was a big surprise to him. Frankie mentions Zack was up all night talking to himself on the hammock. Frankie adds at 8 this morning he saw Zach on the Hammock Zach was trying to figure out what to say when he blows up. Devin mentions that Zach volunteered to be the have nots. Frankie begins Zach's rants against Victoria and how they are too much for him sometimes to he walks away. Devin tells him his plan after the Power of Veto Ceremony is to go up to the HOH close the door and only let certain people in.
Devin wishes the POV Ceremony was tonight. Frankie says it's bullsh1t that people are trying to protect Zach if he wants to go let him go.
Devin – "Dude it's too big of an alliance dude.. we still have the numbers let's dwindle it down"
(During this conversation Devin said Brittany and him would make beautiful babies Via @DAwgs)
WHO needs an alliance when you have all the POWER @bigbspoilers #bb16 pic.twitter.com/BNeHqzO1T6

— Dawg (@DawgsBigBrother) July 7, 2014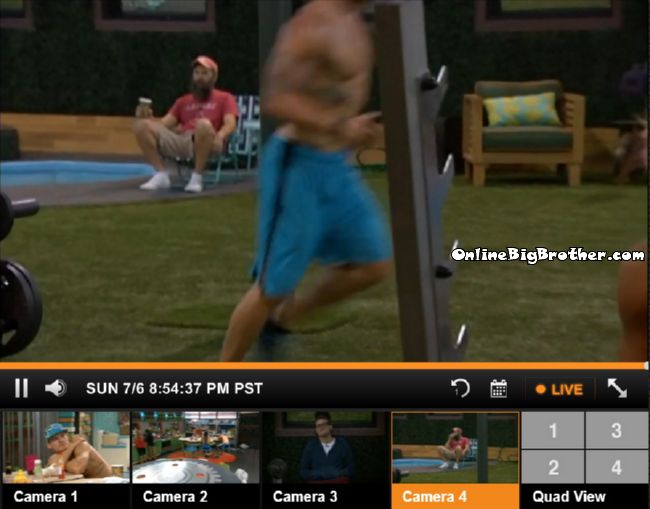 8:53pm backyard
Caleb running saying that he's starting to think Amber doesn't like him "Like that" Derrick mention maybe it's what Caleb was saying earlier that she doesn't want to show her feelings because of the house. Caleb brings up taking Amber on a date after the show. Caleb is still planning on staying in LA for a week after the Finale, "I'm going to rent a ferrari"
Derrick – "Ya do it up"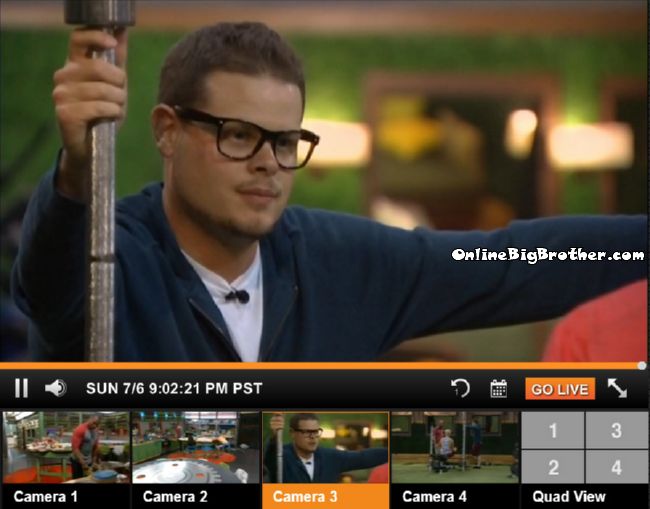 9:01pm Backyard Frankie, Derrick and Donny (Team America)
Talking about how unbelievable it is "America has spoken" Derrick says you couldn't pick a better alliance than one America picks for you. Derrick says they will have to talk later because this is America saying they want them to work together. Derrick adds that this means they can't let America down they can't burn each other. "They see everything we're doing and there's no bigger hint than.. you three are playing honest loyal..ooh and by the way we'll give you 5 grand each everytime you do what we tell you to do"
Donny -"You never get an outside feed like this and we got the biggest you possible can"
Derrick says he knows they all have friends and alliances in the house but this is what America is telling them to do.
Donny – if we need a performance we got a performer if we need a brain we got a brain if we need a beard.. feeds cut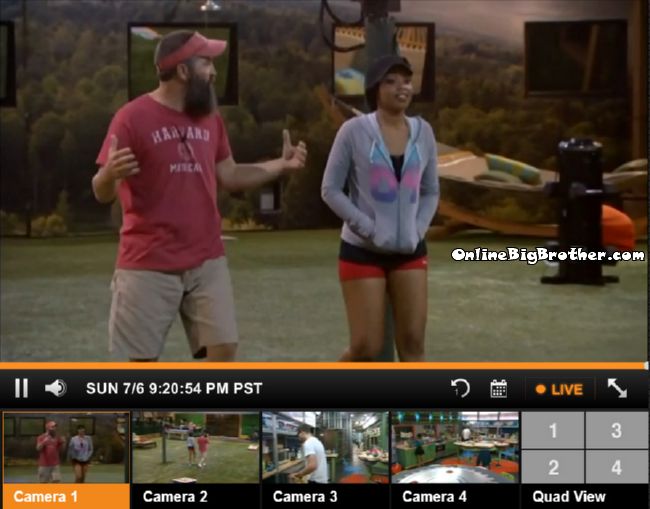 Chit chatting…
Looks like Digging for gold is back!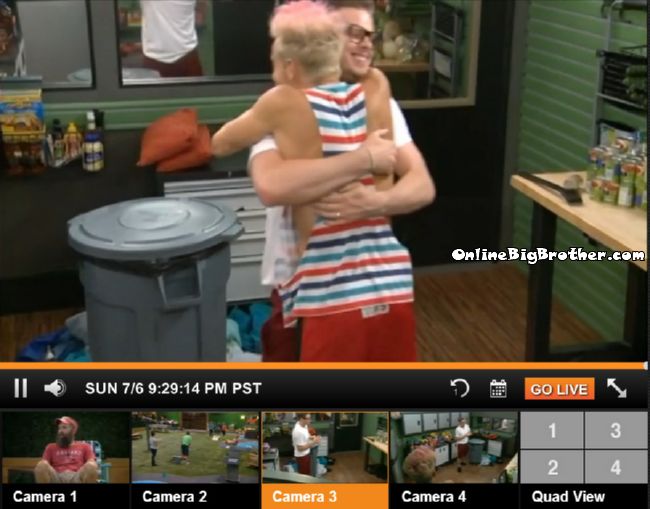 9:30pm Storage room Derrick and Frankie
Derrick says It's reassurance from America they're playing the right way. ."the problem with Donny he's not as influential as we are"
Frankie says they should change their way of communication frankie talks to Derrick and derrick talks to Donny
Frankie – "Zach told me what you said about being the ultimate flip flopper"
Derrick denies calling him a flip flopper says the conversation was Zach coming in saying "What do you guys think about Frankie.. "
Derrick said "Frankie is playing the same game as Andy played he's playing neutral and once he finds the stronger side he'll pick them"
Derrick says this is the alliance as far as he's concerned. ..
9:44pm Frankie gets Zach some electrolytes says he's going to nurse him back to health.
Zach – "Love you Frankie"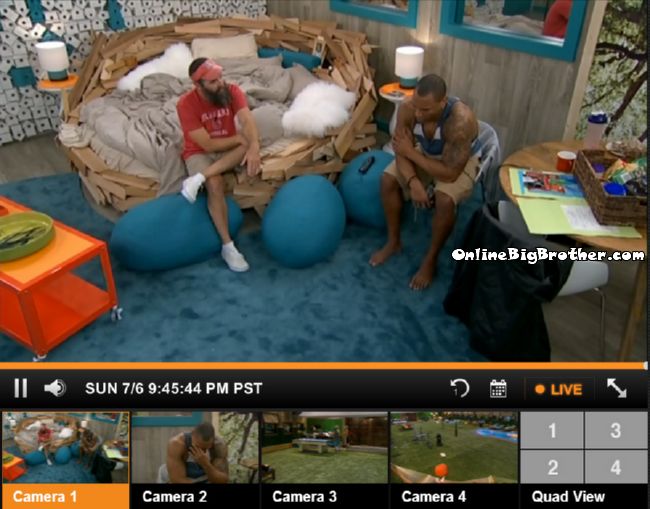 9:47pm HOH Donny and Devin
Devin says he's glad the POV ceremony is tomorrow. he's not 100% decided what he's doing. POW keeps asking him if he's using the veto on her but he doesn't know. Devin says he's a father of a daughter and he doesn't stand for Zach calling Victoria the "B" word. Devin says Victoria is a sweet girl.
Devin – "I don't have the heart to send a single mom out the door, "SHe hasn't had it easy at all" They agree that POW is very valuable in the game.
(I think Devin is going to put Zach up and wants Zach gone.. He's also a father incase you didn't know)
[polldaddy poll=8164185]