POV Holder:
Devin
Next POV
July 12th
POV Used
YES
POV Ceremony
July 7th
HOH Winner 1:
Amber
HOH Winner 2:
Devin
Battle of the Block Winner
Hayden & Nicole
Next HOH/ Next BOB
July 10/July 11
Original Nominations:
Devin's Noms (Pow Pow & Brittany) Amber's Noms (Hayden & Nicole)
Final Nominations:
POW POW & ZACH
Have Nots
Victoria Brittany, Zach and Derrick
POV Players
Host Donny, Players Devin, Brittany, POWPOW, Derrick, Zach, Amber
6:15am – 7:05am Nicole gets up and joins Victoria and Brittany on the backyard lounger. Nicole is worried that she and Hayden will be targeted next week. Brittany disagrees and says that Cody / Zach would be targeted. Brittany says I am voting for Pow Pow to leave. I think she is just quick to throw anyone under the bus. Nicole says I think I am too. Brittany says I think Devin and Caleb want Pow Pow here so its better to go against what they want. Nicole says that Zach staying here benefits my game. He's a big target. Brittany says my, you, Christine, Haydne, Derrick, Cody. And if he has yours that's 7 that's all he needs. Victoria heads inside. Nicole says we need to convince Victoria to vote for Zach to stay. I don't know what to say to her to convince her. Brittany says I'll talk to her. Nicole says if Zach goes then that means me, Hayden and Cody are all targets. Nicole says I want to go against Devin/Caleb so bad. Brittany says that Victoria is so easily manipulated. She doesn't know what's going on. Victoria comes back. Brittany tells her that she has to vote for Zach to stay. They head over to the hammock. Brittany asks what are you stuck on? Do you think Zach is after you? Victoria says yes.
Brittany tells Victoria that a lot of people have a lot worse things to say about you than Zach. Victoria asks who? Brittany says the guys. They don't understand why and what you're doing here. That's all I'm going to say about that. Brittany says Pow Pow is going to throw anyone under the bus and she doesn't care. She is working with someone that no one wants here. Victoria says I am just worried when Zach is off the block.. he'll attack me. Brittany tells Victoria if Pow Pow stays ..then Caleb, Devin and Pow Pow will work together so we need to do the opposite of what they want. Victoria says Devin told me if he doesn't put me up I have to vote out Zach. I am scared if I don't do that. Nicole and Brittany tell her not to worry about that you're not their target. They tell Victoria if Caleb, Devin or Amber ask her who she's voting for just tell them your waiting to see what the house wants. Or tell them I don't know who do you think I should vote for. They head inside to get ready for the day. Victoria goes to bed. Nicole starts running in the backyard.
Watch the ENTIRE SEASON of Big Brother 16 for ONLY $26.99 – TRY it For FREE!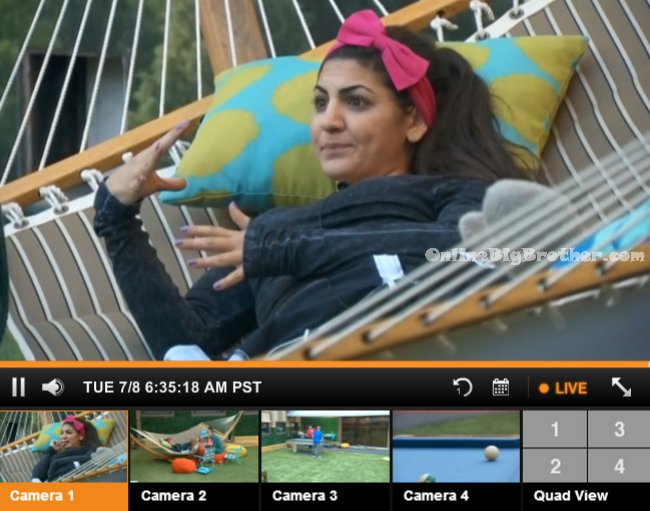 7:05am Cody is telling Zach all about his MC job he does. All the training he went through and how he used to be so shy but now is so good at it. Zach is amazed at how much money is in it. Zach says that he would move to New York and try it for a year. Zach says it sounds sick! I want that job. Zach says right now I need to worry about this vote. I want you to stay and win the money. I don't even care about the money. I came in here and said that I would lie, cheat and steal but I know I'm going to be successful outside this house. Cody says he feels the same way. Zach tells Cody that he love him and Derrick. Cody says that Hayden is a full member of the bomb squad but that he's not really with them. He hates that they tried to strong arm him. Cody tells Zach how right before the vote he is going to go up to Amber and tell her that the entire house is going to vote to keep Zach. Zach says you, Hayden, Nicole, Christine, Donny, Derrick and Brittany. We really need to get Jocasta, Frankie and Victoria to keep me.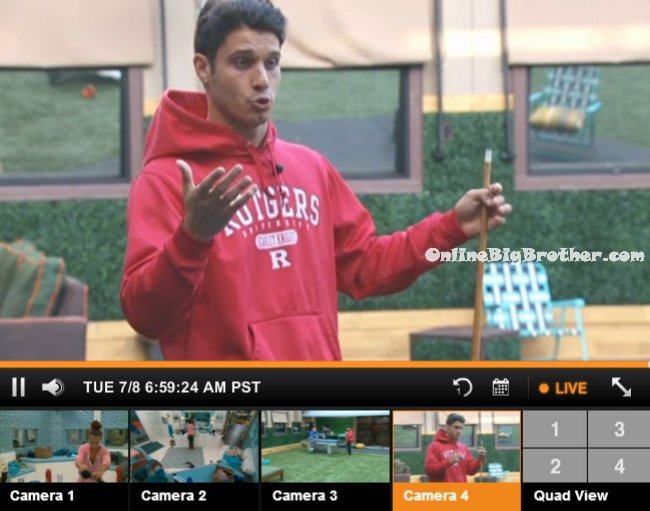 7:45am – 8:05am Zach practices his speech by himself in the hammock and then does it for Nicole and Brittany. Zach says that he's going to talk to Jocasta to try and get her vote. Nicole says don't even bother her and Pow Pow are like this. They call each other mother / daughter. Brittany tells Zach that he should at least try otherwise she might be offended. Cody comments on how he can't believe I stayed up all night again. Brittany says just two more days till they're not havenots any more. Nicole says just so you guys know I am so happy to be in the house with you. Cody starts helping Zach with his speech telling him this isn't a political campaign.. connect with everyone on a personal level. Zach says you're spitting knowledge! You're so f**king smart! Zach says I am going to talk to Jocasta and Donny again. Cody says Jocasta is a strong a$$ woman. She's a powerful woman. Donny joins them. Cody asks Donny what do you think? Donny nods. Cody asks Donny if he knows where Jocasta's head is at? Donny says that we talk about life and stuff. We feel like we're a bit on the outside being older. Donny says I don't talk much game with her just because others come and she clams up and won't talk game. Cody tells Donny that he felt so bad when he was put on the block. Donny says when I was on the block you two were the only two that gave me your votes right off the bat.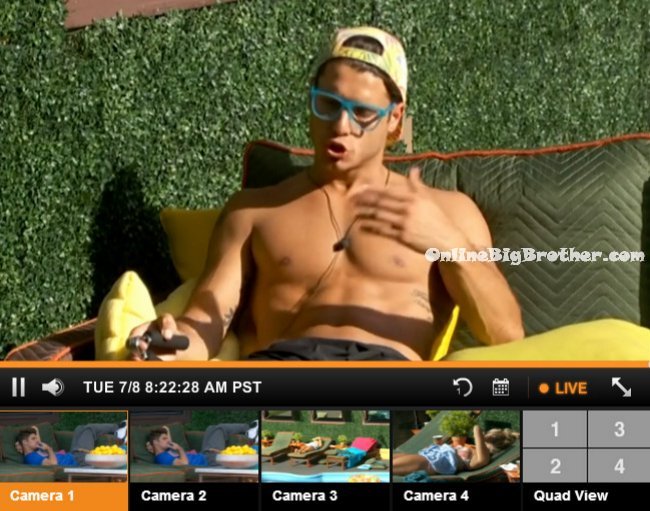 8:45am – 8:55amZach tells Donny we've got to rise up against the strong people in this house. Zach tells Donny that including him he has a strong 9 votes to stay. Donny tells Zach to go get some sleep. Zach agrees and heads to the havenot room to go to bed. Meanwhile Cody and Brittany are suntanning. Donny joins Cody and Brittany. Donny tells them that he wishes that board (memory wall) wasn't in the kitchen. He says if it wasn't he would study it a lot more. He says that when he does stand there at the memory wall he keeps his hands in his pockets and counts using his fingers.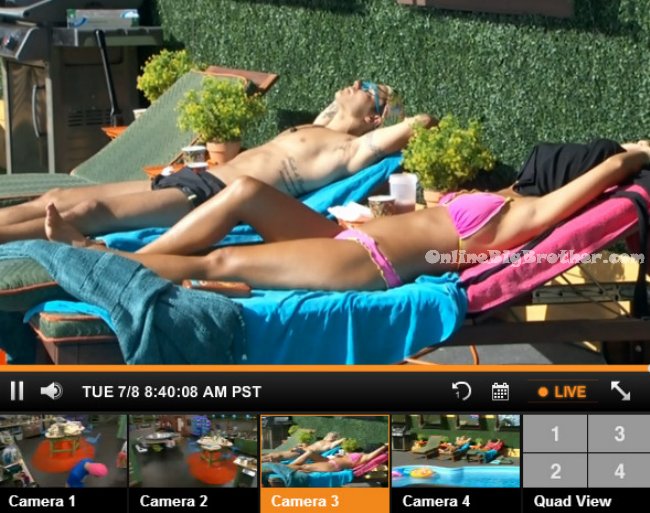 9am Out on the backyard lounger – Donny talks to Cody and tells him his gut is telling him that I just don't think we have the numbers. Donny says Frankie, Devin, Amber and Caleb I'm sure have a final 4 and won't go against each other. Donny says I wouldn't ever talk to Zach with this information. He couldn't handle it. I trust you more than anyone else in this game! I don't have a crush on you but I like you. I want to win the money but if I can't and I have a vote ..you have my vote. Donny says whatever they say ..something was said to save Brittany. And she feels guilty for not doing it because she is on national tv. We can't count them unless they're with us. Cody says Christine has said she is with us. Donny says but she goes up there often. Cody comments that me and Hayden have been in the top of every competition. Donny says I'm not going against it. We just can't feel comfortable. Donny says 3 out of 4 have won HOH and two can compete this week. Donny says that Devin is pretty smart but he has that bipolar problem. I am not saying we go with them, heck no! I would rather go against them and be the minority. Cody tells Donny that Victoria trusts Derrick 10 fold. Cody says that Zach has been distancing himself from Frankie. Donny says anyone that isn't with us, is against us. Donny says I would rather mess up my game for good people like you. Cody says I don't good people like you to mess up your game just because you like me. If the votes aren't coming our way I will let you know. Cody says I will not let anyone strong arm me, manipulate me or bully me. Donny says I like Derrick. Donny says I just know there is a lot of game still to play even if we did go with them. Cody says I just know that I am not flipping my script and voting out Zach. Donny says that he is friends with Pow Pow but wouldn't have a problem voting her out. Cody says I know for a fact that Pow Pow threw that battle of the block competition. Donny says you and Hayden, I feel like I can trust. Hayden is a beast! Not only physical but very smart. Cody tells Donny how he trusts Christine because she tells him things that she wouldn't tell me if she was planning to follow through with.
9:30am – 9:55pm Big Brother wakes up the house guests.. when the live feeds return. Zach is back up and out in the backyard playing pool by himself. Donny is working out on the elliptical. Cody is working out and Brittany is sleeping / suntanning. Cody wishes his sister Angelina Calafiore a happy birthday.
Wheres the vote?
Zach is going home Zach is staying (Still early and very close)

[polldaddy poll=8164185]