POV Holder:
?
Next POV
July 13th
POV Used
?
POV Ceremony
July 15
HOH Winner:
Helen
Next HOH:
July 18
MVP:
Elissa
Original Nominations:
Kaitlin and Aaryn
Current Nominations:
Last Evicted Houseguest
David, Nick
Have Nots
? Judd, Jessie, McCrea, Amanda ?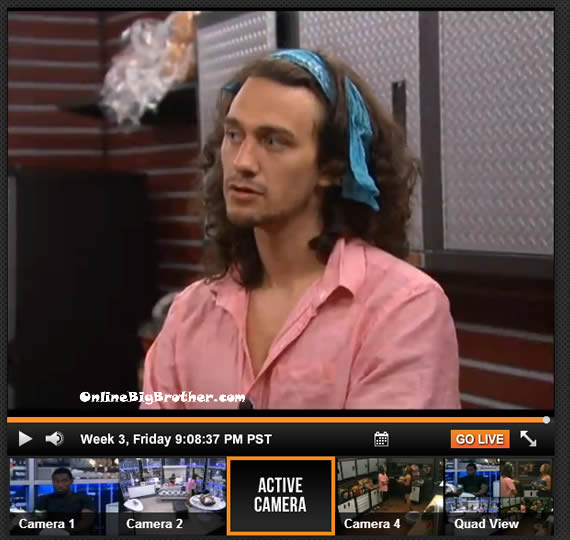 9:10pm McCrea and Elissa
McCrea comes clean about the boys Alliance, says it was all Nick plan and he was only roped in because he was the first HOH. He adds that Howard voted against her yesterday. Elissa is shocked that Howard and Spencer lied to her. She always kinda suspected Spencer but Howard said right to her face he never voted to evict her.
Elissa says she trusts Judd, Helen, Andy, Amanda, McCrea and Candace but nobody else
McCrea: "Howard is the biggest snake of them all in my opinion.. he has to go soon.. That dude will lie through his teeth about everything."
McCrea starts to make fun of the Moving Company calls it a "Low rent brigade and Brigade .5"
Elissa says they overplayed.
McCrae: 'Nick masterminded the entire thing he was the biggest snake of them all"
McCrea says they all had a talk up in the HOH and he thinks they have a plan for the week and her MVP.
Elissa asks him why they didn't call her when they were all talking.. She wonders why she wasn't part of the conversation when they decided Helen's nominations.
McCrea: "Helen was bringing up everyone separately .. and well I dunno… she didn't even do what we wanted.. I mean.. umm.. what she did was way better than what we wanted.. She did a really good move with the nominations today "
Elissa: "umm hmm "
McCrea tells her to use the MVP and put up howard so they can win the POV and they backdoor Jeremy.
Elissa: "Oh that is a great idea"
McCrea says that Jeremy is the target but they also really need to get rid of Howard so it's win win regardless this week
Amanda joins them
Elissa says it's going to kill her to put Howard up. She wonders why Helen didn't put Aaryn and Jeremy up to begin with.
Amanda: "Aaryn put her up last week and Kaitlin offered herself up as a pawn"
Amanda: 'Elissa you have to you have to put Howard up it's not even a question at this point.. You will go if you don't do it at this point"
Elissa isn't totally happy about what Helen did because all the blood will again be on her hands. She thought the plan was going to be for her to put up Kaitlin.
Elissa: "That's a lot to put on me"
Amanda says that it's both Spencer and Howard that are the rats. She mentions that Howard now has Candace and Spencer has nonone
Elissa: "Spencer will be easy to get out"
McCrea says he will take all the credit for it he'll walk around saying he has MVP.
Elissa is nervous says that she really likes Candace and Candace will be pissed at her. Amanda: 'You have to do it Elissa.. we put our necks out on the line for you"
9:46pm Kaitlin and jeremy
Kaitlin thinks they are going to try and backdoor Jeremy. They were told they are being woken up early tomorrow. Kaitlin thinks its 5 Jeremy thinks it will be 6. Jeremy wants to go to bed early but says they can still talk..
9:47pm HOH Spencer, Howard, Andy, Elissa, Jessie, Candace
The rats are fessing up about the Moving Company.. Andy starts to cry (It's the same sh!t we've heard all day from these two)
You can re-watch ever second on the feeds using their flashback feature.. It's super easy to use click this link for a free trial —> Subscribe to the Big Brother Live Feeds
The CBS feeds are a HUGE improvement over the super pass feeds and they are 30% cheaper with no subscription to cancel.
9:54pm gina and Aaryn
Aaryn: "You're the only person I have.. you're the only person I trust"
Gina feels the same way now that Nick is gone.
Aaryn: "I will never never never turn my back on you.. I will leave this house before I turn my back on you"
Aaryn tells gina about the Moving Company
G: "Nick was"
Aaryn: "don't freak out"
G: "WHAT"
(she wasn't pissed just worried that she got played)
Aaryn says that the entire house is up in the HOH.. "That alliance of 7 that is planning how it's going down.. and what they are going to do tomorrow"
Aaryn: 'I have to pretend that I'm still with these fu****er.. I'm staying and i'm winning HOH… i'm not going to be a bitch about it i'm going to be gracious and nice.. it's going to kill me "
Gina: "I just farted I'm sorry.. it wasn't my fault I had fried chicken"
Feeds flip when we come back Gian is wondering if Nick was playing her. Aaryn doesn't know says she needs to push that thought out of her head and focus on the game.
Gina wants to know what is going on in the house.
They agree there only chance in this game is for them to stick together. Aaryn says that they will have to vote Jeremy out if it comes down to it. She explains that Jeremy or Howard are going up for MVP and they will have to vote out one of those two.
Aaryn thinks MVP will put either Spencer, Howard or Gina, 'They are not going to give Jeremy a chance to play for Veto"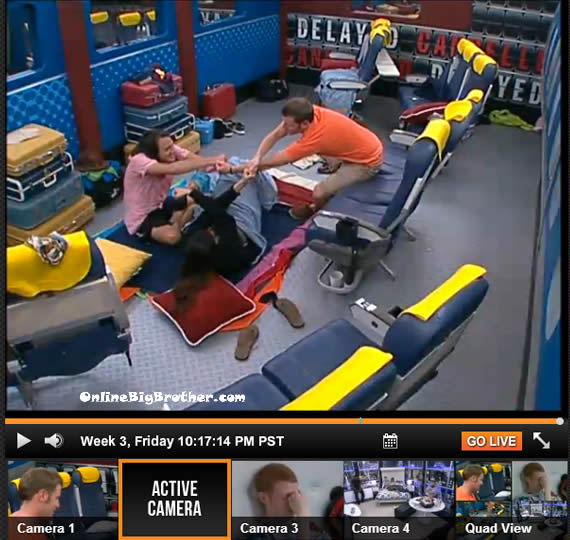 10:16pm Cam 1-2 Judd, McCrae and Judd have nots
Judd is saying that Howard and Spencer messed up their game so he's not feeling bad about what is happening to them.
Judd: "Howard needs to go before Spencer" McCrae: "Jeremy goes first"
McCrea says that the Moving Company was going to target Amanda and Candace next or Helen and Candace. McCrea adds that if that would have happened he would have rallied the house against them the Moving Company.
Judd mentions that Andy is crying which is odd because Judd thought Andy knew about Howard and Spencer betrayal. Amanda says that Andy is just playing it up to make Spencer feel bad.
They do a double fist bump to seal their sub alliance. Judd says that Nick hasn't good at this game. Judd fingers the camera "Sorry mother F**** I know this game better than you.. "
(It's safe to assume that McCrea and Amanda have a sub alliance with everyone expect for Gina)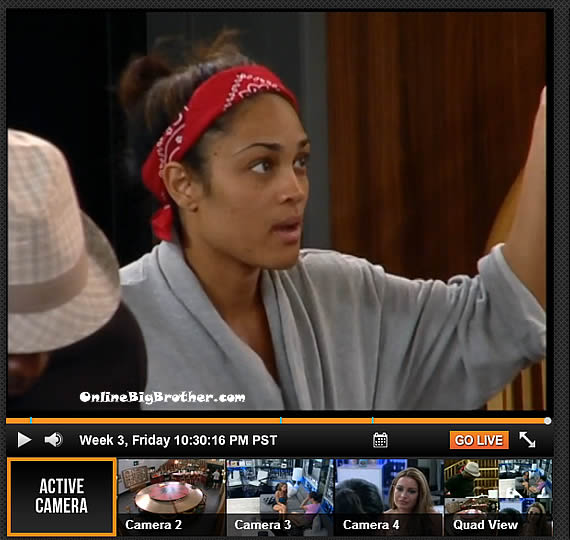 10:29pm Kitchen Candace, Spencer and Howard
Candace is pissed, "You put me in a really bad position with those girls up there (Candace and Elissa)
Candace: 'Elissa didn't know I voted against her.. and now she knows.. so now i'm going to be ostracized by that group"
Spencer: "no you're not.. I'll take care of that i'm sorry"
Candace says that she now has a target on her from her two closest friends and the other side of the house.
Spencer tells her she was misled by him
Candace explains to him that right now she's not included in the game conversation Candace and Elissa are having when she is supposed to be with them.
Candace: "I am alone again.. nobody trusts me"
Spencer: "you got caught up in my bullsh!t.. I understand how you feel.. I am sorry and i will try to clear that up for you"
Candace leaves.. Howard whispers to him "I'll take care of it"
10:30pm HOH Helen and Elissa
Helen tells her this is her HOH to. She wants her input on what they should do and who they should put up as MVP. The agree it has to be either Howard or Spencer. They want Howard up because they think he will have the best chance to win POV so they can backdoor Jeremy.
Helen tells Elissa the only way Jeremy will stay this week is if the Chip says POV on it and he wins it. (Meaning when they draw POV players that he's the one drawn)
***10:38:20 cam 3-4 Helen: "I think the show doesn't want us to put up Howard.. ohh sorry i'm going to get yelled at"(LOL diary room does it again..)
Elissa :"I know.. " (feeds cut)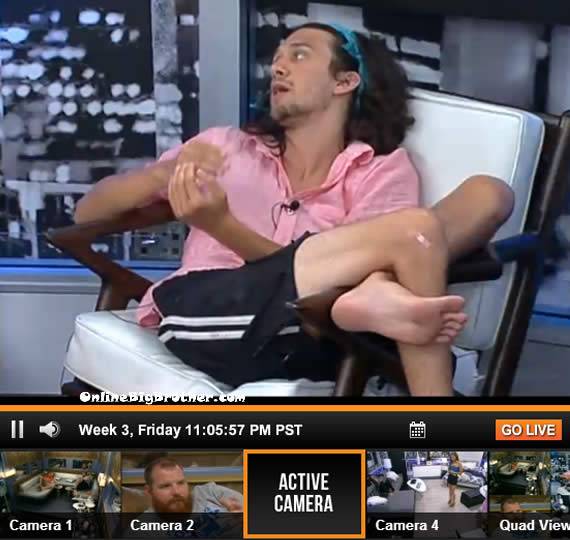 10:59pm HOH Elissa, Amanda, McCrae and Helen
Amanda is fighting to get Howard put up she keeps on Elissa about how she was almost gone last week and it was Amanda's hard work that saved her. Amanda makes sure she knows that they kept her safe and all they want Elissa to do is keep them safe this week.
Elissa doesn't want to put Howard up she wants Jeremy up. Amanda: 'it took so much work to get you to this point you cannot f*** this up"
Elissa asks why not put Gina up then. Amanda jokes that they can't pick Gina because if she wins the POV she'll use it to save Aaryn. They explain to Elissa that she has motive to put up Howard because he voted to evict her last week.
Amanda and McCrea are pleading with Elissa to put up Howard.
Elissa has doubts.
Helen tells her that she will be MVP this week none of the blood will be on Elissa's hands.
Elissa says she likes to be MVP she proud people voted her.
Helen says it doesn't matter who they say has MVP as long as their inner group knows the truth.
Elissa asks Helen why she didn't put Howard up to begin with.
Helen wanted to but never had a chance to talk to Spencer before she was called into the Diary room. She could not decide who she should pick Spencer or Howard and since her intel was incomplete she put up Kaitlin.
Elissa is worried that Spencer is going to come after her if she puts him up. If Jeremy is the target they should just put him up that way it doesn't hurt her game.
Helen leaves.
Elissa can't believe how stupid Candace is for trusting Howard. Amanda says that Howard uses race and the bible to get close to Candace. Amanda thinks it's disgusting that he swore on the bible about David's vote.