POV Holder:
?
Next POV
July 13th
POV Used
?
POV Ceremony
July 15
HOH Winner:
Helen
Next HOH:
July 18
MVP:
Elissa
Original Nominations:
Kaitlin and Aaryn
Current Nominations:
Last Evicted Houseguest
David, Nick
Have Nots
? Judd, Jessie, McCrea, Amanda ?
7:07pm Helen and Spencer
helen wants to know what's going on.
Spencer: "The truth will set you free.. Just like I told you when I was in rehab and I had to tell my parents the whole thing"
Spencer explains that Day 1 Jeremy started an alliance with Howard and Spencer. Day 2 Nick came to them with McCrae, they had a larger Alliance plan of guys that would have both sides of the house fight each other. Spencer says it was Nick's play all along.
Helen wanted to know why they tried to get Amanda out. Spencer says their little group felt Amanda and McCrea were getting too close they wanted to separate them, "It was because of the Amanda venom"
Spencer: 'i have not lied to you with exception of protecting the guys" Spencer continues to explain that the plan of the Moving Company was to have Jeremy and Nick be on one side while the other three works the other side. Spencer: "JEremy's arrogance and Nick's Shaddiness made them hard for Spencer, Howard and McCrea to protect" Spencer says Howard started moving away from the Moving Company they couldn't trust McCrea because they didn't trust AManda. Spencer makes it clear that he's working with Amanda right now they have the same goals.
Helen confronts him about his lying and says her feelings are really hurt
Spencer wants to go back to square one he's working on the same goals as her. Spencer says if she wants to backd**r Jeremy he's up for it, "I want to abolish that alliance"
Helen: "It has been abolished"
Helen says she doesn't want people scheming against Elissa behind her back Helen says that Elissa has protected them for two weeks.
Spencer: "I want to know we are good because I gave you everything"
Helen: "I can forgive you once but I can't forgive you twice"
Spencer :"I will be loyal to you till the end.. I trust Howard.. I trust Andy and I trust you"
Helen sobbing ":You need to clean up your game from friend to friend it's really messy right now.. We've been loyal to you and all you have done is be disloyal with us.. it was so hard not to nominate you today"
Spencer: "My love for you and Andy and even goofy Judd you are too good people to be houdini'd by an A$$hole like that"
Spencer says the Moving Company did not feel right. Helen says that she heard she was going up. Spencer: 'You must have heard that from Jeremy"
Helen mentions how Howard has denied being part of the Moving Company Spencer isn't sure why Howard is doing what he's doing.
7:13 cockpit Amanda and Aaryn cockpit
Amanda asks her if she knows about the guys alliance. Amanda does lists off the names of the Moving Company. Amanda: "Jeremy voted David out.. I swear to god" Aaryn: "I already knew that"
Amanda: "Don't help him because he's not helping you.." Amanda adds that Jeremy is trying to stick with Howard and Spencer. Points out that now Howard has full control over Candace.
Amanda: "You are not going home this week I have convinced them to vote off someone else"
Aaryn thought it was going to be her and Howard up on the block.
Amanda says that the only way her or Kaitlin would go home is if Jeremy won Veto and used it to get Howard off the block. Amanda: "Howard is going up as MVP" (LOL they are all assuming elissa gets MVP and will do what they say.. ugh what a boring twist)
Amanda keeps saying that she has to turn her back on Jeremy he cannot be trusted.
Amanda says that Jeremy and Kaitlin have an alliance with two other people she can't say who all she can say is Aaryn has to step back from her old alliance.
AManda: "I need you because eventually this MVP things is gone.. and Jeremy is never going to choose you over KAitlin.. He was never loyal to you he was loyal to that stupid boys"
Amanda says that Howard voted to evict Elissa. They Moving company found out at the last minute that Jessie had flipped so they all started to jump ship. Amanda: "Oh by the way Nick was a professional roller blader and he went to yale"
Amanda: "McCrea and I need you we are going to get a lot of people before your name even comes up"
Amanda says she has people all over the house she can keep aaryn protected.
Amanda keep reiterating that Jeremy cannot be trusted, "Stay alone that way you are not as threatening.. I will keep you safe.. "
Amanda: 'Just know that Kaitlin and Jeremy have tried to form alliance with two other people on different sides of the house.. I'm serious with you.. "
Amanda: "you can fall off the radar"
Amanda warns her that Jeremy might survive this week but he will be gone next week, "If he doesn't win Veto he goes home"
You can re-watch ever second on the feeds using their flashback feature.. It's super easy to use click this link for a free trial —> Subscribe to the Big Brother Live Feeds
The CBS feeds are a HUGE improvement over the super pass feeds and they are 30% cheaper with no subscription to cancel. You pay a flat fee for the season.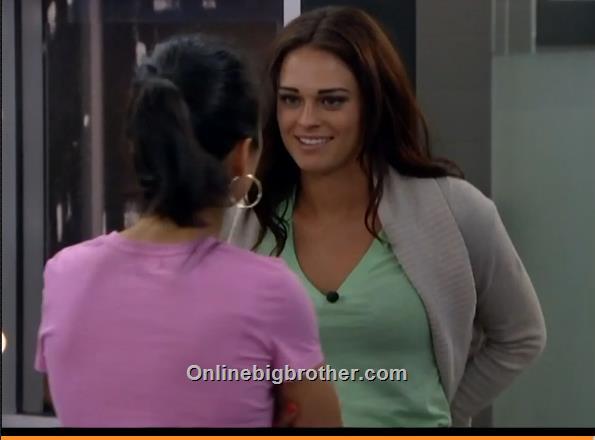 7:39pm HOH Kaitlin and Helen
Helen: "Everyone knows you are the BIG P pawn " Helen keeps reiterating that Kaitlin is safe
Kaitlin thanks her.
7:44pm bathroom
Spencer tells him to go tell Helen about the moving company Helen knows he lied about it. Spencer thinks it's time for Howard to go talk to her and tell her everything. Spencer adds that Candace knows all about the Moving Company. Spencer is going to talk to Andy so he knows. Howard is going to talk to Helen and Candace at the same time.
8:00pm Amanda, Andy and Helen HOH
Amanda points out that her and McCrea have Aaryn and if Andy and Helen have Jeremy and KAitlin they are covered.
Amanda: 'I that other side has power they will try to break up our alliances" Amanda says if Aaryn gets power she will keep Andy and Helen off the block and if Jeremy/KAitlin get power they will try and keep McCrea and Amanda off.
Helen is confused "Are we not backd**ring Jeremy" Andy and Amanda" NONO just in case Jeremy stays.. "
Andy: "If Jeremy wins the Veto Howard is gone"
Amanda: "Worst case scenario is if Jeremy wins veto and takes Howard off the block then Aaryn will go home"
Andy doesn't see that happening, Jeremy wouldn't safe Howard. Helen thinks Jeremy might save KAitlin. Amanda doesn't
Helen: 'I love what getting rid of NIck did to this house"
Andy is all excited about their group, "This just shows what a idiot Nick was.. if he would have chosen McCrea and the three of us for the Moving Company we would have f**** steam rolled through this house"
Amanda warns them that eventually they are going to get rid of MVP and people will start targeting pairs.
Amanda mentions how much better they are at Big Brother than the other people "We think ahead and befriend these people" Andy: "The house will be united to get rid of Jeremy.. "
Helen mentions how Howard flat out lied to her about the moving company earlier today
Andy: "Howard is a flat out liar"
Helen says he told her about the vote but denied the moving company. Helen: 'i will tell you Spencer told me the whole f***ing show"
Amanda: 'Didn't Jeremy to "
Helen: "ya they both did.. Spencer is scared of getting backd**red"
Andy: 'we are so good at this game.. If you asked who got Nick out noone would say Helen, Andy and AManda"
8:01 have nots McCrea and Jeremy
Mc telling him to lay low make amends with Elissa, "You'll have to throw people under the bus"
J: "you need to get Amanda off my back because she's gunning for me hard and it's not right"
Mc: "She's more worried about Spencer and Howard"
J: "Good cause they're sketchy"
MC: "you gotta throw them under the bus hard.. you really do"
Jeremy: 'I feel Spencer and Howard will definitely vote my ass out"
McCrea: "They will have to go with the house"
J: "You think the house would go after me instead of Aaryn even after all the drama "
Mc: "yeah probably.. she has no on you might have a couple people.. you have to distance yourself from other people you are also a physical threat"
J: "you would vote my a$$ wouldn't you"
MC: "I kinda have to"
J: "mother f******"
Mc: 'You gotta do what the house does otherwise you are the next one'
J: "thats not true" (they both laugh)
Mc: "If Aaryn blows her lid and go f***ing nuts again you might stay.. you might have to poke some buttons."
J: "We'll see what happens see if I go up"
MC: "I would be prepared for Veto tomorrow"
J: 'I'm prepared everyday"
MC: "I wasn't going to flip until the last f*** moment"
J: 'It bums me out Nick should have been here.. it's better him than me but still… you mother f****ers Nick wouldn't have bailed.. it was going to be legendary.. we had it bro but you not voting would still not have mattered.. can't get too mad at you.. "
Mc: "It was Spencer and Howard"
J: "them being cowards ruined MC's career"
McCrea saying how Spencer and howard were f****ing with Amanda, "if they would have played cool with her thing would have been different
8:32pm Helen and Jeremy storage room
Jeremy is asking her if the only reason Spencer told her about the Moving Company was because Candace overheard him telling Helen. Jeremy points out that Candace went to talk to Howard right after. (Candace was in the shower when JEremy told Helen about the MC) Helen doesn't know she has to ask her.
Helen: "You being honest was your best play… I'll be honest I'm gunning for Howard right now"
Helen: 'I don't want him to know that.." She tells him the problem she has with Howard is he continues to lie to her to her face.
Helen is upset because she trusted them the same way Jeremy trusted them. Helen needs to talk to Elissa first because she doesn't know anything about the moving company.
Helen tells him Andy, Elissa, Judd, herself and Candace were all duped by Spencer and Howard.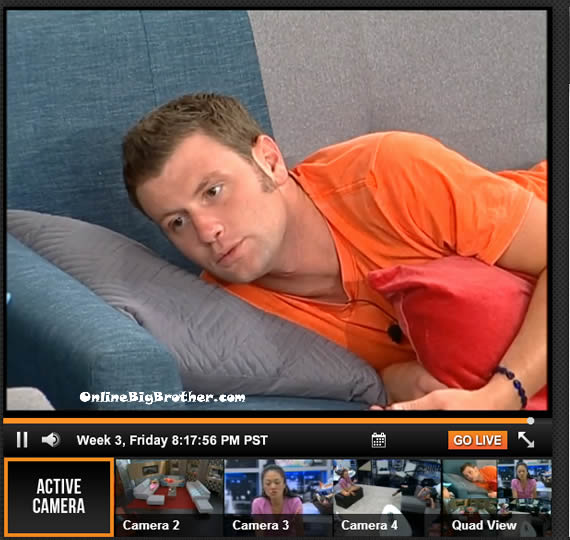 8:18pm Gina and Judd
Gina mentions to him that the guys are dropping like flies, Girls outnumber you motherf**** the girls are strong.. that is why I wanted to keep nick here we wanted you on our side. Judd says he tried to get someone else put up for MVP (it was Spencer). Judd says he's been sick to his stomach these last couple days because he knows he lied to them. Claims he's been taking pepto bismol.