POV Holder:
Shane
Next POV:
July 21
POV Used
?
POV Ceremony
July 23rd (Monday)
HOH Winner:
Frank
Next HOH:
July 26 (Thurs)
Original Nominations:
Current Nominations:
JOJO and Shane
Have Nots /Slop
Willie, Shane, JOJO, Ian
Coach Competition Winner
Janelle
Next Coaches Competition
July 27 (Friday)
Last Evicted Houseguest
Kara, Willie
3:36pm Cam 3-4 HOH Brit, Wil, Frank, Boogie Britney and Wil Dancing (Check out the gallery below).. Wil leaves. Boogie asks if Danielle is crying. Dan says no she's no where near crying. Boogie: "That Joe really likes to stir things up".. Boogie explains that Joe was telling all of them that Danielle was crying in the bedroom. Britney is a bit tipsy from the Alcohol. Britney asks her if there is any part of Mike Boogie that wants to cause trouble. Dan: "Thats like asking did George Bush have a vested interest in oil when he invaded Iraq" Boogie says With the probability that the coaches enter the game I don't want it to be Boogie and Janelle. Dan: "You know that there is a very high probability that we're going in.. You know Joe and Wil are going to rally them to get us out". Boogie thinks they are in trouble if they get dropped into the game. He's sure Janelle will be able to rally them to take us out fast.
Dan: "There's nothing in the contract that alludes to us being in the game but there is nothing that prohibits it"
Britney: "Why are you going to make this week and this season BORING.. I'm not proposing anything.. I know Mike Boogie and Mike Boogie doesn't back down" (She's hinting that Boogie joins them and rocks the house) Boogie says he'll think about it but this might be too early to pull something like that. Boogie: "Ask me next week"
Watch what happens, AS it happens: Big Brother 14 Live Feeds!
Subscribe today for your FREE 3 DAY TRIAL!
Boogie thinks he could argue with his team that they have a think about the end game and going to final 2 against Danielle and JoJO is better than Wil.
Britney and Dan laugh about their chances to win this game. They talk about how Ashley was a beast in the Power of Veto Competition, she came in 2nd. Boogie thinks that was a mistake for her to try so hard she should've just took it easy. Britney mentions that JoJO really tried hard. Dan: "She was like Michelle from my season"
Britney says to Boogie that she watched Season 2 LOVE it and watched season 7 LOVED IT she didn't come on Big Brother 14 to watch Boogie sleep
Dan leaves. Boogie tells her that he's pretty sure that Danielle is going home this week. Britney tries to convince him to think about the twit and what that means for him. Boogie disagrees with planning for a twist that may or may not happen.
Britney asks him what he thinks of her players. Boogie: "their loyal to the end"
Britney: "What does my 2 players plus your 3 players mean"
Boogie: "5 vs 3"
Britney: "Ya.. and don't you think having Shane in your group would help
Boogie says that if someone doesn't come back by Friday then it's not going to happen.
Britney you have to agree that something is going to get shaken up something Big is going to happen
Britney: "This is going to be a big week.. with Willie leaving and the numbers something is going to happen"
Boogie completely agrees
Britney leaves and Frank comes up.
Frank: "Dan looks nervous as hell
4:25pm Cam 3-4 HOH Frank and Boogie Boogie summarizes to frank what Dan and Britney were saying to him. He says they brought up some very good points and he thinks they should consider them but this week is too early. He's thinking that they join up with Shane and JOJO next week if Shane wins HOH, and have them put up 2 of Janelle's players. This way Boogie is the last coach to have 3 players. Frank and Boogie want to get Danielle out this week. Frank: "everyone downstairs wants to talk out Jojo".
Boogie Tells them that he knew once Willie left all the excitement would leave the house
Dan: "do you think that was the climax of the season right there"
Boogie: "YEAH.. I don't really see anything else thats all too exciting going on"
Dan tells them that the only thing wants is to know by Wednesday if Danielle is going home. Boogie: "No one wants to screw you.."
Dan explains that all he has to promise is one vote he knows he's screwed. Dan says if there was something crazy to go down Boogie is the one to do it Not Janelle Not Britney.. "That's just me hoping for lightning to strike"
Boogie says that 3 on 3 with Janelle's team isn't going to be interesting it all depends on who wins HOH.. Boogie: "This game has never been stacked like this before.. I can never remember a game stacked 6 on 2".
Dan brings up if they "Scatter the rats" (Break up Janelle's team) will they break apart or will they be stuck with Team Blonde again.
Dan: "But is you get Britney down to one and then scatter the rats… "
Boogie: "It's a possibility"
Dan: "If you were going to scatter the rats this week you have the votes, my one and your 2".
Boogie: "you have to worry about the Jury if we do that we'll have 3 people in Jury that were scum-bagged"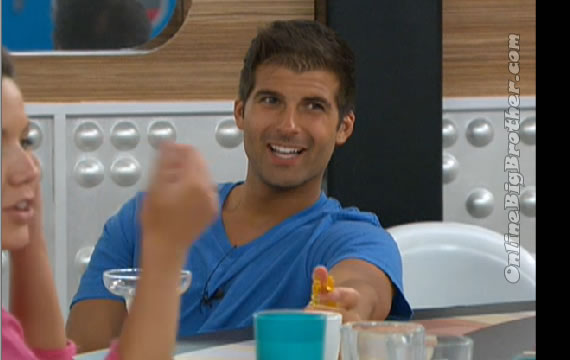 4:45pm Cam 1-2 Kitchen Shane, Danielle and Britney Shane enjoying the Power of Veto Win
5:55pm Cam 3-4 HOH Frank, Dan and Boogie Dan: "You know who I think is going to make it to the end.. AShley… She's well liked" Boogie: "I completely agree.. but I also wouldn't mind a players going into the final HOH against her"
Dan: "What you think of my picks"
Frank: "I thought you were going to pick Ian.. "
Dan: "I wasn't going to pick Willie.. he lied to me the first 30 minutes"
They all agree that Jenn was a great pick. Dan wishes he had her on his right now.
5:18pm Booger is sleep in the HOH Dan and Frank are talking game. Dan is saying all he has to push for votes is that Danielle didn't have a chance to play for the the Power of Veteo, JoJO did.. "But that's the game" Frank mentions how he doesn't want to be like Adam the super fan that did nothing.
Share it YO!!
Tweet