POV Holder:
Donny
Next POV
?
POV Used
?
POV Ceremony
?
HOH Winner Team 1:
Frankie
HOH Winner Team 2:
Caleb (current HOH)
Battle of the Block Winner
Brittany, Victoria
Next HOH/ Next BOB
?
Original Nominations:
Caleb noms (Donny, Paola) Frankie noms (Brittany, Victoria)
Current Nominations:
?
Have Nots
Cody, Hayden, Joey, Brittany
POV Players
Donny, Paola, Cody, Zach, Caleb, Victoria (HOST = Jocasta)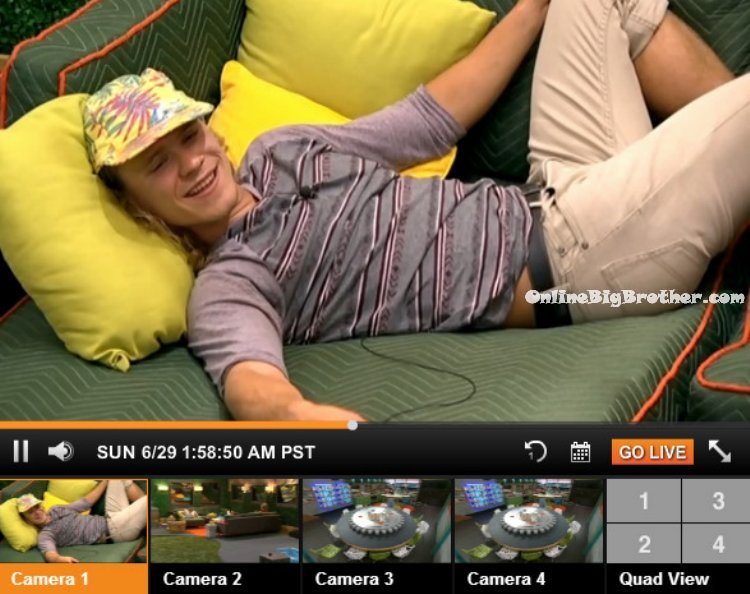 1:40am Christine, Cody and Frankie are laying in the hammock talking about music and other random things. Caleb joins them. They are talk about Joey going home this week. Meanwhile over on the backyard couch – Hayden, Nicole and Zach are talking and laughing. Zach tells them about the college parties he would go to. They talk about Big Brother 15 and Nicole brings up how she felt bad for Ian Terry when Ashley and Frank went out on a date. They talk about how blunt Frank was when he asked Ashley if she wanted to go make out during their date. They are all laughing about how Frank asked Ashley to makeout and then they were making out. Hayden then asks Nicole if she wants to make out. Nicole says No! Stop asking!! Zach asks Nicole what she does with her friends if she doesn't party. Nicole says we do what we do! We watch movies and get Wendy's. Brittany and Frankie join them. Hayden talks about how there's an episode on tomorrow night. They say it will show the nominations and then the Battle of the Block competition. Brittany comments on how people online type everything they do. Zach is really surprised. "Wow, really!" Brittany and Hayden head inside. Christine joins Zach. Zach tells Christine – we're going to cruise to the jury. Zach says all I have to do is keep sleeping and you keep laughing. We're in a great position. We don't need to do anything but follow what the alliance wants. Just be loyal and vote how they want.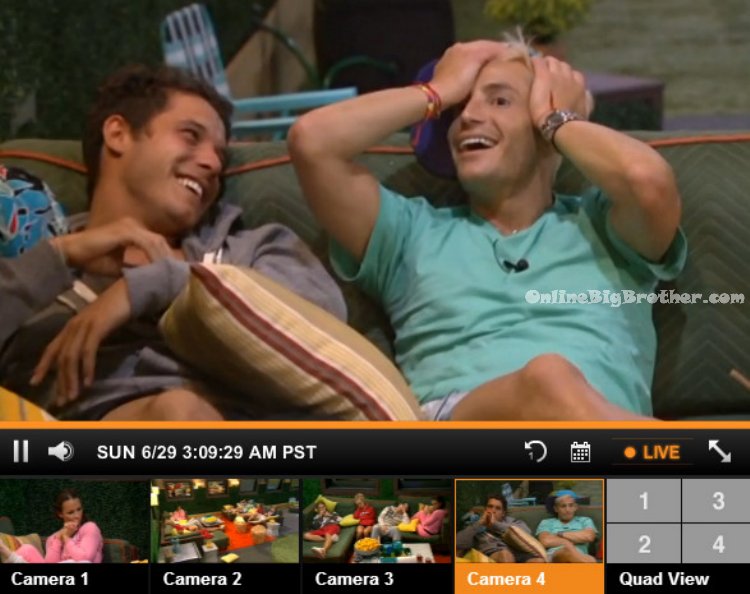 3am Out on the backyard couch the house guests are hanging out asking each other questions. (Caleb, Frankie, Cody, Christine, Derrick, Brittany, Hayden and Nicole.) They're sharing their craziest stories. Caleb tells them about killing a wild hog with a stick. He says that it was trying to kill him. Caleb looks at the camera and tells people to check out the video on youtube (Caleb's family deleted the video due to all the pre-season controversy about him. TMZ also interviewed his family.) The conversation turns to talking about other random things. They name off the Teenage Ninja Mutant Turtles. Frankie knows all the names and their weapons. Derrick asks them what the best christmas gift they've ever gotten was. Caleb says a week snowboarding trip when he was 15. Brittany says the gifts she receives from her kids. Frankie says his sister gave him sparkly Uggs. Brittany starts telling a story of when she ran out of gas in the desert. Derrick asks her what type of car she has? Brittany says a BMW 5 series. Cody says a BMW 3 series. Caleb says a truck. He says he bought a car but sold it soon after because it just wasn't him. Frankie says the A Train is his transportation.
WATCH the next 48 hours for FREE – Big Brother 16 Live Feed TRIAL!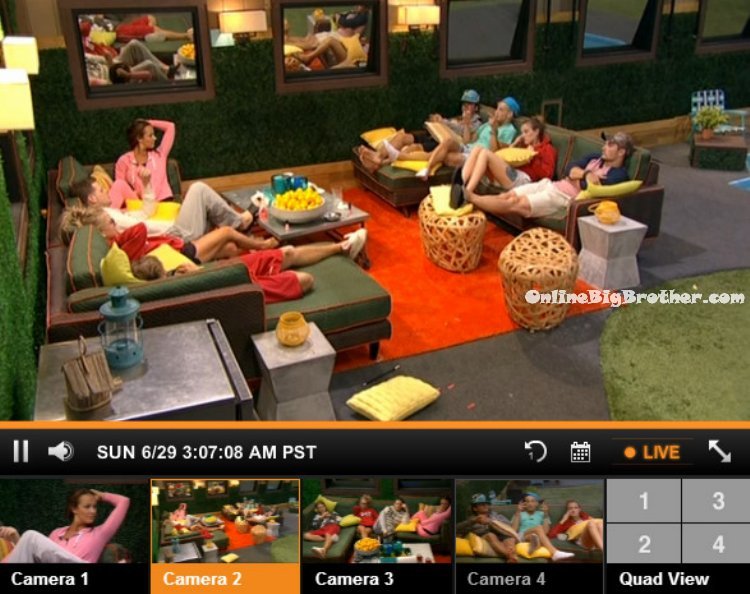 They head inside to eat. Caleb wonders how many people try out for Big Brother. He thinks 2-3 hundred thousand. Derrick and Frankie head into the bathroom. Derrick opens the bathroom stall door and find previous house guests names. They find Judd Daughtery, Amanda Zuckerman + McCrae Olsen, Jessie Kowalski loves someone, etc..
Big Brother 16 Live Feeds! If you don't have them yet what are you waiting for! Free 2 day Trial – $26.99 for the 3 month season pass or $9.99 for the monthly pass –  Try It Free! Subscribe now to the official BB16 Live Feeds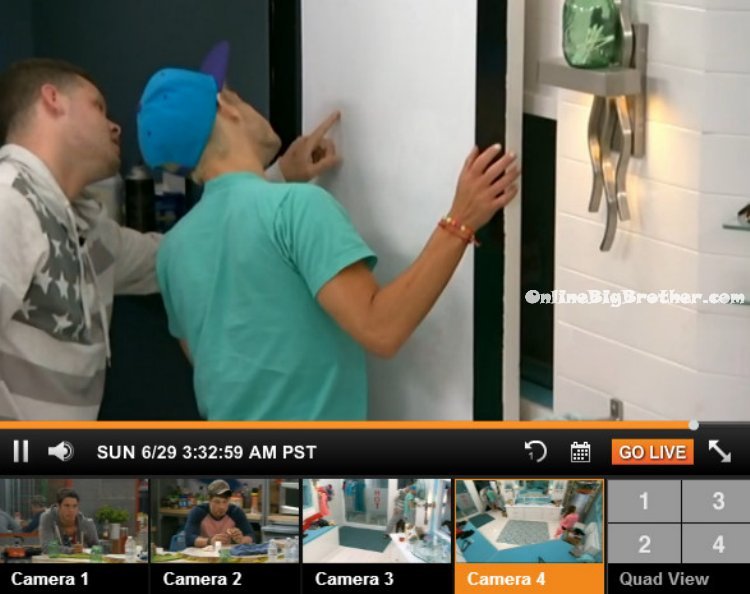 Frankie heads to the bathroom and tells Brittany . Brittany says that it was hard to talk to Devin because it reminded her of her ex when she could get words out edgewise. Frankie tells her that it was good, she needed to protect her game. Frankie says when the time is right (Frankie motions that Devin is gone.) He says not this week but.. Frankie says next week is a whole new game and everything changes with a new HOH. Frankie tells Brittany that he loves and admires her. I love you. I want you here! Everything changes next week.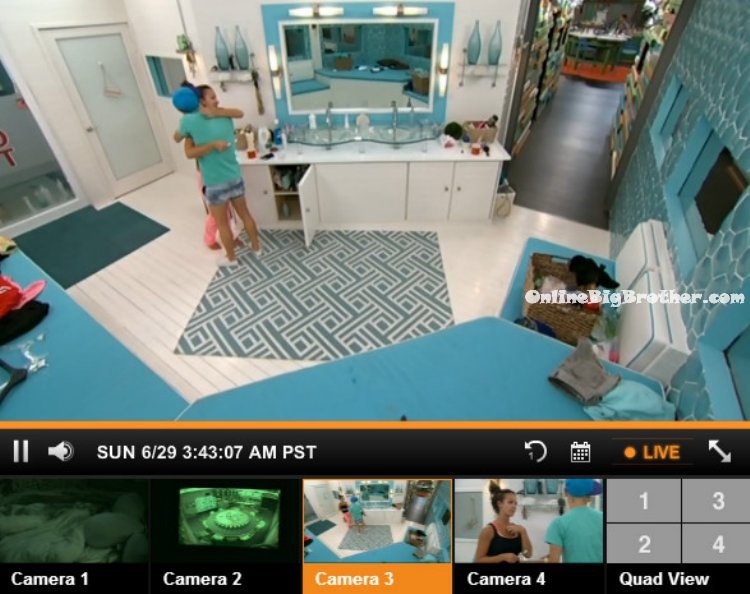 4am – 5am Brittany, Frankie, Joey and Cody are the last house guests awake and in the kitchen. Frankie heads to the HOH room to go to bed. Brittany talks to them about how Devin made her feel. She says it made me feel like my ex where he would make me feel so dumb and "retarded". Cody tells Brittany to stop saying that word. Joey tells them the bump on her lip isn't herpes its a zit. Joey goes to the washroom. Brittany talks about not watching big brother before all this. She says when she knew she was on it she crammed until 5am every morning watching it. Cody starts asking her kids and life outside the house. Joey comes back and her and Brittany decide to make coffee. Cody says he's going to go lay down.