POV Holder:
Donny
Next POV
?
POV Used
?
POV Ceremony
?
HOH Winner Team 1:
Frankie
HOH Winner Team 2:
Caleb (current HOH)
Battle of the Block Winner
Brittany, Victoria
Next HOH/ Next BOB
?
Original Nominations:
Caleb noms (Donny, Paola) Frankie noms (Brittany, Victoria)
Current Nominations:
?
Have Nots
Cody, Hayden, Joey, Brittany
POV Players
Donny, Paola, Cody, Zach, Caleb, Victoria (HOST = Jocasta)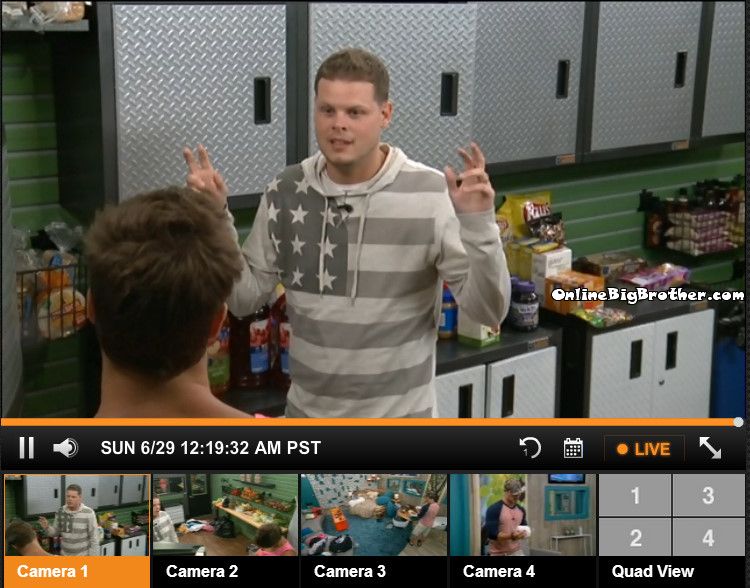 12:17am Cam 1 kitchen Derrick and Zach
(Brittany is walking up the stair to talk to Devin)
Derrick tells him Brittany has a guilty conscience she knows by telling Caleb to put Devin up she's fu*k*d.
Derrick says Brittany is going next week theres no way if the bomb squad wins power they will not be putting her up. Derrick mentions how they have to be careful who out of the other side they go after because they still don't know who Caleb/Amber/Devin's side alliances are.
Zach – "Meet me in the storage room"
Storage room.
Derrick tells im they have to be careful long term because Amber isn't going to vote for them over caleb.. "but that's too early to talk about"
Zach – "it's me you and Cody 100%"
Derrick agrees warns the other people in the 8 have side alliances he doesn't know who yet. Zach thinks it's too early to worry about breaking the 8 at least they should keep it as long as possible. However They are both really worried that Caleb and Devin will make it to the end and they won't be able to win the final competitions. Derick warns that Caleb said Hayden has a deal with him, he says if they get stuck with devin, caleb, hayden and Amber in the end they are screwed. Derrick brings up Devin saying that Donny is the bomb squads biggest ally but a couple days ago he was down with getting Donny gone. They know about the Double D's alliance.
Both guys are feeling like they're sitting pretty, Derrick says Britany is gone next week unless she wins the HOH/ After that it'll be "donny, pow pow and Nicole those can all go, "we have 5 or 6 weeks until we can be like OK now we can play.. we got to win competitions.. I think we'll be good.. we need the bomb squad to last 4/ 5 weeks"
Zach tells him they are going to get exposed well before week 5. Derrick thinks so to but he hopes Zach is wrong.
Derrick we're playing the Dan Goosling approach right now, "We're not here".
Zach – "I'm sleeping you're shooting pool and Cody is flirting with girls"
Derrick correct him say it's the girls flirting with Cody, "That kid can't get a break"
they agree Devin and Caleb both have huge targets on their back, Derrick – "Right now Caleb is loyal.. devin isn't loyal he'll stab us in the back" Zach – "Devein is feeding me bullshit" brings up Devin saying he wants to make a big mark on the game Big Brother.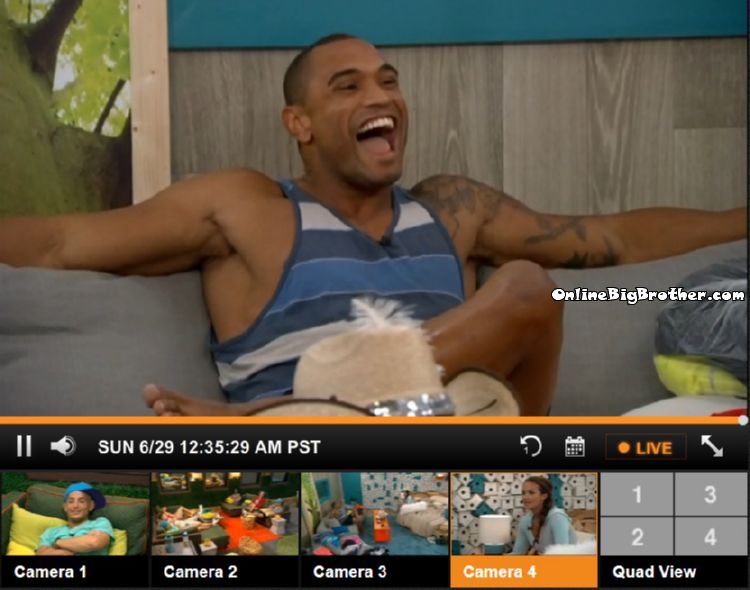 12:22AM HOH Devine and Brittany
Brittany asks Devin if he wants to talk he says not really but will anyways. .
Brittany – "I wish didn't end things the way we talked.. you were understanding where I was trying to come from "
Brittany says the way devin changed on Donny made her paranoid made her think he was telling her lies. She adds that Devin also was acting differently with her and other people in the house he pissed people off.
Devin – "Who did I piuss off"
Brittany – "some people "
Devin says nobody has told him anything about pissing them off he wants to know who she's talking about.
Brittany won't say he wants to know what instances than. Brittany mentions the bed situation
Devin explain all he knows is the room they were in turned into the have not room and Victoria cannot sleep with guys. Because of that Devin says he got together all the guys and told them to move and sleep in the rock room he told the guys "We're going to let all the girls to sleep in there I don't want Victoria or her family to feel uncomfortable .. so i'm thinking about my daughter i'm thinking about if she was in that situation and there was a guy who would give up his bed for her"
Brittany jsut listens on
Devin says Immediately he pulled all the sheets off the beds so that Jocasta and them would have fresh linen. They got locked out of the house so now they didn't have any fresh linen on their beds . Devin went to christine and asked her if they can have one of the sheets. Devin adds each bed in christine's room had three sheet. Devin – "Donny Derrick and I had no sheets and no clean sleeping bag because they were all outside"
Devin – "Christine looked at me and said well the comforter makes me itchy"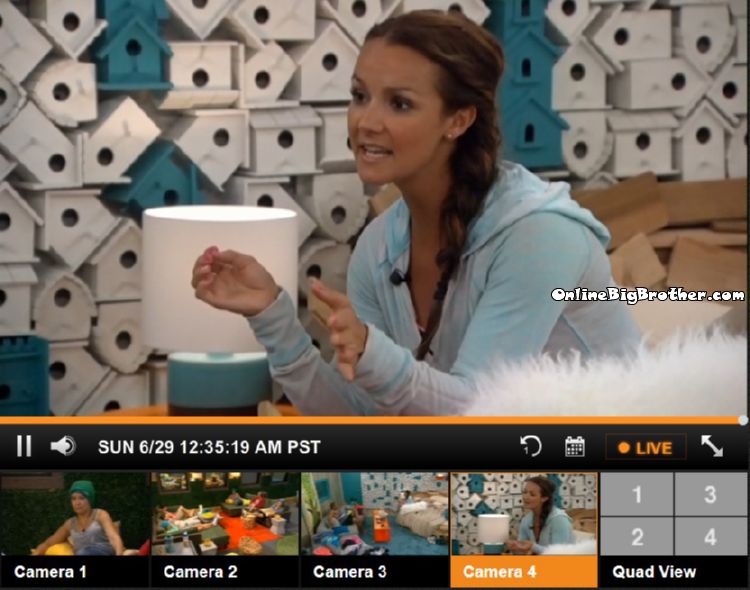 Devin – "So i'm like OK i've loaned out my sweatshirts to all the girsl/.. I've loaned out my sweatpants to zach .. I never want to be painted as a bad guy.. in that regard there is no bearing in what you are saying because what I did was very admirable of me"
Devin thinks Brittany doesn't have a leg to stand on saying that he pissed people off.
Devin – "I was a little upset and frustrated and you guys were sitting pretty worried about yourself"
Devin tells her he doesn't play around when it comes to kids so when he says he wants a parent to win this he means it. He knows how much this money can change a kids life.
Devin – "You are reading into stuff when you had my complete trust and loyalty" Devin tells her if he wins HOH on Thursday he wasn't going to put her up.
Devin – "You weren't even on my mind and when I see Joey walking around making the dumbest move ever.. the dumbest move in Big Brother History is what she's just done"
Brittany – "I don't understand it too much"
Devin says when he sees her close to joey and talking shit about him on the hammock he thinks twice about her.
brittany denies talking "sh1t" about Devin.
Devin – "I heard it you were talking about the lotion situation" (The lotion situation. Devin grabbed a bottle of lotion and was sitting on the counter he was asking around whose it was because he thought it was empty and was going to throw it out. Devin has a problem about the mess in the house so thing were said under breaths etc etc. He denies saying anything wrong and tell her she's reading into thing too much she says he's a douche)
Big Brother 16 Live Feeds Subscriptions, if you don't have them yet what are you waiting for! Free 2 day trial .$26.99 for the season pass or $9.99 for the monthly pass Try It Free! Subscribe now to the official BB16 Live Feeds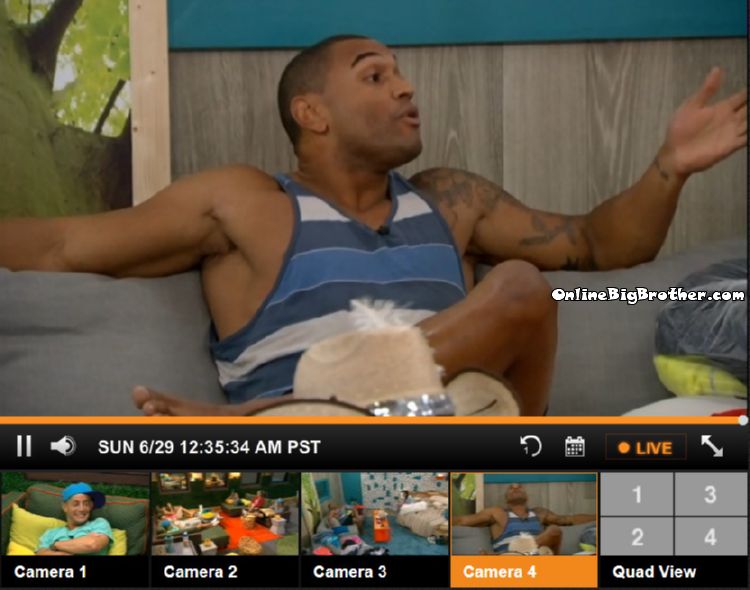 Devin says he's pissed off at her because Brittnay and Joey are 'Running around doing this on his daughters birthday" Brittany tells him not to include her name with Joeys announcement today.
Devin – "She's including you in that she's saying Brittany and I want Devin up"
Brittany. Devin brings up Joey pulling him aside today and telling him she's getting the house together to take him out. Devin plays up the fact Joey did this on his daughters birthday.
Devin – "how do you not expect me to be upset.. You are talking about lotion and a bed sheet.. listen to what you are talking to me about"
Brittany – "Thats how you are making it sound no but when I see to people crying"
Devin – "I've never said one rude thing to anyone in this house I've never been hostile "
Brittany – "I know but sometimes it's how you come off"
Feeds cut
When the feed come back
Devin – "I've shed tears in this house everyone is emotional in here.. I don't give two shits about anybody in this game I care about my little girl and why I'm not with her and you are talking about lotions and bedsheets and other people"
Brittany – "You need to stop talking about lotions and bedsheets"
devin – is that not what you are talking about
Brittany it's not the lotion
devin – why are you bringing it up
Brittany 'It's how you came up to me and approached me"
Devin says he doesn't want to talk to her anymore it's just a runaround.
Brittany – "Dude you are f** impossible"
Devin – Than don;t talk to me anymore
Brittany – I won't
devin thank you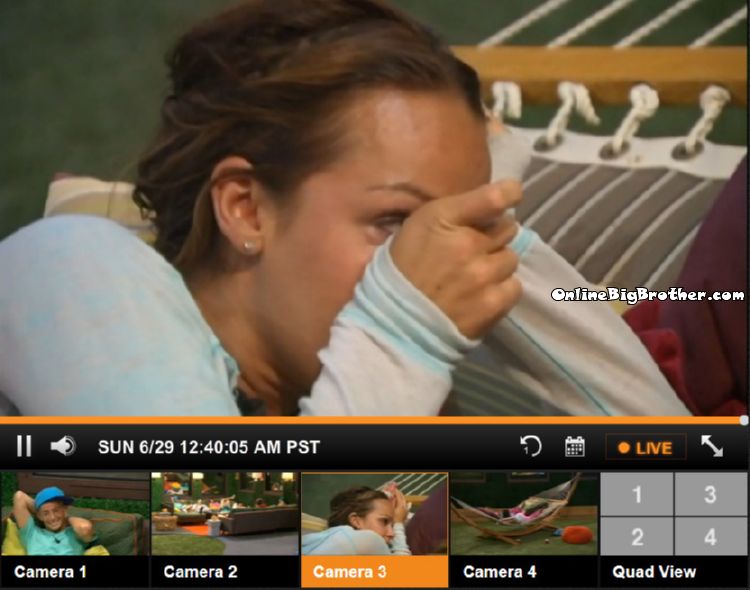 12:38AM Brittany and POW POW hammock 
Brittany says she hates Devin. POW POW falls off the hammock.. After they settle in Brittany start to cry. POW POW tells her she has nothing to worry about she's not on the block. Brittany starts to talk about her conversation with Devin . She mentions how the way he says things to her in a mean way. When they first entered the house they Devin was one of his favorite people, "I just feel bad because he seemed really supportive about not wanting me on the block.. but I don't trust him" She adds you can't get a word in when talking to Devin her EX was like that to it's very intimidating and difficult.
Brittany keeps telling her to lay low. Brittany says Devin is rude to the girls. POW POW tells her she's only close to Brittany, Jocasta. POW POW doesn't trust Joey anymore because she blew up the girls alliance. Nicole joins them. They tell her Brittany is missing her kids.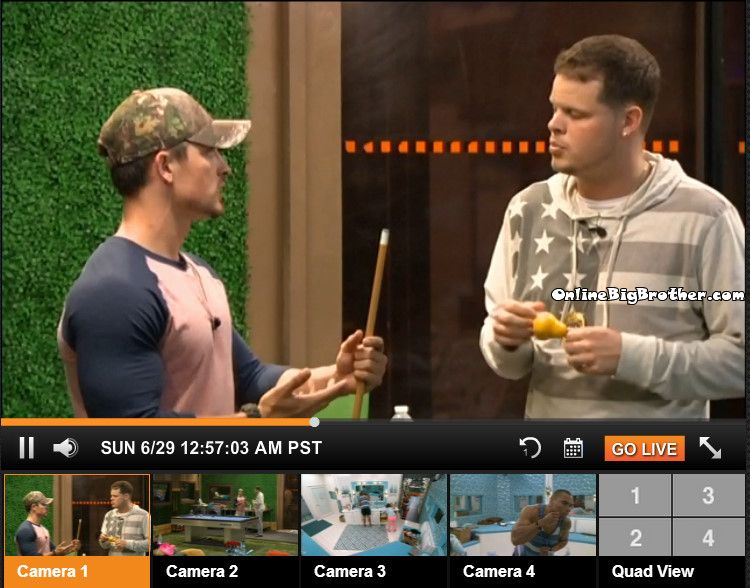 12:55AM Pool Table Derick, Hayden and Caleb 
They agree it's obvious from how Brittany is she didn't like the way her conversation with Devin went. Derick – "you know the sad thing is before all that she probably would have been safe.. she wasn't even in danger"
Caleb – "Got a little work on my girl today… got a little work might put a smile on your country face"
Derrick says he's been out of the "game" for a long time but it doesn't take much to notice Amber is "feeling" Caeb for sure.
Hayden joking- "I'm putting in some Work"
Derrick jokes "hayden it's a showmance they gotta go"
Caleb says they are both 26, "give him 6 months put a ring on her finger"
Derrick says he got married at 26 had his kid at 28.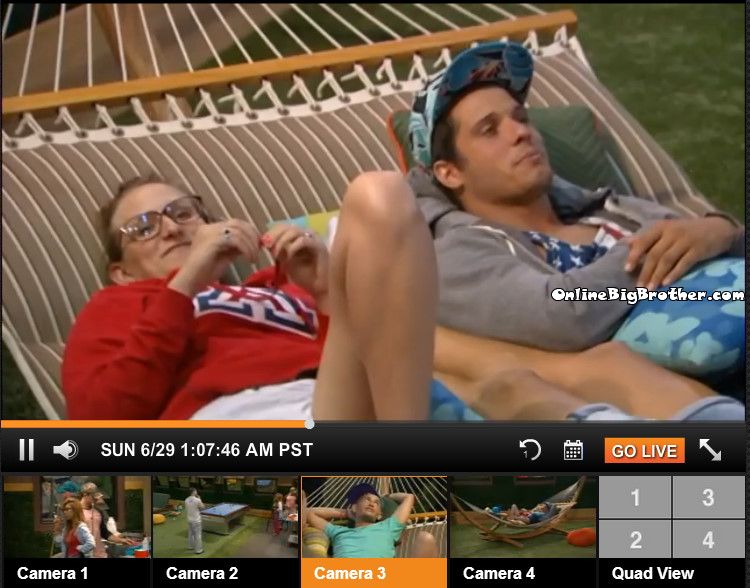 1:00AM Hammock Frankie, Christine and Cody 
Frankie saying Devin told him he's done talking to Brittany. Cody – "He's blowing up to"  Frankie – "All Caleb cares about is Amber.. but us 5 have to stay strong for the entire game"
Cody says they have to always draw attention off them and onto caleb/amber. Frankie wants to keep Devin in the game because he's going to make himself the largest target. They all agree Devin's size won't give him an advantage over them in competitions. Frankie tells them the reason why the brigade was successful they kept quiet and they branched out, "that is what i'm doing" Cody says he doesn't see himself having any serious game discussions with Devin  and Amber. Frankie points out Amber and Devin both want to take Caleb to the final 2. Christine and cody call Devin cruel and say he's a bully to Brittany. Cody wants to keep Brittany in the game, Frankie agrees says they will use her to "Pull the trigger" on Devin. Cody has no idea where Jocasta's head is at. They think keeping Nicole around is a good idea because Nicole is close to Christine. Christine and Cody tell him Hayden is not as tight with Caleb as caleb thinks. They are convinced that tomorrow is going to be awful after the POV Ceremony.
Frankie brings up the possibility of Caleb taking out Amber. "Nothing is worse than a jealous man.. she won't give him what he wants he'll get pissed and that will be it".
Cody says he stopped trusting Devin after a conversation day two. Frankie says the greatest gift he ever gave them was Christine because it was Devin that brought her into the bomb squad.Frankie –  "They handed us the key to their own demise"
Christine – "to be honest as soon as he told me who was in the alliance.. I was like OK i'll do it.. he doesn't know what he created which is the best part"
1:14AM Hammock 
Cody tells them he's really pissed off Devin made Brittany off because "I love that Brittany just because the person she is". Frankie – "It's so perfect" Cody says for the first couple days he was livid with Devin but now he just lets it slide, Christine feels the same way.
 1:31am Christine and Frankie mention how happy they are Donny got th POV. Frankie  – 'I'm thrilled" Cody retells an event when Devin was telling Donny yo not campaign or do anything. Donny wanted to and Devin raised his voice "I can't help you if you do that" Christine says it was "So sad" to witness. Cody wanted to tackle Devin. Frankie thinks Donny is going to be on the block a lot. Frankie says Donny is smart and knows everything Devin tells Donny is a lie. Donny is gathering information. Cody doubts devin is telling him anything. Frankie – "He slips every 30 seconds.. every 30 seconds he says sometimes stupid"  Frankie – "I guarantee Donny's made an entire blueprint in his head of what is going on and the only reason he hasn't come up to us yet is he's waiting for us to make a move then he'll hop on". Cody thinks Donny is a good player but is a very passive player.
Big Brother 16 Live Feeds Subscriptions, if you don't have them yet what are you waiting for! Free 2 day trial .$26.99 for the season pass or $9.99 for the monthly pass Try It Free! Subscribe now to the official BB16 Live Feeds
Alliances 
No Name – Zach, Cody, Derrick
fragment of bomb squad no name as of yet = Christine, Frankie, Cody, Derrick Zach
Double Ds = Devin, Donny
Bomb Squad = Frankie, Caleb, Devin, Cody, Derrick, Zach, Amber, Christine
Bed buddies = Nicole, Christine
Final 2 Deal = Frankie, Zach
Old
TheCrazy8s = Frankie, Donny, Joey, Paola, Devin, Amber, Nicole, Cody
El Cuatro = Paola, Amber, Joey, Nicole
[polldaddy poll=8154372]