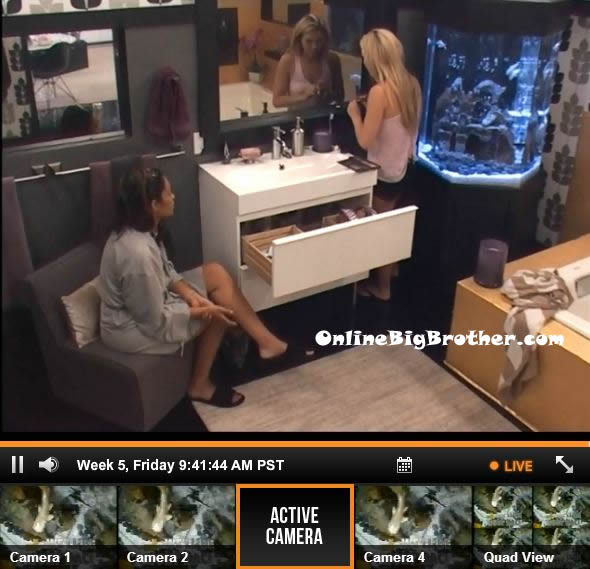 9:50am UP in the HOH bathroom – Candice is talking to Aaryn. She tells Aaryn that both she and Howard will back her if she doesn't put up Howard and puts up Elissa instead. Candice says she lied to me and told me she wasn't the MVP when she was. The whole house has been back and forth from side to side with the power because they are afraid of it. Candice says that I know Gina and maybe Jessie would also back you and maybe Helen. Aaryn says that she hasn't made her decision yet. I am not going to back door anyone. I have to be honest people want Howard out. If I did end up putting her up then I would fully understand if you were mad at me. I know he could very well win the veto and take himself off. Candice says that she won't be mad at her if she does put up Howard. Aaryn says she isn't sure yet and wants to talk with everyone. Candice says maybe the people that are working with are also trying to get you out. Aaryn says she knows full well that if I didn't win I would be going this week. Candice says I don't want this to leave the room but Amanda is the one spear heading trying to get you out. Aayrn says that she can't bite the hand that feeds her, they were the ones that kept me here. Aaryn says the best thing you can do is get to Helen and Elissa to change their mind. Candice says well I know we haven't had the best history but I just wanted to talk to you woman to woman to try and plead with you. Candice says well thanks doll and leave the HOH room.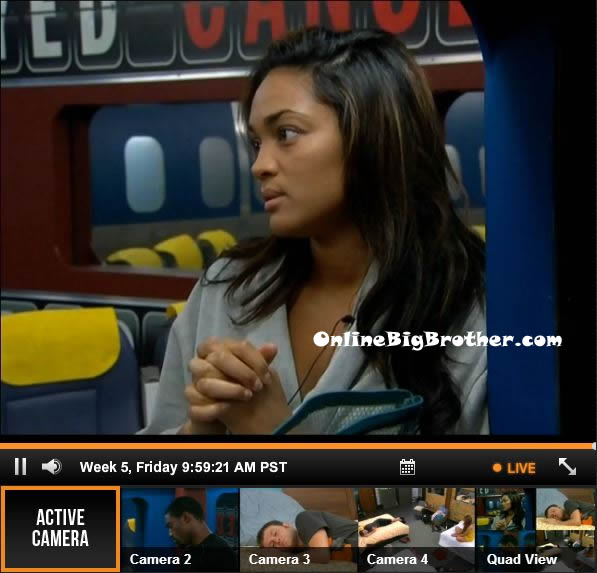 9:55am – 10:35am Candice asks Howard to go to the havenot room. Candice says that Aaryn is completely oblivious to Amanda and McCrae and won't bite the hand that feeds her. She thinks she is only here because of Amanda. There is nothing we can do. She said to go talk to Helen or Elissa. We are probably going up, there is no moving or shaking for us to do. I threw out Amanda's name and that will probably come back to bite me. There is something weird going on. Candice says that people are mad at you. Howard asks why? Candice says I don't know, you will have to ask her. Candice says Aaryn doesn't see the big picture that Amanda and McCrae are a part of the power couple. They did a great job at mind fu*king her! Now she is going to go back and tell Helen and Elissa that and it will look like I am not loyal to them. Candice says that Helen and Elissa are out so that means it can only be me, you or Spencer going up. Candice is worried her whole conversation with Aaryn was for nothing and that she will go up if either Howard/Spencer win veto. Howard tells Candice if you win veto use it on yourself. If I win the veto I will use it on you. Candice says that she will go talk to Helen, because she is the one that is running the show and acting like Amanda is. Howard says that's not what Aaryn said last night. Candice says that's why I asked you if you even talked to her. Candice asks so you and Spencer are working together to get me to go up and to make sure I go home. Howard says no I am working for you, everything I do involves you. Candice says that Aaryn knew nothing about the Ginamarie stuff when you said you talked to her. Howard says that he would rather use the veto on you to show my loyalty to you and I will talk my way out of it. Howard says maybe I should just go up there and tell her to put me up and not bother with you. Candice says then they would back door me. Don't go tell them that and put it in her brain to back door me. Candice says if that happens then I got, got! Howard says that she is being negative. I don't want you to be thinking I am not loyal to you. Howard doesn't see how she can think he is against her because if he was the very next week he would be out. Candice says she is done talking about it. Howard says that maybe Spencer has done some messed up stuff to save himself but I am not going to. I have to trust him because I have no other option to not. Howard says he is struggling with not losing it and his faith in the house. Candice starts questioning if Howard is really with her or not. Candice says whatever if I go home I go home I have a great life and I'll go back to it. I got baited to say something and I am going to go home for it. Howard asks why can't we just be positive and work together. Candice lets just wait till nominations and talk then. Candice keeps doing her make-up and Howard pulls if from her hand and tell her to stop let just talk. She says she just wants to be left alone. Howard leave the havenot room. Howard tries to go up to the HOH room to talk to Aaryn. He looks in the HOH room door but turn back around and heads down stairs.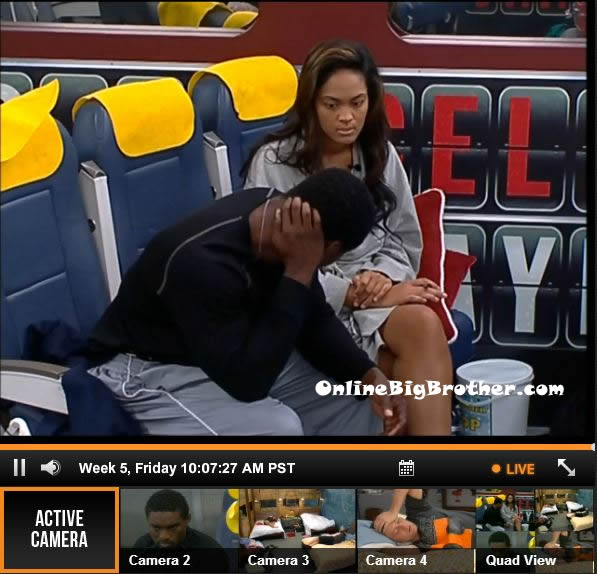 10:40am Candice heads to the kitchen to make breakfast. She talks about not wanting to be a havenot again. Elissa tells her that she hopes Candice isn't either, I don't think you will be. In the living room – Spencer, Andy, Judd and Helen are sitting around talking. Helen says that it was so nice it was a 9-0 vote because if it wasn't she would have lost it. Andy jokes that the Big Brother is goint bring Lawon and Jodi back as coaches for a week. They joke that they would tell them we fine, we know what we're doing! They laugh.
11am – 11:10am Up in the HOH room – Jessie is talking to Aaryn about how there is so much tension in the house and people need to just get over it. Aaryn brings up how just last week Candice was trying to get me out and now she wants me to save her. Aaryn says whey does she think I am going to do anything for her. Aaryn says that Howard cornered me last night, you know that right. Jessie says yeah. Jessie and Aaryn comment on how they are happy they are both on good terms now and that they can vent to each other. Jessie offers to make Aaryn breakfast and heads downstairs. Meanwhile downstairs all of the house guests are eating, getting ready and waiting for the havenot competition to start.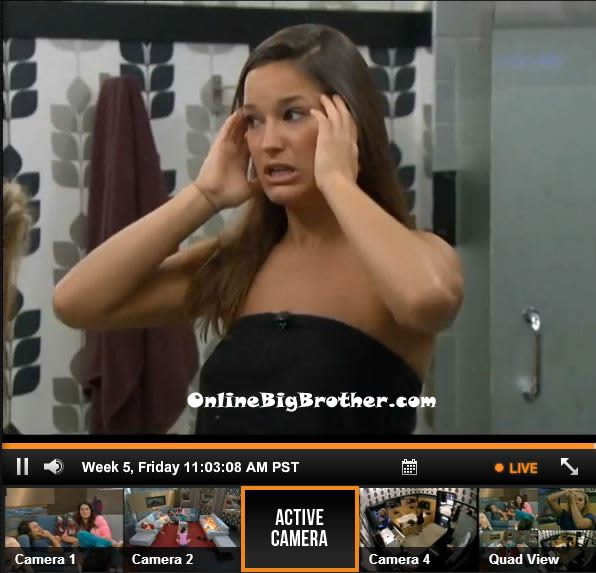 11:10am – 11:40am Andy, McCrae and Amanda heads up to the HOH room – Aaryn tell them about the conversation with Candice. Aaryn says that Candice said Helen is starting a rumor. Aaryn says that I know at some point I will need to go up again but can I at least get a little break. Andy and Amanda both tell her they won't put her up. Aaryn says that Candice said Amanda is the spear head that every time they wanted to keep me you said no. Amanda laughs and says its actually the complete opposite. Aaryn says that Candice wanted me to put you and McCrae up because you're the power couple. They start talking about whether or not Howard has the Coup D'etat. Aaryn asks what the earliest is that someone has gotten Pandora's box. Amanda jokes that Aaryn is going to get it and be locked in it with Rachel. Aaryn says yeah and you guys will be downstairs with Jessica Simpson. Amanda says I can't believe Candice is still throwing my name out there?! She must be really fu*king stupid. I am going to ask for my shorts back. What a c**t! I f**king hate her! Spencer joins them. Amanda says the house motto is when in doubt blame Amanda! Amanda says she is down with that, it's working for me. Amanda says that Candice is the Tenisha of the big brother house. It has been a very long time since I felt so much hatred and if her face was right here I would punch it. Amanda says that if Candice is on her havenot team I will throw it.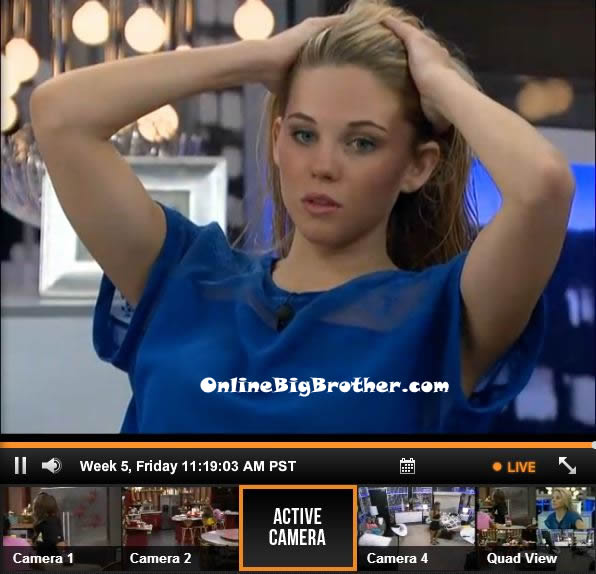 11:40am – 12pm Spencer asks Jessie if she is playing with his sheep dog. Jessie says no I'm playing with your grandma's vag!n@! Aaryn and Andy re-enact how Elissa totally avoided hugging Aaryn after she won the HOH last night. Aaryn heads downstairs and when she comes back and says that Elissa asked her if she thought she might get Pandora's Box. Aaryn says she said she thinks its too early for that. She says that Elissa said if I do get one and I get to see Rachel she will be so pissed. Spencer says that if he gets HOH and a Pandora's Box and it's Rachel or Jessie Godderz I will make their time so uncomfortable. I will chase them around and have them banging on the door wanting to get out. I will tell Jessie I want to F*CK YOU! Andy says he hopes he get Pandora's Box with Ragan Fox in it.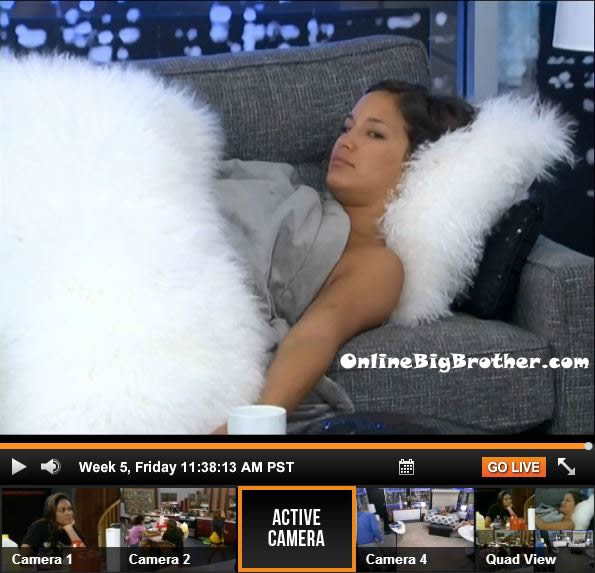 12:20pm In the kitchen – Candice, Helen and Elissa are talking about random things. Candice talks about wanting a guy that lets her do what she wants to do in life. Elissa is talking about her husband and how great he is. Helen says that she understands now after being married that devorce is okay because your marriage is your life and if you are unhappy then you need to do what makes you happy. Meanwhile up in the HOH room – McCrae, Andy, Jessie, Spencer and Aaryn talk about movies and music. Amanda is trying to sleep in the HOH bed.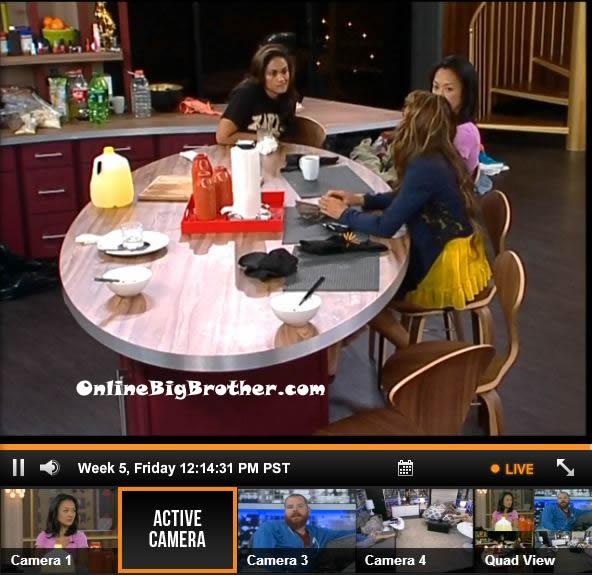 | | |
| --- | --- |
| [polldaddy poll=7277508] | [polldaddy poll=7277150] |