POV Holder:
?
Next POV
July 27th
POV Used
?
POV Ceremony
July 29
HOH Winner:
Aaryn
Next HOH:
Aug 1
MVP:
?
Original Nominations:
Current Nominations:
Last Evicted Houseguest
David, Nick, Jeremy, Kaitlin
Have Nots
?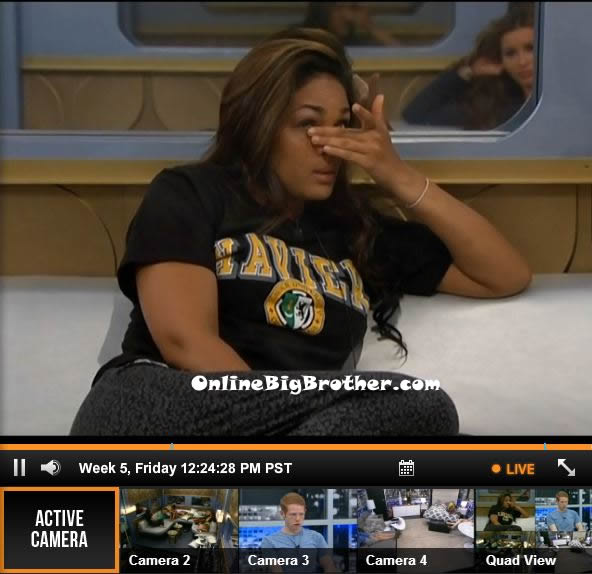 12:20pm In the lounge – Helen asks Candice and Elissa if we can all work together to stay in the house. Helen says I would shoot myself in the head if you guys left. I really love you guys. Candice says that me and Howie have decided to play separate games. He doesn't want to protect me and I can't protect him. So we are just going to play separate games. We will still hang out with with each other but we aren't together in the game. Candice brings her conversation with Aaryn this morning. Elissa asks if Aaryn mentioned me? Candice says no. Helen says we just need to make sure Spencer goes home. Candice says Howie and I just cant advocate for each other any more it's too hard. Helen says that she is so glad she said that and knows how hard that must be to do. Candice says that it is just too hard, it stresses me out and puts a target on my back. I know the people who stick together don't make it to the end. I know that he is a good guy and that he wouldn't play me. Elissa says I just think that I want to work with the girls, we need to stick together. They talk about how they can't really work with Jessie because she switches to the power each week. Helen says Candice you need to win HOH and back door Amanda. The one thing that Amanda does is control McCrae. Candice doesn't think so and says that Amanda is a beast and McCrae isn't. Helen asks Elissa when you find out you are MVP, do they put something under the couch and tell you? Big Brother cuts the feeds. When the feeds come back, Candice asks how would she (Amanda) know they put something under the sofa? Big Brother cuts the feeds again. When the feeds come back, Elissa asks do you think Howie was the MVP? Candice says no, I know when he is lying. Big Brother cuts the feeds again. When they come back Candice is talking about thinking Amanda was MVP. They continue to speculate on who could and couldn't be the MVP last week. Andy joins them and they talk about Kaitlin.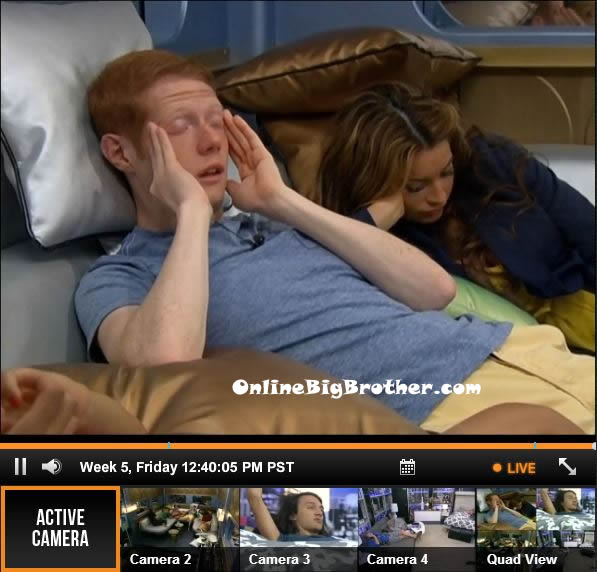 12:45pm Candice starts crying. Helen and Elissa comfort her. Helen says it is just going to get harder and harder every time someone leaves. Helen says when you leave Andy I am going to ball my eyes out. Helen laughs. Andy tells Candice to stop crying, you are going to make me cry. Andy asks what's wrong. Candice says Howie and I are just going to play our own games. We will still snuggle and stuff but we can't try and protect each other. We just have a good friendship and I don't want to ruin that. We just can't fight each others battles. My personality is to protect someone over myself and if I had to do that I would end up self-evicting. Spencer joins them.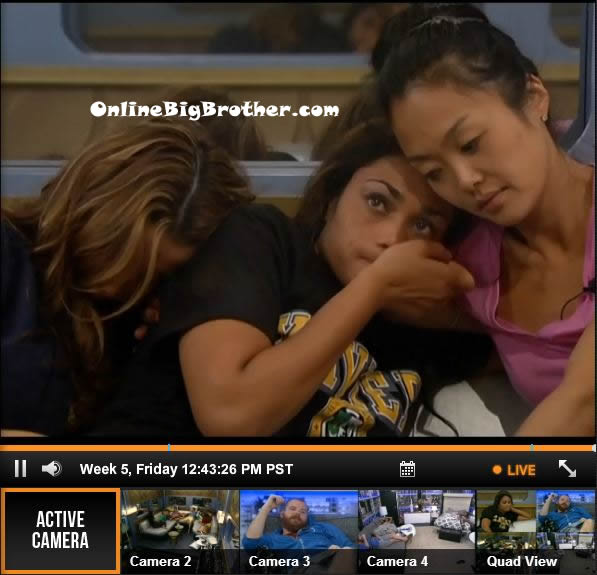 12:50pm – 1:10pm Helen starts crying about how traumatized she was by the things Jeremy did to her and how she wanted to win HOH so bad to get him out. He lit my fire and made me memorize that stuff so that I could win. Spencer says it was poetic justice that you won that one to get him out. Helen and Elissa leave. Candice tells Spencer that she didn't throw him or Gina under the bus. I didn't say that. Spencer says I know and even if you did I would understand that you were trying to protect Howard. Candice says it wasn't me I hadn't even talked to anyone yet. Spencer hugs Candice and says they are good. Spencer leaves to take a nap. Candice tells Andy about her conversation with Aaryn this morning. I am not about to blow up or make a scene. Andy says good, you have to. There are so many times that I have to bite my tongue. Andy asks if he can trust Howie? I feel like can but he just worries me some times. Andy says that he has asked me to leave a room some times. Candice says he does that to me too, he has dismissed me 3 times now and we had a fight about. I told him that if he does it again I would dismiss him. Candice says Howie is a really good man but he is a worrier and gets paranoid. Candice says that she told Howard you don't get to dismiss me, we sleep with each other. He isn't a malicious or schemey fu*k, he's not like that. Andy agrees.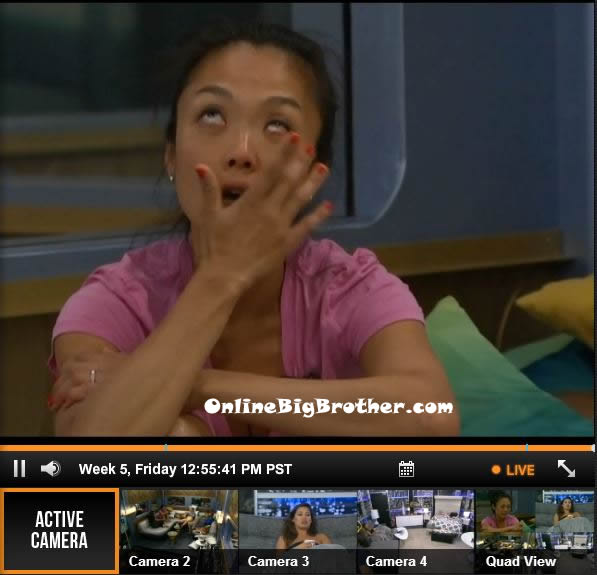 1:15pm – 1:25pm Up in the HOH room – Aaryn is talking about a perfume she brought in that she loves and Candice asked about it and started spraying it all over herself. Amanda says she is so inconsiderate! Aaryn makes a mocking voice and says you're so inconsiderate! Amanda says fu*king Candice! I just want to KILL HER! McCrae tells Amanda to Shhh. Andy comes up and tells them that Candice was crying. They ask Andy why she was crying. Andy tells them that she and Howie decided to play separate games. Amanda says you have been a bit*h c**t face the entire time!! I don't feel bad at all! They talk about how Spencer is following them around. The conversation turns to talking about Sex and the City. Amanda says that she is just like Samantha.
aMANda wearing the PANTS and TAKING CONTROL of McCrae #bb15 #bigbrother15 @bigbspoilers #CBSBigBrother pic.twitter.com/pbetU86ywR

— Dawg (@DawgsBigBrother) July 26, 2013
1:35pm – 1:55pm Up in the HOH room Amanda says since Candice is the one always calling people racist, every time she mentions my name we should ask if it's because I am a Jew. She asks what's that word? McCrae says anti-Semitic. Aaryn says I like to say gay and I know its wrong but I am part gay on Fridays. I'm part lesbian. so I can't be homophobic. Amanda says she is, she likes to scissor me. They talk about jury and McCrae wonders if it will be a 9 person jury. Amanda says so this would be the last person out before jury. Andy says yeah or 3 more for a 7 person jury. Amanda says I want Howard, Spencer and Candice out first so they aren't in jury. The conversation turns to talking about who they want and don't want on their havenot teams. No one wants Spencer, Candice or Ginamarie on their teams. Amanda says I fu*king hate Spencer, he is so misogynistic. Aaryn gets called to the diary room. The other say here we go! (They think the havenot competition will start soon as Aaryn is the host.) The others talk about wanting it to be a luxury competition. Aaryn comes back up and says not yet. Amanda says Ah .. I just wish I could throw things at Candice. I am just going to be like this all day. Jessie says I am glad you feel this way. Amanda complains that Candice took her headband "She took it and put it on her greasy nappy a$$ hair head without asking."
2pm The live feeds switch to TRIVIA for the Have / HaveNot Competition..
3pm Still TRIVIA..
| | |
| --- | --- |
| [polldaddy poll=7277508] | [polldaddy poll=7277150] |