POV Holder:
?
Next POV
July 27th
POV Used
?
POV Ceremony
July 29
HOH Winner:
Aaryn
Next HOH:
Aug 1
MVP:
?
Original Nominations:
Current Nominations:
Last Evicted Houseguest
David, Nick, Jeremy, Kaitlin
Have Nots
?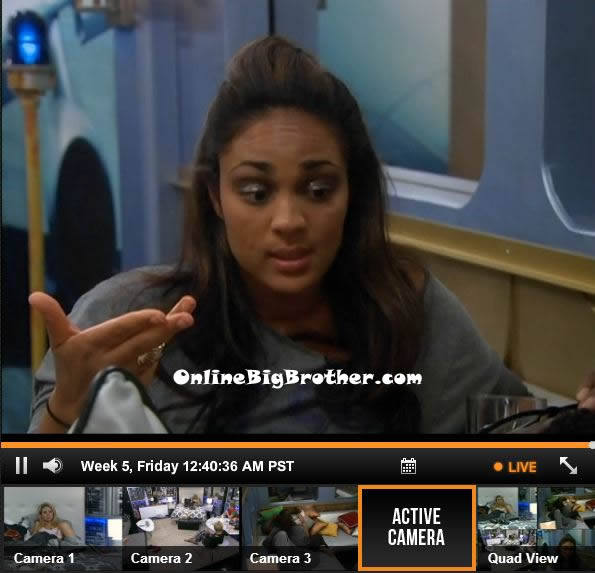 12:40am In the lounge – Howard and Candice are talking. Candice asks if we go up on the block do we have the numbers? Howard says we have 4 votes. Candice says we need 5 votes or Aayn decides. Candice says you have me, Spencer, Andy, Gina and maybe Jessie. The option is to talk to her or to not talk to her. Candice says will probably put up you, Spencer and Me. Which is probably what they will do so if I win the veto I can't take you off. Candice says I want to tell her my thoughts but if she rats me out if will fu*k up things with Helen, Elissa, Amanda and McCrae. If she rats me out I might as well go. Helen, Amanda plotted to use Elissa, just like they have used Aaryn. Candice says we would be the least likely for people to think we would be working together. She could take Elissa also who can't play for MVP. Howard tells Candice to go get her bed. Candice ask what do you mean? I have my bed. Howard says last time I told you to forget your bed, now I am telling you to go get your bed. Candice is worried that Howard and Spencer are both bigger targets than she is, so they would go home over her. I want to protect my people just like they protect their people. Candice says either we go talk to her to try and make a deal or we throw Spencer under the bus. Candice says I am going to throw your homie under the bus to protect you. She says no one likes him any ways. Candice says she isn't sure if she should wait to see what the nominations are. Howard tells Candice to talk to Aaryn tonight and he will talk to her tomorrow to reiterate what she says.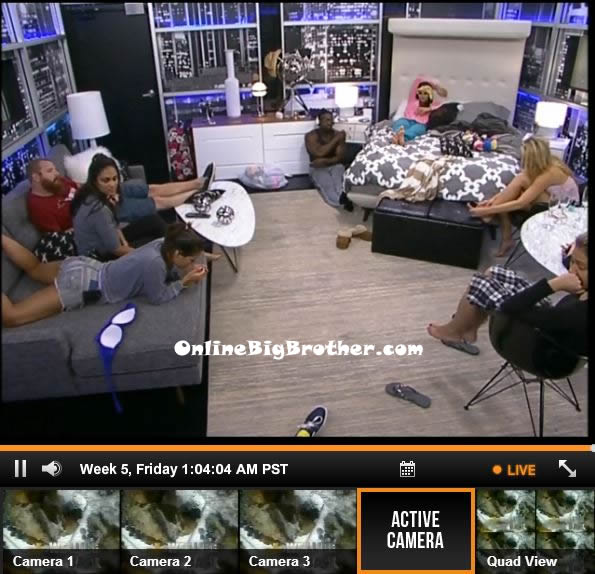 1am Candice heads up to the HOH room to join Spencer, Jessie, Helen, Andy, Amanda, Gina and Aaryn. Aaryn suggests that they make up a mini competition to decide who the host for the competition would be. The cameras switch to Elissa, McCrae and Judd talking in the kitchen. Elissa is telling them about how she bought a dog off someone because it wasn't being treated very well. Meanwhile in the loung room – Andy talks to Amanda and asks they're both (Howard and Spencer) going up right? Amanda says yes. Andy says that it couldn't be more perfect for Aaryn to win. Amanda says I have been working on Aaryn for weeks now. Andy says he has too. Amanda brings up how none of the goof troop alliance have been up on the block. There are no other 4 person alliances. Amanda says no matter what either Spencer or Howard are going home. Amanda says Candice is going to go bat sh*t crazy. Amanda and Andy comment on how much of an idiot Elissa is. Amanda says we have 8 people, well 9 including Elissa. They discuss voting out Howard, Spencer, Gina and Elissa. Andy says that Elissa is the craziest person I have ever met. Amanda says I think that America likes the goof troop (McCrae, Amanda, Judd, Andy). If we fu*king Brigade this sh*t, that would be crazy. Spencer joins them.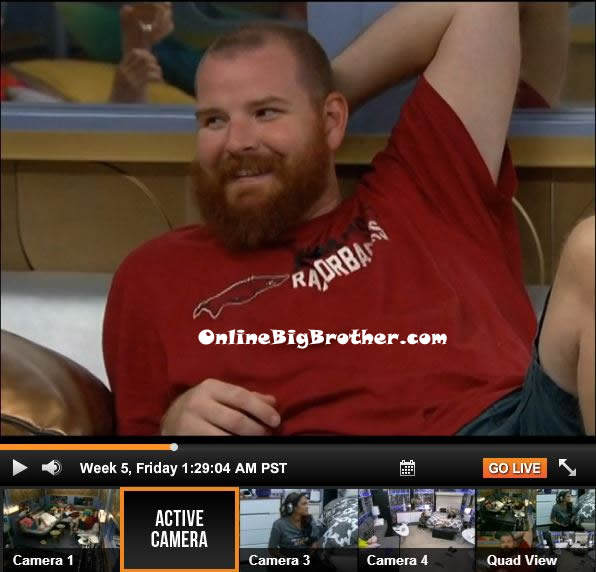 1:30am Andy, Spencer and Amanda are talking in the lounge room. Spencer says he has a whole new found respect for Aaryn, I did not know she teaches snowboarding to under privileged kids. Amanda says nope did not know. Spencer says Aayn had a HOH photo and said this is wear I taught snowboarding to people who couldn't afford it. Spencer asks did you get any talk out of her. Amanda say that Candice told Helen basically to get everything off her and Howie she blamed you. Amanda says and just so you know none of that came from me. Spencer says it doesn`t really matter until the third nominee is set. They discuss the HOH competition. Amanda says I think Aayrn is going to put Elissa up. McCrae joins them. They talk about how Elissa snubbed Aaryn after the HOH competition. McCrae says that Elissa doesn`t see it that way though. They talk about how Elissa will likely go up on the block. Amanda says and no one will take her off if they win the veto. Spencer asks am I fine against Elissa. Andy says people are starting to think she is crazy. Amanda asks starting!? They laugh. Amanda says hopefully Aaryn puts up Elissa and Candice. Spencer says that Aaryn said that I could potentially go up but that I am not her target. Spencer says I am going to talk to her again tomorrow to try and not go up. If Elissa is the target then someone that would vote for her should go up with her. Amanda asks Spencer if you are ready to go off on Candice and rip her a new one then I would love to be there to see that. Spencer comments that Jesse was drunk, hopefully Judd gets some tonight or at least sees her t*ts. Spencer says hopefully at least Gina is the third nominee. I really do expect to go up tomorrow after all of Aaryn's bullsh*t. Spencer says if Howard isn't on the block then I will get his vote and Judd/Jessie are straight. Judd joins them. They laugh about Aaryn teaching poor kids snowboarding. Elissa joins them.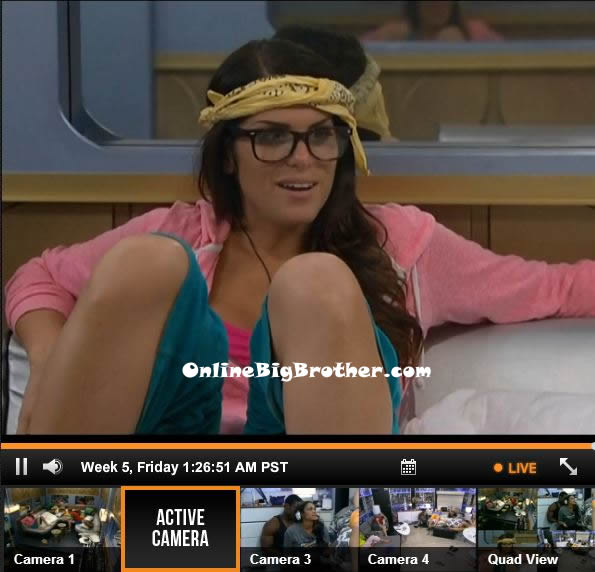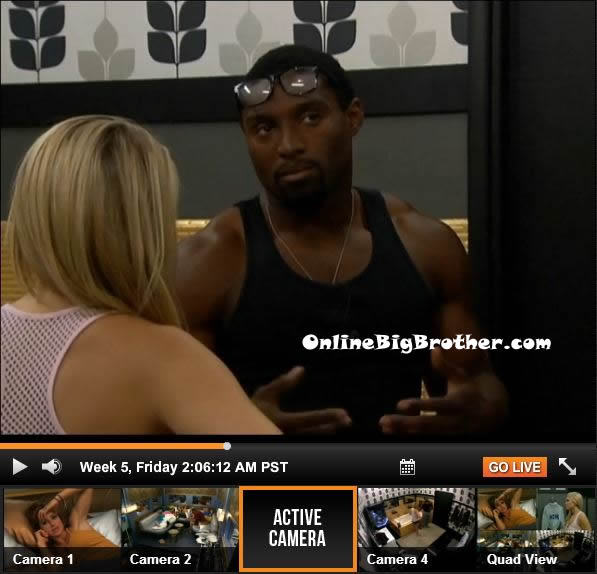 2:05am Howard and Aaryn are talking in the HOH bathroom. Howard says that Candice wants to talk to her. Aaryn tells Howard that she made a deal to stay here with Helen that I would either throw HOH or if I won we could make the decision together. Aaryn says I did not want to win today. Aaryn says that Candice came up to Helen and said I know you made a deal with Helen and If you put me or Howard up on the block, we are going to come after you guys. Aaryn says that Candice said you better put up Ginamarie and Spencer and Helen relayed that info to me. Aaryn says you know I don't want to do anything to harm you, my safety in this house relies on me doing what the numbers want. So I am going to have to figure that out. Spencer says I know you are smart enough and bold enough to know who is running this house. Howard says all I know is if you do exactly what they want you to do you are right back in the same position. If you shake the game up, everything is a freefall. Its not going to be the same four people running the house. Aaryn agrees. Aaryn says tomorrow anytime you and I can talk, nothing is set in stone yet. Big Brother cuts the feeds.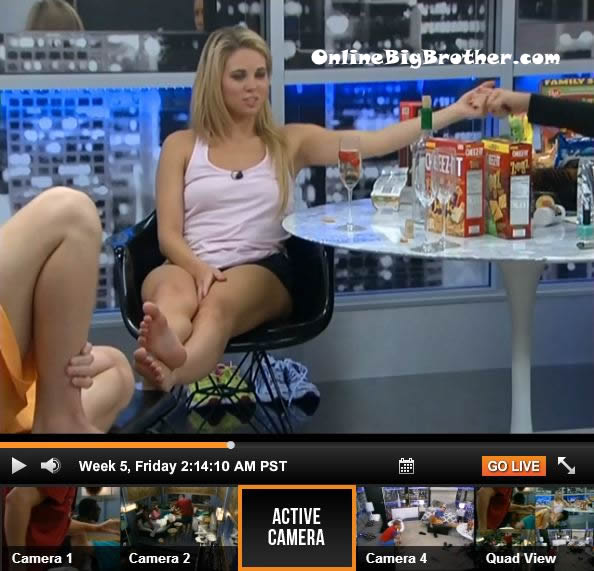 Aaryn, Judd, Andy, Jessie, Judd and Gina are in the HOH room talking. Aaryn says I know you don't like to lie Gina but we might need to lie a little bit. Gina says oh god! What do you want me to say. Aaryn says later on down the road if he starts saying Aaryn said this I might need you to lie. Gina says oh no I will be your back up. Aaryn says I am honestly scared to talk to him alone anyways because he attacks like a heathen. Andy says that he is just super paranoid. Aaryn says he is going up even if I have to lie to him to tell him he isn't so later I will have to lie and say look I didn't want to have to do this I don't have a choice. Gina suggests just telling him you haven't decided who you are picking yet. Aaryn says I had to make fake deals with them. I am going to have to put them up and say that I heard they were trying to flip the house on me. I had no problem with them until they tired to campaign against me. Aaryn says besides I am doing what the 8 of us decide collectively sans (without) Spencer, Howard, Elissa and Candice. Andy says if Elissa goes up again this week we will know if America is MVP because she would not nominate herself knowing she can't play in the veto competition. They all discuss how whoever goes up against Howard and Spencer will be safe. Andy says that Elissa calling the town meeting made you look sane and Elissa look completely nuts. Aaryn says that Elissa has been on the block twice, being on the block two weeks in a row is traumatizing, I am sorry but it is. Judd says sorry. Aaryn says me not putting Elissa on the block is going to mean something to her. And I know she hates me and will hate me no matter if I licked her butt hole, but like it is going to mean something to her for me to not put her up. I am not saying I want her here, but after Howard, Spencer, Candice I want Elissa gone. Judd says or even before Candice. Aaryn says Elissa fu*ked over Helen who she is in a mom alliance with, if you would fu*k her over you would fu*k clownie over. Everyone agrees to that they are the next four to go. Aaryn says that she has learned her lesson and if any of you fu*king a$$holes put me up I will flip. Don't do that sh*t to me again that was traumatizing. I never put any of you up after two HOH's. Aaryn says I am taking a bullet today so please if any of those 4 get HOH please protect me. Aayrn says if one of those a$$holes win the veto then Candice is going up and she can sit on my hat, I don't care! Apparently it was only a $10 hat even though it was really a $25 hat. Aaryn looks at the camera and says Kara Monaco I want to be in Playboy with you! We can scissor! Spencer joins them and the conversation turns to talking about random things.

2:45am In the storage room – McCrae, Amanda and Andy agree that this week couldn't be easier and that they want either Howard, Spencer or Candice out. Andy explains what Howard told Aayrn in the HOH bathroom. Howard then knocks on the lounge room and looks in he says na I am just playing. He tells them that they can trust him, it is getting necessary with some stuff that is being said but ya'll just trust me. Howard leaves and McCrae and Amanda think that Howard heard Andy talking about him. Andy says I don't think he did. Amanda says that Howard and Spencer will do whatever it takes to change your mind but you just have to look at the facts. They think Howard could still be outside the door so McCrae gets on the floor to see. Andy then goes outside the door to put his ear up to see if he can hear what they are saying. He checks and comes back and says it was all muffled, you can't hear anything. They talk about how Howard and Spencer are acting paranoid. Andy says that he wants Howard out before Spencer. Amanda and McCrae agree. They talk about how they think Howard is a big threat and has a better chance to win competitions. They talk about how Howard has Spencer and Candice, and they need to cut the head off the snake. Andy says that after Howard goes up tomorrow, only the Goof Troop alliance (Amanda/McCrae/Andy/Judd) will have never been on the block. They hope that Howard doesn't win POV. Andy says that he feels like every week, the person he doesn't want to win the veto, always wins!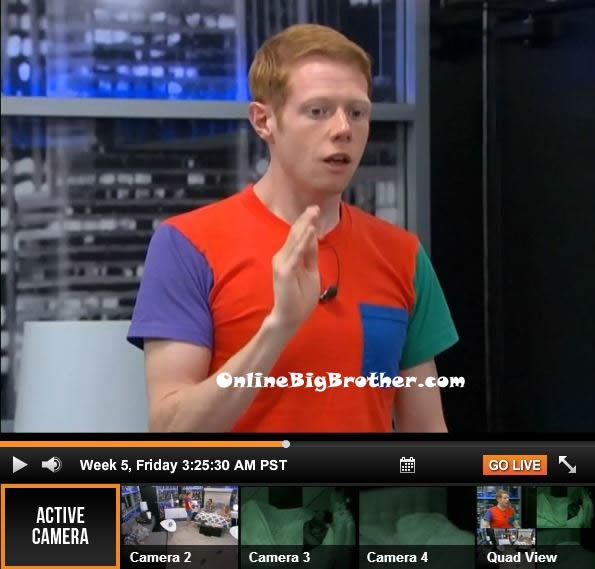 3:30am Up in the HOH room – Jessie, Gina, and Aaryn. Andy heads up to the HOH room and tells them that he was in the lounge with Amanda and McCrae and Howard opened the door and looked at them seriously and then said just kidding. Andy says that he isn't sure if Howard head them talking or not. They discuss how Howard and Spencer need to go on the block. Andy says they both need to go up on the block because if they don't one could win the veto and pull the other off. Andy asks Aaryn if she wants Howard gone. Aaryn says yes. Aaryn says that it's hard to not put Elissa up because she feels Elissa is the only person guaranteed to put her up. Aaryn says that she is going put up Howard and Spencer. Anryn says that she is going to talk to Helen tomorrow and tell her that she is only doing it if they promise she won't go up next week. Aaryn talks about what she will tell Howard and Spencer when she nominates them. She says she will tell Spencer that he voted against her in the first two weeks and that she isn't going to make the same mistake three times, that is why you're going on the block. She says she will tell Howard, you have been throwing competitions, you have lied to me several times, and you tried to flip the house on me this week and that is why you're going on the block.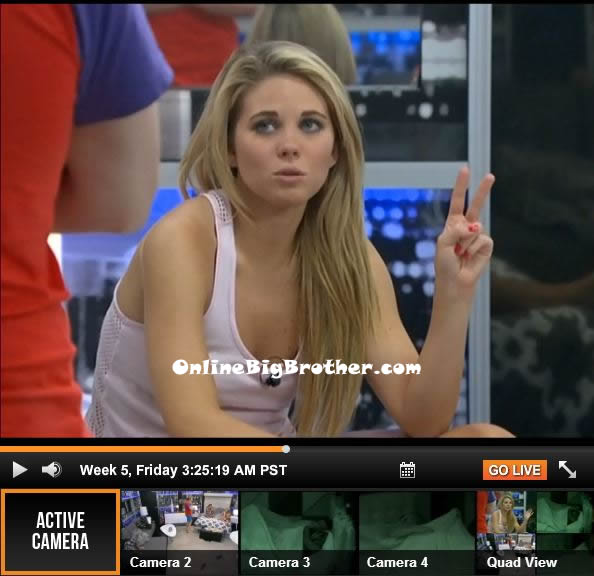 4:10am – 4:35am Candice and Howard are talking. Howard says that he will honor Candice trying to save him till he leaves or they win. He says that he has to respect that Spencer may throw him under the bus to save himself but I can't do that. Candice says that the only person she told to put up Spencer to was Howard. Howard says it must be a lie because Spencer brought that information to him. Candice asks why he waited so long to tell her when they talked so many times. Howard says that he thought it came from Spencer so he let it go. Candice says Spencer can go fu*k himself and go home. Candice says that she doesn't give a fu*k about him. Howard says that's fine but maybe someone told Spencer that or maybe he made it up. Candice asks why she isn't allowed to tell Aaryn that she heard from Howard about this rumor. Howard agrees that she can but he says that Amanda also told him that she heard the same thing. Candice asks why Howard doesn't defend Candice with Amanda and McCrae. Howard says all Amanda said to him was that she heard a rumor that came from Candice. Candice asks Howard to defend her again. Howard says that he will. Howard says we just need to be cool this week. Candice says that it hurts to think that Helen played her just like it hurts him to think Spencer played him. Howard says we both need to work with them though, right? Candice agrees. Candice says that she wants to be herself, I want to be real, I don't want to be an a$$ kisser. I am a competitor. Howard asks Candice not to lose it because she helps him keep it together. I need you. The end their conversation and go to sleep.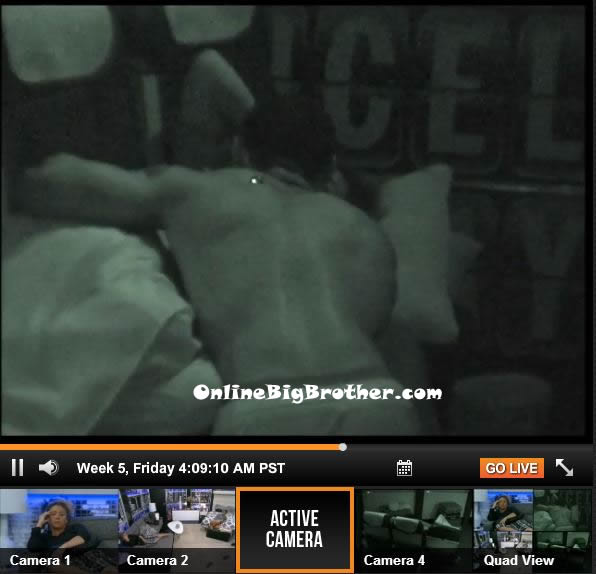 7:25am All the house guests are still sleeping..
| | |
| --- | --- |
| [polldaddy poll=7277508] | [polldaddy poll=7277150] |