POV Holder:
Danielle
Next POV:
Aug 11 (Saturday)
POV Used
YES
POV Ceremony
Aug 6 (Monday)
HOH Winner:
Danielle
Next HOH:
Aug 9 (Thursday)
Original Nominations:
Wil and Frank
Current Nominations:
Janelle AND Frank
Have Nots
No Have-Nots for the Week
Last Evicted Houseguest
7:43pm Cam 3-4 Boogie and Frank Watch with FlashBack FREE TRIAL!
Boogie is wondering why they just had that ½ way party. He thinks that 2 people are going home tomorrow.
7:52pm Cam 3-4 Britney and Boogie
Boogie tells her the party would of gone longer if it wasn't for the cake party. Janelle had started the Food fight. Boogie doesn't understand why it's not like they were drinking. Boogie says that during season 7 someone did that and it was a bitch to clean up.
They are talking about 2 people being knocked out on Thursday. Boogie is positive it's happening he thinks having the ½ way party on a wednesday night is really odd.
Britney asks him whose is second to take out.. Boogie: "Wil"
Britney wonders if maybe Jenn should go.. Boogie says that Wil is much larger a threat socially and physically.
Britney says she wants to keep ian around she give the reasons
A) Straight shooter
B) Doesn't flip flop
C) non schemer
Boogie adds that Ian never talks game to people he's a steady ship. Britney agrees.
They start talking about Ashley and how much pain she's in. Britney thought at first she was playing it up to avoid telling Janelle but now she thinks there is something wrong. Boogie says they brought in someone to see her.
Britney says that Pandora's box will only come into play when they get into Jury.
Britney asks him if he's excited about them being ½. Boogie says it is he was telling Jenn yesterday that they are going to start speeding things up in the house theres too many people so it's going to go by quick, "I've made it through the first half hopefully I'm fortunate enough to make it through the next half"
8:07pm Cam 1-2 Frank, Jenn and Wil Watch with FlashBack FREE TRIAL!
Frank is saying that Britney is kind of playing like Janelle.. chasing the power a bit but not making it too obvious. Jenn says that Britney has a lot in common with Danielle them both being from the south and sorority girls. Frank points out that Shane is up in the Head of Household bedroom all the time. Wil has noticed that as well, says it's pretty obvious that Danielle and Wil are together.
8:20pm Cam 3-4 Britney and Boogie
Boogie says that Janelle's game has been very sloppy this year. Britney wonders what Dr Will Kirby is thinking after season this episode. Boogie says he's laughing his head off. They both wonder why Janelle continues to bend the truth saying she has all these votes. Boogie says everyone is being very convincing .. Joe might even be thinking they have the votes.
Boogie can't beilieve Britney got Joe to head butt the cake. Britney says that Joe had 2 beers and a glass of wine so he must not of been drunk. Britney talks about all of Eagle Eyes powerhouse alliances. He had a final 9 alliances with 11 people left in the house.. the only people not in it were Frank and Boogie. They laugh about Joe's greek letters in the sand story..
Britney says that Dan's social game is on overdrive.. she saw him with Ian and Jenn for hours. Britney: "He's social gaming Jenn's skirt off"
Boogie: "He's good.. I'll give him that"
Boogie: 'He got Ian to sit on the hammock without rocking.. that's a feat"
Britney says that his social game abilities didn't come through in the TV episodes. Boogie agrees.
8:32pm Cam 1-2 Janelle, Ashley and Wil
Janelle tells them they need the numbers in Jury if they want to win.. If she leaves they are in trouble. Janelle says they need to work with Joe even if they don't like him. Wil says Joe is going around telling people Wil has a final 5 alliance. Wil: "If he wants to work with me he's gotta stop spreading that shit" Janelle susgests Wil and Joe have a conversation about it. she reminds them that the game is all about numbers now.
Janelle asks Wil where Jenn's vote is. Wil never really talks Game to Jenn he thinks she's still with Frank and Boogie. Janelle says that Shane and Britney have promised them her vote. She asks Wil if Frank has approached him for a vote. They both say no but that is what happened last week he never campaigned to them.
Janelle asks them if they are "solid" (For voting to keep her).. Wil and Ashley say they are. Janelle: "Good and I have Joe to"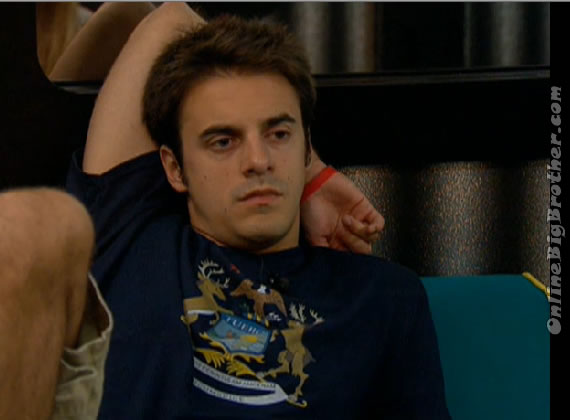 8:37pm Cam 1-2 Arcade Dan and Janelle Watch with FlashBack FREE TRIAL!
Dan says Shane is the least likely to vote for Janelle to stay that is why his vote depends on Shane's. Janelle says he came up to her and told her 100% he's voting for her to stay. Janelle says the entire house wants to keep her she can't understand why Dan doesn't talk to Shane. She thinks it's stupid for them to keep Frank he's gunning for Shane and Dan.
Dan: "I haven't been given a commitment from him *Shane) and it all rests on that" Dan tells her he won't vote for Janelle if the house is going the other way because he cannot be left out cold. Janelle understands she wants to know when Dan will get a chance to talk to Shane. Dan says 6pm Janelle points out that it's after 8. Janelle doesn't understand why Dan hasn't talked to Shane yet.. She asks hi if he really thinks having Frank over her in the game is good for his game. Dan already knows that but it's more a matter of Janelle gettign the votes.
Janelle: "britney told me her vote is solid.. and she said she went upstairs to talk to you"
Janelle: "I think we need to stick together"
Dan: 'uh huh.. ya "
Janelle: "Shane told me he talked to you"
Dan: 'uh huh.. ya "
Janelle: "Why don't we pull Shane in here right now"
Dan: 'He's sleeping"
Janelle: "I think shane's going to vote for me to stay.. he told me"
Dan: 'I haven't had any alone time with him.. he's never alone he's always with danielle and Britney"
Janelle tells him if she goes he is up against, Frank, Wil, Boogie, Ian and Jenn that's Five vs you.
Janelle says Wil has sworn to her he's voting for her and Shane told her as long as Dan's in he's in. Dan: "If that is how it is I'm in.. I still need to talk to him though" Janelle asks him to talk to Shane tonight.. Dan says he will
8:49pm Cam 1-2 Kitchen Dan and BRitney
Frank is saying to me that he was talking to Jenn, Wil and Ashley and they think that Shane, Danielle, Britney and Dan are a group. Dan: "that's not good.. But we have been together a lot lately.. "
Britney asks him what he was talking to Janelle about, Dan says the vote.. He's going to look like a bad guy but He can't tell her the truth. .. They head outside to play badminton
Share it YO!!
Tweet