POV Holder:
Danielle
Next POV:
Aug 11 (Saturday)
POV Used
YES
POV Ceremony
Aug 6 (Monday)
HOH Winner:
Danielle
Next HOH:
Aug 9 (Thursday)
Original Nominations:
Wil and Frank
Current Nominations:
Janelle AND Frank
Have Nots
No Have-Nots for the Week
Last Evicted Houseguest
9:10pm arcade Room Cam 3-4 Janelle and Britney Watch with FlashBack FREE TRIAL!
Britney says she knows Janelle is not coming after her and that is what she has told Danielle, Shane and Dan. Britney: 'I will not vote someone out that isn't targeting me it's dumb"
Britney tells Janelle that Dan has been told by the Dairy Room that they cannot talk about who they are voting for. Janelle is surprised by this, "Since when.. what do you mean you can't tell people how you are voting"
Britney: "Ya that is what they told me.. apparently they are being really strict about it"
Feeds cut
Janelle asking Britney questions about why she was nominated.
Britney acts dumb says Shane, Dan and Danielle really don't talk to her. Britney doesn't understand what is going on. Janelle thinks it's all really strange, "There has to be a good reason I'm on the block.. everything she's told me doesn't add up"
Britney: "If you go home it's not good for me.. you getting nominated is a freaking disaster"
Janelle is starting to suspect that dan is behind this to get her out. She tells Britney she may need to target Dan because Dan is lying to her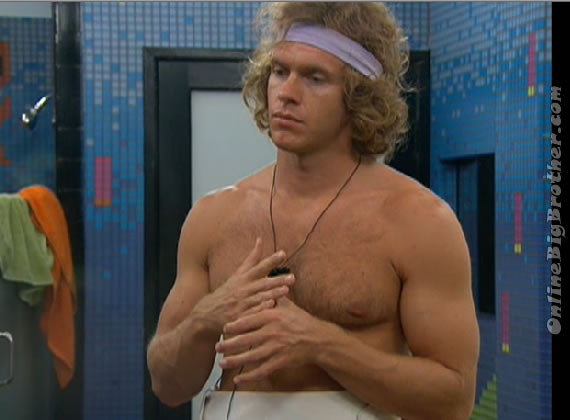 9:28pm Cam 1-2 Dan and Frank bathroom
Frank telling him he wants joe out but they both agree that it has to be joe vs on of their own. Frank tells him about his talk outside with T!T$ (he doesn't use that word) thinking Dan, Danielle, Britney, Frank, Boogie and Shane are a group. Frank adds that if Boogie or Frank win the HOH they may want to put Joe and Shane/Dan up to hide they are together. Dan thinks him going up is a bad idea.
Dan asks him other than the silent 6 is there any other alliances in the house
Frank: "The Castaways Wil, Ashley and Jenn.. Mike named that one"
Frank thinking there is a good chance Janelle is going home 8-1.
9:41pm Cam 1-2 Dan and Janelle
Janelle asks him if he would tell her the truth about the votes.
Dan says yes he will tonight
Janelle: "Dan the man I hope you are not lying to me"
Dan: "I'm not you'll know tonight"
9:49pm Cam 3-4 HOH Wil, Britney, Danielle and Ashley Watch with FlashBack FREE TRIAL!
They are talking about Janelle going around saying she has all the votes. Wil says Janelle asked him to swear on his on his dogs live and he did but he had his fingers crossed.
Ashley and Wil both say they are still voting to evict Janelle. Wil says that Jenn is voting Janelle out.
Danielle tells them that Janelle was campaigning against Ashley when both Ashley and Joe were on the block. Ashley says at first she was going to tell Janelle about her vote but now she's just going to blindside her. AShley has been waiting for a long time to vote Janelle out.
10:20pm Janelle has joined them and they start talking about Dream weddings.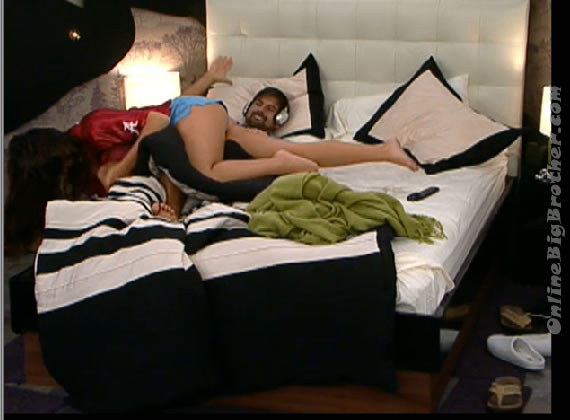 10:25pm Cam 3-4 HOH Shane and Danielle
Danielle fishes for compliments about her weight and receives at least 3 of them from Shane. (Shane did start the conversation saying he felt fat.. which is fucked up seeing as he's got zero fat)
Shane asks her if wil and Ashley are still voting out Janelle. Danielle says they are for sure. Shane: "good then it's going to be 8-1" They both agree Janelle or eagle eye joe cannot know about it.
Shane: "I think Boogie is right about the fast forward tomorrow"
Danielle: 'Me to"
Shane thinks it would be best if they threw the first HOH to Dan or BRitney because it'll be a quiz and Dan will know what to do.. Shane will really try to win the next HOH though, he thinks it's going to be a physical. Shane doesn't trust Frank and Boogie so they have to try and prevent a HOH win from Chilltown. Shane wants Jenn gone before Ashley, he thinks Dan and Britney will really be gunning for Wil.
They start wrestling i've included a picture of Shane slapping Danielles a$$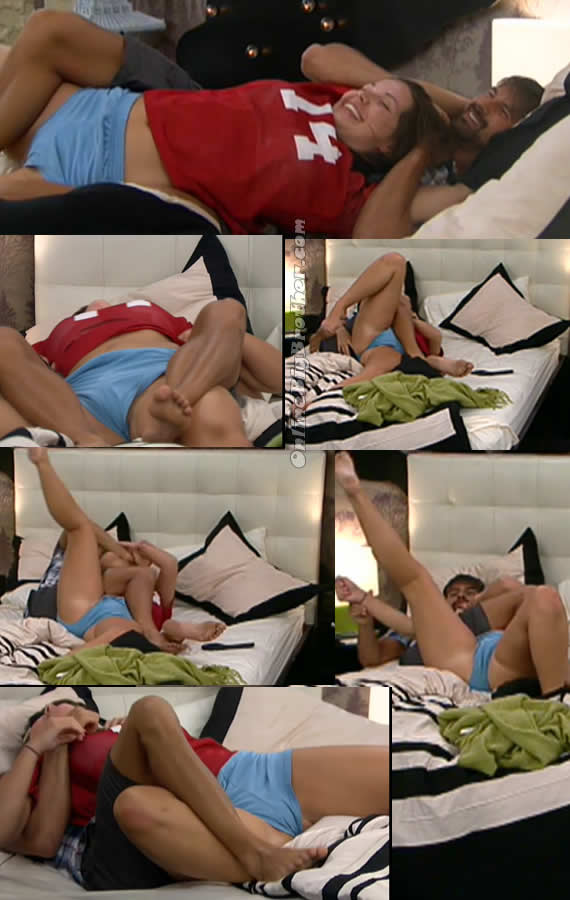 Ashley tells them when she was on the block with Joe Janelle was campaigning for Joe to stay. Jenn mentions that she was talking to Janelle in the arcade room and she was pulling all the "Girl Power" Bullshit on her. Jenn reminds them that Janelle never talked to her until yesterday until she need a vote. TITS is solid in their votes
Ashley asks them if she can say T!Ts in the DR… Jenn: "I do"
11:39pm Cam 1-2 Wil, Ashley and Dan Dan's just playing his social game with core members of the powerhouse alliance T!T$
12:07AM CAM 1-2 Ian and Britney Hammock studying for the HOH tomorrow.
12:08AM Danielle, Ashley, Wil and Frank. Danielle, Ashley and Wil put paint on their faces to make them look like cats. I added images to the screen cap gallery below.
12:25AM Cam 1-2 Jenn becomes a cat.. Wil starts crawling around the floor cleaning himself.
12:37AM CAM Backyard Janelle and Dan Janelle tells Dan that She has Jenn's Vote. dan: "Really?"
12:52AM CAm 1-2 Dan and Danielle
Dan telling Danielle about a conversation he had with Wil when Wil told him he is not a target.
Dan: "Anything come up about you and I that we don't want to talk about in front of Britney/Shane"
Danielle says that Jenn talked to her and told her some shocking things that Janelle called her.
Danielle: "Fat thick chunky legs.. and she was saying Why did they cast me and i'm nothing more than a pawn a a vote"
Danielle: "I've battled anorexia before
Dan: "When:
Danielle: " I was 20"
Dan: "Why "
Danielle: "Taylor… made a comment about her weight.. he said he wasn't attracted to me.." (Taylor was her ex boyfriend) Danielle says that after she lost 35 pounds he told her she was a disgusting skeleton. danielle goes about after she found out what JOJO had supposedly said she never ate for 2 days.
Dan: "She cam up to me and told me she had Jenn's vote"
Danielle is pissed about Janelle, she thinks Janelle has been targeting her because she wanted to have a coaches alliance and Danielle was standing in her way. Danielle: "I knew it I knew it I knew it… If known girls like this before.. if only you saw how she was looking at me during the HOH competition… I just want to go up to her and knock her in her face… but I've never hit anyone before and would never do it"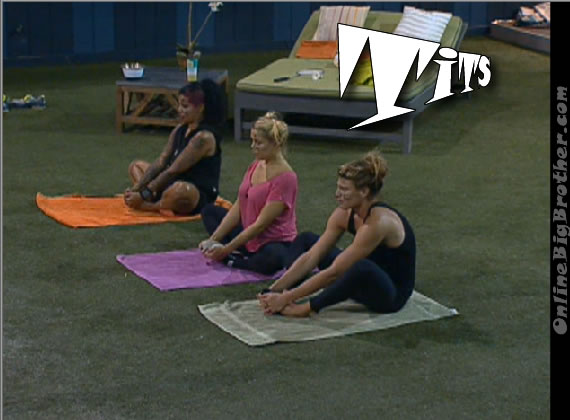 1:05AM T!T$ Doing Yoga preparing for battle tomorrow.
Share it YO!!
Tweet