POV Holder:
Danielle
Next POV:
Aug 11 (Saturday)
POV Used
YES
POV Ceremony
Aug 6 (Monday)
HOH Winner:
Danielle
Next HOH:
Aug 9 (Thursday)
Original Nominations:
Wil and Frank
Current Nominations:
Janelle AND Frank
Have Nots
No Have-Nots for the Week
Last Evicted Houseguest
8:26pm Cam 1-2 Ian and Janelle Hammock Watch with FlashBack FREE TRIAL!
If I leave you'll look after her right.. Ian: "For sure"
Janelle: "She's a really sweet girl"
Ian: "Just make sure
Janelle: "What was the point of last week"
Ian: "Complete Waste.. I guess there was a slim chance the coaches didn't accept the offer"
Janelle: "That really hurt some players"
Ian: "Big Time Shane and Wil"
Janelle: "Why Wil?"
Ian: 'Because of all his lies"
They start chatting about Willie
Ian: "What a funny name for a person so brutish"
Janelle: "Hickish."
Ian: 'I feel bad for Brit because she had to babysit him"
Ian brings up that Britney was the only coach that didn't know Willie's brother was Russell Hantz. Ian thinks this is why she picked him because physically he looked like he could do it.
8:36pm Cam 1-2 Danielle and Britney
Britney talking about Janelle being greedy with the Alcohol. Janelle is always the one dividing it up and wasn't even considering Danielle's share because danielle was in the Diary Room.
Danielle: "she just a plan B!TCH "
Danielle: "So you still want to keep her"
Britney: "Not after Wil told me the things Janelle said about me being 2 faced and playing like I did in BB12 by hiding behind people"
They start to complain about Janelle getting pissed at them when they want to work out on their own schedules. Danielle: "This house isn't on Janelle's time.. I'm not going to drink on Janelle's time.. I'm not gonna work out on Janelle's time.. "
8:43pm Janelle joins them. uncomfortable chit chat..
8:56pm Arcade Cam 3-4 Joe, Ashley and Janelle
She saying that Will swore on his dog's life that he's going to vote for her to stay.
Janelle thinks she has the votes to stay in the game and if she does next week they will find out the truth. Janelle wonders that maybe Danielle put her up and told the lie about wil to split their group up and that Frank is really the target.
Janelle: "Shane says he is voting with Britney and Britney says 100% she's voting to keep her.. it'll be really shitty if britney turn her back on me"
Ashley swears she was with Wil the entire night that Danielle is claiming someone told her about Janelle targeting her. Janelle: "You guys maybe this this is one elaborate lie from Danielle" Janelle explains that Danielle wanted the easy way out.
9:14pm Cam 1-2 HOH Bathroom Britney and Danielle
Danielle wants her to swear on her life that what she's about to tell Britney never leaves this room. (Wow sounds like she's throwing down something HUGE)
Britney: "I swear on my life "
Danielle: "I have 4 degrees.. I'm a nurse practitioner and I'm working on my masters"
Britney: "Ohh.. cool.. "
9:17pm cam 1-2 Storage Room Team T!T$
Ashley is telling Jenn about their "Team Meeting" with Janelle. They talked about Wil being and Janelle said she has Britney's and Shane's vote. Ashley adds that Dan and Shane will tell her their vote tomorrow night.
Ashley starts impersonating Janelle "I asked Jenn for a vote at least I get E for effort.."
(T!T$ still seems to be voting out Janelle they are hoping the alpha players will take each other out leaving the t!ts alliance unharmed)
9:30pm Dan is getting things ready for poker. He's painting SO CA$H on a ceramic cow.
9:54pm Cam 3-4 Shane and Danielle
Danielle is drunk she drank most of her HOH wine by herself.
Danielle: "If I win Shane you have to kiss me.. a good one and if you win what do I have to give you"
Shane: "A Back Rub"
Danielle: "you can get that whenever"
Shane: 'I'll marinate on that while I take a shower"
10:11pm HOH Boogie, Danielle and SHane
They are getting ready to play Poker. Dan and Ian made cards out the table topics game and they will use candy as chips.
Boogie says Ian is really exciting he's bouncing all around. Shane mentions hoe much he likes Ian. Boogie would like to get inside Ian's head for a day just to see what it's like. Daniele: 'Would you be scared" Boogie: "Ya.. could be like willy wonka's chocolate factory one wild ride"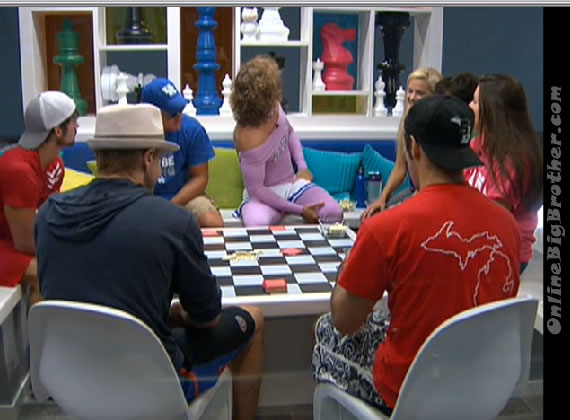 10:32pm Chess board everyone but the T!T$ alliance and Britney(Who is playing badminton) are playing poker. The trophy is the cow made by Dan with "So Ca$h" written on it.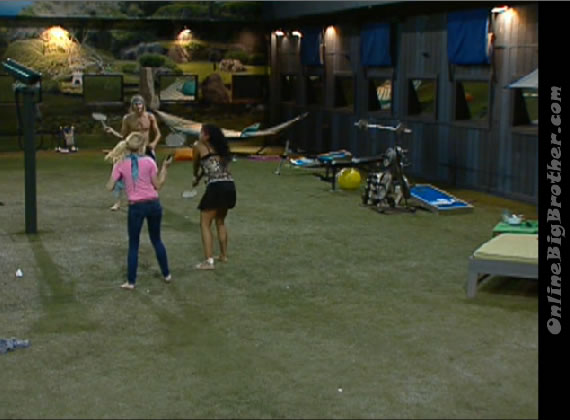 10:51pm Badminton
11:05pm EAgle eye
11:15pm Cam 1-2 Backyard Jenn, Wil and Britney
Talking about Joe's pork chops being rare. Jenn says she got really sick.
Britney: 'The Turkey burgers weren't cooked either"
Wil: "He uses his hands for everything"
They start talking about Joe's ghost story last night. They were all playing table topics and one of the cards pulled was have you ever had a supernatural experience.
britney impersonates him (Cam 1-2 11:20pm) "I was with my buddy we were throwing rocks over the highest bridge in kentucky"
Wil: 'same bridge I told my wife my loved her"
Britney: "We saw the watch fall into the water.. and I turned around the watch was beside him on the bridge.. it was right there my watch.. "
Britney: "And guess what was written in greek words in dust this thick (she shows them with her fingers) .. Greek words on my watch and on the dust.. GREEK WORDS"
they all laugh.
They start in on Joe big time (It's hilarious flashback if you want to laugh FlashBack FREE TRIAL!
) They mention Joe talking about Joe saying his son who is 11 dates the hottest girl in his school.
Talk goes back to Joe cooking all the food. Wil is worried that there isn't enough nutrition in the house for them all. Wil: "we're going to have to milk Janelle's boobs for milk"
Wil tells them about joe wanting a final 3 with Wil and Jenn and call it team Diversity..
Jenn has a hard time understanding how Janelle was America's favorite because she's so mean to people behind their backs and so fake. Britney things Janelle is playing a much different game this year and that in Season 7 Janelle won all the competitions and the fans really liked that.
11:40pm poker game
Janelle, Joe and Shane are out of the poker game… Dan isn't doing so hot.
11:41pm Jenn and Wil Jenn is happy they they had their talk with Britney. She's pretty certain Britney will vote Janelle out.
11:48pm Britney and Wil talking about Thursday being a potential double eviction. Wil and Britney both agree if it is a double eviction next week they need to get rid of Joe.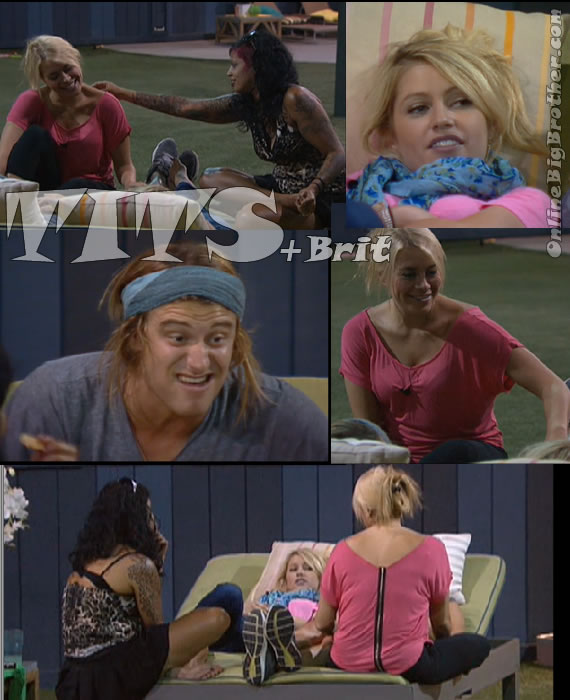 12:06AM Cam 1-2 T!T$ + Britney No Game Zone.. Ashley tells them Danielle is doing awesome in the poker game.
12:20AM HOH Cam 3-4 Danielle, Shane and Brtiney
Before Britney comes in Danielle tells shane they are taking a break from poker and she hopes Britney doesn't flip her vote again. Shane explains she did the same thing the first 3 weeks.
Britney brings up that Janelle is saying that Shane is giving her his vote. Shane: "Thats Bullshit… "
Britney says she feels bad for voting Janelle out because she's her friend. Shane and Danielle explain all the crap Janelle has done in the game.
12:45AM HOh
Britney tells him that Janelle probably has 1 vote. She says Ashley plans on telling Janelle tomorrow. Brintey adds that Janelle thinks she has enough votes. Britney does n't want Joe to know he's the lone vote.
Share it YO!!
Tweet